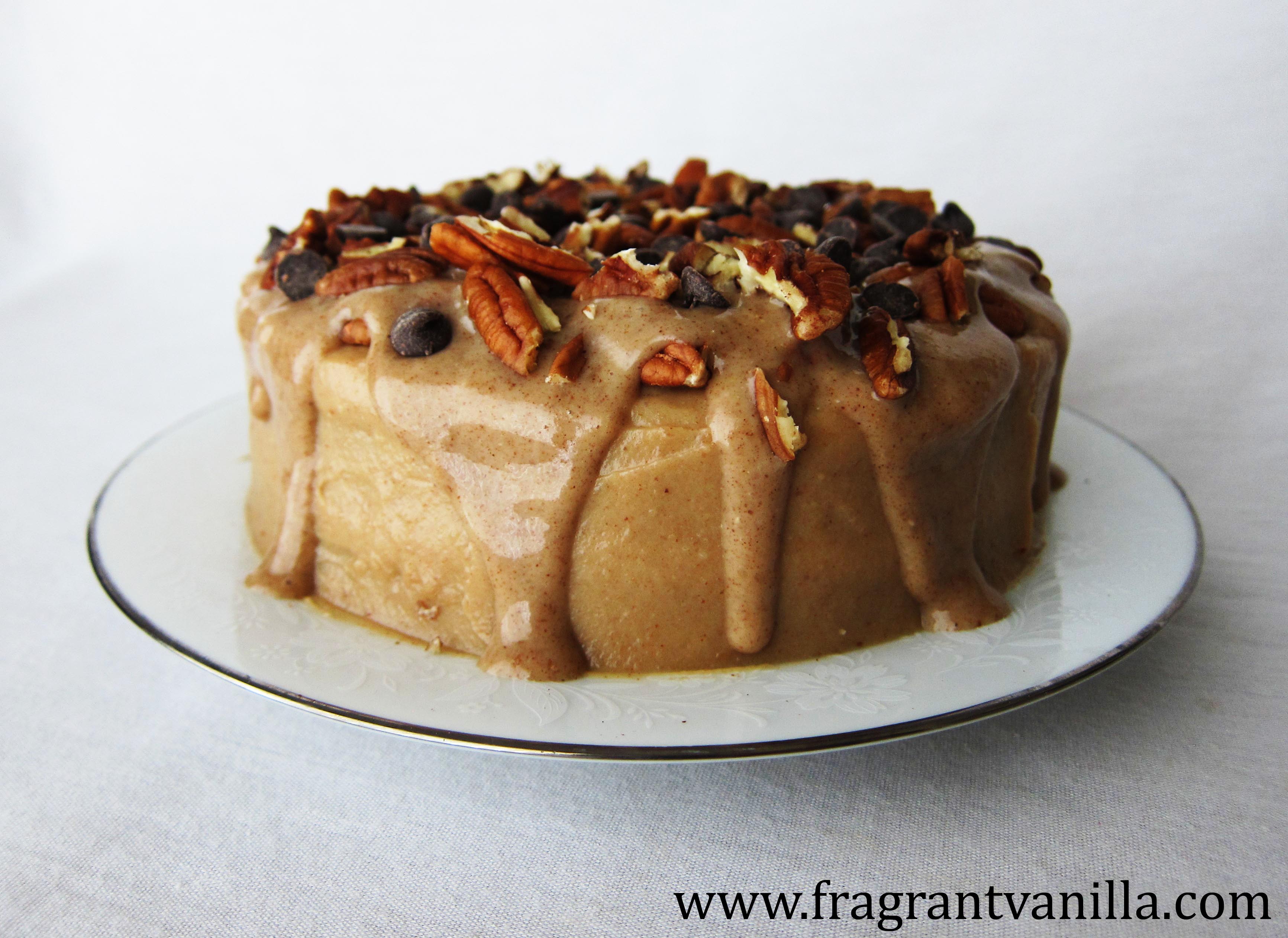 Top 15 Recipes of 2016
2016 is quickly drawing to a close, and I am taking time to reflect and remember all of the experiences I have had.  The good and the bad. It has for the most part been a pretty good year for me, I can not complain.  I have learned valuable lessons, and feel like I am working towards becoming a better person, which is what matters.  I had many enjoyable experiences like adopting a kitty named Hazel with Eric, getting back into competitive running and participating in races, and visiting new and exciting places both here in Minnesota and other states.  Like traveling to New Orleans on a trip a few months back.  I am happy and healthy, very grateful and optimistic for 2017.  I have also been looking back at my recipes (man there are a lot), and remembering the good times that went with them.  I thought I would share a list of my favorites with you, in case you want to try them out!  These are the ones that were extra special to me, the ones that made me say this is the best (insert item here) I have ever made, the ones that I wanted to make again and again.  I hope that you enjoy them as well, and I wish you all a wonderful 2017!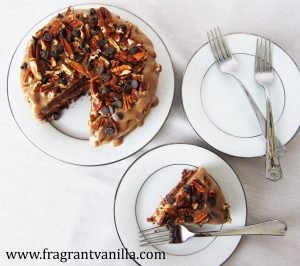 Vegan Dark Chocolate Bourbon Caramel Pecan Cake
This cake is decadent as all get out!  I didn't make it for any special occasion, just for me and Eric to enjoy, but it felt like a special occasion because it was so good!  If you are looking for a show stopper for a party or celebration though, this cake is perfect for that!  It is a bit boozy, so for grown ups only if including the bourbon, but this cake will definitely be the perfect ending to a delicious meal!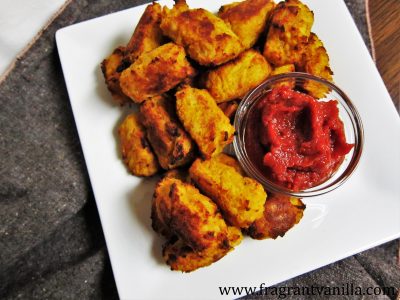 Vegan Cheesy Squash Tots with Cranberry Chipotle Ketchup
I made these when I was having a craving for tater tots, but squash was what I had on hand at the time.  I decided they needed to be a little cheesy as well, because who doesn't love cheese and tater tots?  They turned out so good, that I consider them one of the best snacks I have made this year.  I made a sweet and spicy chipotle ketchup to go with them and they were so good I could have eaten them all in one sitting.  These are not the tater tots you had as a child, they are 10 times better.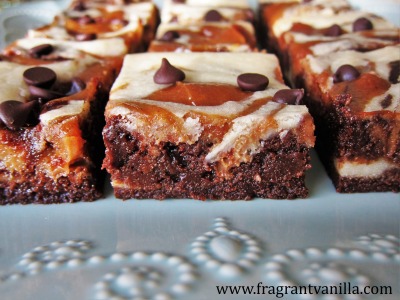 Vegan Milky Way Swirl Brownies
I made these brownies for my Mom who was attending a dinner party and needed to bring a really good dessert. It was around Halloween, so I thought why not make a Halloween candy themed brownie.  Well, they turned out even more awesome than I imagined.  Brownies are always a hit, but everyone raved about these!  I had made a big pan and brought them to work with me to share as well, and nobody could believe that they were vegan and gluten free.  Want to win over some omnivores?  Feed them these, then tell them that they are vegan after.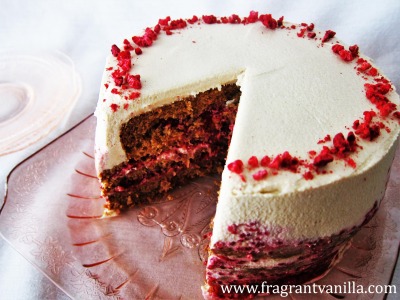 I made this cake for my 5 year blogaversary!  I had originally wanted to make it for my Birthday the previous year, but my oven wasn't working at the time so I saved it for this special occasion instead.  Because having a blog 5 years deserves a good cake as far as I am concerned.  I am in love with anything PB & J so this had to be in my top list of the year.  It was amazing.  If you are a kid at heart too, this might be the perfect Birthday cake for you.
Vegan Blueberry Maple Cobbler with Pecan Biscuits
I made this dessert the day I ran my first road race of the season, after deciding that I wanted to get back into more competitive running this year.  It went really well, and I decided that I needed a really good dessert to celebrate that night.  Maybe I was rungry when I ate this, but it tasted amazing!  This is the type of thing you want to make time after time in the Summer when the berries are plentiful and local.  This reminds me of warm Summer days and good times shared with my favorite people.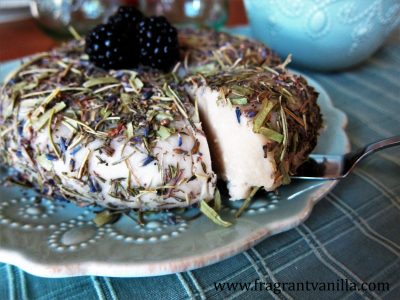 Vegan Herbes de Provance Chevre
I actually prefer vegan cheese to dairy cheese, thinking back to when I used to eat dairy. Chevre was always my favorite so it was one of the first cheeses I tried to recreate.  I have made many versions, but this is one of my favorites. I love the tangy chevre with the fragrant herbs!  It seems so elegant.  I like to crumble this up and serve it on salads.  I have served this to some non-vegans, and they all enjoyed it as well (even though they eat real cheese too), so you know it is good!
Vegan Peanut Butter Lava Cakes
I made these because I was craving something decadent and I wanted a dessert to share with Eric.  He likes molten chocolate cake and lava cake, and we are both peanut butter fans, so these were right up our alley.  They turned out super good too, the filling oozy and the cake rich with intense chocolate flavor.  They are easy and quick to make, and perfect to share with your special someone, because they make a smaller batch.  These are a must make...just sayin'!
I love, love, loooovvveee yam fries! They are one of my all time favorite things!  I wanted to make them a complete meal, so I included chili to top them off, and some avocado sauce.  These were sooo good!  If you are looking for a healthier comfort food meal, this should be on your list.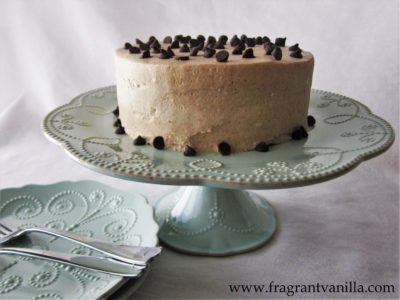 Vegan Brownie Cookie Dough Cake
Have you ever craved cookie dough and brownies at the same time?  Well, I have.  And that is part of why this cake was created.  The frosting and filling taste like cookie dough, and the cake is like rich decadent brownies.  This is my kind of dessert, because I actually like cookie dough better than baked cookies, and I always feel like brownies need some sort of vanilla element to break up the chocolate.  If you have a cookie dough lover in your life, this might be the perfect cake for them!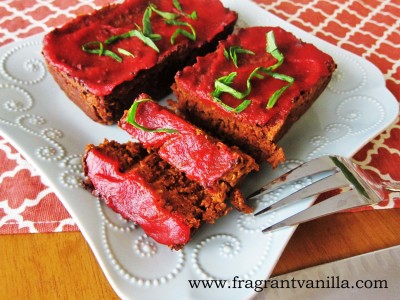 I have made this for my family, and I have made it for hot bar at work, and everyone loved it!  Even those who were not vegan and were skeptical at first. This tastes like your classic meatloaf that Grandma used to make, but of course no animals harmed in the process and a lot healthier.  If you are in need of some comfort food, give this a go!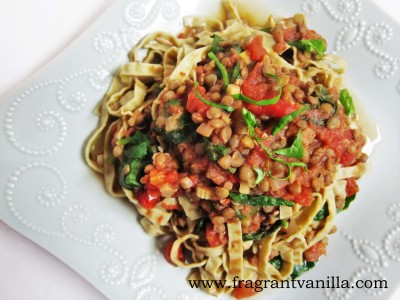 Vegan Lentil Bolognese with Greens
This was my Sunday evening go-to dish to make for me and Eric for a while.  It is hearty, easy to make, and so delicious!  It will fill your home with the delicious aroma of Italian food, and I guarantee there will be none left.  Not only that, it is way healthier than traditional Bolognese.  I use mung bean edamame noodles for added protein, so this is a great dish for when you are really hungry and have worked out a lot (Sundays are my long run days).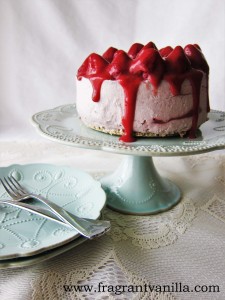 Raw Strawberry White Chocolate Cheesecake
This cake is simply heavenly! I made it in the Springtime around Easter because this would be the perfect ending to an Easter brunch or dinner.  It is silky smooth, sweet and the type of thing your family members will beg you to make again.  Don't have fresh strawberries on hand?  No worries, I used frozen for this because they were not quite available here in Minnesota here yet (our growing season is short).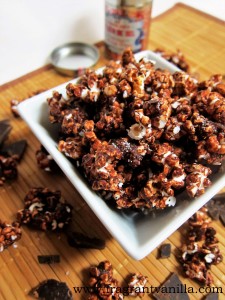 Dark Chocolate Sea Salt Popcorn
This quickly became one of my favorite snacks.  I made it thinking it would be a once in a while thing, and it became a weekly thing, because a batch of it was gone really quickly.  It has it all...crunch, chocolate, a hint of sea salt!  On the rare occasion I shared it with Eric, he loved it too.  If you are craving something and you can't decide between chocolate and crunchy salty munchies...try this.  I think you will love it.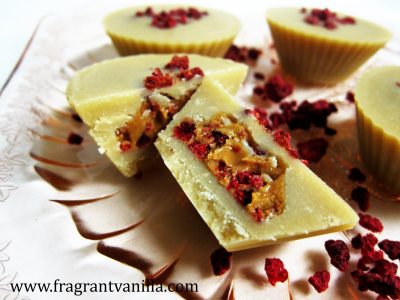 Vegan White Chocolate Raspberry Peanut Butter Cups
As I mentioned earlier I love peanut butter and jelly.  These are like the filling of a PB & J, but better, because the tart raspberries, and smooth salty peanut butter are wrapped up in sweet white chocolate.  These are sooo good!  If you are a vanilla over chocolate sort of person, these are your kind of PB cups.  I was really excited back when Reese's had a white chocolate PB cup (and I still ate junk food), so I was excited to make a healthier version with an extra special ingredient, the berries.
Creamy Vegan Mushroom Wild Rice Soup
This soup started out as something I created for the deli I work in, sans the lentils, and it was such a hit, and I liked it so much that I decided to make it at home.  I added the lentils at home for more protein (and because I love lentils), and this quickly became a weekly meal for me to make on weekends for me and Eric.  It is classic comfort food but healthy.  It doesn't get much better than that!
(Visited 15 times, 1 visits today)