Vegan Lemon Cheesecake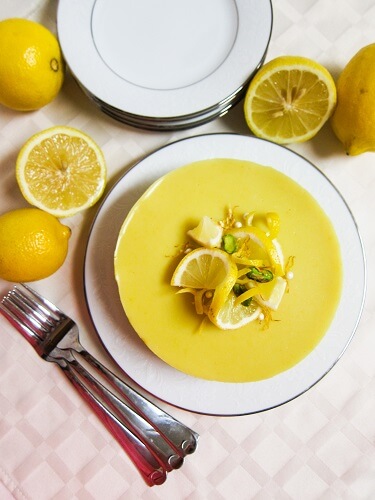 I have always loved all things lemon when it comes to dessert. Growing up, I loved those tart lemon curd bars with the powdered sugar on top, and lemon poppy seed muffins, or a good lemon meringue pie.  I think I get it from my Mom, because she was the same way and tended to like to make desserts with lemon.  We definitely made those bars, although we made the ones from the box not from scratch.  But they were still good. There is just something so delicious about tart lemon in desserts.  And it has to actually be tart to be up to my current standards.  None of this so full of sugar that it is more sweet than tart stuff or just lemon flavor and no juice.  It has be real lemons and make me pucker a bit.  I hadn't really made anything featuring lemon lately and it is the season when they are at their best so I picked up a bag of organic lemons at the store and hoped for inspiration.  Luckily it came fast. I decided that a lemon cheesecake with a lemon curd topping sounded perfect.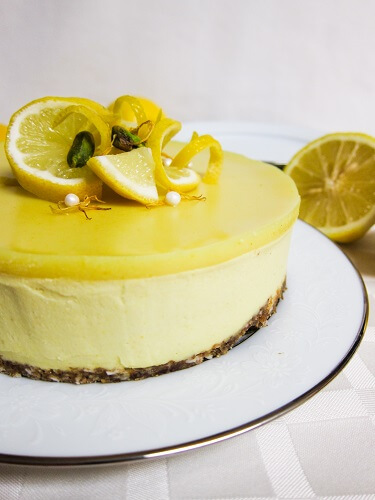 About 10 years ago, before I went vegan I made a non-vegan lemon cheesecake with a vanilla lemon filling and tart lemon curd topping that was super delicious.  I wanted this cake to taste just like that one, only better.  I wanted the cheesecake filling to be creamy, rich and taste like traditional cheesecake, and the way I achieved that was a mixture of the cream from a can of full fat coconut milk, and chickpeas.  Now, you may be thinking I have gone crazy using chickpeas in my cheesecake filling but hear me out.  I used to use a mixture of coconut cream and cashews all of the time, and that was the perfect texture, but I have a hard time digesting cashews and they are expensive so I tried swapping the cashews with chickpeas last year to see if they would be a good substitute to make the cake nut free.  It worked perfect!  You end up with a cake that has the exact same consistency, and same flavor!  So now I just use the chickpeas.  I always have them on hand in my freezer portioned out anyhow for meals and soups because I make a huge batch every few weeks. Just trust me on this one, they make the filling perfect!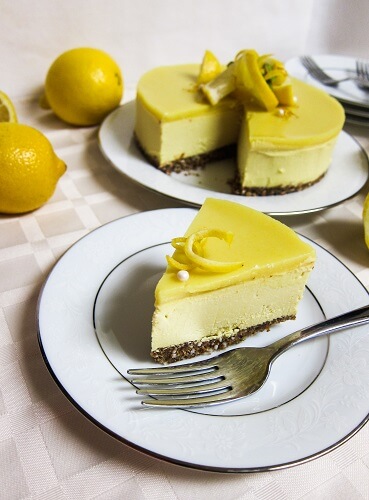 It also had to have plenty of tart lemon, so I added both zest and juice to the filling plus maple syrup to sweeten it and some vanilla of course.  It was super delicious even before I poured it into the crust.  Once that set, I made a nice tart lemon curd to top it off.  It was a lovely hue of yellow.  I could not wait to taste this cake!  But I had to wait until the next day for it to set because I was making it at night after work.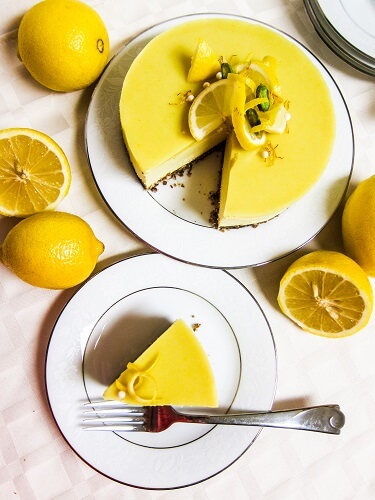 I knew this was going to be good, but it turned out even better than I imagined!  The filling was the perfect consistency, smooth, creamy and rich, the perfect balance of tart and sweet with plenty of lemon and a hint of vanilla.  The curd on top was nice and tart, and the perfect contrast to the filling.  It tastes like sunshine in cake form, which we could all use a bit of right now since we are smack dab in the middle of Winter (at least where I live).  If you are a fan of lemon, definitely give this a try!  I hope you are all having a wonderful January!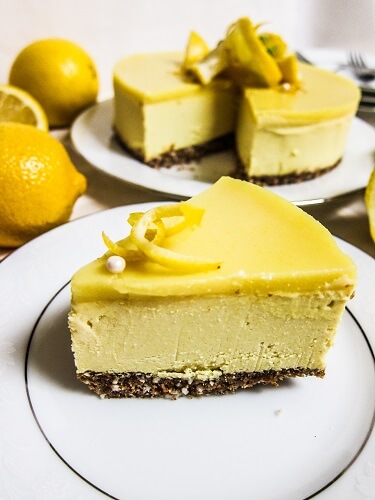 Vegan Lemon Cheesecake
Makes one 6 inch cake
Crust:
1/4 cup finely shredded coconut
1/2 cup organic gluten free rolled oats, or quinoa flakes
1/4 cup pitted medjool dates (if not soft, soak them in filtered water first and drain well)
1/8 tsp sea salt
Filling:
Curd Topping:
1/2 cup fresh lemon juice
1 Tbsp filtered water
1/2 Tbsp organic lemon zest
3 Tbsp maple syrup
2 Tbsp cornstarch
pinch of sea salt
pinch turmeric (optional, for color)

1 Tbsp full fat coconut milk

1/2 tsp pure vanilla extract

1 1/2 Tbsp coconut oil
Instructions:
Oil a 6 inch spring form pan, and line the bottom with parchment paper.
To make the crust, place all ingredients in a food processor, and process until crumbs and starting to hold together (if they are not holding together when squeezed, add a few tsp filtered water and blend). Press into the bottom of the prepared pan.
Meanwhile, to make the filling, combine all ingredients in a high speed blender or food processor and blend until smooth.
Pour the filling over the prepared crust, and place cheesecake in the freezer until the top starts to set, at least 30 minutes. Once the top has set, you can make the filling.
To make curd topping, combine the lemon juice, water, zest, maple syrup, cornstarch, sea salt and coconut milk in a saucepan and cook over medium heat just until it thickens.  Remove from heat and whisk in vanilla and coconut oil.
Pour the lemon curd over the filling, and place back in the freezer to set for about 4 hours (or overnight in the refrigerator if you are not in a hurry).
Remove from the freezer, un-mold and enjoy!  Store any leftover cake in the refrigerator.
*I use Thai Kitchen full fat coconut milk.  If you are using a different brand, just make sure it is the thick type, 2/3 of the can at least should be very thick.
(Visited 9,058 times, 1 visits today)