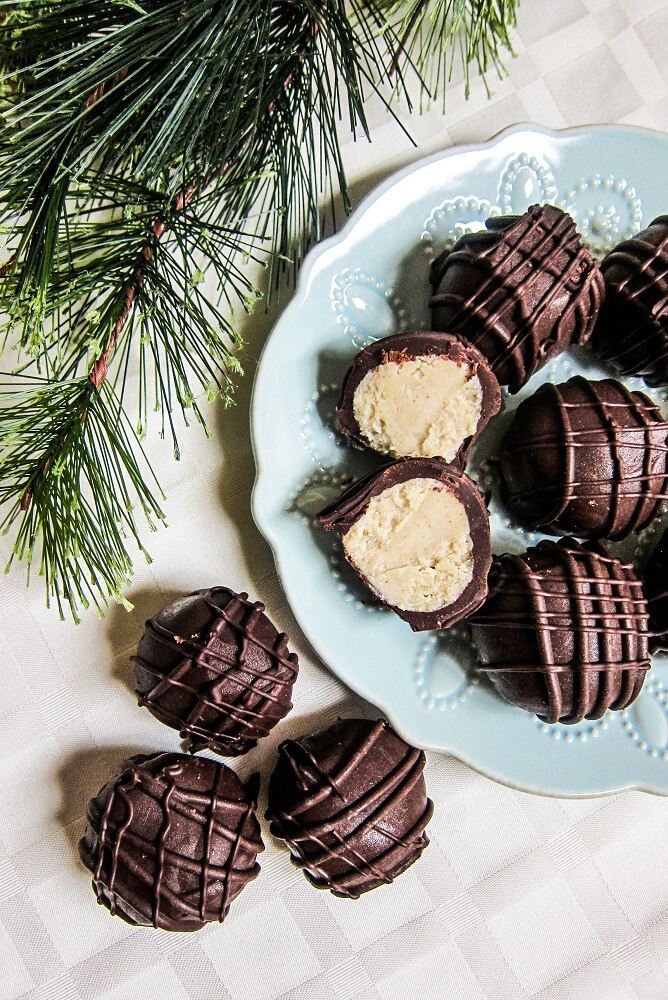 Vegan Eggnog Truffles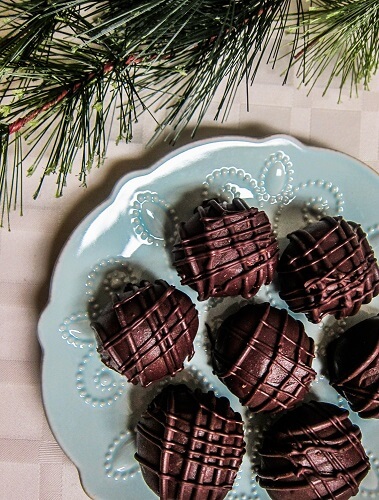 I know it is not Christmas yet, but I have seen eggnog in stores, so that means it is officially eggnog season, right?!  Not that I usually buy mine from the store, I like to make it so that it has healthier ingredients and not any stabilizers or anything in it.  I like a good vegan eggnog with a little splash of bourbon, now that is delicious!  The funny thing is I didn't really like it growing up, but I think that was due to the fact that my Dad called it "egg snag" and said it was gross.  I have since learned that it can be super delicious if it is good quality.  One time I helped Eric make a giant batch of eggnog and he ended up drinking the entire gallon in 1 day.  I am still laughing about it to this day.  That is sooo much eggnog!  I myself consider it kind of a dessert or treat, something that you sip in a fancy holiday glass.  I haven't made any this year yet, but I decided to make some eggnog truffles last weekend.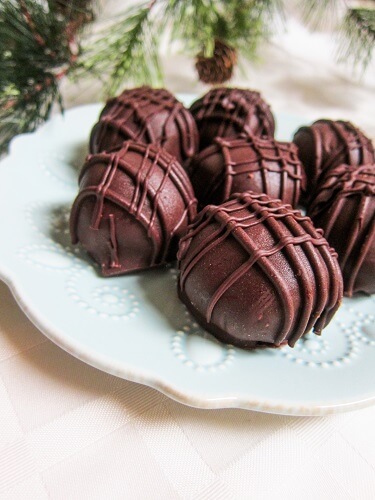 I had made some 4 years ago on the blog, but I decided that the recipe needed to be revamped and made easier and more delicious so I remade them. Eggnog truffles sounded amazing so it was perfect!  These are really quite easy to make.  The filling is just whisked together and chilled and then you shape it kinda like playdough!  That is the fun part.  That and eating some of the filling as you go.  It is super delicious!  It is actually a mixture of cashew butter and coconut butter along with some maple and vanilla to sweeten, some bourbon and of course a touch of cinnamon and nutmeg!  Sooo good!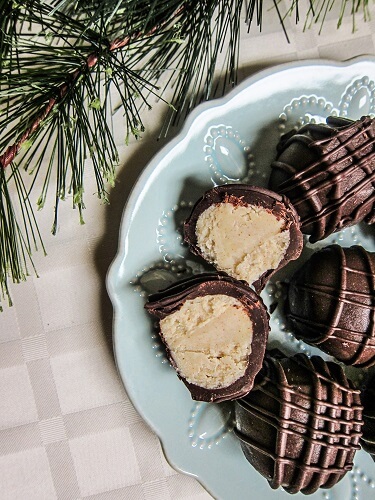 Once you have your truffles formed, you melt some vegan dark chocolate and give them a little dip into it and voila! Delicious truffles!  Whenever I dip truffles, I always think of that famous I Love Lucy episode when they decide to get jobs and work in a chocolate factory.  I used to love that show (well still do).  Luckily there is no rush for me when dipping my truffles!  These are so good with the creamy, dreamy eggnog filling with a hint of bourbon, dipped in the rich dark chocolate for a contrast!  If you enjoy eggnog, give these a try!  Or, they might be the perfect thing to put out at a holiday party this year!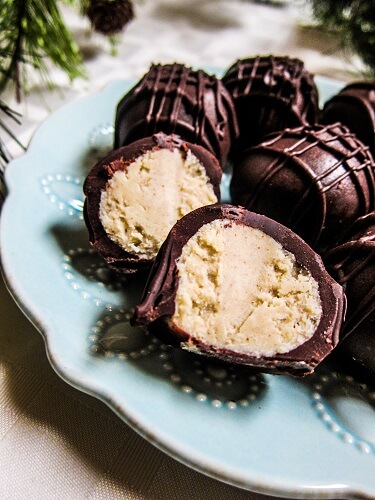 Vegan Eggnog Truffles 
Makes 12 truffles
Ingredients:
White Chocolate:
3/4 cup raw cashew butter at room temperature
3/4 cup raw coconut butter, warmed to liquid
1 tsp pure vanilla extract
3 Tbsp maple syrup
1/4 cup filtered water
1 Tbsp bourbon or rum
1/4 tsp cinnamon
pinch of nutmeg
Dark Chocolate:
2 cups chopped vegan dark chocolate
Directions:
Combine all of the filling ingredients in a bowl, and whisk until smooth.
Place in the freezer for about 15-20 minutes until it is firm enough to scoop. Scoop into 12 balls, rolling them with your hands.   Place on a parchment lined tray, and place back into the freezer until firm, about 30 minutes.
Meanwhile,  melt the dark chocolate in a double boiler until smooth.
Once the filling has firmed up, dip each chocolate into the dark chocolate, being sure to let the excess drain off, and place back onto the tray (I like to set mine on a fork to allow it to drain better). Once they are all dipped, set them in the freezer until hardened.
Store any leftover truffles in the refrigerator.
(Visited 7,969 times, 1 visits today)