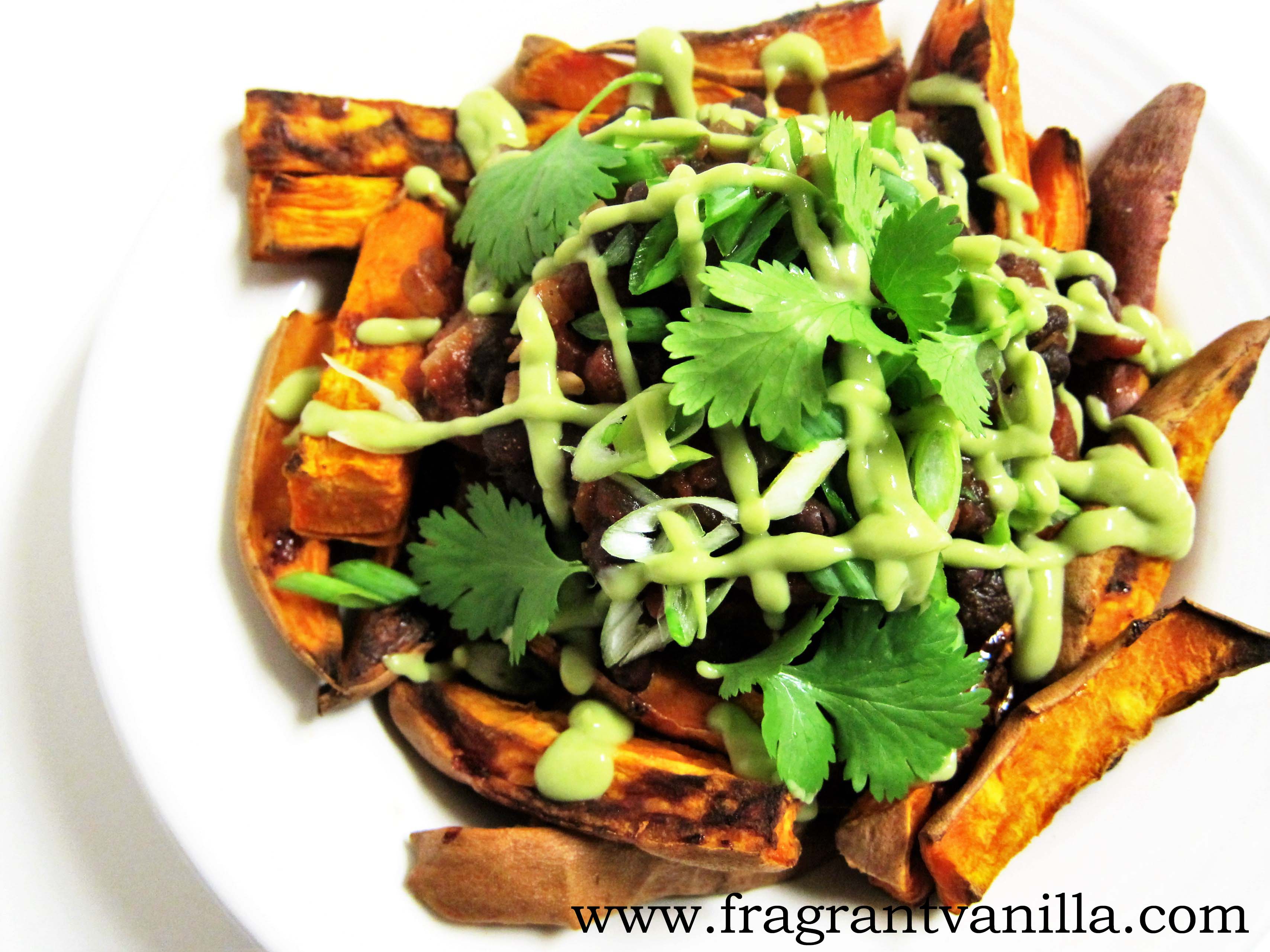 Vegan Loaded Chili Yam Fries
Yam fries are my favorite thing in the world. I know I have mentioned it before, but I could eat them for every meal of the day. So, I decided that I needed to make a legitimate (well sort of) dinner out of them and make it a full meal with other things besides just the fries. I have made a chili topped off with yam "croutons" before, but I decided to make chili yam fries. People put chili over regular fries, of course it is usually filled with disgusting meat...but mine wouldn't be. It would be vegan and filled with delicious healthy black beans. I was dreaming about this dinner all day at work. Yam fries are easy to make, so is chili, so it was the perfect weeknight meal!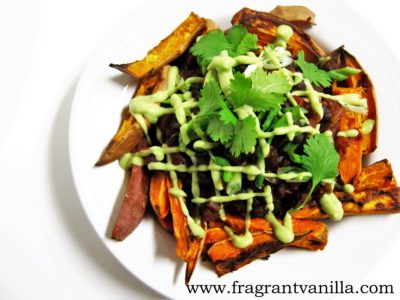 So, I made my yam fries the usual way, tossed with just enough olive oil to lightly (and I mean very lightly) coat them so that they don't get soggy and oily. The purpose of that is to get them nice and brown at the edges. I just add a little sea salt and it is honestly the best thing in the world. Well at the time when you are eating them at least, so good. When I make them at work, there are always some missing from the pan, because everyone likes to "quality control" them. They are pretty addictive, good luck getting them to the table when making them at home, people like to stand around them and graze. Myself included.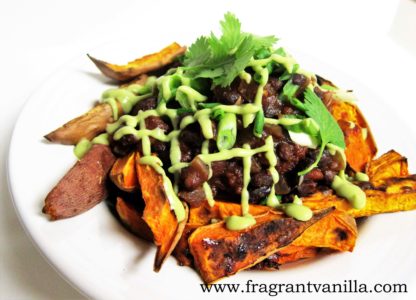 I made a simple chili that takes only 20 minutes to top off these fries, with black beans because I had some on hand. I used that to top off the fries, and also a silky avocado sauce. Which sort of served as the cooling element (you know, like sour cream would be). Now I know I could have topped these off with cheese instead of the avocado, but I was really craving the avocado and not in a cheese mood. Lastly some green onions and cilantro. It was so good, just as it was. If you are looking for a legit way to have yam fries as a main dish for dinner, try this out! Sooo delicious!
Vegan Loaded Chili Yam Fries
Serves 2
2 medium sized yams, cut into fries
olive oil
sea salt
Chili:
1/4 cup onion
1 clove garlic
1/2 tsp ground cumin
1 tsp chili powder
1/4 tsp chipotle powder
1 cup diced tomatoes
1 Tbsp tomato paste
1 Tbsp cider vinegar
1/4 cup filtered water
1/4 tsp sea salt or to taste
3/4 cup cooked black beans
Avocado sauce:
1 medium avocado
juice of one lime
sea salt to taste
filtered water as needed
Cilantro leaves and sliced green onions for garnish
Preheat the oven to 375F. Toss the yams with just enough olive oil to coat them, along with sea salt to taste, and spread them out on a sheet pan. Roast yams for about 40-45 minutes until tender and browned at the edges.
Meanwhile, to make the chili, add all ingredients but the beans to the pan, and bring to a simmer. Cook until the tomatoes are falling apart and the flavors have combined, about 20 minutes. Add the black beans and cook until heated through. Keep warm.
Blend up all of the avocado sauce ingredients until smooth in a food processor (adding as much water is needed to make it a creamy but pourable consistency).
To serve, place the yam fries on a plate, spoon the chili over them, and top with the avocado sauce, some cilantro, and green onions. Enjoy!
(Visited 96 times, 1 visits today)