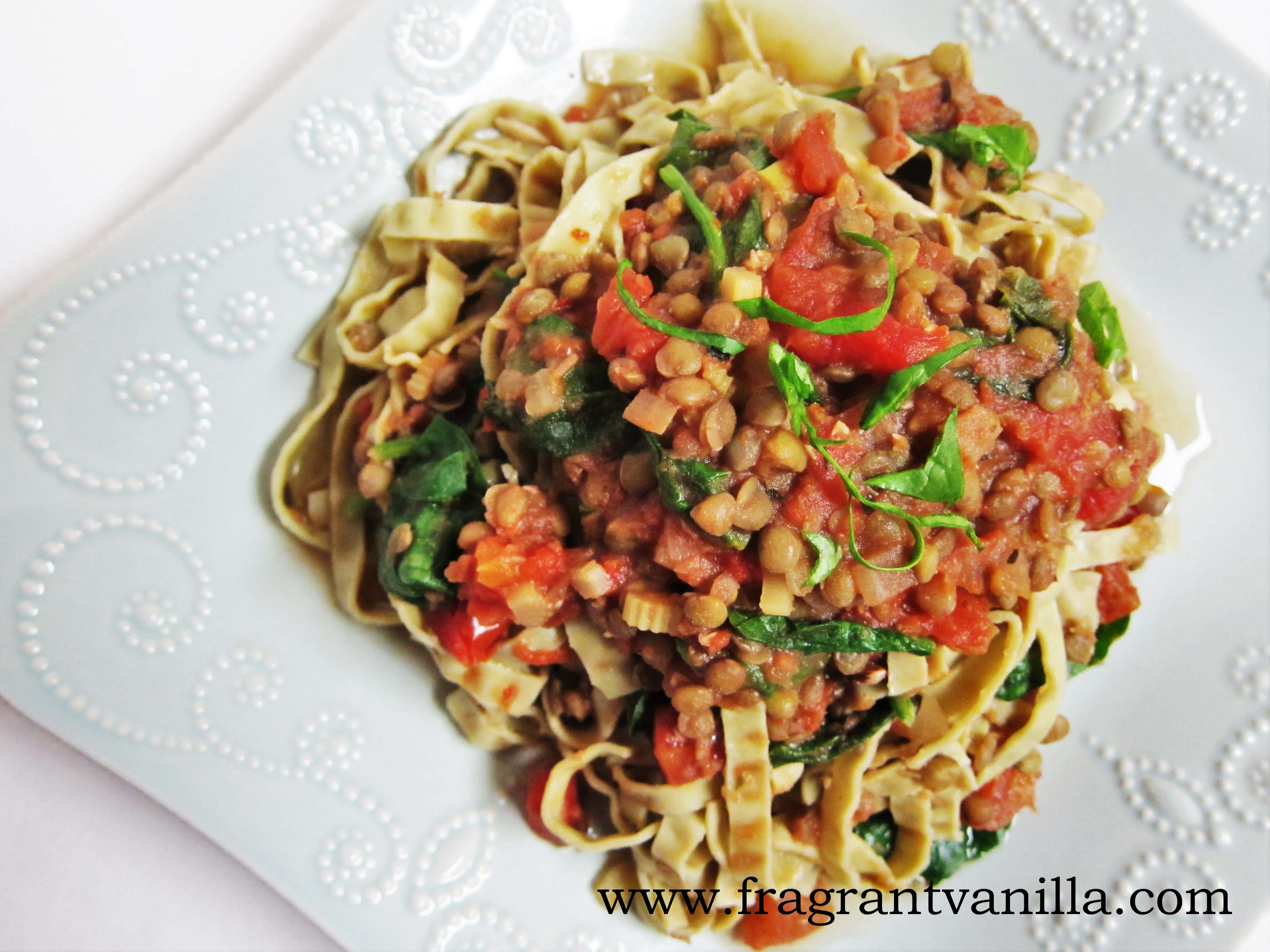 Vegan Lentil Bolognese with Greens
I have been wanting to make a lentil Bolognese for a long time now, and I finally got around to it last night.  I had all of the ingredients on hand, so there was no turning back.  Funny I crave this, because when I was little my Dad used to make a meat sauce with spaghetti, and I was not a fan.  I did not enjoy the smell of the meat cooking, and I usually ended up just having the noodles by themselves with some butter and cheese.  I guess I was just destined to end up meat free.  I do love lentils and a good red sauce however, so the idea of using lentils in a Bolognese instead of meat makes my mouth water.
I had some of my favorite fettuccini on hand (organic mung bean and edamame, it is gluten free, and high in protein too) so it was perfect to serve with that!  It was kind of a chilly night last night where I live, so it was the perfect night for this sort of comfort food. It did not take long to make, since lentils cook up a lot faster than beans, and the sauce came together quick.  Really, a lot faster than most meat version would take.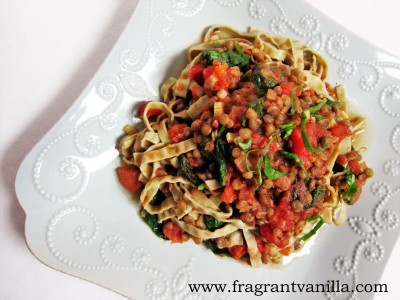 I added in some greens at the last minute (so they did not get overcooked), because I always have to have some with my dinner, and they add color and nutrients.  It was sooo good!  This is the way comfort food should be.  Nourishing to the body, and delicious.  I felt good after eating it too, none of the heaviness I used to feel after eating the meat version with high glycemic pasta as a child.  If you are looking for a great family meal, try this out!  Of course you can make a larger batch if you have a larger family than me.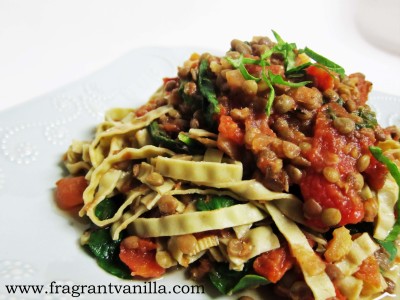 Vegan Lentil Bolognese with Greens
Serves 3
2/3 cup French lentils
filtered water
Ragout:
1 tsp olive oil
1/4 cup diced red onion
1 medium stalk celery, diced small
1 medium carrot, shredded
1 garlic clove, minced
1 tsp dried basil
1 tsp dried oregano
1/4 tsp red pepper flakes
sea salt to taste
2 cups crushed canned tomatoes
filtered water as needed
1 Tbsp balsamic vinegar
cooked lentils from above
1 large handful baby spinach
4 oz Organic Mung Bean and Edamame Pasta
To cook the lentils, place in a pot and cover with filtered water by 3 inches.  Bring to a boil, then lower to a simmer and cook for 20 minutes or until the lentils are tender.  Drain, and set aside.
Heat the olive oil in a medium pan. Add the ragout veggies, except garlic and tomatoes and sauté until tender.  Add the garlic, tomatoes, herbs, salt, pepper, vinegar, and filtered water as needed.  Bring to a simmer, and allow to cook until all of the veggies are very soft and the flavor has melded, about 15-20 minutes. Add the lentils and allow to heat through, taste for seasoning and add more salt if needed. Stir in spinach.
Meanwhile, cook the pasta according to package directions, and drain. Mix some of the lentil mixture into the pasta, then spoon the remaining lentils over the pasta and serve.
(Visited 26 times, 1 visits today)