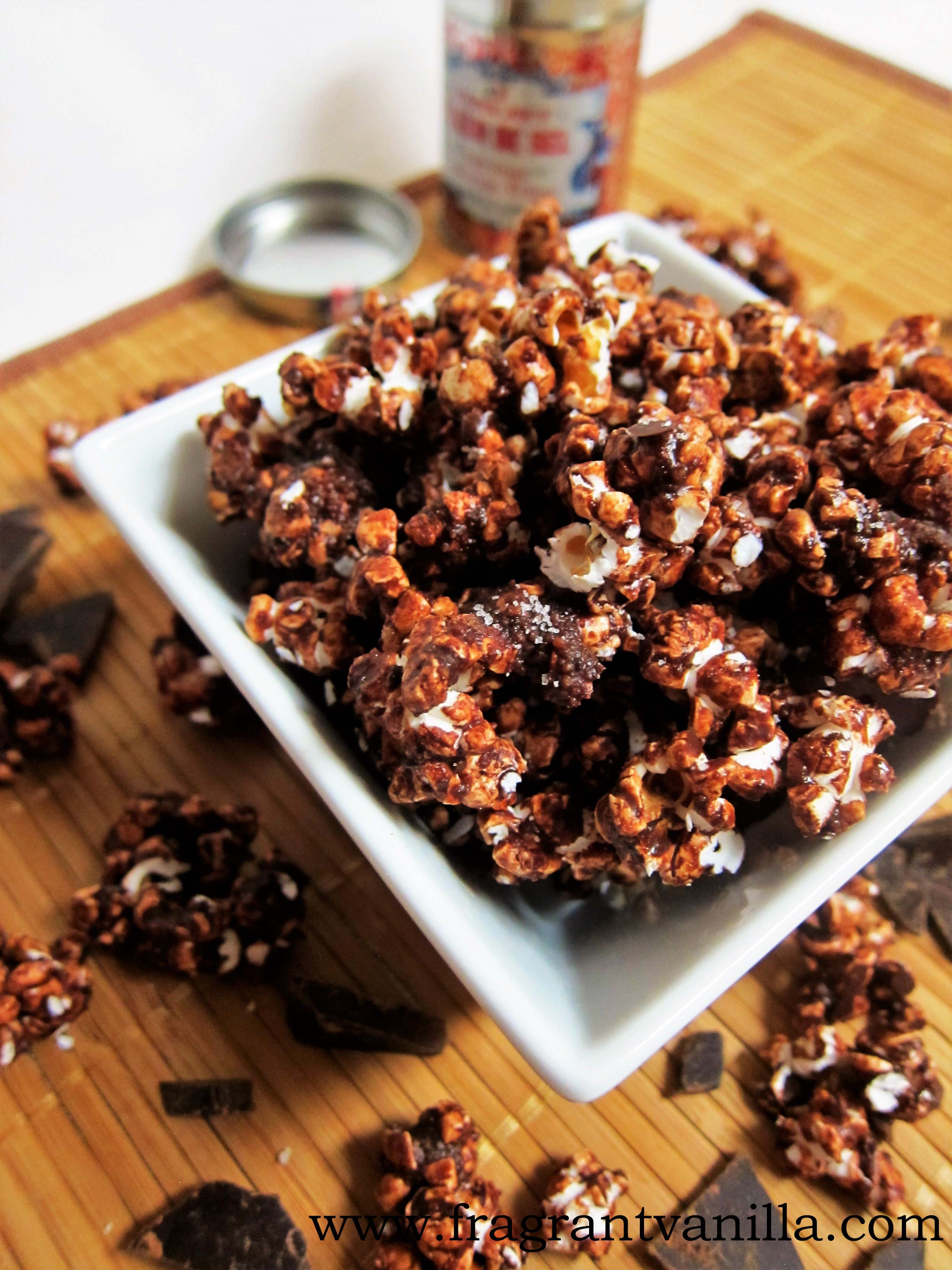 Vegan Dark Chocolate Sea Salt Popcorn
I often get asked where I get my recipe ideas.  Well, I have several sources of inspiration.  First, my friends and family.  They often ask me if I can veganize and healthify things that they enjoy or make something with a specific flavor that sounds good to them.  All the while, of course knowing full well that I will share the finished product with them.  But I love to share, my Grandmother taught me that!  She was always giving goodies away.  Second, I cruise Pinterest or sit with a pile of cookbooks when I am bored to get ideas.  Flavor combinations that catch my eye, or recipes that I can veganize and make my own version of are what I am looking for.  Third, I get cravings for things.  I mean, I am a runner and someone who is very active so I get hungry.  And of course I have time to think about these things while I am at work smelling food all day, so by the time I get home I know what I need to make.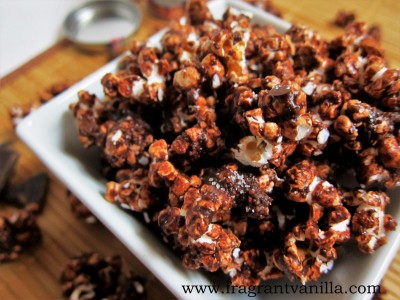 The third was the inspiration for what I am sharing with you today.  Dark Chocolate Sea Salt Popcorn.  I wanted something crunchy, salty, and chocolaty.  Also, easy and quick to make. This was it.  Only 5 ingredients, and it came together in about 15 minutes.  I used my Whirly Pop to make the popcorn, and my house smelled amazing.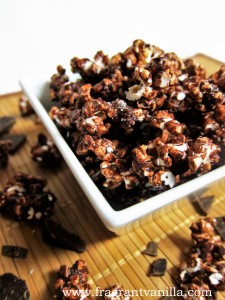 Even better once I had made the chocolate, tossed it with the popcorn and sprinkled it with sea salt.  I used a simple home made chocolate for this, because it is cheaper than store bought for the amount I would have to make.  Also, I used coconut oil in the chocolate instead of the classic cacao butter, because it is more cost effective for me at this point (if you have some cacao butter that you got a good deal on though, by all means go for it and use that).  It tasted sooo good.  I made the poor choice to make it before dinner, and I ate so much that I was not that hungry afterwards.  It is pretty addictive so be warned.  But addictive in the way that it is simply heavenly and sinful all at once.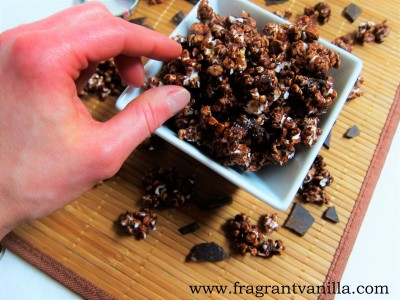 Vegan Dark Chocolate Sea Salt Popcorn
Makes 8 cups
8 cups organic popped corn
Chocolate coating:
1/2 cup virgin coconut oil (or cacao butter if you prefer)
2/3 cup cacao powder, or unsweetened cocoa powder
1/4 cup maple syrup
1/4 tsp sea salt
Place popcorn in a large bowl. Whisk together all chocolate ingredients and pour them over the popcorn.  Toss popcorn with chocolate until evenly coated. Spread out on a parchment lined sheet pan, and place in the freezer until the chocolate has set.  Enjoy!
(Visited 208 times, 1 visits today)