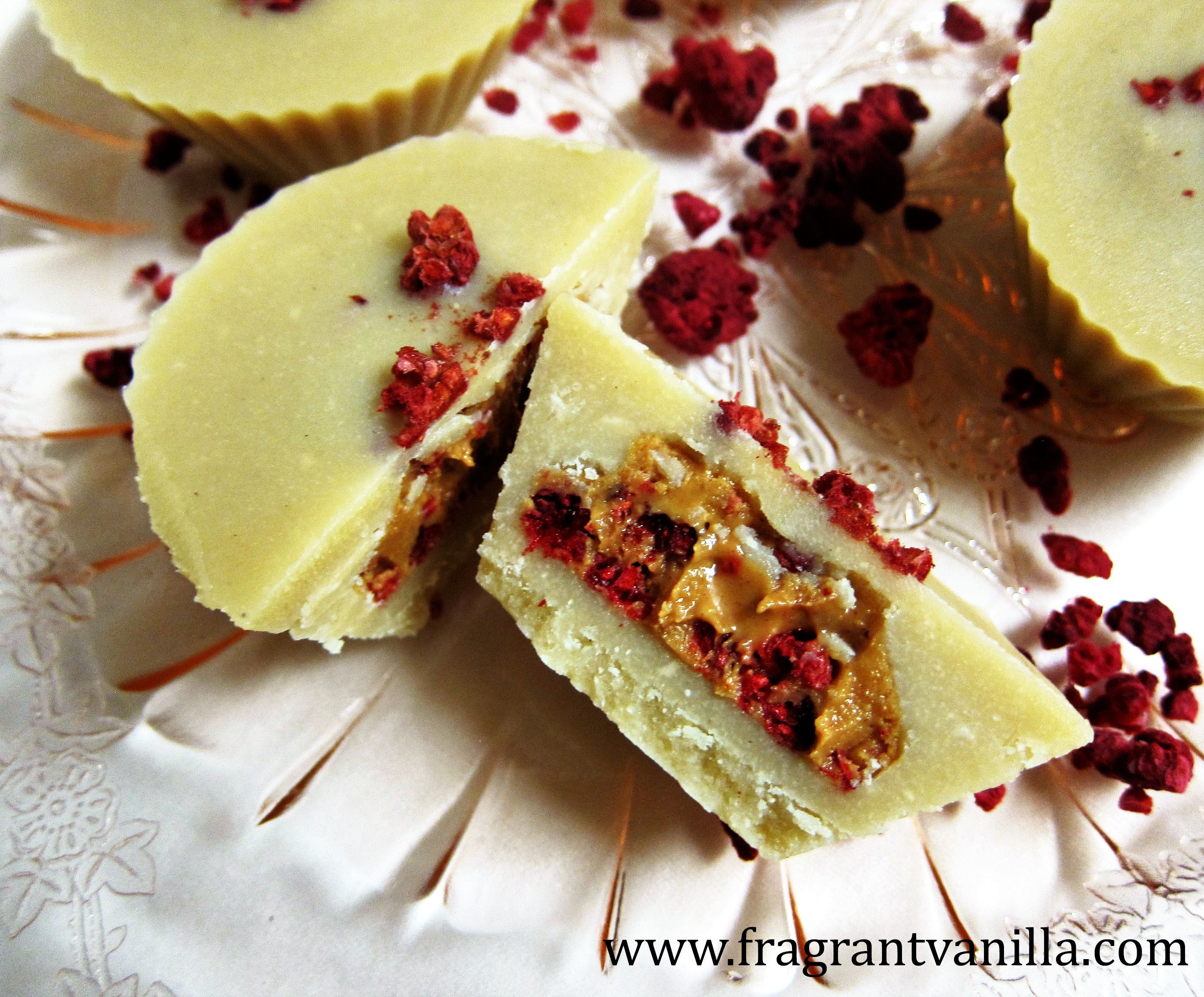 Vegan White Chocolate Raspberry Peanut Butter Cups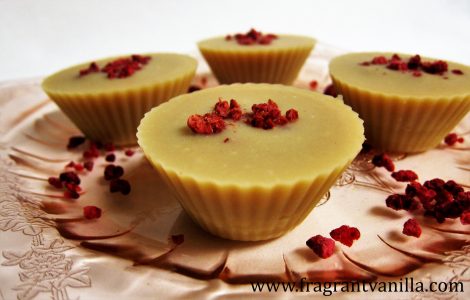 One of my favorite things about Summer is the raspberries.  Being able to buy fresh, local organic ones at the store or even better, finding them on my walks when I am in the woods.  It is like finding treasure when you come across raspberries, they are like little edible jewels!  I remember my Dad used to grow raspberries in his garden also, but the wild ones are always the tastiest.  I love raspberries in every form though, so I won't complain when I get my hands on some.  Fresh are awesome, but I also like to keep dried ones on hand for when I want to make something more shelf stable, or color and flavor a frosting or whipped coconut cream without adding excess moisture.  I used some of those in the awesome candy I am sharing with you today, white chocolate raspberry peanut butter cups!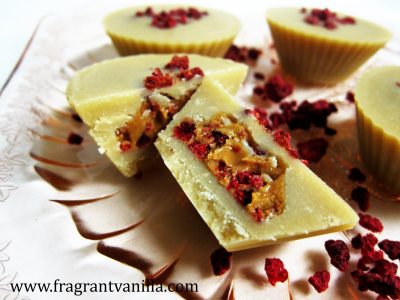 I am a huge PB and J fan, and I was craving that in dessert form, so I made PB cups.  Back when I was in college, they had white chocolate Reese's PB cups and I thought they were pretty awesome at the time.  I am sure I would find them way too sweet now, but that was kind of what I was going for with these, plus the raspberries of course which gave them a PB and J like flavor.  I made my favorite white chocolate recipe, which I think I have down pretty well now after some tweaking.  It is just the right amount of sweet and has a little vanilla added, because the good quality white chocolate bars with vanilla beans in them that actually smelled like vanilla were always my favorite.  For the filling, I did not sweeten the peanut butter, because I feel that these are sweet enough with the white chocolate and the salty peanut butter adds a nice contrast.  The raspberries added little pops of tart flavor.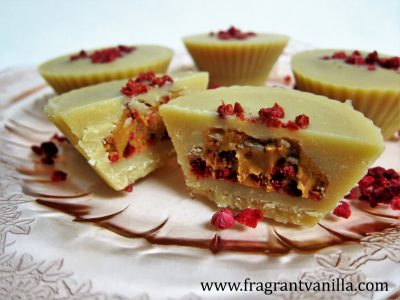 These were so freaking good!  They were way better than the white chocolate PB cups I ate back in the day, and the PB and J like twist on them with the raspberries put them over the top.  I even shared some with someone who is not a big fan of peanut butter and she loved them too.  If you are a PB and J fan, you must try these, they are worth the little bit of time to make them, and I must warn you hard to share.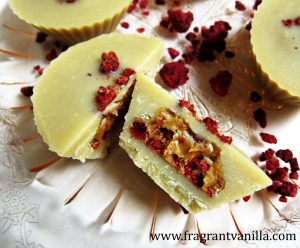 Vegan White Chocolate Raspberry Peanut Butter Cups
Makes 6 large candies
White Chocolate:
1/4 cup cacao butter (2 oz)
2 Tbsp raw cashew butter
1/4 cup coconut butter
1 tsp pure vanilla extract
2 Tbsp maple syrup (or to taste)
1/4 cup freeze dried raspberries
1/4 cup organic peanut butter
Combine all of the white chocolate ingredients over a double boiler, and whisk until smooth.  Pour into the bottoms of 6 larger peanut butter cup tins (or molds), then place them in the freezer to set.
Mix the raspberries into the peanut butter, and set aside.
Once the bottom chocolate has set, spoon about 1 heaping tsp of the peanut butter mixture onto the top of the set chocolate, then pour remaining melted chocolate over that. Place them in the freezer to set, about 15 minutes.
(Visited 42 times, 1 visits today)