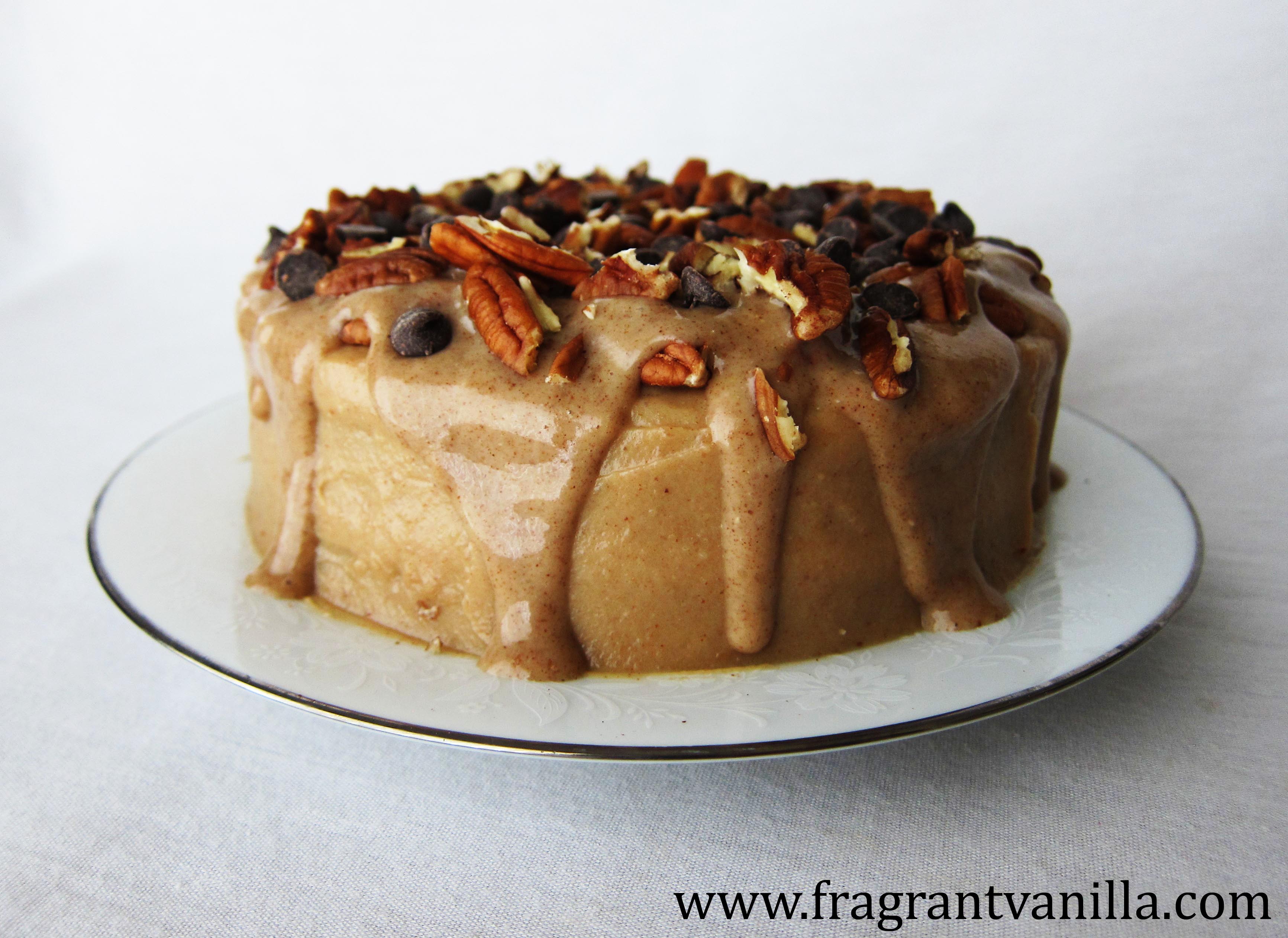 Vegan Dark Chocolate Bourbon Caramel Pecan Cake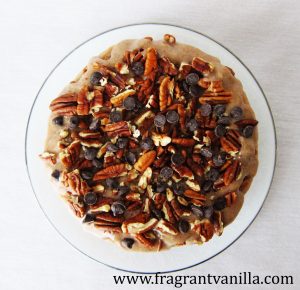 I was in the mood for something rich and decadent last weekend.  Maybe it was the fact that it was snowing outside for almost 2 days here.  The snow is beautiful, and I got out and enjoyed it on my runs and walks, but it also puts me in the mood for baking.  I love being in a warm kitchen baking something while looking out at the snow. It is a super relaxing activity!  I had bought a bottle of bourbon for Eric's birthday cake last month, and someone had suggested I make a chocolate cake with it, so I decided on that for my something decadent and delicious.  I used to make this super rich chocolate mousse with bourbon a while back so I knew the combination would be good together.  I was going to make a simple chocolate cake with ganache when I started the process, but after the cakes baked, I decided that I wanted caramel on them instead, and pecans!  So it ended up being a bourbon turtle cake basically!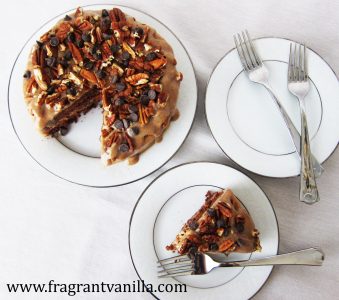 The batter for the cakes was a little boozy, but good.  And once baked, it was just right with the bourbon mellowed and rich chocolate flavor.  They turned out super moist, and just how I believe cake should be.  I am super picky about cake texture and if it is too dry or dense, I am very disappointed.  This one was light, soft and perfect!  I made a sweet caramel for the frosting using a combination of Japanese sweet potatoes and dates and it was perfect!  Like so good I could eat it with a spoon.  It reminded me of the flavor of butterscotch pudding combined with caramel once the bourbon was added.  Sooo good!
Once the cake was all frosted, I sprinkled pecans and chocolate chips over the top for crunch, and it was just right!  No super fussy frosting jobs here.  This cake was simply heavenly!  Or maybe sinful is a better way to describe it...decadent and delicious! Lets just say the pieces were devoured very quickly. Trust me, you need to add this to your to make list for your next celebration, or just when you feel like rich chocolate cake.  Because one really needs no reason to eat cake.  I like to make cakes for the heck of it all the time!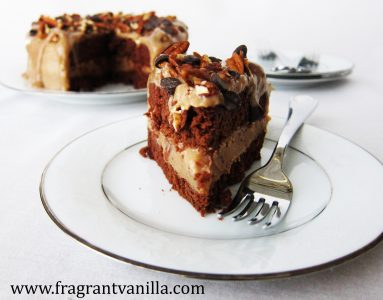 Vegan Dark Chocolate Bourbon Caramel Pecan Cake
Makes one 2 layer 6 inch cake
Ingredients:
2 6 inch cake pans
Cake:
1 1/2 cups Bob's Red Mill Gluten Free All Purpose Flour
1/4 cup cacao powder or unsweetened cocoa powder
1 1/2 tsp baking soda
1 tsp baking powder
1/2 tsp sea salt
1 cup packed soft medjool dates, pitted, soaked in water for 30 minutes and 1 cup of the water reserved
1/4 cup raw pecan butter (or almond butter)
2 tsp pure vanilla extract
1/2  cup filtered water
1/2 cup bourbon*
2 Tbsp apple cider vinegar
Frosting:
3/4 cup mashed Japanese yams*
3/4 cup soft pitted medjool dates (soaked in water for 30 minutes and drained before using if not soft)
3 Tbsp raw pecan butter (or almond butter)
2 Tbsp bourbon
3/4 cup filtered water (or as needed)
1 tsp pure vanilla extract
1/4 tsp sea salt
Topping and filling:
3/4 cup toasted pecans
1/2 cup vegan chocolate chips
Directions:
Preheat the oven to 375F degrees and position rack in center of oven.
Oil two 6 inch round cake pan with coconut oil and line the bottom with parchment.
Whisk flour, baking powder, baking soda, sea salt in a large bowl to blend well.
Place dates, reserved water, pecan butter, bourbon, water, and vanilla extract into a blender, and blend until smooth, then whisk this blended mixture into the flour mixture until well blended. Whisk in the cider vinegar until bubbles form.
Pour the cake batter into prepared pans, and place in the oven.
Bake cakes until set and a toothpick inserted into the center comes out almost clean, about 20-25 minutes.  Remove from oven, let cool completely, then unmold onto a plate.
To make the frosting, combine all ingredients in a blender and blend until smooth (adding more water a little at a time if you think it is too thick).  Pour into a bowl.
To frost the cake, place one layer on a plate, spread with some of the frosting, and sprinkle with about 1/4 cup of pecans.  Top with the next cake layer, and spread the frosting over the top and down the sides of the cake (if you have any remaining frosting left as I did, thin it out with a little water until pourable, and drizzle it over the top of the cake).  Sprinkle the top of the cake with the pecans and chocolate chips.  Serve!
*To make sure you are buying vegan bourbon, check Barnivore.  I used Bulleit Bourbon for this recipe.
*I like to roast my yams (just prick with a fork to release steam) in a 400F degree oven set on a sheet pan for about an hour until softened.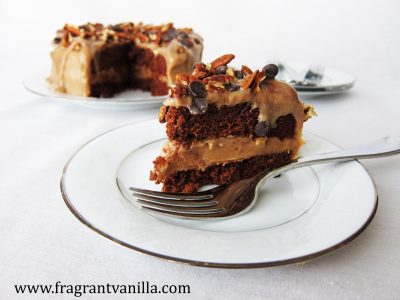 (Visited 912 times, 1 visits today)