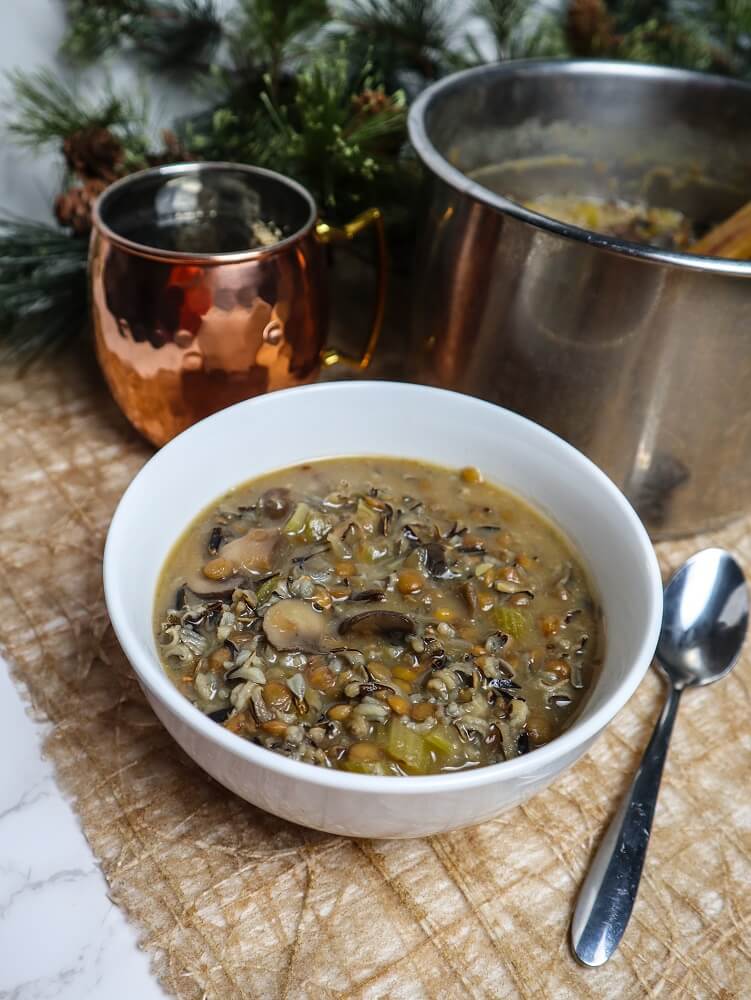 Creamy Vegan Mushroom Wild Rice Soup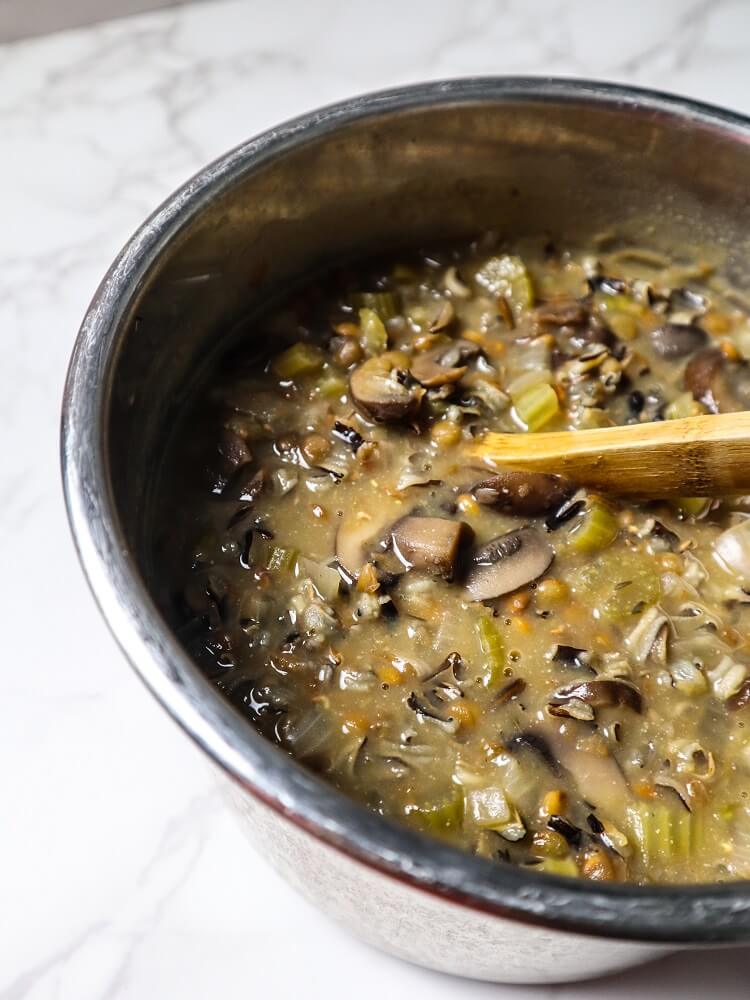 At pretty much every restaurant in Minnesota you will find some version or other of creamy wild rice soup, usually with chicken, and everyone claims that theirs is "famous" and the "best".  I tried a few growing up, and I never thought any of them were that great, except for the version that my Mom made, which was pretty good.  I now make my own version, Creamy Vegan Mushroom Wild Rice Soup and I think it is pretty darn delicious!  I always cook off some wild rice ahead of time because it takes a while, so it doesn't take a super long time to make.  Some people complain about the smell of wild rice, but I actually like it.  It is an earthy delicious smell.  Something that reminds me of special salads and soups when I was little because wild rice is also considered kind of gourmet.  Or at least it was when I was little.  It is a bit more spendy than regular rice (and is actually not rice at all, it is a grain producing grass), but if you buy it in the bulk section at your health food store (which is what I do), it is cheaper.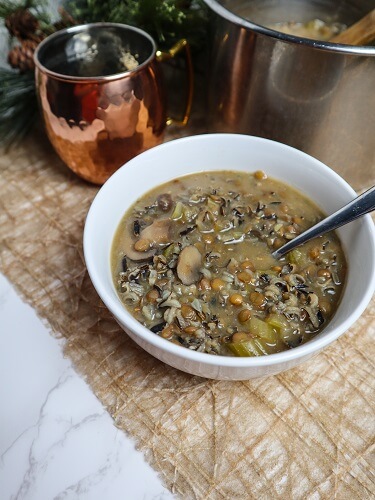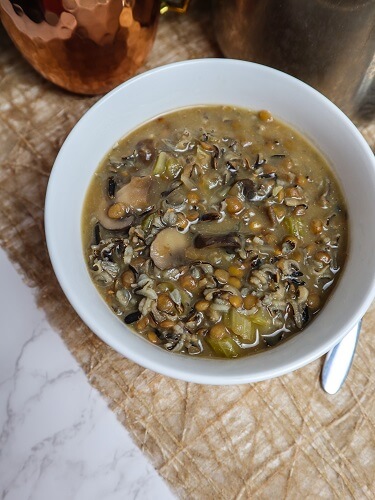 For the protein source in my soup, I use French lentils.  They happen to be my favorite, and they are honestly a staple in my kitchen.  I admit when I was younger I used to be intimidated by them and I thought that they were inferior to beans, but that was before I went vegan and began to discover what a great source of protein they are and how deliciously savory they are! They go awesome with the wild rice too, since they both have that sort of earthy flavor.  I keep the rest of the ingredients pretty simple, mushrooms, celery, onions, and garlic.  Thyme is my herb of choice, and actually my favorite cold weather herb.  It goes beautifully with the wild rice. At the end, I add  a bit of thickened oat milk to make this creamy and crave worthy.
The soup is sooo good!  It was way better than any of those soups I had as a kid, and my Mom has tried this soup as well and approved!  If you are looking for a delicious soup to make for a cool day, this Creamy Vegan Mushroom Wild Rice Soup is a winner. It makes me think of chilly nights warming up by the fireplace in warm sweaters in some Northern Minnesota café.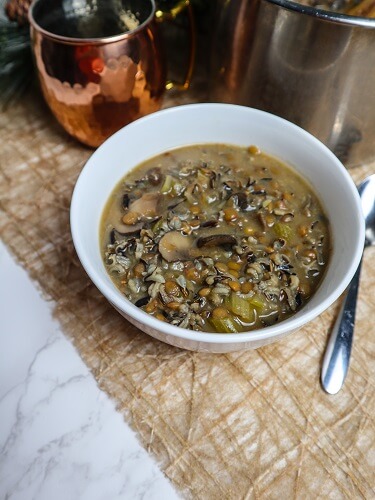 Creamy Vegan Mushroom Wild Rice Soup
Serves2-3
Ingredients:
2/3 cup uncooked wild rice
2 1/2 cups filtered water
4 large celery stalks, sliced
1 small onion, diced
2 garlic cloves, minced
2 cups sliced crimini mushrooms
1/3 tsp sea salt or to taste
1/2 tsp dried thyme
2/3 cup French lentils
1 Tbsp nutritional yeast
1 1/2 cups plant based unsweetened milk (I used Oatly oat milk, you want to use something thicker, coconut milk would also work or soy milk)
1 Tbsp arrowroot starch dissolved in 1 Tbsp filtered water
Directions:
Place the wild rice in a pot, cover with filtered water by at least 3 inches and bring to a boil. Lower to a simmer and cook until the rice has "bloomed", about an hour to an hour and 15 minutes depending on your rice. Drain the rice and set aside.
Combine the 2 1/2 cups filtered water, celery, onion, garlic, mushrooms, sea salt, thyme, and lentils in a pot and bring to a boil.  Lower to a simmer and cook for about 40-45 minutes until the lentils have are tender.  Stir in the wild rice.  Add the nutritional yeast, milk, and arrowroot mixture and cook until thickened.
Serve!
(Visited 604 times, 1 visits today)