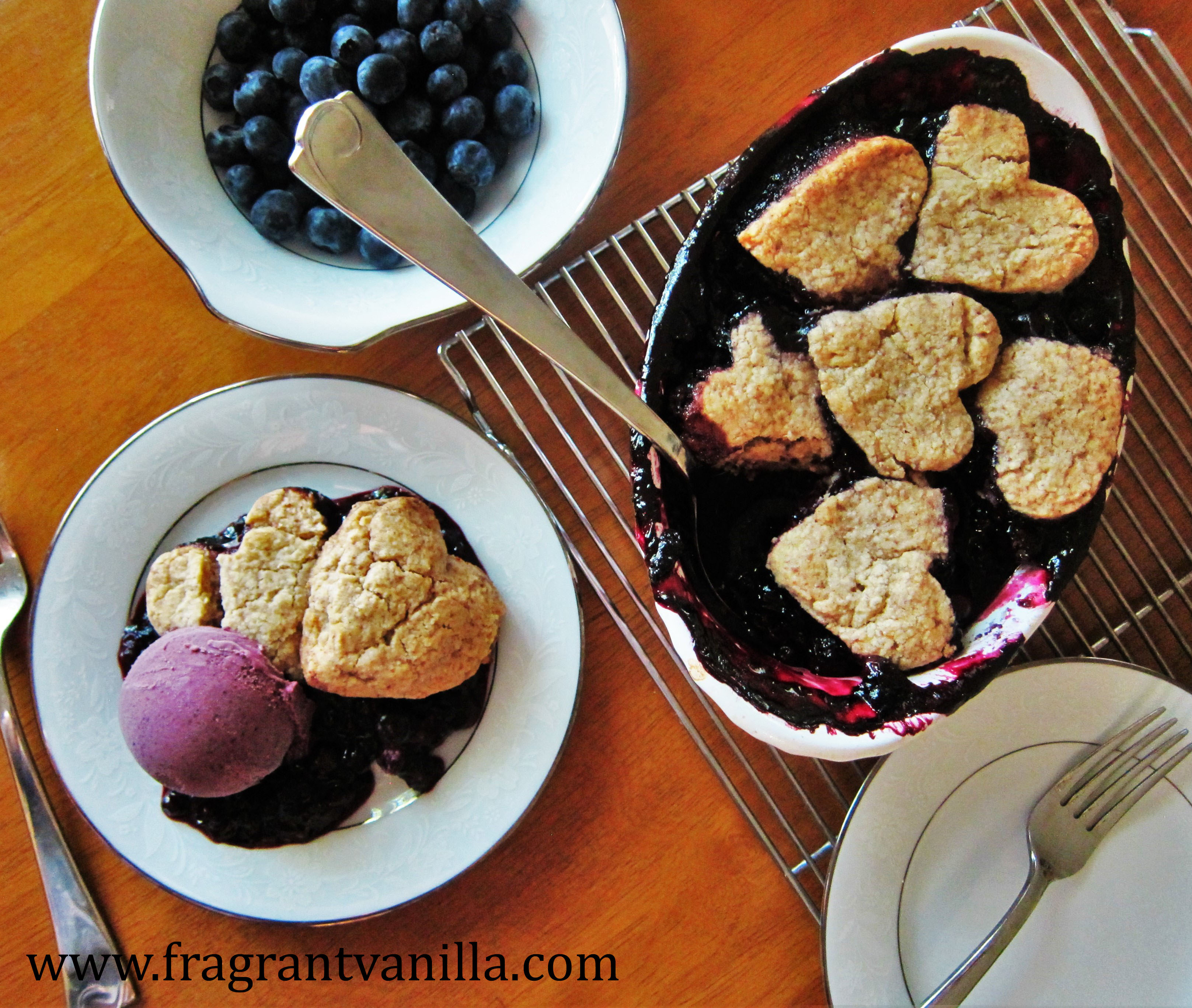 Vegan Blueberry Maple Cobbler with Pecan Biscuits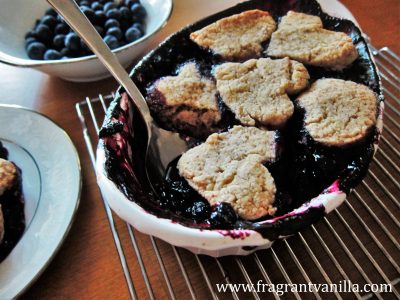 When I was younger I used to go to the library every week and check out cookbooks.  I would sit with a big old pile of them and page through them looking for new recipes to try.  This is how I taught myself to cook in fact!  One Summer in college, I would make 1 new recipe a day.  It kept things interesting.  I made a lot of savory things, but one if my favorite books was a pie book.  It had all of the best ideas in it as far as I was concerned, and I loved pie.  I made quite a few recipes from that book, one of which was a maple blueberry pie.  I made it during the Summer when fresh, local blueberries were available, and it was amazing. It was simple, but so good. No wild flavors here, just maple and blueberries with a classic pie crust.  Minnesotan all the way, because we grow some delicious blueberries here this time of the year, and produce local maple syrup.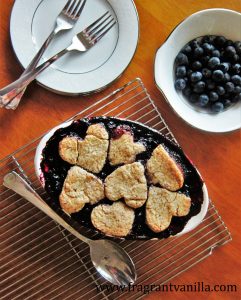 Saturday I was thinking about that pie and how good it was, and how much I wanted to make it, but I also wanted to make a blueberry cobbler, because the previous weekend I had made a peach one and it was so good.  So, I decided to make a blueberry cobbler with the same flavors as the pie.  But, I added in pecan as well.  Because blueberry maple pecan, now that is out of this world good!  A cobbler is a little easier than making a pie too, provided you don't overmix the biscuits so that they stay flaky.  But no rolling stuff out and worrying that it will tear and whatnot.  That is always what intimidated me about pies.  I kept the filling pretty simple for this, to allow the flavor of those delicious blueberries to shine.  For the biscuits, I made my usual with pecan meal and they tasted amazing.  One of my coworkers at the deli makes these maple pecan scones and these taste like those but even better.
<
This smelled like heaven while it baked and bubbled away in the oven.  I could not wait to dive in and top it with some of my blueberry walnut lavender ice cream I had in the freezer.  Lets just say this was devoured fast.  Maybe normal people might get four servings out of this but I get two.  I love my fruit desserts.  This tasted like Summer, the jammy sweet blueberries a perfect pairing with the flaky nutty maple scented biscuits that topped it off. If you have blueberries on hand, give this a go, you will be happy you did!
Vegan Blueberry Maple Cobbler with Pecan Biscuits
Serves 4
Fruit:
3 cups fresh organic blueberries
2 Tbsp maple syrup
2 Tbsp gluten free all purpose flour
1 Tbsp lemon juice
1 tsp pure vanilla extract
biscuit topping:
3/4 cup gluten free all purpose flour
1/2 cup pecan meal*
2 Tbsp maple sugar or coconut sugar
1/2 tsp plus 1/8 tsp baking powder
1/8 tsp sea salt
2 Tbsp solid coconut oil, cut into chunks
1/4 cup cold full fat coconut milk (chilled in the fridge is best), mixed well
1 tsp pure vanilla extract
1 tsp maple extract (optional)
6 inch wide ovenproof bowl or pie plate
Instructions:
Preheat oven to 400 degrees with the rack at the center position. Place a baking sheet lined with foil on the rack. Oil a 6 inch wide pie plate or bowl with coconut oil. In a large bowl, toss together the fruit, maple syrup, lemon juice, vanilla, flour. Spoon into prepared bowl or pie plate, and cover with foil. Place plate on baking sheet and bake for 45 minutes until fruit is cooked through and bubbling.
Meanwhile, when the fruit in the oven is almost at 45 min, to make biscuits, in a large bowl, combine the flour, pecan meal, sugar, baking powder, and salt. Cut in the oil with a pastry blender or 2 knives until the mixture starts to clump into pea sized pieces. In a small bowl, stir the vanilla extract into the coconut milk. Add the milk to the dough, and stir a few times, but do not overmix. The dough should hold together when squeezed, but still be clumpy. Place dough on a floured work surface, and pat into a 1/2 inch tall rectangle.
Remove baking fruit from oven. Cut small shapes out of the dough using a cookie cutter (or free form it), and place on top of the cobbler. When all biscuits are on top of cobbler, sprinkle with coconut sugar and return to the oven. Bake for about 20 minutes until biscuits are cooked through and lightly brown and toasted on top (keep a close eye on they could burn very quickly). Remove from oven and let cool until warm, and top with some ice cream or coconut vanilla whipped cream and...enjoy!
 *raw pecans ground to a flour consistency in a food processor
(Visited 95 times, 1 visits today)