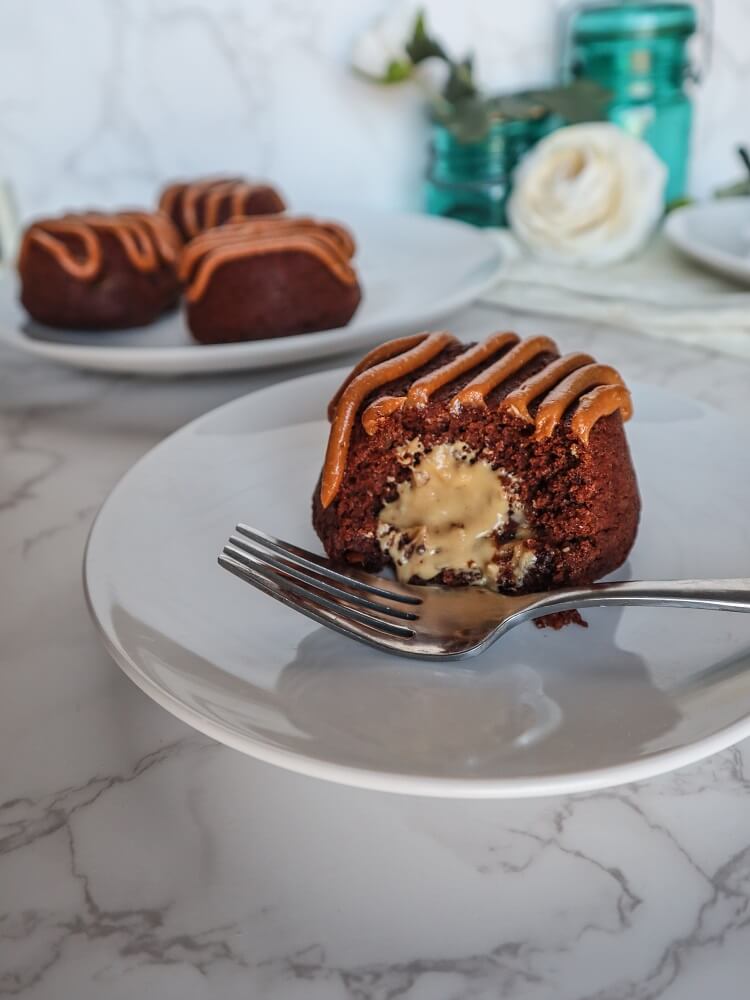 Vegan Peanut Butter Lava Cakes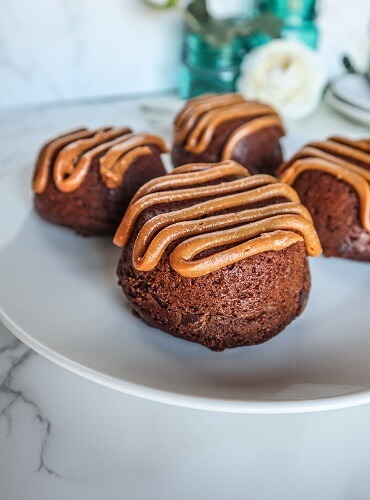 A few years back I had seen peanut butter lava cakes pop up a few times on Pinterest and said to myself, I have to make those.  They just looked too good not to try making. Of course the ones that I had seen were not at all vegan, full of sugar, dairy and eggs.  But that was going to be easy to change as far as I was concerned.  I am pretty confident when it comes to revamping cakes because I make so many of them. Fast forward to now, I am still making my Vegan Peanut Butter Lava Cakes and honestly they are one of my all time favorite recipes!  I just decided that I needed to re-photograph them and update a few tweaks to the recipe I have made (that make them simpler to make and better).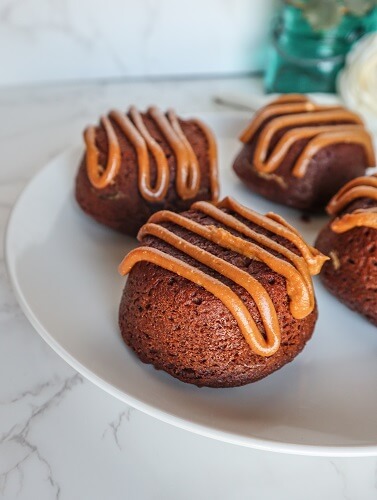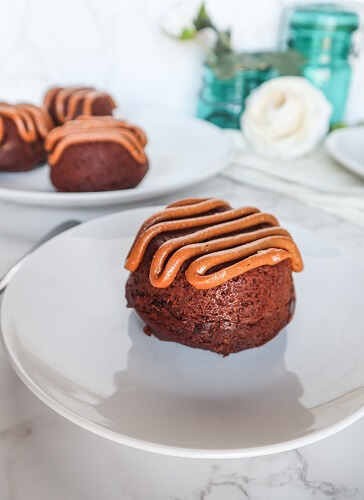 These are a moist chocolate cake sweetened with dates, and they are actually oil free, I usea small amount of my home made peanut butter instead of the usual oil and it works perfect.  I also use whole wheat pastry flour which is something I always have on hand for the flour.  I include my home made peanut butter in the filling and I do not sweeten it, because the cake already was sweet (if you like things really sweet however feel free to whisk in a little maple syrup).  I also include vegan chocolate chips inside these cakes to make them extra gooey and chocolaty.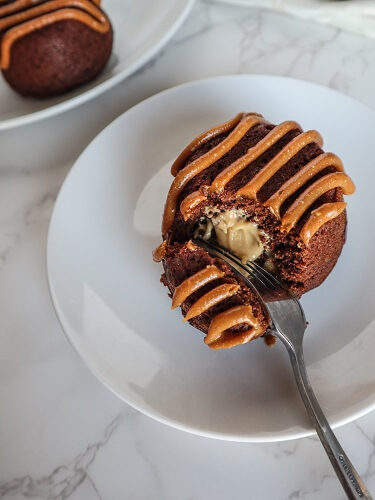 These cakes are sooo freaking good!  Whenever I make them, they are gone in no time, since I love chocolate and peanut butter so much. Sharing desserts like this makes me happy.  If you don't think that vegan desserts can be as delicious as non-vegan ones, you need to try these Vegan Peanut Butter Lava Cakes, they will win over even the biggest skeptic!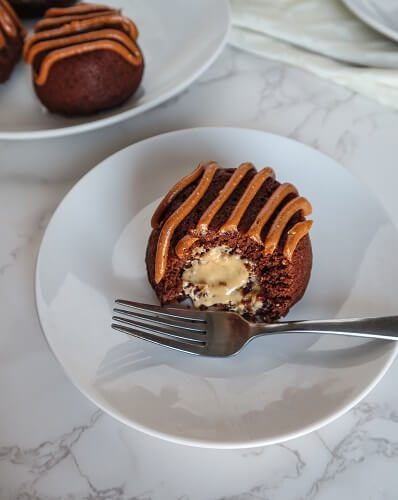 Vegan Peanut Butter Lava Cakes
Makes  four 1 cup cakes
Ingredients and Equipment:
4 1 cup custard dishes
Cakes:
3/4 cups whole wheat pastry flour (or all purpose gluten free flour for GF version)
2 Tbsp cacao powder or unsweetened cocoa powder
3/4 tsp baking soda
1/2 tsp baking powder
1/4 tsp sea salt
1/2 cup packed soft medjool dates, pitted, soaked in water for 30 minutes and 3/4 of the water reserved
2 Tbsp smooth peanut butter
1 tsp pure vanilla extract
1/2  cup filtered water
1Tbsp apple cider vinegar
4 heaping Tbsp smooth peanut butter
1/3 cup vegan dark chocolate chips or chunks
Topping:
2 Tbsp smooth peanut butter
2 Tbsp maple syrup (or enough to make the peanut butter a drizzle consistency)
Instructions:
Preheat the oven to 350F degrees and position rack in center of oven.
Oil four 1 cup custard dishes or ramakins.
Whisk flour, baking powder, baking soda, sea salt in a large bowl to blend well. Place dates, reserved water, peanut butter, water, and vanilla extract into a blender, and blend until smooth, then whisk this blended mixture into the flour mixture until well blended (or you can just put the flour mixture into the blender instead of whisking, I have done this as well for less dishes and it works too). Whisk in the cider vinegar until bubbles form.
Transfer half of the batter to prepared pans filling them half full, then sprinkle some chocolate chips over each one, and drop 1 heaping Tbsp peanut butter into each in the center. Sprinkle more chocolate chips over that.  Spoon the remaining batter over each one.
Place on a tray, and place in the oven.  Bake cakes until they are set, but not over-baked about 15-18 minutes.  Remove from oven, let cool for about 10 minutes, then un-mold.
Whisk together the peanut butter and maple syrup and drizzle over the cakes (or put in a ziplock bag to make a neater drizzle, cut the corner off and kind of pipe it over them in lines)
Enjoy warm!
(Visited 2,121 times, 1 visits today)