Vegan Cheesy Squash Tots with Cranberry Chipotle Ketchup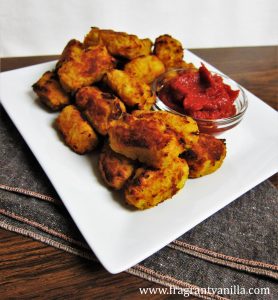 It's funny, growing up I was never a big fan of tater tots.  Whenever they were included in my school lunches, I just left them there, because for some reason they did not appeal to me.  French fries however were another story.  Kind of weird for a kid or teenager I know, but that is how I was.  So, as an adult, I decided to make my own tater tots at home once, and see if I liked them any better.  Well, I am happy to report I loved them!  They were so much better than the gross frozen ones in my school lunch.  I even made vegan tater tot hot dish with some!  I was no longer against tater tots.  But sadly, it has been last year since I made any.  I consider them sort of a cool weather thing, so now is the time.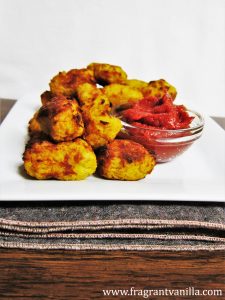 I wanted to make some yesterday, but I decided to do a variation on the ones from last year due to my lack of potatoes, and my love of all things squash right now.  I made cheesy squash tots.  They were made the same as the other ones, but these were even better!  They had the sweetness of butternut squash, the starch of the potatoes, and I could have eaten the whole batch!  I added some nutritional yeast for the cheesy flavor, and a dash of chipotle and sea salt and they were just right!  I made some of my Cranberry Chipotle Ketchup to dip them in and it was perfect!  I am not a big fan of most store bought ketchups because they have lots of sugar but this ketchup tastes better and is sweetened mostly with fruit.  These tots are crave worthy...just sayin' so do make yourself some when you get the chance!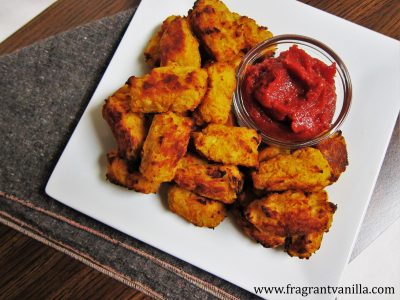 Also, do you notice the pretty heathered granite napkin my tater tots are sitting on?  Well, it was a gift from Kari over at the Beautiful Ingredient!  She sells them over at Food 52!  She actually started making the napkins for her family, and turned it into a side business!  So cool! The napkin she sent me is made with organic cotton and hemp recycled fibers, so these are a product you can feel good about using! I love the idea of cloth napkins, not only for food photos, but for every day use. My family has been using them for a while, because it saves on costs and the environment of course.  These are good quality napkins that I can tell will hold up well for a long time. If you would like to buy some hers for yourself, you can find them HERE.  Also, Kari has been kind enough to offer a discount code on her products, so when you head over use the discount code: HOLIDAYVB1012 for 15% off of $25 orders through November. While you are over at her blog be sure to check out her recipes as well, they all sound delicious!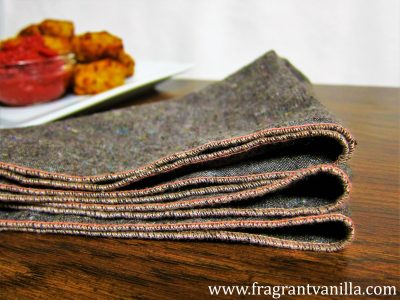 Vegan Cheesy Squash Tots with Cranberry Chipotle Ketchup
Serves 2-4 (two if you are me)
Ingredients:
3 russett potatoes, peeled and cut into 2 inch chunks
1 medium butternut squash, peeled and cut into chunks
filtered water
sea salt to taste
1/3 cup nutritional yeast
1/4 tsp chipotle pepper
1 Tbsp olive or avocado oil (optional)
Directions:
Pre-heat the oven to 425F degrees. To make the tater tots, place the potatoes and squash in a large pot of salted boiling water on the stove, and bring to a boil.  Cook until the potatoes and squash are just tender but not too mushy, and drain. Let cool until able to handle the potatoes, and grate them into a bowl.  Add sea salt to taste, nutritional yeast, chipotle pepper, and mix together. Shape the potatoes into tater tots (they will be a little sticky, but no worries, they will crisp up when baked).  Place on an oiled sheet pan, and drizzle with 1 Tbsp oil, tossing them around in it gently to coat them.  Place in the oven and bake for about 30 minutes until lightly browned and crisp on the outside. Serve with chipotle cranberry ketchup, or your favorite ketchup.
(Visited 187 times, 1 visits today)