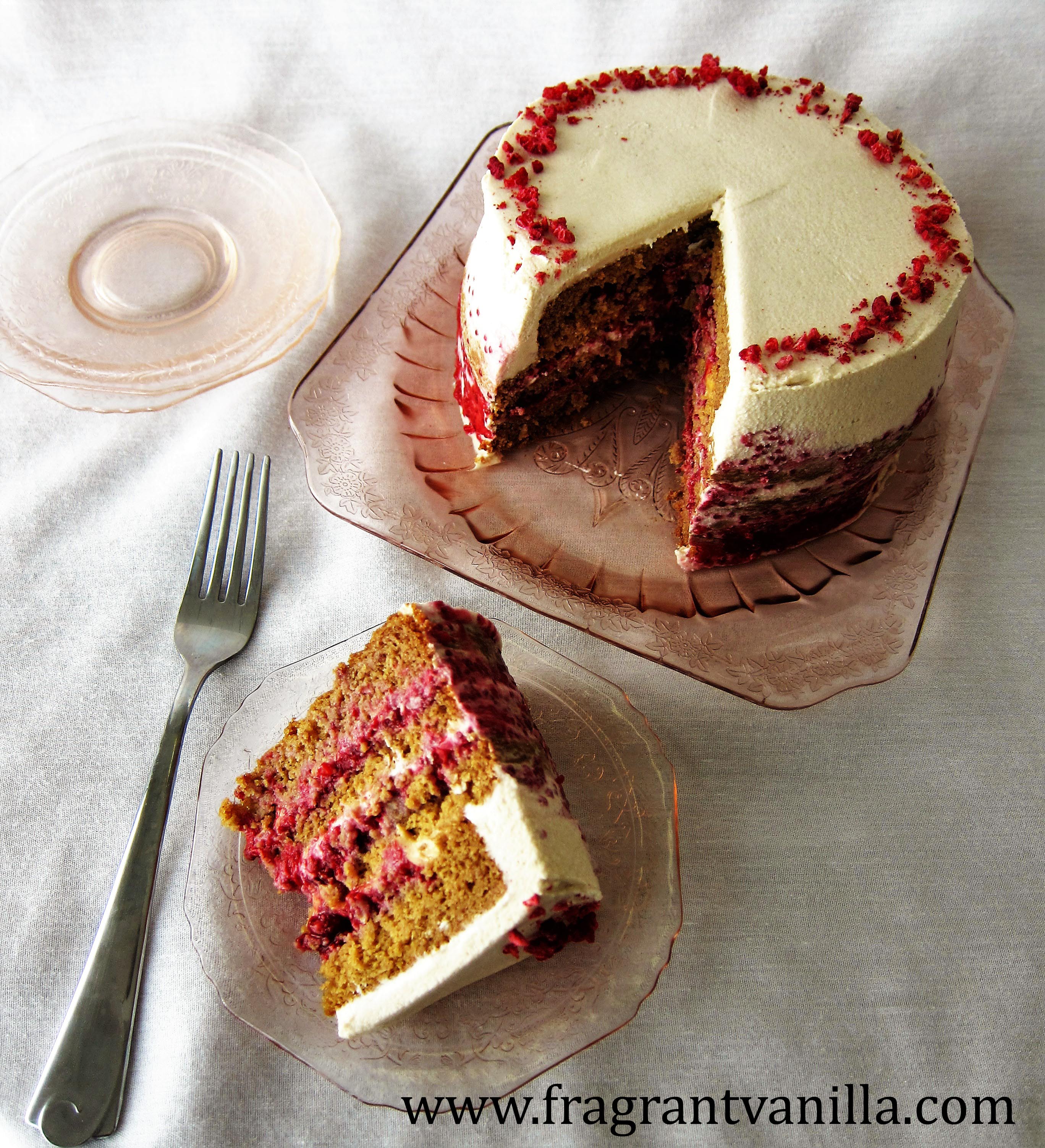 Vegan PB & J Layer Cake and 5 Year Blogaversary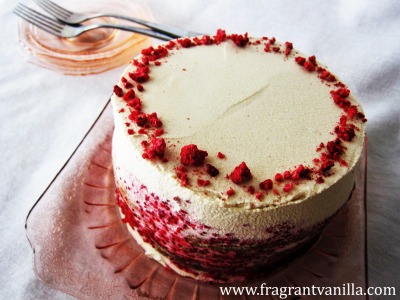 5 years ago today, I started this blog, called Fragrant Vanilla Cake.  Honestly, I started the blog as a way to share recipes with the people I was close to, like friends and family. Since I was sharing recipes before that just on facebook as notes whenever I would make something that I thought was share worthy.  It began as a dessert blog, mostly baked goods.  At the time, I was not vegan, and I was still using refined ingredients in my recipes.  Health was somewhat important to me, but I had yet to be informed about what dairy and refined flours and sugars do to your body. The first recipe I had posted was a red velvet cupcake recipe with cream cheese frosting, and a secret ingredient (beets).  I knew nothing about food photography or blogging but I just went for it!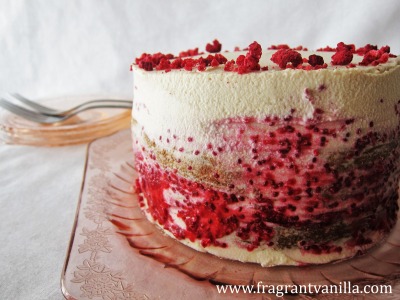 Since then I feel like I have learned so much, and I feel like it has been more like 10 years than 5.  I have since become vegan of course, 3 years ago, and I have shared savory recipes along with my sweet for the past 2 years.  I went completely raw with the blog for a while, when I was eating completely raw diet, and now I share both cooked and raw foods. I feel it is important to be real, and share what I am enjoying at the moment on my blog, so it sort of evolves with me as I change.  It has really been a pleasure to share with the amount of people I have over the years, and I never expected that I would be sharing beyond my circle of friends.  It is pretty awesome that I am able to connect with people all over the world to share recipes.  I want to thank everyone who has stuck with me over the years and visited my blog often, I really appreciate you taking the time to read my blog and recipes.  And, I really love those of you who make my recipes and tell me what you think, it makes me so happy.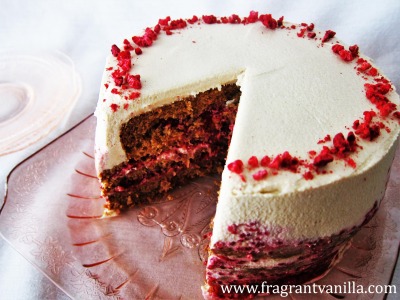 So, for my Blogaversary this year, I thought I would make a cake to celebrate.  Lord knows I have been making plenty of cakes lately in preparation for my book Just Vegan Cakes which will be out later this year.  But I am not sick of cake, I still love it. Although you need no occasion for cake, just the craving for it in order to make it, a grand layer cake is a welcome sight for a celebration.  5 years deserved a cake with two of my favorite ingredients.  PB & J.  I love, love, love PB and J so much in any form, that I thought a layer cake would be perfect. You might remember, for my Birthday last year I had made a Raw PB & J Cream Pie.  Honestly, my oven was broken at that time, and I had wanted to make this cake for my Birthday, and couldn't.  So luckily the pie was awesome. But, I remembered that recipe I had originally wanted when I was deciding on a cake for this occasion and the it made the decision easy.  PB and J Layer Cake it was.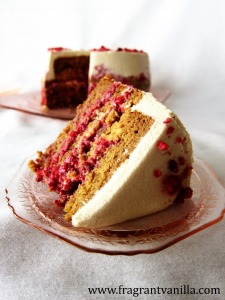 I included peanut butter in the layers, which were sweetened with dates to keep them moist, and it turned out so delicious.  Then I sandwiched them together with organic peanut butter, a simple 2 ingredient raspberry jam (just raspberries and chia seeds, because the ones I bought were so flavorful), and topped it off with a mousse like peanut butter frosting.  It was sooo freaking good, like go back and have another piece good.  This is a cake worthy of a Birthday.  So happy Birthday Fragrant Vanilla Cake!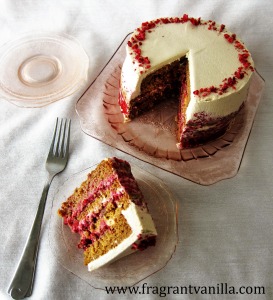 Vegan PB and J Layer Cake 
Makes 1 6 inch 2 layer cake
2 6 inch cake pans
Cake:
1 1/2 cups whole wheat pastry flour (or all purpose gluten free flour if you wish to make it gluten free)
1 1/2 tsp baking soda
1 tsp baking powder
1/2 tsp sea salt
1 cup packed soft medjool dates, pitted, soaked in water for 30 minutes and 1/2 cup of the water reserved
1/4 cup coconut oil, warmed to liquid
1 Tbsp pure vanilla extract
1 cup filtered water
2 Tbsp smooth organic peanut butter
2 Tbsp apple cider vinegar
Jam:
1 1/2 cups frozen or fresh organic raspberries
1 Tbsp chia seeds
(optional, if your raspberries are not sweet maple syrup to taste)
Frosting:
1 cans organic full fat coconut milk, chilled
1/2 cup date paste (or maple syrup, if you use the syrup, use less)
1/4 tsp sea salt
1 tsp pure vanilla extract
1/2 cup smooth organic peanut butter
¾ cup plus 2 Tbsp coconut butter, warmed to liquid
smooth organic peanut butter for layers
freeze dried raspberries for topping (or you may use fresh if you have some)
Preheat the oven to 375F degrees and position rack in center of oven. Line two six-inch-diameter cake pans with 2-inch-high sides with parchment paper. Coat parchment paper and pan sides lightly with oil so that the cake doesn't stick and line the bottom of the pan with a piece of parchment fit to the pan. Whisk flour, baking powder, baking soda, and sea salt in a large bowl to blend well. Place dates, reserved water, oil, additional water, peanut butter, and vanilla extract into a blender, and blend until smooth, then whisk this blended mixture into the flour mixture until well blended. Whisk in the cider vinegar until bubbles form. Transfer cake batter to prepared pans and bake cakes until tester inserted into center comes out clean, about 30 minutes. Cool cakes completely in pan on rack, about 1 hour. Cut around sides of pan to loosen. Turn cakes out onto platter; peel off parchment paper. Let cool completely, then refrigerate to make slicing easier. Slice each cake into 2 layers, and set aside (covered so it doesn't dry out).
To make the jam, mash the raspberries with a fork in a bowl and add the chia seeds (and maple syrup if using).  Set aside in the refrigerator.
Meanwhile, to make the frosting, combine all ingredients In a high speed blender, and blend until smooth. Pour into a bowl, and set in the freezer for about 30-45 minutes until thick like whipped cream (whisking every 15 min.).  Set aside in the refrigerator until you are ready to assemble the cake.
To assemble, place one cake layer on a plate, and spread a thin layer of peanut butter over it (if your peanut butter is not soft, warm it up a little first, you want it very smooth so it does not tear the cake). Spread some of the jam over that.  Then top with another cake layer.  Spread another layer of peanut butter over it, then some of the frosting, then more of the raspberry jam.  Top with another cake layer, then more peanut butter, more jam, and the last cake layer. Spread the remaining frosting on the top and down the sides of the cake, then if you want your cake to look like the one in the photo, spread some of the raspberry jam onto the sides of the cake horizontally. Decorate the top with raspberries if desired.
***if you would like 9 inch cake, double this entire recipe and bake in two 9 inch cake pans. The baking time will be longer, more like 45-50 minutes.
(Visited 597 times, 1 visits today)