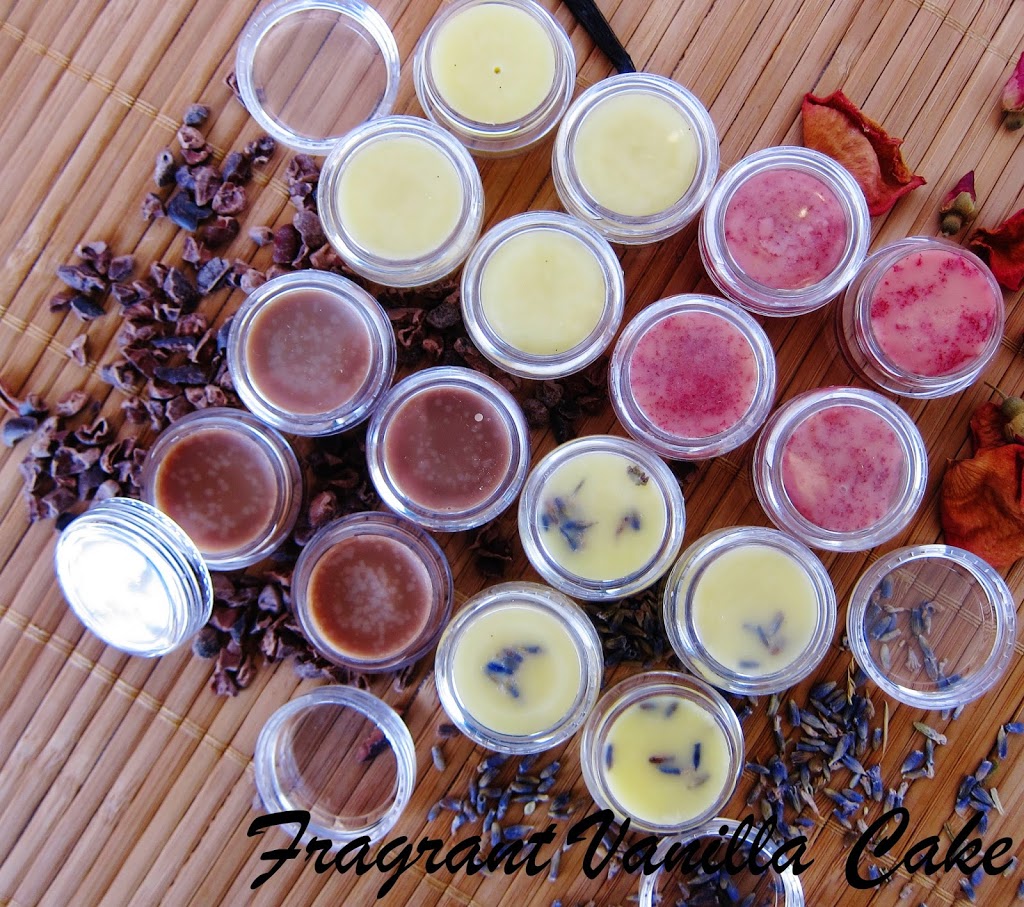 Holiday Gift Ideas from Fragrant Vanilla Cake
Tis the season for giving.  So, I am sure some of you are still looking for ideas since I know this is a really busy time of the year and procrastination is common.  So, I thought a few ideas were in order!  To me, gifts are special when they are well thought out. Not necessarily expensive.  Taking the time to make something yourself can be special, and you can personalize it so that is fits the person you are giving it to. I have ideas here for home made food gifts, as well as home made body care items.  A few favorite books, as well as personal items you can buy or edible treats if you are not into making them yourself. I hope you are all having a wonderful Holiday season so far!  Here are my gift ideas...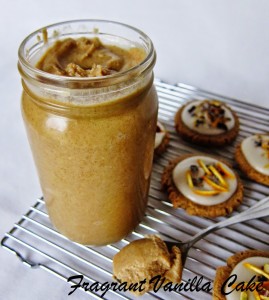 Sugar Cookie Dough Butter...this tastes just like sugar cookie dough!  If you are the type of person who likes cookie dough better than actual cookies, then this is for you, or if you know someone who is, then this would be an awesome food present!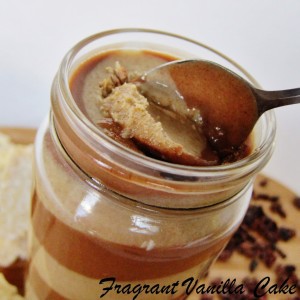 Marble Cake Batter Nut Butter...If you cant decide between chocolate and vanilla, then this is your nut butter.  Good straight out of the jar, or stirred into some morning oatmeal, this is delicious!  Also, so pretty, so it is an impressive thing to share with a nut butter lover in your life.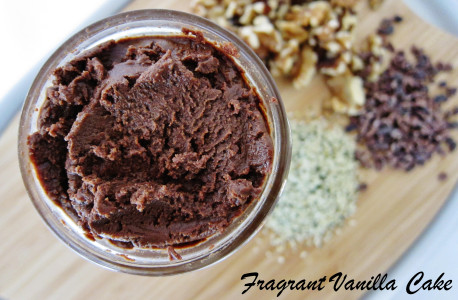 Raw Walnut Hemp Brownie Fudge Butter ...this tastes like fudge brownies. Plus, you are getting healthy omega 3 oils too when enjoying this! I like it straight out of the jar.  Gift this to the chocolate lover in your life. And for even more nut butter recipes...visit THIS POST! I have many nut butter recipes on my website if you would like to explore other flavors!  I would be thrilled to receive such a gift, being the nut butter lover I am.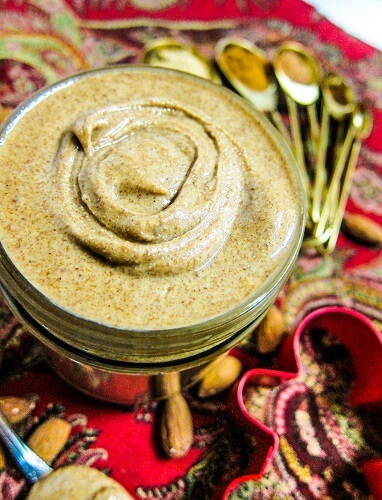 Gingerbread Almond Butter If you know a gingerbread lover, or if you yourself are, you should whip up a batch of this deliciousness!  It is easy to make with a high speed blender or food processor and it is so good!  It tastes just like gingerbread cookies, but is healthier for you!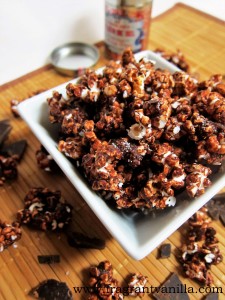 Vegan Dark Chocolate Sea Salt Popcorn...this has it all!  Salty, sweet, crunchy, and of course chocolaty.  It is crave worthy!  It is the perfect thing to put in a jar and give to someone else to enjoy for delicious edible Holiday gift!  That is if you don't finish it off first.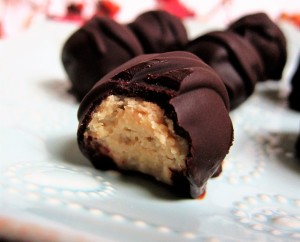 Raw Maple Chestnut Truffles...these babies are sweet, nutty, soft and delicious!  Chestnuts are one of my favorite things this time of the year, and they are not available year round, which makes them even more special. They need to stay refrigerated, but these are a sweet treat that is sure to please anyone with a sweet tooth.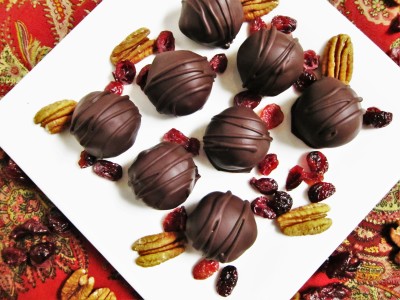 Raw Cranberry Pecan Truffles...these look like you put a lot of work into them, but really they are pretty easy to make.  Just buzz all the filling ingredients in the food processor, roll into balls, dip in chocolate and voila! They keep well too, so they make a great gift.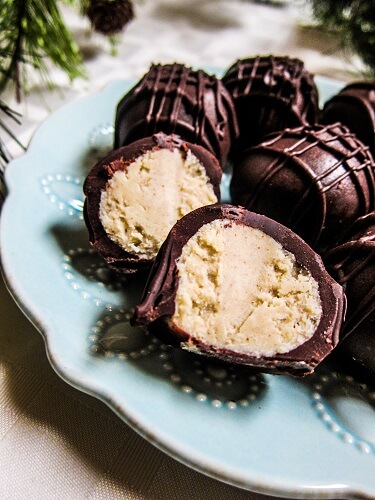 Vegan Eggnog Truffles...know someone that loves eggnog? I do, Eric loves it, and he loved these when I made them as well.  They taste like eggnog, but even better thanks to the chocolate coating.  A box of these would be a welcome treat to bring to a party or as a hostess gift.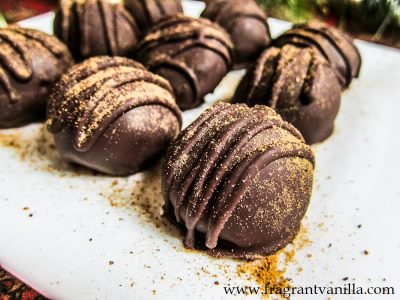 Gingerbread Cookie Dough Truffles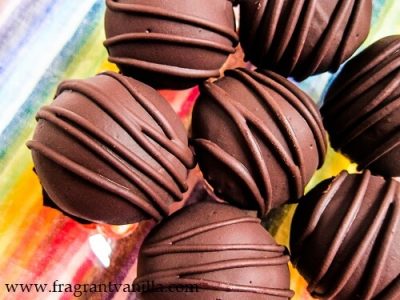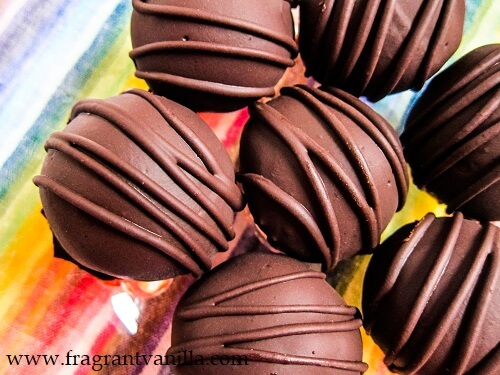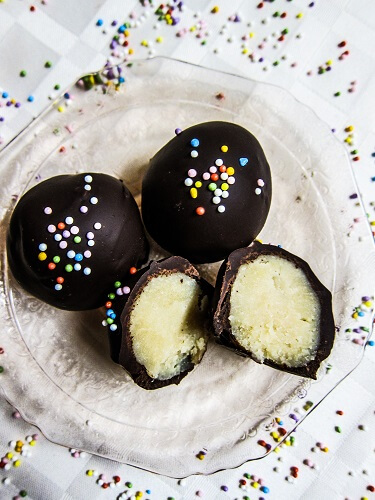 Vegan Sugar Cookie Dough Truffles  These taste just like sugar cookie dough!  I love cookie dough better than actual cookies, which is why I made these.  They are heavenly.  It doesn't get much better than cookie dough dipped in dark chocolate!  If  you have a cookie dough lover in your life, whip up a batch of these for them!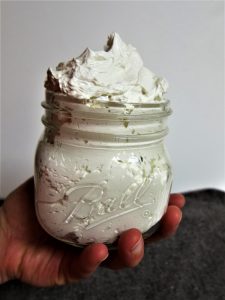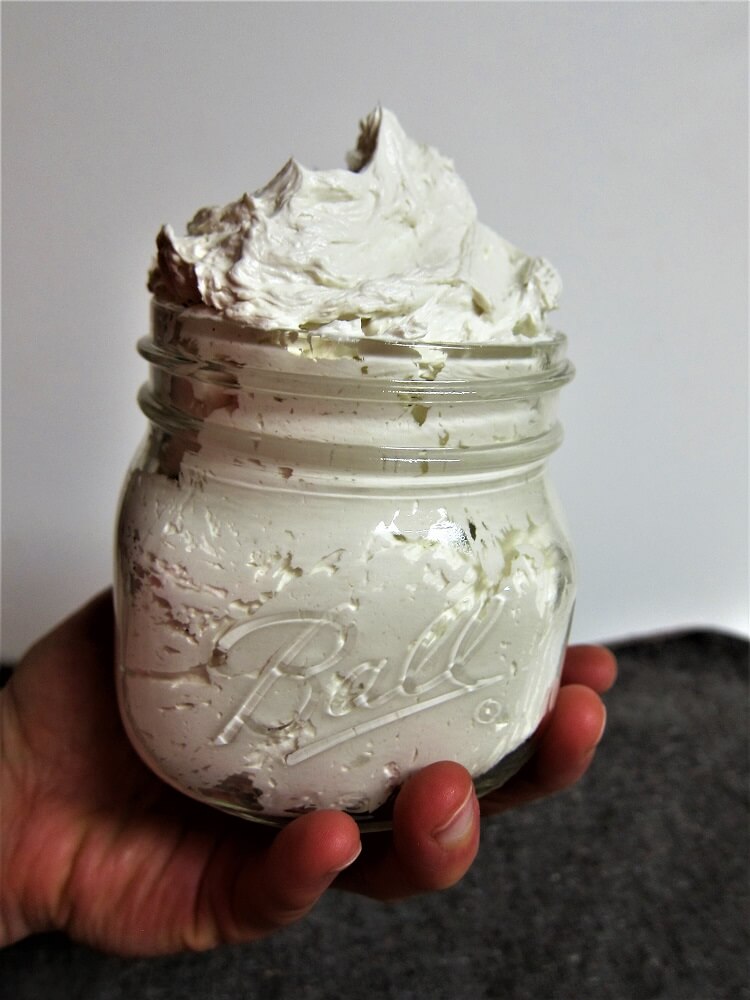 Vanilla Bean Rose Body Frosting...this body frosting keeps your skin smooth during the winter months, and we can all use that with the dry cool air.  It smells amazing, and it fairly easy to make.  Don't forget to make yourself some as well so you can have smooth skin.  If you can find a pretty jar to put it in, it makes a fabulous gift.
Lavender Epsom Salts Bath Soak...a wonderful relaxing gift that will make your loved one feel pampered!  I take epsom salt baths often to sooth overworked muscles, and they work wonders!  I always include lavender essential oil for relaxation. To make soak for gifting, simply place 4 cups epsom salts in a bowl, add 1/4 cup dried lavender flowers, and drop about 20 drops lavender essential oil over them and mix together. Spoon into 4 8 oz jars.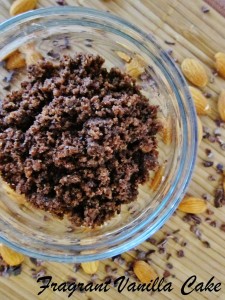 Mocha Almond Body Scrub ...for the coffee lover in your life!  The caffeine stimulates the skin as the sugar exfoliates, and the almond oil leaves skin moisturized. It is great to use in the morning, and it smells amazing.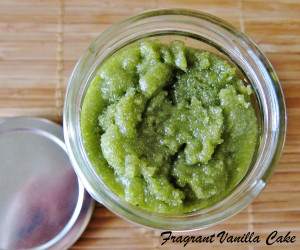 Green Tea Mint Scrub...for the green tea lover in your life. The matcha contributes antioxidants, the coconut oil moisturizes, and the mint wakes you up and cools your skin. This is particularly wonderful to use after a workout in my opinion.  Plus you smell good after using it!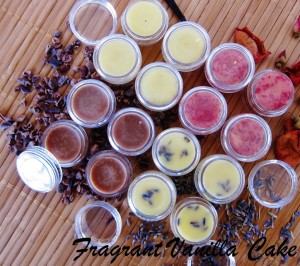 Home Made Flavored Lip Balms...who doesn't like to use lip balm flavors like brownie batter and vanilla maple?! Well, in case you don't, there are also lavender orange and grapefruit rose which smell amazing as well.  Making home made lip balm is fun, and there is always plenty to share! These make great stocking stuffers.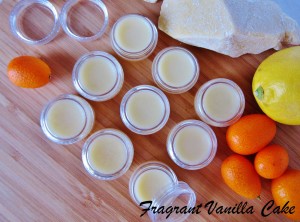 Citrus Cacao Butter Lip Balm...in case you would like to smell like white chocolate orange every time you apply your lip balm.  Or, you may use this as cuticle treatment for dry rough hands.  I have done that in the Winter, and it works great!  If you gift this, your friends will wonder what just what you put in this magical concoction to make it smell so amazing.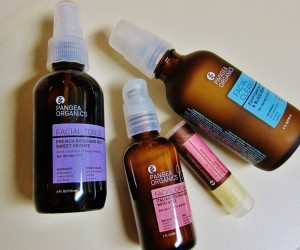 Pangea Organics Facial Products...if you are not into making your own body care items, but you want your loved one to feel pampered, get them a set of facial care products from Pangea Organics!  These make your skin feel beautiful, and they are made from quality ingredients.
Pacifica Makeup and Beauty Products...they are affordable, vegan, and cruelty free!  Not only that, you can find them at Target, on Amazon, on Vitacost.com, and at some drug stores. They have fun eye shadow palates, perfumes and lip products that would make great stocking stuffers or small gifts.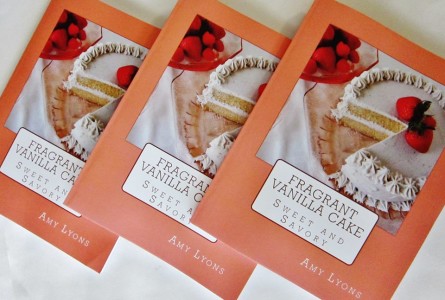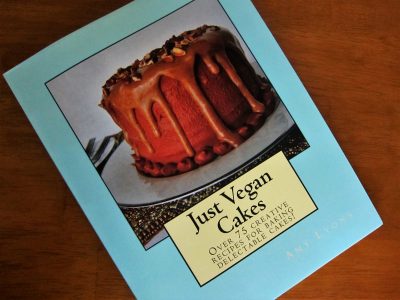 My Books, Fragrant Vanilla Cake: Sweet and Just Vegan Cakes! Of course I had to put these on the list.  I have a large cookbook collection that I am always adding to, and I always welcome cookbooks as gifts.  So if your loved one is into good food and recipes (especially desserts), then these are for you.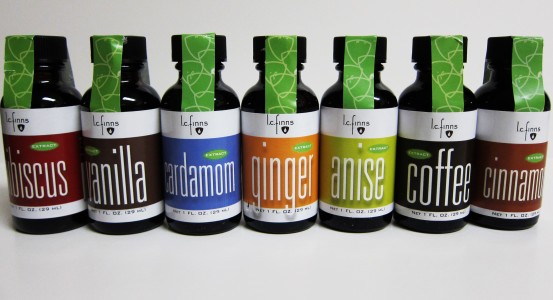 L.C. Finns Extracts...these are a must have for the baker in your life.  Where else can you find flavors like hibiscus and anise?  They smell amazing and they add wonderful flavor to anything you include them in.  They have gift sets too, so they are perfect for giving!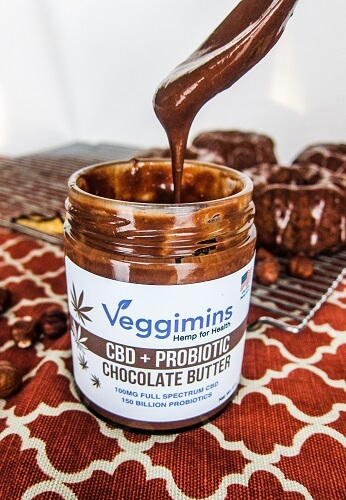 Raw Guru Products...like their heavenly Rawmio Spreads, Veggimins CBD products, Dastony Nut Butters, and Rawmio Chocolate Bars!  They have so much that is perfect for gifting, and I love their stuff!  It is all good quality and super delicious.  One of my favorite things is the CBD chocolate hazelnut butter pictured here.  I could just eat that with a spoon, and any chocolate lover you gift this too will love it!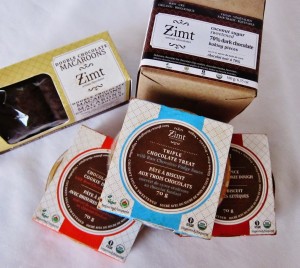 Zimt Chocolates...quality coconut sugar sweetened treats are hard to find, but Zimt has you covered.  They have deliciously flavored chocolate bars and macaroons as well as cookie dough cups which are to die for.  Their baking chunks are awesome as well for cookies or just snacking. For the chocoholic in your life, consider Zimt!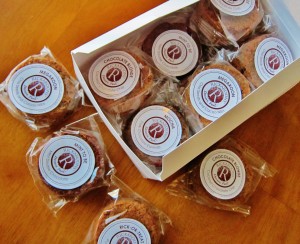 Rickaroons Macaroons...for the coconut lover in your life.  They bring macaroons to a whole new level.  My favorite is the chocolate blonde that tastes like cookie dough, but if you wanted to go seasonal, there is always the chocolate mint as well plus many other delicious flavors!
Quooze Diffusers, are a great gift for anyone.  They are attractive (which is not something I can say about all diffusers), and they work perfectly for filling your home with pleasing aromas as well as adding a little humidity to the air (which we need in the winter, at least where I live).  I use mine whenever I know I am going to be home for a while.  Rosemary and citrus are great energizers in the morning, and lavender is a relaxing aroma at night.
1 Gallon Wine Fruit Kit ...My boyfriend got this for me last year and I have had so much fun with it!  You can make your own fruit wine (about 5 bottles a batch), and who doesn't love good wine?  I have been making it since he gave it to me so that I always have some on hand and I love experimenting with different types of fruit.  So, if you have a wine lover in your life, consider this as a gift!
(Visited 7 times, 1 visits today)