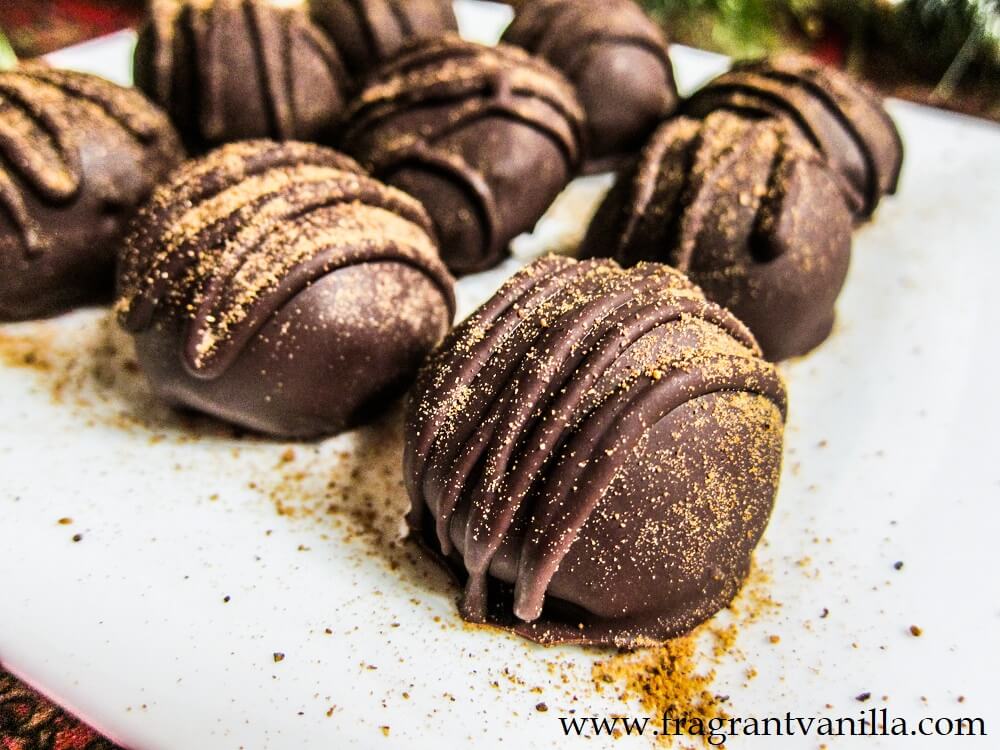 Vegan Gingerbread Cookie Dough Truffles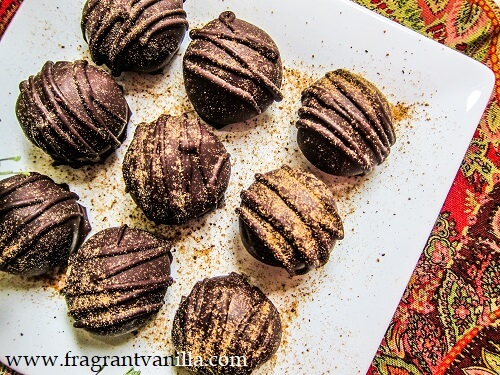 I am a planner.  I like to plan things ahead and know what is going on before I dive into things so I know what to expect.  A lot of times I go through a bunch of different scenarios in my head before I carefully pick which one that I think is best then go with it.  But sometimes things go a little differently than I had hoped, and in the last few years I think I have learned to adapt more.  Like yesterday when I was looking forward to baking some gingerbread cookies all day, and day dreaming about them at work.  But then stuff happened and I ended up staying late at work and not having enough time to make and decorate them.  So I adapted and decided to make an easier faster recipe some gingerbread truffles.  It actually worked out perfect, because I love decorating gingerbread cookies, and they are delicious but not as delicious as the cookie dough.  I have a thing for cookie dough, and it is always my favorite part of baking cookies, getting to eat it.  It stems from the days of when I was a little kid baking cookies with my Grandma in the kitchen.  I would steal a little cookie dough each time she was not looking and I became a cookie dough loving girl for life.  Now, you may not thing gingerbread dough is as good as chocolate chip cookie dough, or peanut butter cookie dough, but think again. It is good stuff, and that spicy flavor is perfect for this time of the year.
There wasn't any actual real dough in these though, I used almond butter as a base, because I figure eating a truffle made of nut butter at least has some redeeming health qualities like protein and all of the benefits of nuts like fiber and nutrients.  The almond butter made a smooth crave worthy rich base, and all I needed to add to it was maple syrup, a little coconut butter to firm it up so it could hold shape, and some sea salt along with traditional gingerbread spices.  Ginger, cinnamon, nutmeg and cloves smell and taste simply heavenly together!  It honestly tastes just like gingerbread cookie dough!  Now, you could eat the "dough balls" just like this, but I wanted them to be dipped in dark chocolate.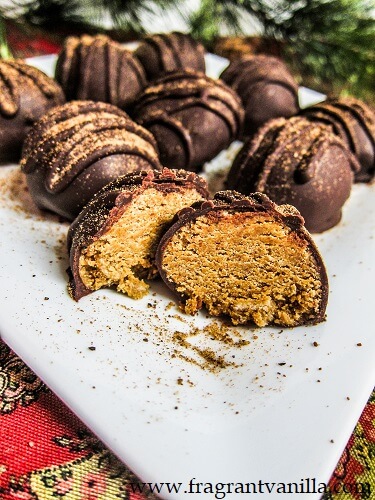 Because chocolate is amazing with gingerbread. I admit I thought about dipping them in white chocolate, but I ended up going with the dark because it was easier and I was more in a rich dark chocolate sort of mood.  These came together fast, and I could not wait to try them!  They were crave worthy!  They honestly turned out even better than I imagined, just the right amount of sweet, tasting like cookie dough, and that dark chocolate on the outside was the perfect addition!  These would make a great Holiday food gift, if they make it out of your kitchen...but it is so tempting to eat them all yourself, so you may have to make a double batch.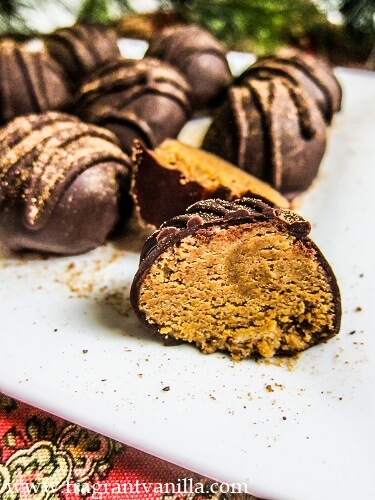 Vegan Gingerbread Cookie Dough Truffles
Makes 16
1 cup almond butter
2 Tbsp melted coconut butter (or 3 if your almond butter is especially runny)
1/4 cup maple syrup
2 tsp ground ginger
2 tsp ground cinnamon
1/2 tsp ground cloves
1/4 tsp nutmeg
1/4 tsp sea salt
1 1/2 cups chopped vegan dark chocolate
Instructions:
in a bowl, mix together the almond butter, coconut butter, maple syrup, ginger, cinnamon, cloves, and nutmeg until smooth.
Roll the mixture into 1 1/2 inch balls, and place on a parchment lined tray.  Place in the freezer for about 15 minutes (or until firm).
Meanwhile, melt the chopped dark chocolate in the top of a double boiler until smooth, stirring often.
Once the chocolate is ready, dip each of the gingerbread fillings into the chocolate letting the excess drain off (I like to set it on a fork to do so) and place back onto the tray.  Repeat with the remaining truffles, and place back into the freezer until the chocolate is hard, about 10 minutes.
Store truffles in an airtight container in the refrigerator, they keep for 1 month.
(Visited 151 times, 1 visits today)