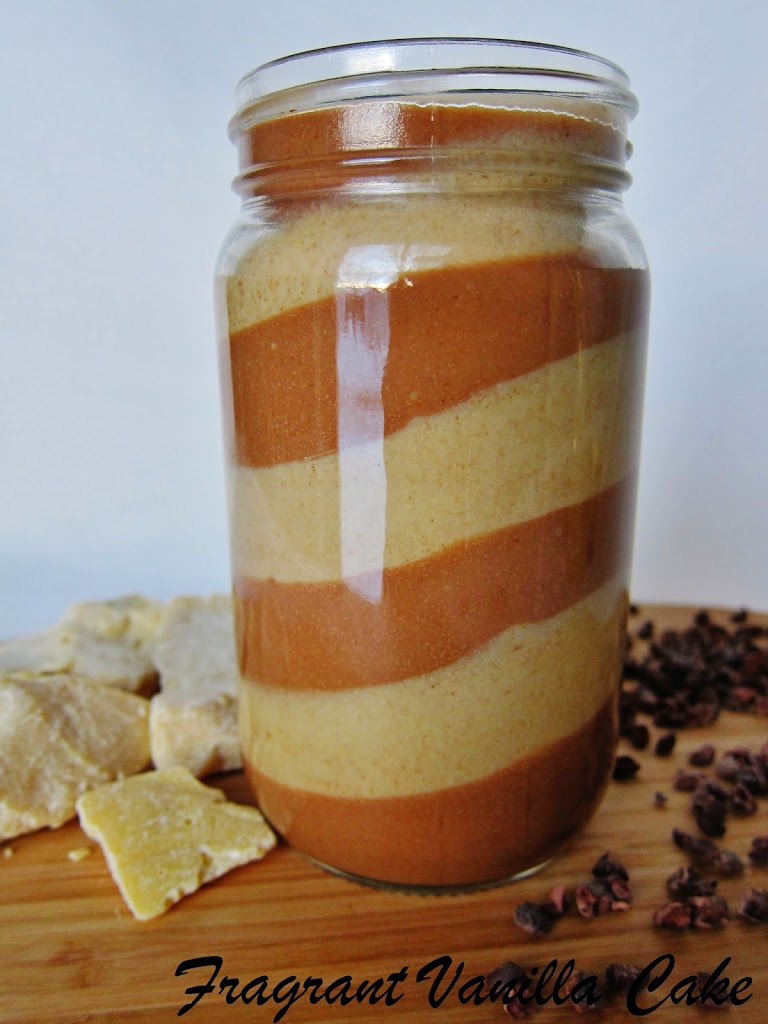 Raw Marble Cake Batter Nut Butter
I am always experimenting with new flavors of nut butters.  Sometimes I keep them simple and sometimes, I like to play it a little sweet and dessert like.  This is because I think the right sweet nut butter is wonderful drizzled over some bananas for dessert, or over a smoothie bowl as an extra treat with the other toppings.  I made Sugar Cookie Dough Butter and Brownie Batter Pecan Butter recently,  and I decided it was about time for some cake batter butter.  Not just cake batter butter though, marble cake batter butter.
I used a macadamia base, which is my honest to God favorite nut butter because it is so rich and tastes amazing.  I added in a bit of raw cacao butter which made it taste like white chocolate for the vanilla portion.  I added some raw cacao powder to half, swirled it in a jar all pretty like, and was it ever pure deliciousness!  This is the type of thing you would be tempted to eat right out of the jar, it is that good.  Speaking of that, I once ate a whole jar of  Smucker's Goober Grape peanut butter and jelly in a jar in high school.  I have self control now though thank God or this stuff would be gone.
My favorite thing to do with this is to drizzle it over sliced bananas (I warm it in the dehydrator a little first, so it is runny).  It is sooo good! I was totally going to share some of this nut butter too, I had the intention, but I think it will never see pass through else's lips but my own.  If you don't want to splurge on macadamia nuts to make this, feel free to substitute cashews instead.
Raw Marble Cake Batter Nut Butter
Makes about 3 cups
3 1/2 cups raw macadamia nuts, cashews or pine nuts
1/4 cup raw cacao butter
1/4 tsp sea salt
1 tsp pure vanilla extract
1/2 cup raw coconut sugar
2 Tbsp cacao powder
In a high speed blender, combine all ingredients but the cacao powder and blend until smooth, using the tamper to push the mixture down into the blades.  Remove half the mixture to a glass measuring cup with a spout.  Add the cacao butter back to the other half of the nut mixture in the blender and blend until well incorporated.  Pour the 2 nut mixtures alternating the two into a jar to create layers.
*Note: this nut butter gets a little firm when refrigerated. Let it sit out if you would like it softer.
(Visited 105 times, 1 visits today)