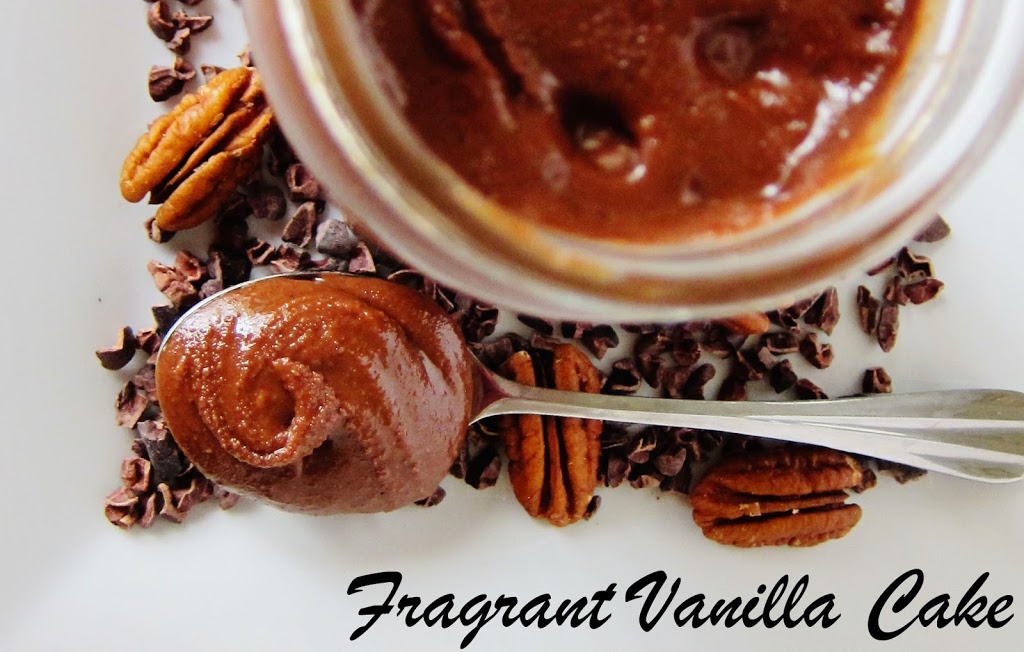 Raw Brownie Batter Pecan Butter and Truffles
So, later that day, that is what I made. I used pecans as a base, because pecan butter is one of the most smooth and heavenly concoctions you will ever come across, and it loves chocolate. Match made in heaven, let me tell you! This stuff tasted like brownie batter seriously! It was good simply with a spoon if you know what I mean, but I decided that it deserved to be made into some candy as well, so I made truffles laced with crunchy cacao nibs with some of it.
What a treat! If you are a chocolate lover, you must get on this brownie batter butter recipe, it is way better than Nutella any day. The truffles are wonderful as well, rich chocolate with little crunchy cacao bits. Since Valentine's Day is coming up, I think either of these would be far superior as a gift for your love than a box of store bought chocolates...and they will be impressed at your efforts! I am in a chocolate mood lately for some reason, I hope you all don't mind!
Raw Brownie Batter Pecan Butter
Makes about 2 1/2 cups
3 1/4 cups raw pecans
3/4 cup finely shredded, dried coconut
3/4 cup coconut sugar
1/2 cup raw cacao powder
1/4 tsp sea salt (or to taste
1 tsp pure vanilla extract
1 tsp maple extract
In a high speed blender, combine the nuts and coconut and blend until smooth (alternatively this can be done in a food processor but it takes a lot longer and will most likely not get as smooth). Add the coconut sugar, cacao powder, sea salt, vanilla, and maple extract and blend until smooth. Store in a jar.
Raw Brownie Batter Truffles
Makes 12
Filling:
2/3 cup Raw Brownie Batter Pecan Butter
1/4 cup raw cacao nibs
3 Tbsp raw coconut butter, warmed to liquid
Chocolate:
1/2 cup raw coconut oil warmed to liquid
1/3 cup raw cacao powder
1/4 cup maple syrup or raw coconut nectar (or your choice liquid raw sweetener)
a pinch sea salt
Mix the filling ingredients together until well blended in a bowl and place in the freezer to firm up to scoopable consistency (about 20 minutes, and stir after about 10).
Once more firm, scoop out by the mounded Tbsp, and roll into balls and place on a foil lined tray (it may get a little sticky if your hands are warm, so work quick).
Place the tray into the freezer and freeze until firm, about 20 minutes more.
Meanwhile, whisk together the chocolate ingredients in a bowl.
Once the filling has firmed up, dip each one into the chocolate, then place back onto the foil lined tray (I like to set the filling on a fork and dip it to let the excess drain off). Once they are all dipped, allow them to harden, and place them in the freezer for a few minutes if necessary. Store in the refrigerator.
(Visited 72 times, 1 visits today)