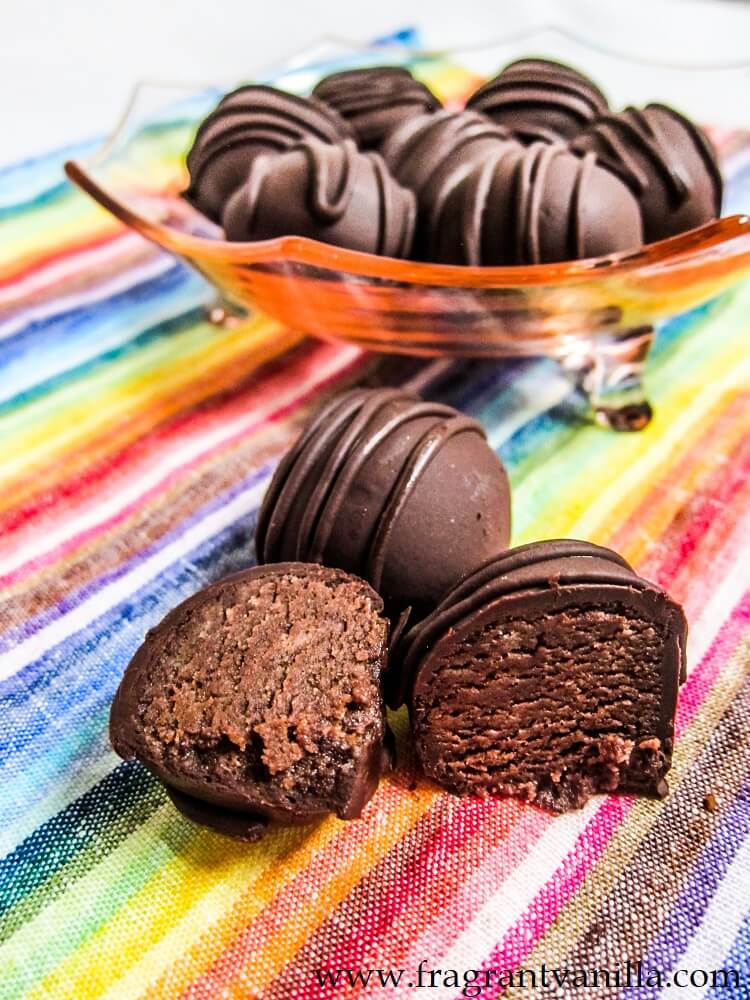 Vegan Nutella Truffles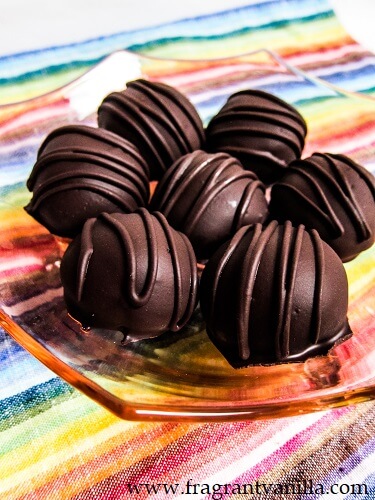 I used to think Nutella was pretty awesome when I was little.  I mean, I could eat chocolate on toast for breakfast and it was considered ok.  When I made a trip to Europe with my French class in high school, I ate nutella on baguettes or croissants every day.  What's not to love about chocolate that is spreadable?!  I never thought about the fact that it had hazelnuts in it, because it didn't really taste like them to me, and I have since looked at the ingredients and realize that it is because the first two ingredients are sugar and vegetable oil.  I didn't really care what I ate then, and it didn't matter to me at the time but it does now.  If I buy anything that is supposed to be nut butter, nuts better be the first ingredient in it.  I don't eat real Nutella anyhow because it is not vegan.  So, I make my own more delicious vegan nutella!  I say more delicious because you can really taste the hazelnuts in it, and it contains way less sweetener (and no refined sugar).  I was given a bunch of hazelnuts recently and made a few jars of just plain hazelnut butter, and I decided that I wanted some "nutella" truffles.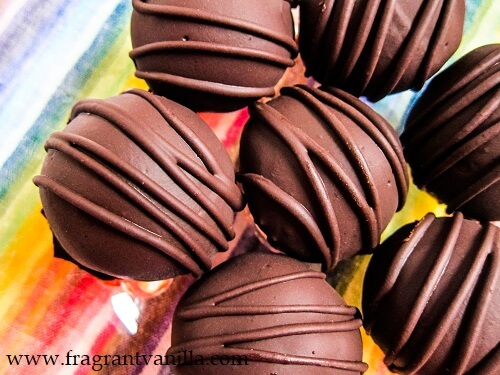 So, I whipped some up, and they were super simple!  Only 5 ingredients, if you use already made vegan dark chocolate.  I recommend Lily's Dark Chocolate Chips, Zimt Baking Chocolate, or Luv Dark Chocolate Chunks for melting, because they are all either sugar free or refined sugar free and quality chocolate. I try to look for chocolate with few ingredients that are real.  The filling for the truffles is just hazelnut butter, maple syrup, sea salt and cacao butter, that is all!  I made my own hazelnut butter so it was a little less runny than some of the commercial brands, but if yours is commercial and more runny don't worry, all you need to do is add a little more cacao powder (I have included instructions below). The truffles came out super delicious!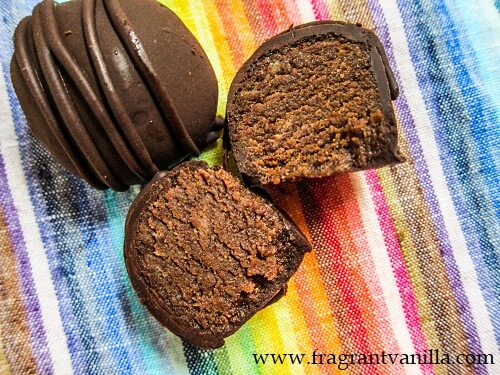 This is way better than most of the Halloween candy out there, more like grown up real Halloween candy.  So, it is the perfect time of the year to make them, so you can enjoy them instead of the store bought candy that is not made with good ingredients.  I think if I had eaten these as a youngster,  I would not have liked the real Nutella because these are so much better and actually taste like hazelnuts!  If you are craving Nutella, you need to give these lovelies a try!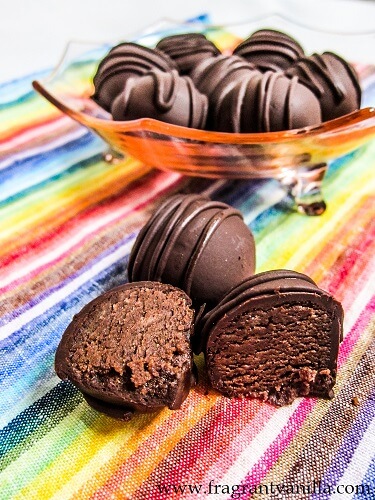 Vegan Nutella Truffles
Makes 12
Ingredients:
1 cup hazelnut butter*
3 Tbsp maple syrup
1/4 tsp sea salt
3 Tbsp cacao powder (or unsweetened cocoa powder)
1 cup chopped vegan dark chocolate
Instructions:
In a bowl, mix together the hazelnut butter, maple syrup, sea salt and cacao powder until well blended.
Roll the mixture into balls, and place on a parchment lined tray. Freeze for about 1 hour.
When the filling has chilled for an hour, melt the dark chocolate in the top of a double boiler until smooth.
Dip each filling ball into the melted chocolate, let the excess drain off (I like to set it on a fork), and place back onto the tray.  When you are finished dipping them, place them in the freezer to firm up for about 10  minutes.
Store truffles in the refrigerator for up to a few months in a sealed container.
*Note: If you hazelnut butter is more runny, you may need to add an additional 2-3 Tbsp cacao powder to make the filling mixture firm enough.
(Visited 348 times, 1 visits today)