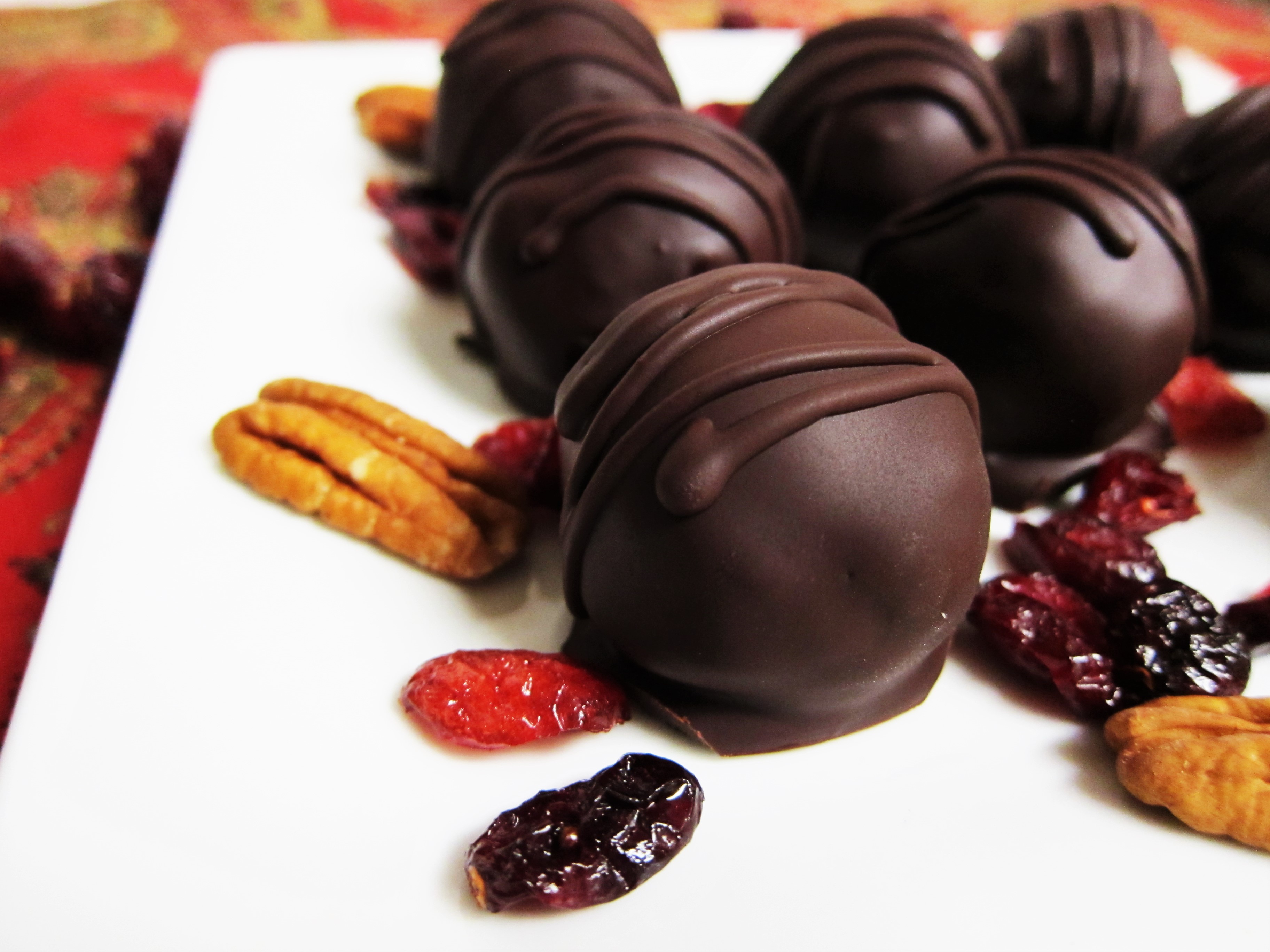 Raw Cranberry Pecan Truffles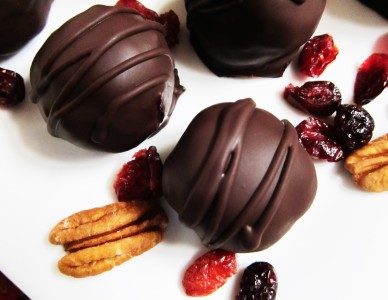 It is the time of year when I find myself adding cranberries to everything.  Salads, desserts, savory dishes...they are so pretty, like little red jewels, plus they are delicious.  I am one of those people who likes tart things.  Anyways, I decided last week one night that some cranberry pecan truffles sounded amazing.  I love pecans as well, they are so buttery and delicious and I thought they would go perfect with the tart berries.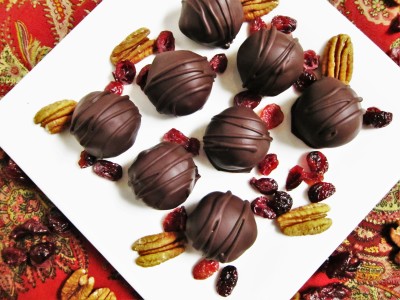 I wasn't sure exactly how I was going to make them when I started, and just started adding things to the food processor, and what I ended up with was pure deliciousness.  I was going to add cacao powder into the mixture, but I decided I liked it as it was with the pecans and cranberries as the stars and the main thing that I tasted.  I did however dip them in raw chocolate because I wanted a little chocolate to go with them but still be able to taste the delicate flavors.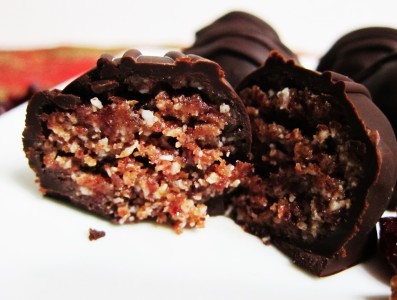 I think these would make lovely holiday gifts, but you could of course make a batch for yourself, because you deserve to enjoy delicious things and feel special.  These are easy to make, so no excuses not to try them!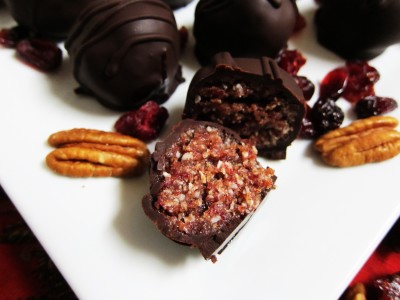 Raw Cranberry Pecan Truffles
makes 12
1 cup dried cranberries
1/2 cup soft, pitted medjool dates
2 cup raw pecans
1 cup finely shredded, dried coconut
1 tsp cinnamon
1 Tbsp orange zest
1/8 tsp sea salt
1/2 cup raw chocolate, chopped
Combine all ingredients in a food processor and process until the mixture holds together when squeezed. Shape into 12 balls, and place in the freezer for 15 minutes.
Melt the raw chocolate either over a double boiler (not letting it get above 115F degrees), or pop it into the dehydrator at 115F degrees, and stir about every 10 minutes until it melts.
Dip each cranberry pecan ball into the melted chocolate and set on a foil or parchment lined tray (I like to use a fork to set it on and dip it to let the excess drain off). Allow to set, place in the freezer for 15 minutes.  Store in an airtight container in the refrigerator for 2 weeks.
(Visited 43 times, 1 visits today)