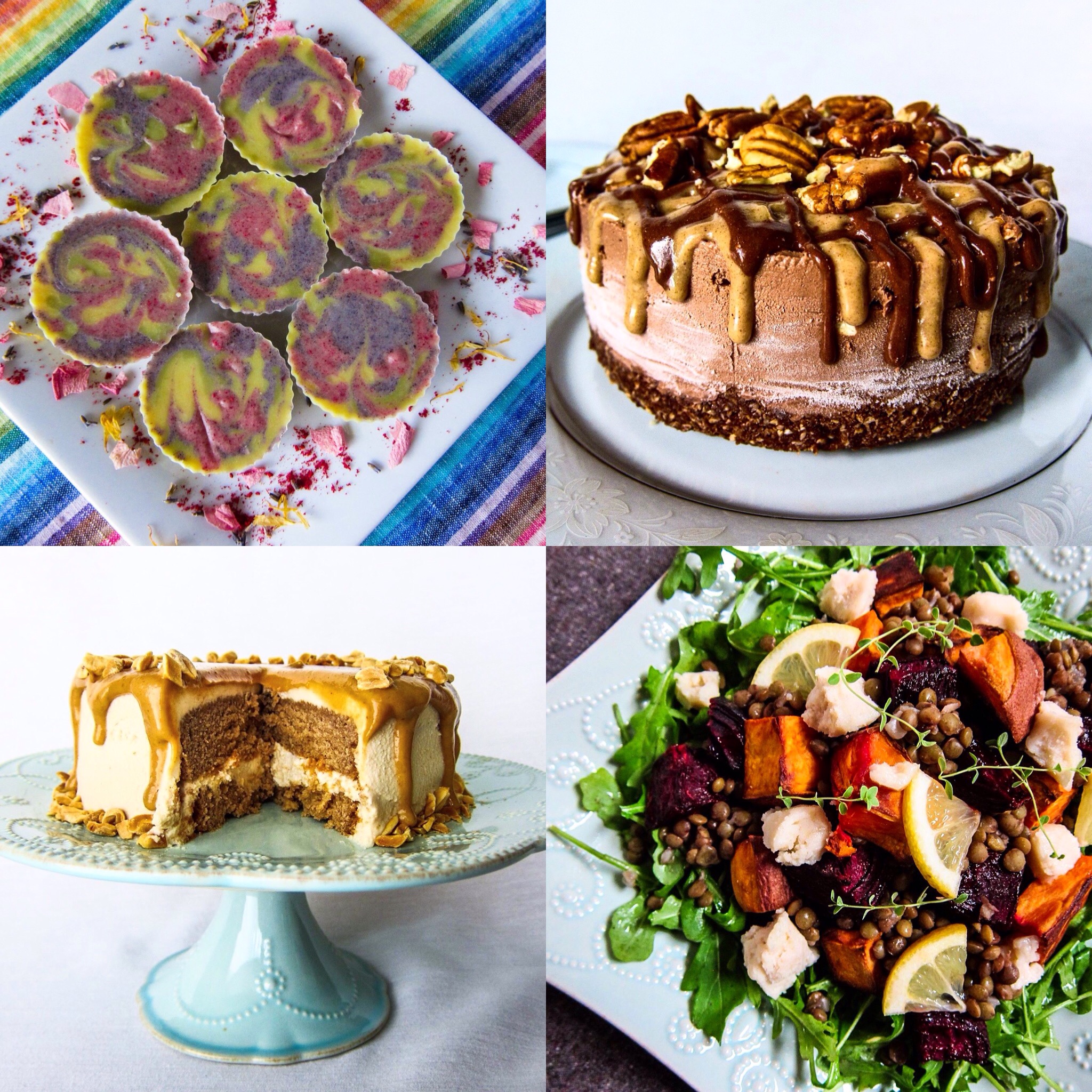 Top 15 Recipes of 2017 From Fragrant Vanilla Cake
The year is coming to a close, and now is the time that I am reflecting on all of the memories of the past year.  Mostly good ones thank goodness.  Like all of the recipes I have made.  I like to go back and scroll through them and remember what occasion they were for, or who I shared the end result with.  Like my Snickers Birthday pie that I enjoyed back in July with my family, or the Peanut Butter Love Cake that was one of the best cakes I have ever made.  Even the Sweet Potato Lasagna, that was made just last week for Christmas, but one of my all time favorite savory recipes now.  I have compiled a list of my best recipes from the past year.  Not necessarily the ones that got the most page views, there are a few of those here.  But I wanted to share the ones I thought were the best with you, in case you didn't see them the first time around because of Facebook algorithms and whatnot.  These are the things that wowed me, and that I would want to make again and again.  The ones I was really proud of.  So, I hope that you enjoy them too. Happy New Year, and I hope that 2018 is awesome!  I plan on making many more delicious recipes, so as always stay tuned!
I made this lasagna for Christmas Eve dinner, and it was one of the best savory things I have ever eaten honestly.  I would pay $20 for a large piece in a restaurant, and that says a lot.  It tastes just like traditional meat and cheese lasagna, but the sweet potatoes make it even more delicious.  I have a feeling you could serve this to omnivores without telling them it is vegan and they would be none the wiser until you told them.  This is the sort of thing you serve to win people over and wow them.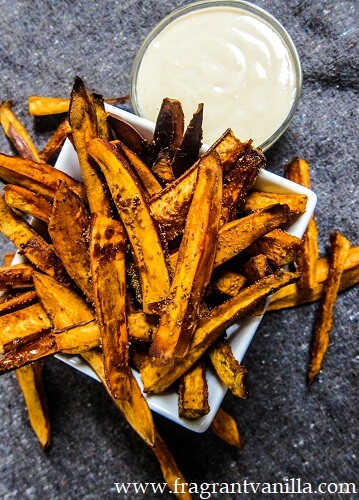 Cinnamon Sugar Yam Fries with "Cream Cheese" Dipping Sauce
I make yam fries all of the time at the deli I work in, and they are my favorite thing in the world.  I say, yam fries are my bacon, because I eat them like they are.  So, one day when I got home, I decided that I needed to make some sweet and salty ones.  I made them with cinnamon and coconut sugar and they were so good!  But I made them even better with a sweet "cream cheese" dipping sauce.  It was one of the best snacks ever!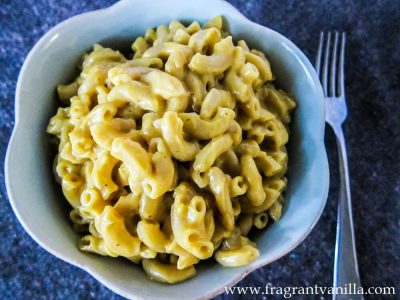 Creamy Vegan Mac and Cheese (GF)
If you are craving classic mac and cheese, like the kind you had from a box as a kid, that you loved and begged for every night...this comes close to it, but tastes better in my opinion.  It is the classic comfort food, and the perfect thing to serve to picky eaters.  No need to even tell them it is vegan, I shared some with my family and they loved it. Bonus, it happens to be gluten free too!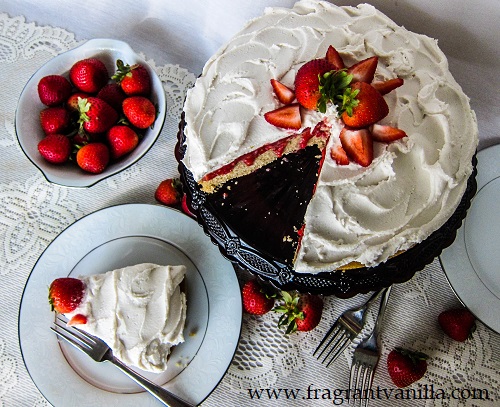 Vegan Strawberry Shortcake Poke Cake
I have always loved the idea of a poke cake, but what I didn't love was that most of them come from boxed cake mixes and come with loads of sugar.  So I made my own completely home made vegan version!  It is like a giant strawberry shortcake, but with fluffy white delicious cake instead of biscuits.  This is the essential Summer dessert.  But of course, you don't have to wait until Summer to make it if you have frozen strawberries on hand.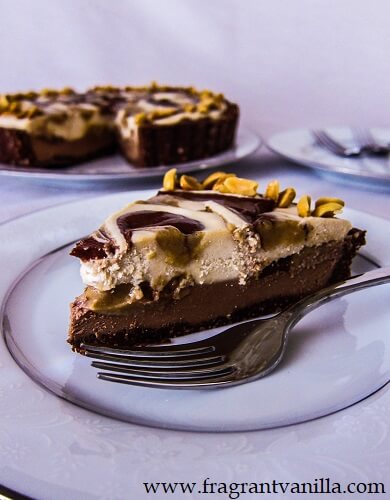 If you thought you loved the classic candy bar as a child, then you have to try this.  You will love it even more. It has all of the same flavors, the chocolate, caramel, and peanuts all in a creamy pie the consistency of cheesecake in a crunchy chocolate crust.  It was sooo good. This was actually my Birthday dessert instead of cake this year.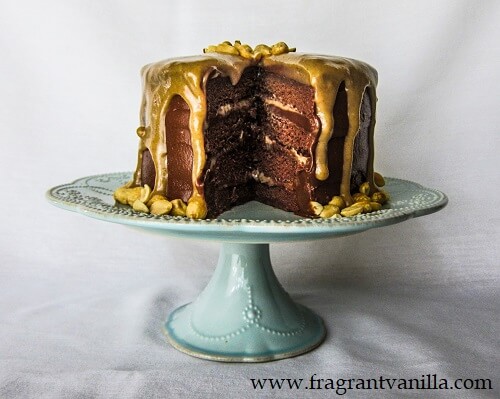 Vegan Dark Chocolate Cake with Peanut Butter Caramel
Think turtle cake but with peanuts instead of pecans.  This cake is something I could eat like 3 pieces of in one sitting.  Chocolate and peanut butter is one of my all time favorite combinations, and even better when caramel joins the show. I think this would make the perfect Birthday cake honestly since it is worthy of being served at a celebration, but don't wait until your Birthday to make it.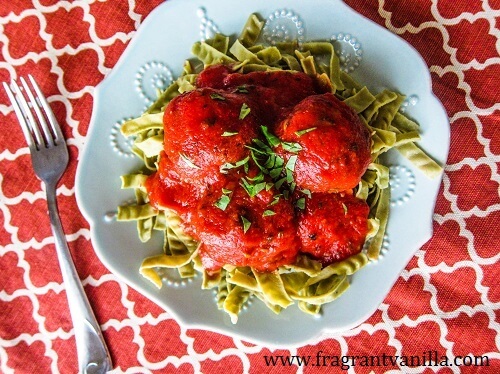 Vegan Italian Lentil Walnut "Meatballs"
These were a recipe request from my Mom, who has always loved meatballs, but wanted a healthier non-meat version.  They taste just like the real thing, and they are delicious served over pasta. You won't even miss the meat!
If you are looking for a showstopping ice cream cake, this is it.  It has rich chocolate ice cream, gooey caramel and fudge and crunchy pecans.  You will not even know it is vegan because it is just as creamy and delicious as regular ice cream.  Also, it is 100x better than the Dairy Queen ice cream cakes that I used to enjoy as a kid.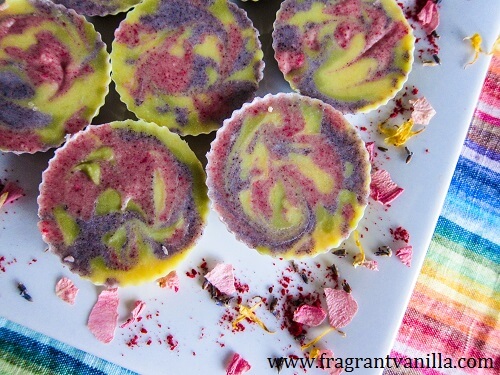 Vegan Unicorn White Chocolates 
Everybody was making everything unicorn this year and I loved it.  I mean, unicorns were one of my favorite things ever growing up!  What's not to love about magical horses with horns and rainbows?!  So, I decided to make some unicorn white chocolate and it was so cute!  It was actually way healthier than some of the unicorn stuff like those Starbucks lattes too, because this doesn't contain refined sugars. If you love unicorn stuff too, you have to make this.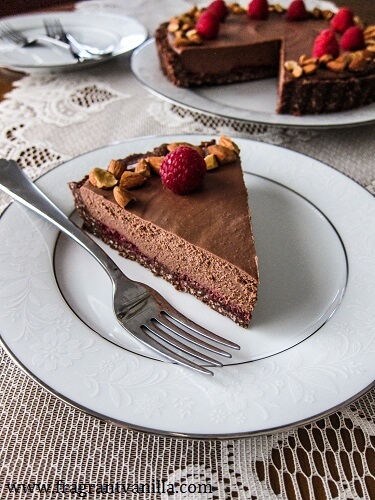 Vegan Chocolate Almond Raspberry Mousse Tart
I made this for my Mom's Birthday this year, and it was heavenly!  The filling is rich and delicious, the sweet raspberry layer the perfect pairing with the chocolate and almond. If you are not making a cake, this is perfect for celebrating with, and it looks elegant, but is actually easy to make.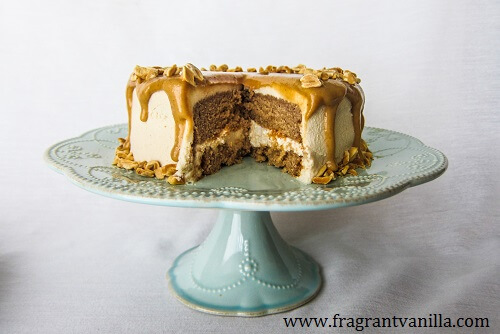 It is a tie between this cake and the Dark Chocolate Cake with Peanut butter Caramel for my favorite cake this year.  As you notice they both involve peanut butter, something I can't live without.  If you are a peanut butter fiend too, you need this in your life.  It has rich layers of peanut butter cake, peanut butter caramel, peanut butter, and peanut butter cream frosting.  This is the cake I would choose to eat in my dreams.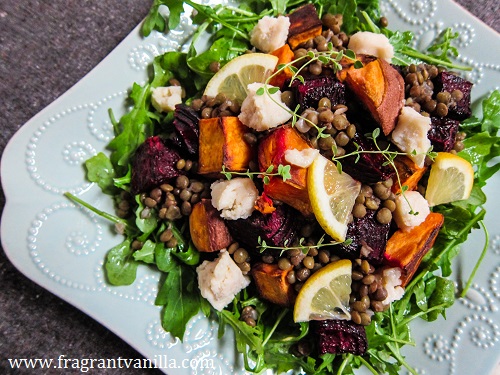 Roasted Sweets and Beets Lentil Salad
This was my favorite main dish salad this year.  It has all of my favorite things.  Savory lentils, flavorful roasted veggies, nut cheese, and healthy greens.  If you want a salad that fills you up, but also leaves you feeling good, this is perfect for you.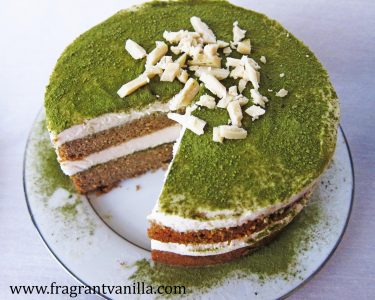 Matcha White Chocolate Tiramisu Cake
I drink matcha every day instead of coffee, so I thought why not make a matcha tiramisu cake instead of one with coffee!  I added white chocolate and even better!  This is the tea drinker's tiramisu, and it is not only beautiful, but super delicious as well.  I have a feeling those who don't like tea would even enjoy it.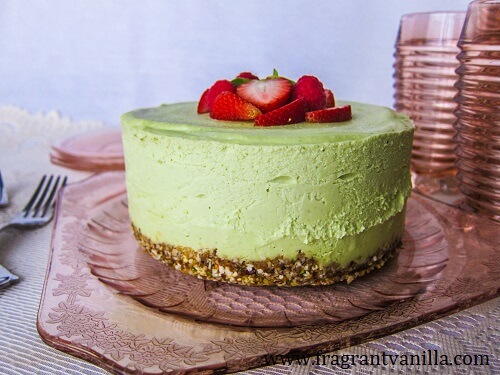 Two favorite desserts of mine combined, this cheesecake has the rich, crave worthy texture of cheesecake, and the sweet tart flavor of key lime pie.  So, you don't have to choose, you can enjoy them both!  It is really easy to make, and limes are in season this time of the year, so why not make one for your family?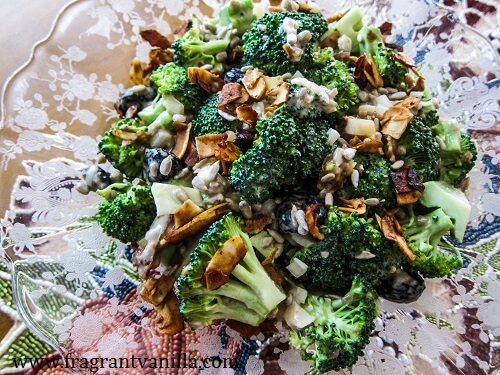 This veganized version of a classic salad is the perfect thing to bring to a potluck.  The coconut bacon is a game changer, honestly the closest thing to bacon I have tried.  This salad still has the raisins, sunflower seeds, and of course the bacon of the classic salad with a creamy sweet dressing.  But no mayonnaise in sight, this creamy dressing is completely vegan. I never liked the non-vegan version of this salad, but I love this one!
(Visited 97 times, 1 visits today)