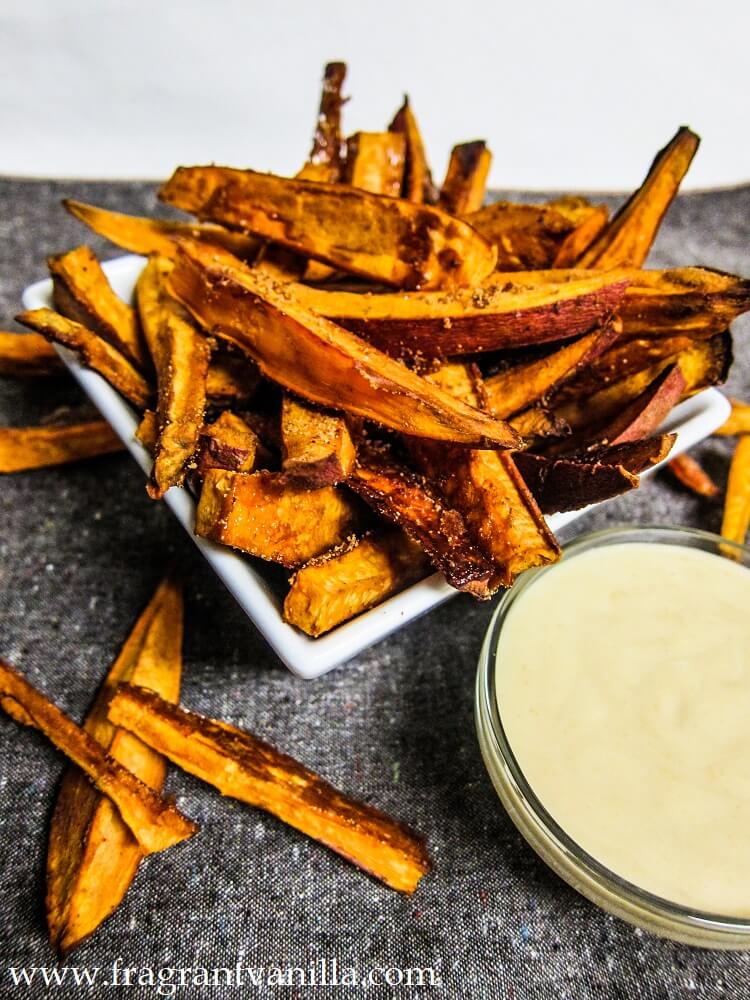 Cinnamon Sugar Yam Fries with "Cream Cheese" Dipping Sauce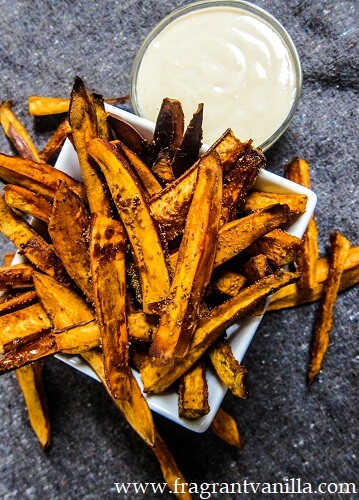 Yam fries are my bacon.  As in, I love them so much I can't stop eating them.  We make them at my work, and of course I always have to sample them every time to make sure they are up to par.  It is funny because when I was younger I couldn't have cared less about sweet potatoes and yams, because of the way I was traumatized as a kid eating the canned ones in syrup.  But once I tried a roasted yam fry, from a fresh sweet potato, I was hooked.  This is the sort of thing I whip up a batch of if I want a healthy snack that tastes like it shouldn't be.  It is usually just a little olive oil and sea salt and I am a happy girl with the more savory yam fries.  But I thought, hey why not make some sweet ones?!  Sweet yams can go so wrong.  I admit, I am not usually a fan of mashed super sweet yams for a savory dish because it tastes too much to me like pumpkin pie or something. But I was going for sweet this time, and they wouldn't be mushy, they would be sweet, a little crisp and delicious!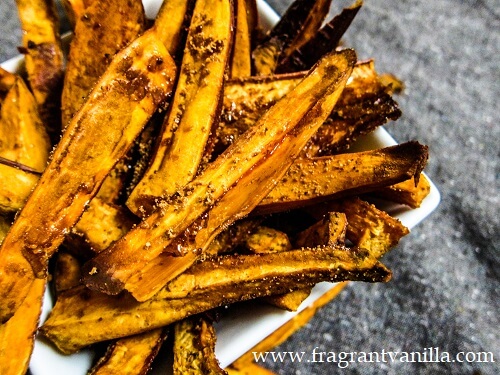 These actually ended up being oil free as well.  I tossed them with maple syrup, coconut sugar, cinnamon, sea salt (to get that sweet and salty thing going), and some chipotle powder to give it a little kick.  Because I am a fan of that sort of thing.  If you don't like heat, you feel free to leave it out.  They smelled amazing while baking!  Like a cinnamony Autumn cake or something. Happy aromas coming from the kitchen are my favorite!  Especially when it is the smell of spice in the fall.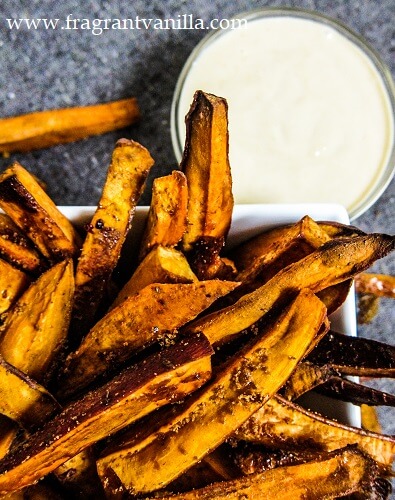 I wanted a dipping sauce with these too.  As if they weren't delicious enough as they were, because they could totally stand alone, but I wanted them to be over the top good.  I debated between a chocolate dipping sauce and a cream cheese dipping sauce, and the cream cheese won.  Because I can never resist cream cheese.  Vegan cream cheese of course.  My dip was a luscious mixture of cashew butter and coconut milk made sweet with a little more maple syrup plus a dash of sea salt and cider vinegar to make it taste like cream cheese.  It was so good!  And, even better with those delicious yam fries.  This reminds me of something you would get at the state fair but healthier of course.  If you are in the mood for a sweet snack, give these fries a try!
Cinnamon Sugar Yam Fries with "Cream Cheese" Dipping Sauce
Serves 2-4
Ingredients:
Yams:
4 medium sized yams, cut into fries
3 Tbsp maple syrup
1/4 cup coconut sugar
1/2 tsp sea salt (or to taste)
1 tsp cinnamon
1/8 tsp ground cayenne or chipotle powder
Sauce:
1/3 cup thick coconut milk
1/2 cup raw cashew butter
3 Tbsp maple syrup
1/4 tsp sea salt
1 tsp cider vinegar
1 tsp pure vanilla extract
Instructions:
To make the fries, preheat the oven to 400F degrees, and line a sheet pan with parchment.
Toss the fries with the maple syrup, coconut sugar, sea salt, cinnamon, and chipotle powder until they are coated, and spread them out on the sheet pan.
Place in the oven and roast until tender and starting to brown, about 45 minutes.
Meanwhile, to make the cream cheese dip, combine all ingredients in a food processor or blender and blend until smooth.  Set aside.
When the fries are done, remove them from the oven and serve with the dip!
(Visited 501 times, 1 visits today)