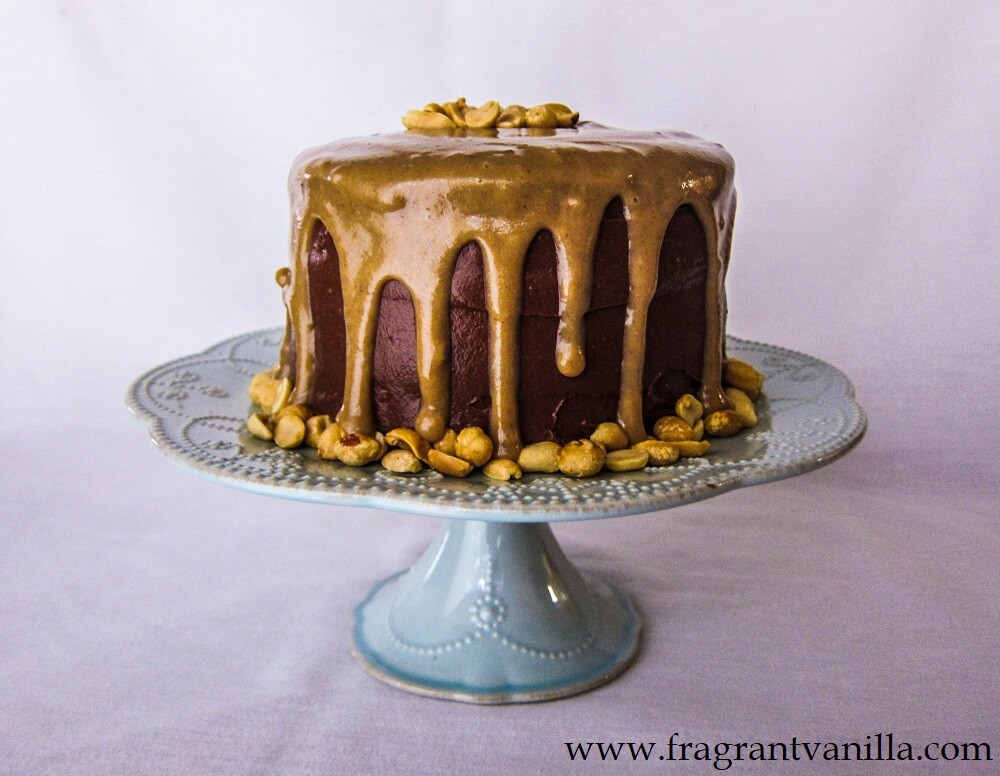 Vegan Dark Chocolate Cake with Peanut Butter Caramel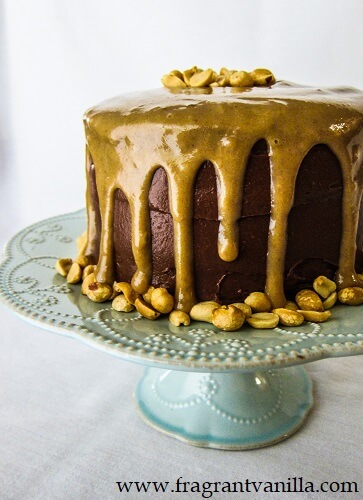 I took a poll last week on Facebook to see if people preferred chocolate or vanilla and chocolate won by a landslide!  I guess I am usually a vanilla girl, my blog is called Fragrant Vanilla Cake after all, but I guess I was surprised that it wasn't more split down the middle.  Chocolate is pretty darn delicious though, and I agree sometimes it is just something you crave and have to have.  Like last weekend when I decided that I needed some chocolate cake.  I was going to make something more Summery involving things like berries and whatnot, but I just wanted chocolate cake so that is what I made.  I thought about just making a classic chocolate cake with rich fudgy frosting, because that is what sounded so good, but me being a blogger that is always trying to make things that are especially good decided to add peanut butter caramel to it as well.  After all, chocolate, peanut butter and caramel are so amazing together.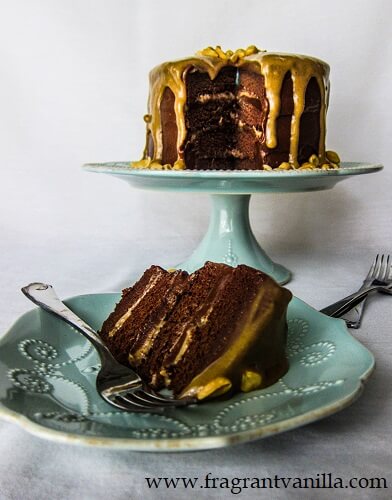 For the cake batter, I used my classic date sweetened chocolate  cake with a little peanut butter to make it rich.  The batter tasted amazing even before I baked it, and my kitchen smelled like brownies while it was in the oven.  This cake is actually oil free and fruit sweetened too which you would never know by tasting it.  The peanut butter is plenty rich so it doesn't need any oil and the dates give it a caramel flavor.  They are actually the main component in the caramel as well.  If you are vegan you must have a good recipe for date caramel!  Just sayin'.  It is some amazing stuff especially on a chocolate cake.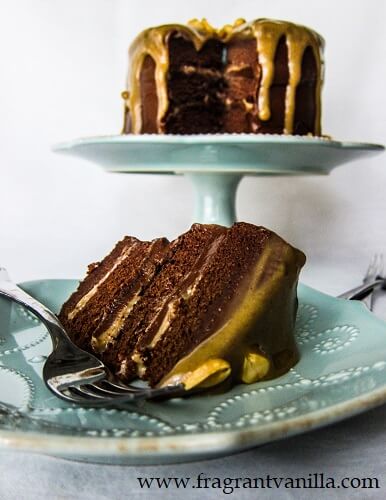 For the frosting, I actually used sweet potatoes as the base because they are sweet, so you don't need to add as many dates and they make for a silky frosting without having to use tons of nut butter.  Don't worry, you can't taste them, they just blend in.  This fudgy frosting is so good you could eat it with a spoon, but be sure to save enough for the cake too!  This cake turned out amazing once it was all assembled.  You would never know it was vegan, it tastes super rich and chocolaty and the sweet gooey slightly salty peanut butter caramel is the perfect addition!  If you are in the mood for chocolate cake, put this on your list!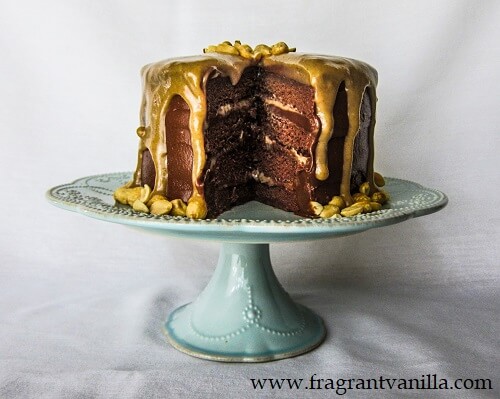 Vegan Dark Chocolate Cake with Peanut Butter Caramel
Makes one 2 layer 6 inch cake
Ingredients:
2 6 inch cake pans
Cake:
1 1/2 cups Bob's Red Mill Gluten Free All Purpose Flour
1/4 cup cacao powder or unsweetened cocoa powder
1 1/2 tsp baking soda
1 tsp baking powder
1/2 tsp sea salt
1 1/4 cups packed soft medjool dates, pitted, soaked in water for 30 minutes and drained
1/4 cup organic peanut butter
2 tsp pure vanilla extract
2 cups filtered water
2 Tbsp apple cider vinegar
Caramel:
1 cup soft, pitted medjool dates (if not soft, soak in filtered water 30 minutes and drain well)
1/4 cup filtered water (or as needed)
1/4 cup organic peanut butter
1 tsp pure vanilla extract
1/4 tsp sea salt
Frosting:
1 1/4 cups mashed Japanese sweet potatoes*
1  cup soft pitted medjool dates (soaked in water for 30 minutes and drained before using if not soft)
1/3 cup organic peanut butter
1/2 cup filtered water (or as needed)
1/2 cup unsweetened cocoa powder
1 tsp pure vanilla extract
1/4 tsp sea salt
Directions:
Preheat the oven to 375F degrees and position rack in center of oven.
Oil two 6 inch round cake pans with coconut oil and line the bottom with parchment.
Whisk flour, cocoa powder, baking powder, baking soda, sea salt in a large bowl to blend well.
Place dates, water, peanut butter, and vanilla extract into a blender, and blend until smooth, then whisk this blended mixture into the flour mixture until well blended. Whisk in the cider vinegar until bubbles form.
Pour the cake batter into prepared pans, and place in the oven.
Bake cakes until set and a toothpick inserted into the center comes out almost clean, about 25-30 minutes.  Remove from oven, let cool completely, the un-mold them onto two plates (I like to cover mine and chill in the refrigerator for a few hours to make slicing easier).
Slice cakes in half horizontally so that you have 4 layers. Set aside.
To make the caramel, combine all ingredients in a high speed blender until smooth (add a little more water if too thick).  Set aside.
To make the frosting, combine all ingredients in a blender and blend until smooth (adding water a little at a time if you think it is too thick).  Set aside.
To assemble, place one cake layer on a plate, and spread frosting 1/4 inch thick over it.  Then spread some of the caramel over that.  Place the other cake layer over that, then spread more frosting, and caramel over it like the last layer.  Repeat with another layer, and top off with last piece of cake.  Spread the remaining frosting on the top and down the sides of the cake.
*I like to roast my sweet potatoes in the oven. To do so, cut them in half, and place them cut side down on a parchment lined tray.  Roast at 400F degrees for about an hour or until they are tender.  Let cool before pureeing.
(Visited 1,297 times, 1 visits today)