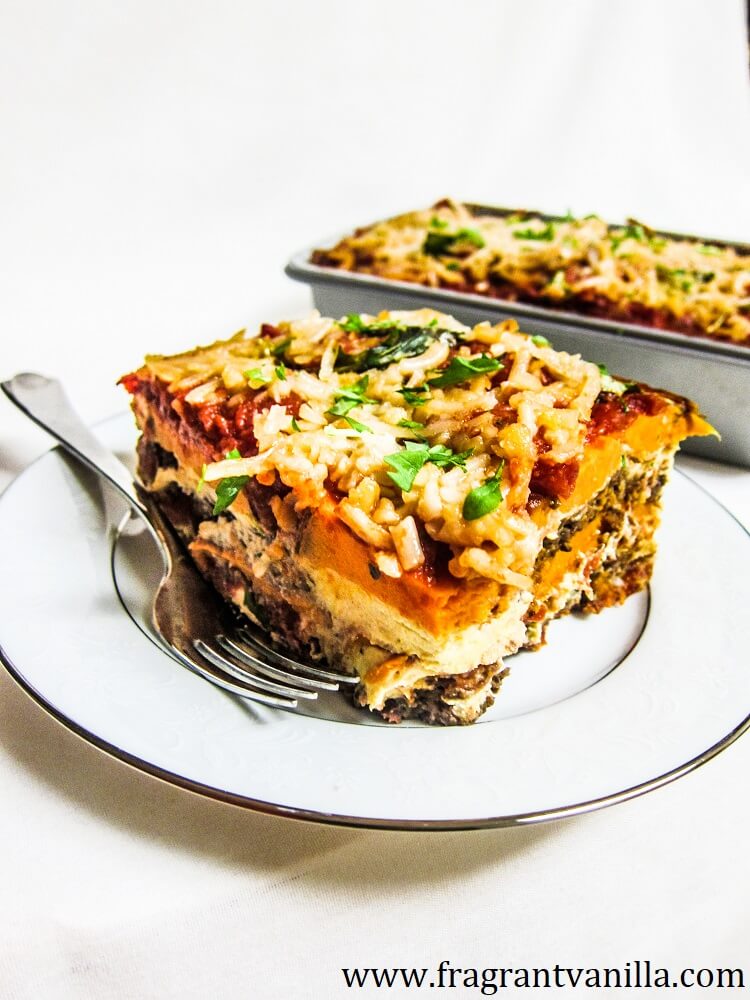 Vegan Sweet Potato Lasagna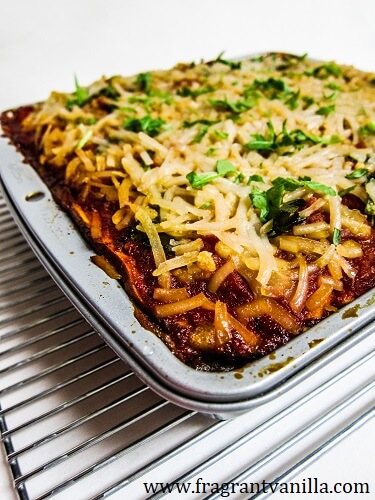 Before I went vegan, I used to like to make lasagna for Christmas.  I would make home made noodles, my own sauce, and fill it up with veggies and plenty of ricotta.  It was so good!  It was something I wished I could have all the time, but even without making your own noodles and sauce, it is kind of a long process that you should plan on taking a big chunk of your day. Well, the last time I made lasagna was back in 2010, and it actually was a vegan version oddly enough with tofu ricotta and Daiya mozzarella on top.  It was really good!  And, I totally could have made lasagna since then but I can be kind of lazy and psych myself out about making dishes that require a lot of steps.  Well this year I decided that I had to make some because I was hard core craving lasagna after seeing so many people post their yummy vegan versions on Instagram and Facebook.  I have had this idea in my head for a while to make a vegan lasagna with sweet potato slices instead of noodles.  But I have been putting it off. Well it was happening.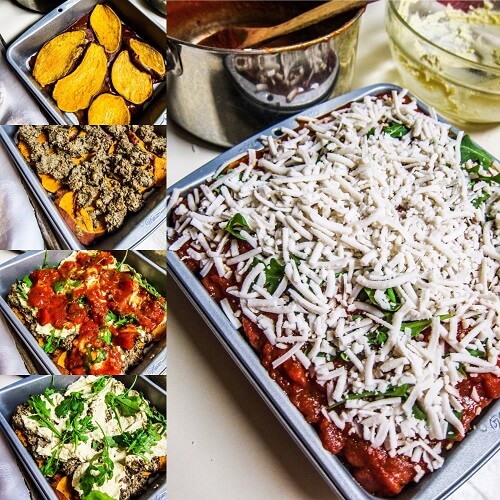 I kind of made this over the course of a couple of days, because I was already roasting some other sweet potatoes in the oven the day before I assembled it, so I figured why not roast the slices?  These are kind of like sweet potato toast if you have heard of that, or that is how they appear once they are ready for lasagna.  You just roast them with some olive oil and sea salt.  The next important element to this lasagna was the filling.  It had to have lots of "cheese".  I have been eating tofu ricotta since I was a kid, because my Mom actually made lasagna with it too and oddly enough I hated tofu as a kid but loved her lasagna.  It was all in the disguising of it.  My Mom was a genius to hide it in lasagna.  So, if you are trying to impress non-vegans and show them that tofu can be good, maybe make them some lasagna with tofu ricotta.  Mine turned out delicious!  It tasted just like cheese thanks to the add ins for flavoring.  That's why I love tofu, it is a blank palate.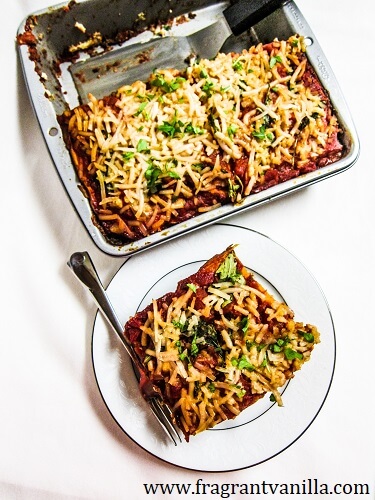 I also wanted to include a faux "meat", so I took a cue from my favorite vegan meatloaf recipe and used a mixture of lentils and walnuts.  Before you go thinking that sounds weird, once you add in all of the seasonings to make it taste like Italian sausage and put it in the lasagna it tastes like traditional lasagna.  For the sauce I kept it pretty simple and just make a tomato sauce with garlic and herbs.  That is how I like my pasta sauce though, simple and savory.  Lastly, it needed to be topped off with cheese.  This is where I got lazy, but it was totally ok and meant to be because I got to try a new vegan cheese I had been eyeing at work for a while. Normally I would make my own mozzarella but I bought some  Parmela Creamery mozzarella aged nut cheese.  Compared to the other brands it has way less ingredients, and not any fake ones, which is why I chose it.  And I am glad I did, it is delicious. It doesn't melt completely but I did not mind.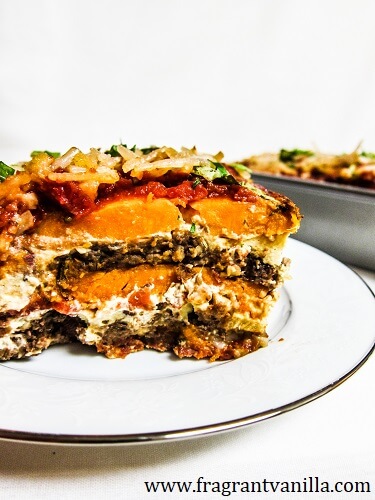 The lasagna baked up beautifully and smelled amazing.  I have missed lasagna. I admit I was a little worried that it might not come out nice, or the sweet potatoes might get too mushy but neither of those things happened.  It turned out even better than I had imagined!  It was sooo good!  It tasted like traditional lasagna with cheese and meat and all but of course no animals were harmed in the making of this.  I had a giant piece. This is the type of thing I would pay $20 in a restaurant for, and that is saying a lot because I am picky about what I spend my money on.  Good food of course is worth it though.  So, if you are looking for a really good gluten free vegan lasagna give this a try!  I have a feeling you will love it too, this is the ultimate crave worthy comfort food.  I might have to make it a Christmas tradition and make it every year!
Vegan Sweet Potato Lasagna
serves 6
"Sweet potato noodles"
about 2 large sweet potatoes, sliced 1/4 inch thick lengthwise (so they resemble noodles, you want enough to fill 3 layers in a 9 inch square pan)
olive oil
sea salt
Lentil walnut "meat"
1 cup dried french lentils or brown lentils
1 cup raw walnuts
2 garlic cloves
1/2 tsp sea salt or to taste
1 tsp dried basil
1 tsp dried oregano
1/2 tsp fennel seeds
2 tsp paprika
Tofu ricotta:
2 10 oz pkgs extra firm tofu
1/2 cup raw cashew butter
3 garlic cloves
3 Tbsp nutritional yeast
1/2 tsp sea salt or to taste
1 Tbsp white miso
Sauce:
2 garlic cloves, minced
2 tsp olive oil
1 15 oz can diced tomatoes
1 15 oz can tomato sauce
pinch red pepper flakes
1 tsp dried basil
1 tsp dried oregano
1 Tbsp balsamic vinegar
1/2 tsp sea salt or to taste
For assembly and topping:
2 handfuls of organic arugula or spinach
7 oz pkg vegan mozzarella (I used Parmela Creamery)
Instructions:
To make the noodles, preheat the oven to 400F degrees, and line 2 sheet pans with parchment.
Brush the sweet potato pieces with olive oil on both sides, and spread out on the sheet pan.  Sprinkle with sea salt, and place in the oven.  Bake for about 40 minutes or until almost tender and starting to brown. Remove from the oven and let cool.
Meanwhile, to make the lentil walnut meat, combine the lentils and enough water to cover them by 3 inches in a saucepan, and bring to a simmer.  Cook until the lentils are tender, about 40 minutes.  Drain very well.  Place the lentils in a food processor along with all other "meat" ingredients and pulse until well blended but still chunky.  Set aside.
Rinse out the food processor and drain well.
To make the tofu ricotta, combine all ingredients in the food processor and process until smooth.  Set aside.
To make the sauce, in a saucepan over medium heat, combine the garlic and olive oil and sautee for a minute until fragrant.  Add the tomatoes, and all other remaining ingredients and allow to simmer for about 10 minutes.  Remove from heat.
To assemble the lasagna, spoon a little of the sauce into the bottom of a greased 9x9 inch square pan.  Then cover with a layer of the sweet potato "noodles".  Next, half of the lentil "meat" over it, then spread half the ricotta over that.  Sprinkle with arugula leaves. Put a little more sauce over that, then the rest of the "meat", ricotta, and arugula.  Top with another layer of noodles, then the remaining sauce, and lastly sprinkle the nut cheese over the top.
Place in the 400F degree oven, and bake for about 30 minutes covered with greased foil, then uncover and bake another 15 minutes.  Remove from the oven and let set for about 15-20 minutes before serving.
Enjoy!
(Visited 1,022 times, 1 visits today)