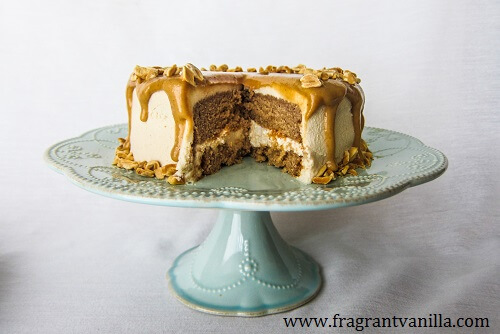 Vegan Peanut Butter Love Cake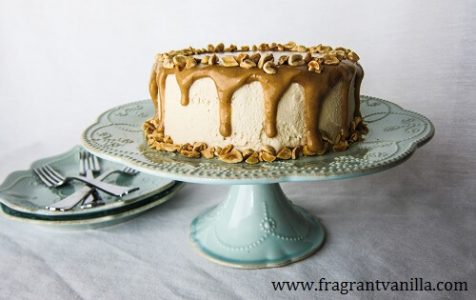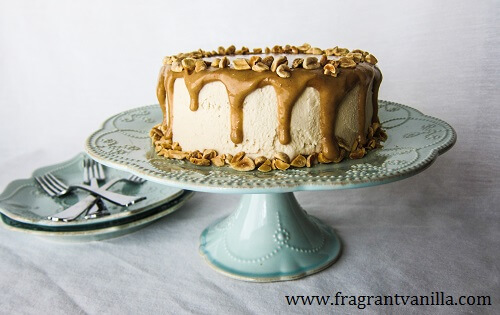 If I could eat a whole jar of peanut butter I would. I love the stuff, and I always have since I was a little kid. Reese's peanut butter cups were something I looked forward to on the holidays where chocolate was included, and peanut butter sandwiches were a staple in my school lunches since I never wanted to eat sandwiches with meat like the other kids did. Now I like to just eat a scoop of peanut butter now and then, or stir it into my oatmeal. Although, I am sure my serving size is always larger than what it says on the jar. Many of my favorite desserts contain it as well. Like these chocolate peanut butter lava cakes, or this peanut butter and jelly pie, or this PB and J layer cake. So, when I was having a hard time thinking of what type of cake to make last weekend (because I wanted cake, and it is a tradition Eric and I always share dessert and wine on Sunday nights and that dessert is usually cake in some form) I came back to my old friend peanut butter. Now peanut butter is simple mind you, but this cake turned out beautiful! My inspiration came from a non-vegan cake on Pinterest. I had seen it a while back and said to myself, I need to veganize and healthify that. So now was the time.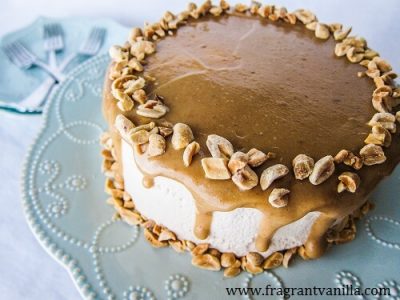 For the cake layers, I included peanut butter in the batter (because hey, it is the star of the cake) and it tasted delicious. It is an oil free date sweetened cake batter actually, my go-to recipe as of late. The richness comes from the peanut butter, and the dates give it a sort of caramel flavor. The cake layers baked up beautifully, soft and moist as cake should be but not heavy. For the frosting, I made a sort of vegan peanut butter "buttercream" frosting. It was so delicious, tasting like peanut butter mousse. Lastly, the cake needed to have another peanut butter element (as if the first two weren't enough), so I made a sweet peanut butter caramel. This was date based as well, so this entire cake is fruit sweetened.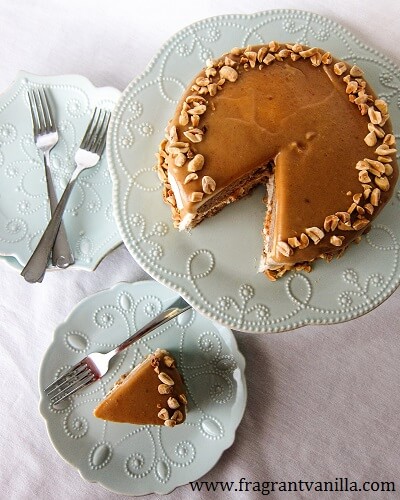 I topped it off with crunchy roasted peanuts and it was even more beautiful than I imagined. Also, it tasted even better than I expected. I knew it would be good, but this was yummalicious! Perfectly moist soft cake sandwiched together and topped off with gooey sweet caramel, luscious dreamy frosting and crunchy peanuts! I think this would make the perfect Birthday cake if you know a peanut butter lover. Eric and I devoured our first pieces very quickly, and I had given a piece to my Mom and she loved it even though she is not normally a peanut butter person, so all big thumbs up from my taste testers! Trust me, you need this cake in your life!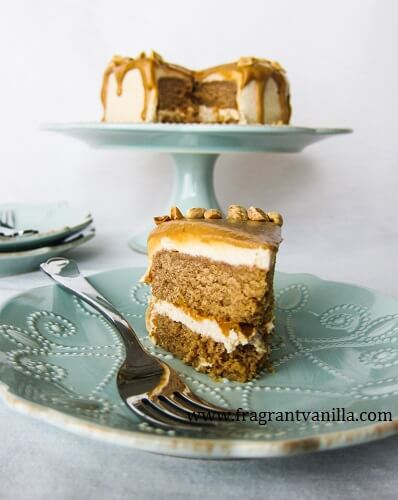 Vegan Peanut Butter Love Cake
Makes one 2 layer 6 inch cake
Ingredients:
2 6 inch cake pans
Cake:
1 1/2 cups Bob's Red Mill Gluten Free All Purpose Flour
1 1/2 tsp baking soda
1 tsp baking powder
1/2 tsp sea salt
1 cup packed soft medjool dates, pitted, soaked in water for 30 minutes and 1 cup of the water reserved
1/4 cup organic peanut butter
2 tsp pure vanilla extract
1 cup filtered water
2 Tbsp apple cider vinegar
Vegan Peanut Butter Cream Frosting:
1 15 oz can full fat organic coconut milk, chilled (You want to make sure it is a brand that is very thick at least 2/3 of the can like Thai Kitchen)
1/2 cup organic peanut butter
1/4 cup maple syrup
1 tsp pure vanilla extract
1/4 tsp sea salt
1/2 cup plus 2 Tbsp melted coconut butter (warmed to liquid)
Peanut Butter Caramel:
1 cup soft medjool dates, pitted (if they are not soft, soak them in water and drain well first)
2 heaping Tbsp peanut butter
1 Tbsp coconut oil, warmed to liquid
1/8 tsp sea salt
1 tsp pure vanilla extract
1/4 cup filtered water (plus more as needed)
1/2 cup chopped organic roasted peanuts for topping cake
Directions:
Preheat the oven to 375F degrees and position rack in center of oven.
Oil two 6 inch round cake pans with coconut oil and line the bottom with parchment.
Whisk flour, baking powder, baking soda, sea salt in a large bowl to blend well.
Place dates, reserved water, peanut butter, water, and vanilla extract into a blender, and blend until smooth, then whisk this blended mixture into the flour mixture until well blended. Whisk in the cider vinegar until bubbles form.
Pour the cake batter into prepared pan, and place in the oven.
Bake cake until set and a toothpick inserted into the center comes out almost clean, about 25-30 minutes. Remove from oven, let cool completely, then unmold onto plates.
To make the frosting, combine all ingredients in a high speed blender or food processor and blend until completely smooth. Pour into a bowl and place in the freezer until the consistency of stiffly whipped cream (about 30-45 minutes depending on how warm it has gotten). Once it is ready place in the refrigerator until ready to assemble.
To make the caramel, combine all ingredients in a high speed blender or food processor and blend until smooth (adding a little water if necessary, it should be the consistency of pourable but still thick caramel).
To assemble, place one cake layer on a plate. Spread 3/4 cup frosting over the cake layer, then some of the caramel (keeping it more in the center, and leaving a one inch frosting boarder at the edges). Place the other cake layer over that, and spread the remaining frosting over the top and down the sides of the cake. Pour caramel over that, and allow to drip down the sides. Top with chopped peanuts.
(Visited 3,223 times, 1 visits today)