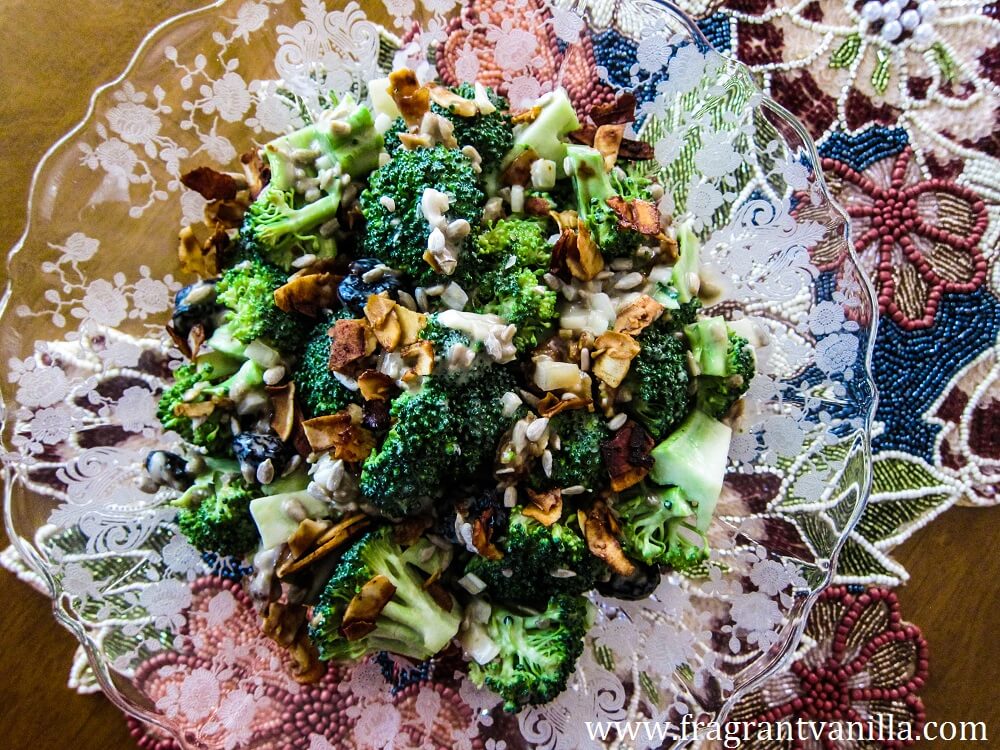 Vegan Broccoli "Bacon" Salad
There is a broccoli bacon salad that is very popular among Minnesotans at church potlucks or summer picnics.  It has a creamy dressing, raisins, sunflower seeds, onions and sometimes cheese depending on who makes it.  I used to like it when I was little because it was sweet and had bacon, but when I got older it was too sweet for me, as it is usually loaded up with sugar and mayonnaise two things I am not a fan of not to mention the bacon which I haven't eaten since I went vegetarian in 2003 (I have been vegan 5 years).  One of my friends jokingly used to call it "broccoli barf"  because she was a vegetarian too and thought it was too sugary and mayo filled as well.  We actually make a version of this in the deli I work at and it is pretty popular.  Which got me to thinking, why couldn't I make a vegan version of it that I could actually eat, and tailor it to my tastes so I would enjoy it as well?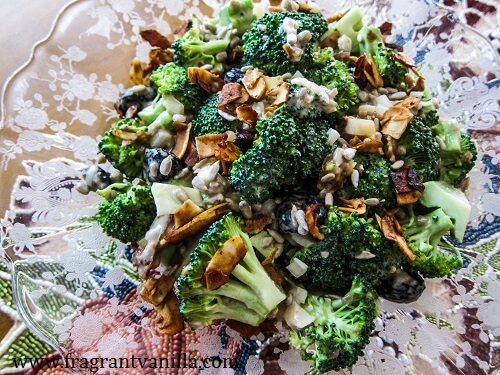 I admit I don't usually reach for the broccoli first, but I really wanted to make a good vegan version of this!  I mean, yes, I could have made it really simple and bought vegan bacon and vegan mayonnaise, but were is the fun in that?  And, I don't usually like store bought mayonnaise even if it is vegan.  So, I made my own creamy sweet dressing that ended up tasting even better than the mayo one.  It had a coconut milk cashew base made a little tangy with cider vinegar and sweet with maple syrup.  It was delicious once poured over the salad.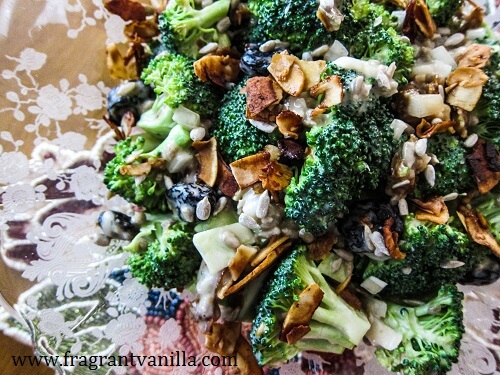 For the bacon, I made coconut bacon.  It is now my favorite vegan bacon for when I want to sprinkle it on top of something or just snack on it.  It is honestly the closest thing texture and flavor wise I have found to real bacon.  It was super delicious in the salad and added a nice crunch.  I kept it classic with onions and sunflower seeds, but I swapped out the raisins for dried cherries because I am not a huge raisin fan and that was what I happened to have on hand.  I shared some of this salad with my Mom, who has tried the original version probably way more times than me and is usually not a fan, but she loved the vegan version I made.  If you are looking for a dish to bring to a Summer picnic or potluck, give this a try!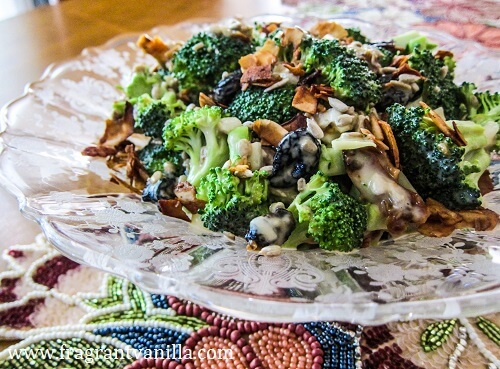 Vegan Broccoli "Bacon" Salad
Serves 2-4
Ingredients:
Coconut Bacon:
1 1/2 cups large flake coconut
2 Tbsp tamari
2 Tbsp liquid smoke
1 Tbsp maple syrup
Dressing:
1/3 cup raw cashew butter
1/3 cup full fat coconut milk (mostly the thick part from the top of the can)
1 Tbsp cider vinegar
1 1/2 Tbsp maple syrup
1/3 tsp sea salt (or to taste)
Salad:
2 medium heads organic broccoli
1/4 cup diced onion
1/2 cup dried cherries
1/2 cup sunflower seeds
Instructions:
To make the coconut bacon, preheat the oven to 350F degrees, and line a sheet pan with parchment.
Toss the large flake coconut with the tamari, liquid smoke and maple syrup and spread out on the pan.  Place in the oven and bake for about 12-15 minutes (depending on your oven), keeping a close eye at the end and checking it in the final minutes because it burns fast.  Remove from oven and let cool.
To make the dressing, whisk all ingredients together until smooth.
Combine broccoli, onions, cherries, sunflower seeds, and coconut bacon in a bowl, and toss together with the dressing.
Enjoy!
*Note: If you are not serving this right away, do not add the coconut bacon until you are just about to serve it so that it stays crisp.
(Visited 145 times, 1 visits today)