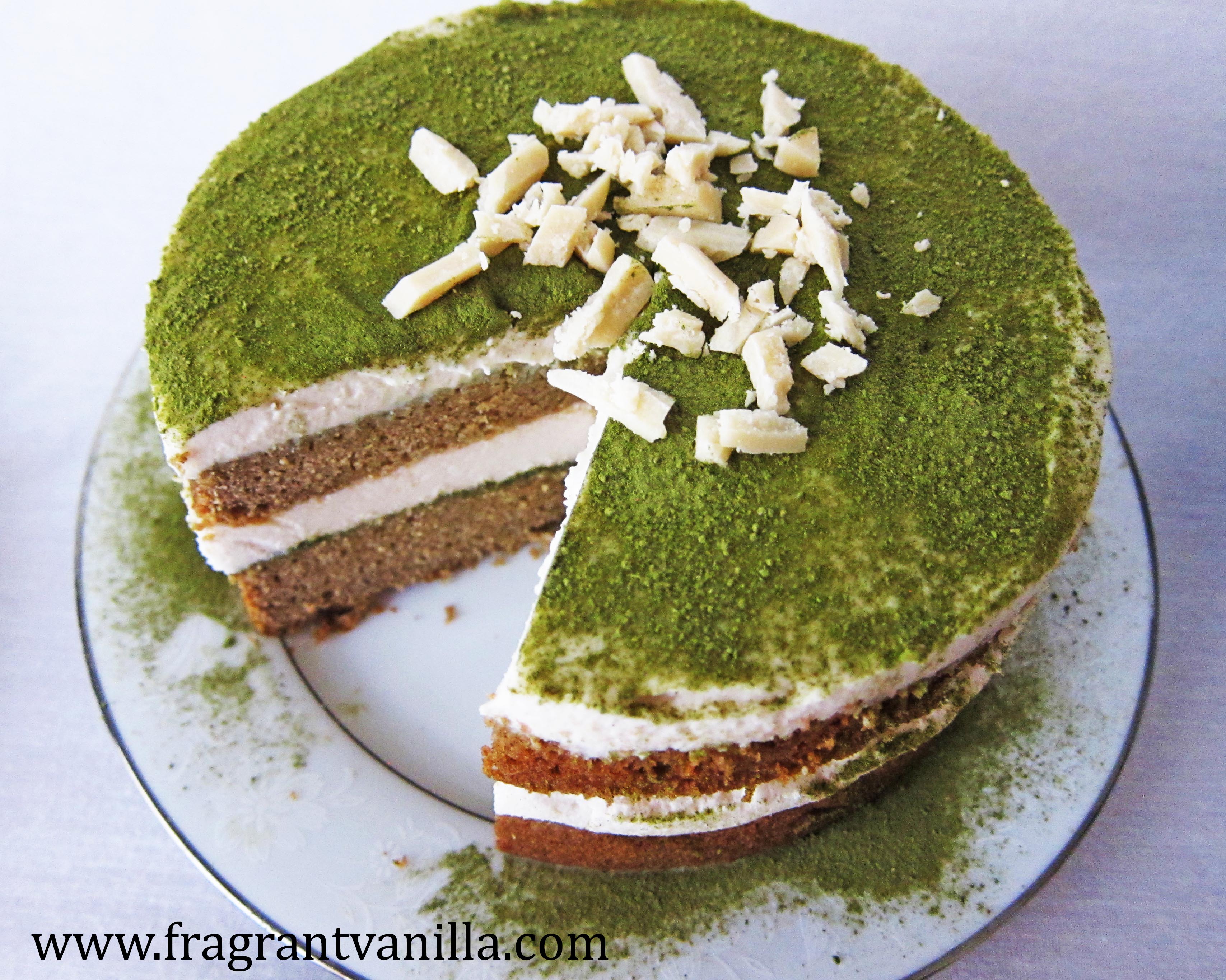 Vegan Matcha White Chocolate Tiramisu Cake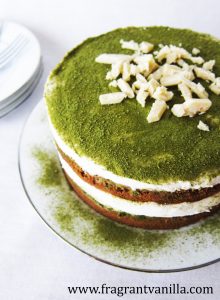 Tiramisu was an exciting dessert to me the first time I tried it in an Italian restaurant.  I was on vacation with my Mom up in Duluth when I was in high school, and since we were on vacation, we decided to order dessert (which we didn't normally do on a regular basis).  It was so delicious!  The layers of moist ladyfingers, coffee, cocoa and cream...sooo good!  Definitely something we wanted to enjoy again, so we decided to make our own at home.  We made a traditional Italian recipe with the ladyfingers, zabaglione, espresso and it was super delicious but a lot of work.  So worth it though!  I have since made a few vegan versions like this Raw Banana Tiramisu, and this Vegan Tiramisu Cake.  Both involving coffee. But what I have been really wanting to make for a while is a matcha tiramisu!  I don't drink coffee, but I do enjoy matcha quite a bit and am a huge green tea lover.  I finally got around to making the matcha tiramisu last weekend.
I don't usually use ladyfingers in my tiramisu recipes anymore because most of the commercially available ones are not made with good ingredients that I want to eat, and I don't feel like making my own (too much piping and work), so I usually just use cake layers which is what I did this time.  It is so much easier just baking one layer, baking and ta-da!  You have your cakey part of tiramisu and if you ask me it tastes better than the lady fingers.  I scented my cake with matcha because I wanted this to have plenty of matcha goodness.  It is a subtle flavor that tends to be drowned out by other flavors, so I needed to make it present.  The cake batter tasted amazing on its own even before I baked it!  I knew this was going to be super delicious once the cream and matcha soaking syrup were added.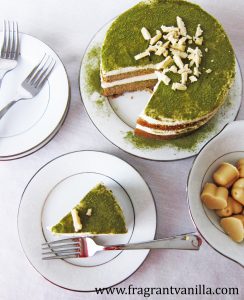 Instead of the usual zabaglione custard and whipped cream needing to be folded together that classic tiramisu has, I opted instead for a white chocolate cream that tasted even better!  It was much easier to make as well.  Once the cake was all assembled, dusted with matcha and lovely I couldn't wait to try it!  It was just as delicious as it appeared too!  Moist vanilla matcha cake, sweet luscious white chocolate cream, and of course the earthy matcha throughout.  So tasty!  If you are not a coffee drinker, then this is the perfect tiramisu for you!  My taste testers much approved as well.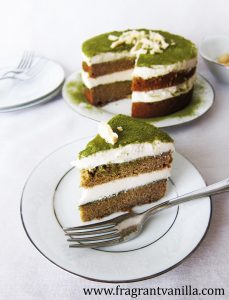 Vegan Matcha White Chocolate Tiramisu Cake
Makes one 2 layer 6 inch cake
Ingredients:
2 6 inch cake pans
Cake:
3/4 tsp baking soda
1/2 tsp baking powder
1/4 tsp sea salt
1/2 cup packed soft medjool dates, pitted, soaked in water for 30 minutes and 1/2 cup of the water reserved
2 Tbsp raw almond butter
1 tsp pure vanilla extract
1 Tbsp matcha powder
1/2 cup filtered water
1 Tbsp apple cider vinegar
Cream:
1 15 oz can full fat organic coconut milk, chilled
1/2 cup raw cashew butter
1/4 cup maple syrup
1 tsp pure vanilla extract
1/4 tsp sea salt
1/4 tsp cider vinegar
1/4 cup plus 2 Tbsp melted coconut butter (warmed to liquid)
1/4 cup melted cacao butter warmed to liquid (or additional coconut butter if unavailable)
To soak:
1/4 cup thin coconut milk
1 tsp matcha
2 tsp maple syrup
1 tsp pure vanilla extract
Matcha powder for dusting layers
Directions:
Preheat the oven to 375F degrees and position rack in center of oven.
Oil two 6 inch round cake pan with coconut oil and line the bottom with parchment.
Whisk flour, baking powder, baking soda, sea salt in a large bowl to blend well.
Place dates, reserved water, almond butter, water, matcha, and vanilla extract into a blender, and blend until smooth, then whisk this blended mixture into the flour mixture until well blended. Whisk in the cider vinegar until bubbles form.
Pour the cake batter into prepared pan, and place in the oven.
Bake cake until set and a toothpick inserted into the center comes out almost clean, about 25-30 minutes.  Remove from oven, let cool completely, then unmold onto a plate. Cut in half horizontally so that you have 2 layers.
To make the soaking liquid, whisk together the coconut milk, matcha, maple syrup and vanilla. Brush this over each cake layer.
To make the cream, combine all ingredients in a high speed blender and blend until completely smooth.  Pour into a bowl and place in the freezer until the consistency of stiffly whipped cream (about 30-45 minutes depending on how warm it has gotten).  Once it is ready place in the refrigerator until ready to assemble.
To assemble, place one cake layer on a plate, dust with about 2 tsp matcha powder (I used a fine meshed strainer with the matcha powder in it and tapped it above the cake layer to distribute it evenly).  Spread cream 1/4 inch thick over the cake layer.  Place the other cake layer over that, dust with the matcha in the same manor as the other layer, then spread more cream over that.  Dust the top of the cake with about 2 tsp matcha powder.  Let sit for a few hours before serving.
(Visited 848 times, 1 visits today)