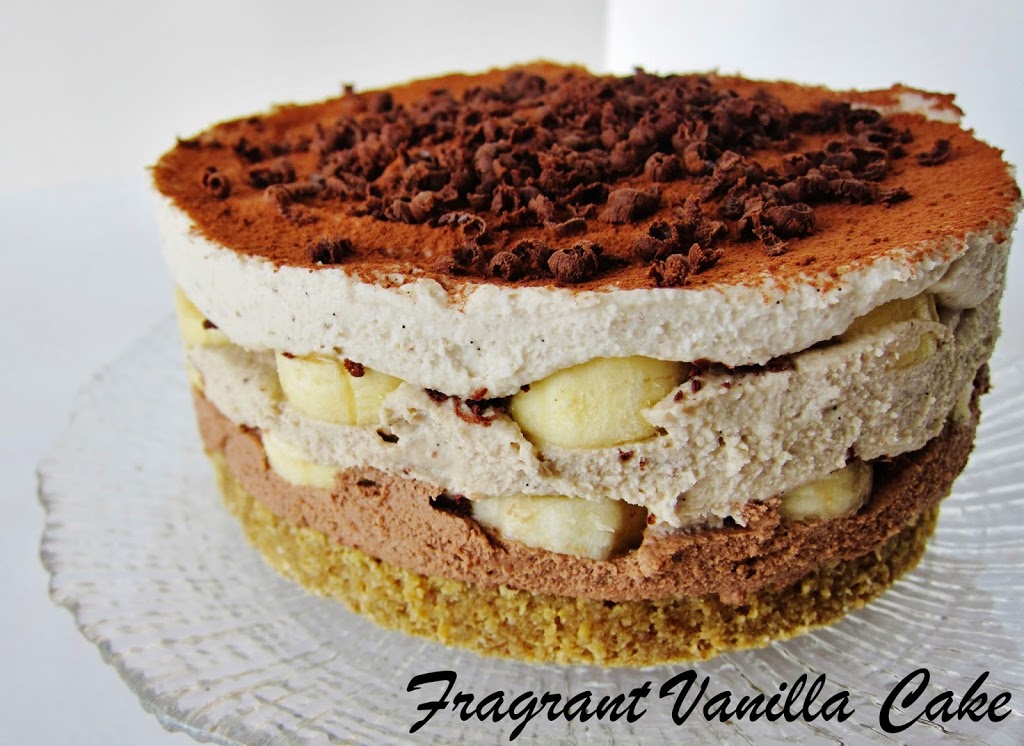 Raw Banana Tiramisu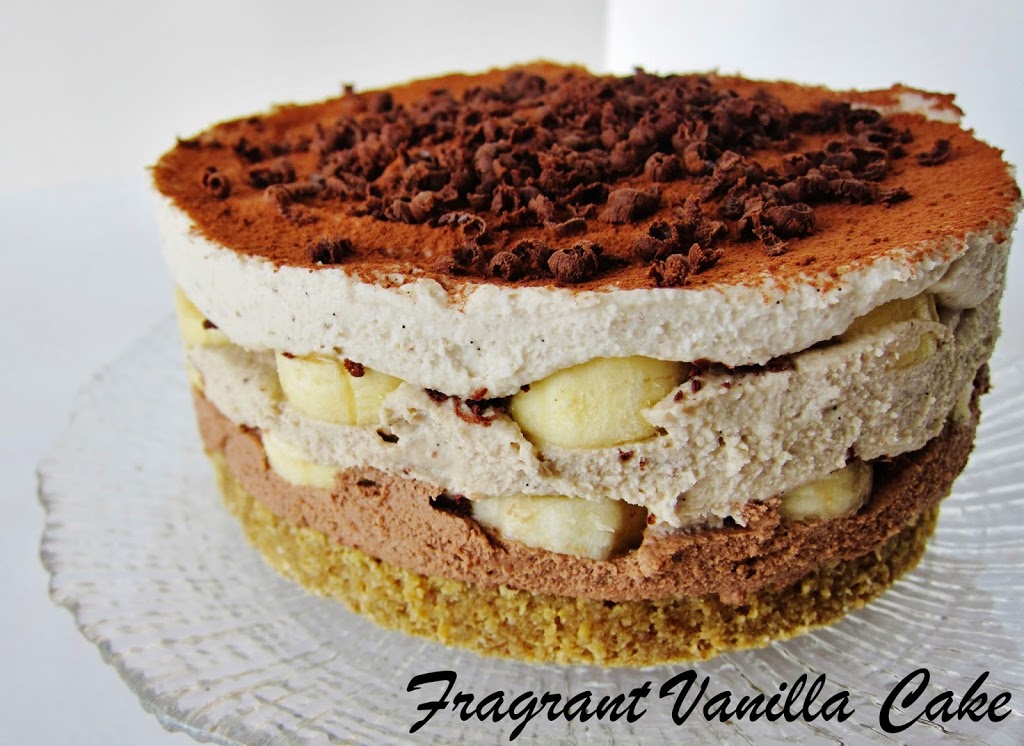 I used to be a huge coffee drinker.  3 32 oz mugs of coffee every morning were a requirement.  I loved the stuff...the aroma of the beans when I ground them, the warm coffee as I sipped it...it was an essential part of me being happy in the morning.  I was addicted to it.  Until about 9 months ago when I got ill, and after I recovered I could no longer stomach coffee.  The smell of it started to bother me as well.  It was a sad day.  I have to admit I went through a bit of a caffeine withdrawal the week after that, but in the long run I am sure my obsessive coffee drinking was not the best for my body.  I haven't added it to desserts since then either.  That is until this weekend.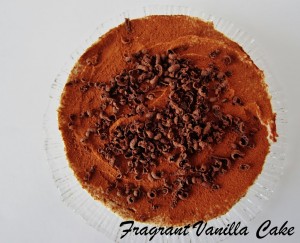 A couple weeks ago, my boyfriend Eric asked me to make tiramisu.  I admit my first response was "no, I hate coffee and is it even raw?"  So I put it out of my mind for a while.  Until for some reason, it started to appeal to me.  Could I make it raw?  I had made the classic version years ago when I was in my non-vegan coffee loving phase and it was sooo good at the time.  Why not give rawifying it a try.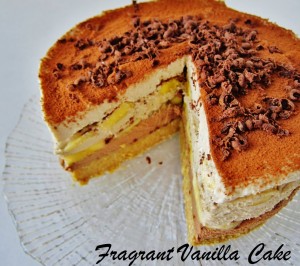 But this was not going to be classic, I wanted to add bananas, because I thought banana would pair well with the coffee and chocolate. There would be no lady fingers, but instead a layer of banana cake, and in place of the Zabaglione/whipped cream would be coconut cream layers...one laced with chocolate and coffee, one coffee cream layer and a layer of plain vanilla cream. I used coffee extract as well instead of real coffee, so there would be no actual strong coffee (which I still cannot stomach). I included perfectly ripe bananas, shaved chocolate and of course raw cacao powder to top it off.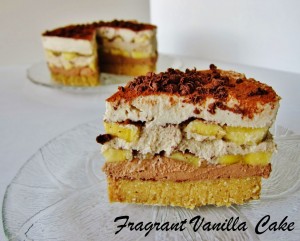 It was amazing...better than any tiramisu I have tasted, and even though I do not like coffee I devoured every last bite of my first piece!  I shared it with Eric and he approved as well. I guess even I am too quick to judge what will be good sometimes. So...thank you Eric, for the idea to make tiramisu, I am glad I gave it a chance.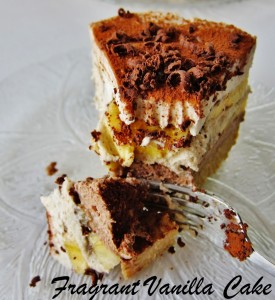 Raw Banana Tiramisu
Makes 1 6 inch cake
Cake:
1/2 cup raw almond meal
1/2 cup sprouted oat flour (or additional almonds)
1 cup dried shredded unsweetened coconut
1/4  tsp sea salt
1 tsp pure vanilla extract
8  medjool dates, pitted
1 1/2 small organic bananas, mashed
Cream topping:
1 1/2 cups raw cashew pieces (preferably soaked overnight)
1/2 cup coconut water
2 cups fresh young coconut meat (or additional soaked cashews if not available)
1/4 cup plus 2 Tbsp raw coconut nectar, agave nectar
1/2 tsp sea salt
1 Tbsp pure vanilla extract and seeds of half a vanilla bean
1/2 cup raw coconut oil (warmed to liquid)
4 tsp coffee extract, divided
1 Tbsp raw cacao powder
For assembly:
1 Tbsp brewed coffee, whisked together with 1 tsp raw coconut nectar or agave nectar (optional)
3 bananas, sliced
raw cacao powder
shaved raw chocolate
For the cake, combine the almond meal, oat flour, and coconut in the food processor and process until finely ground like flour. Add sea salt, vanilla, and dates and process until well combined and dates have blended into the flour. Add the bananas and process until smooth.  Spread out into about a 6 inch circle on a teflex lined dehydrator tray and dehydrate for about 12 hours, or until dried but still a little moist in the middle.
Meanwhile, to make the filling and topping, combine the cashews, coconut water, sea salt, agave nectar, and vanilla anc process until smooth. Add the coconut oil slowly with the motor running (If the mixture starts to separate and clump, the filling is too cold to emulsify the oil, so warm some of it and process again). Divide into 3.  Add 1/3 back to the processor and add 2 tsp coffee extract. Remove and add another 1/3, to that add 2 tsp coffee extract and 1 Tbsp cacao powder.  Place the 3 bowls of topping in the freezer for about 30-45 minutes until it firms up to whipped cream  consistency.
Once ready to assemble, line a 6 inch spring form pan with parchment on the bottom and sides. Place the banana cake at the bottom (trimming edges if too large).  Brush with the coffee/agave mixture (this is optional, I did not because I do not drink coffee/caffeine, but it will give the tiramisu a more pronounced coffee flavor). Sprinkle with some shaved raw chocolate, and spread the chocolate coffee cream over.  Top with a layer of bananas, then sprinkle with more shaved chocolate and spread the coffee cream over.  Top with another layer of bananas, then sprinkle with more shaved chocolate, then spread the plain vanilla cream over. Dust the top with raw cacao powder and sprinkle with more shaved chocolate.  Place in the freezer for 3-4 hours to set, then un-mold and serve!
(Visited 483 times, 1 visits today)