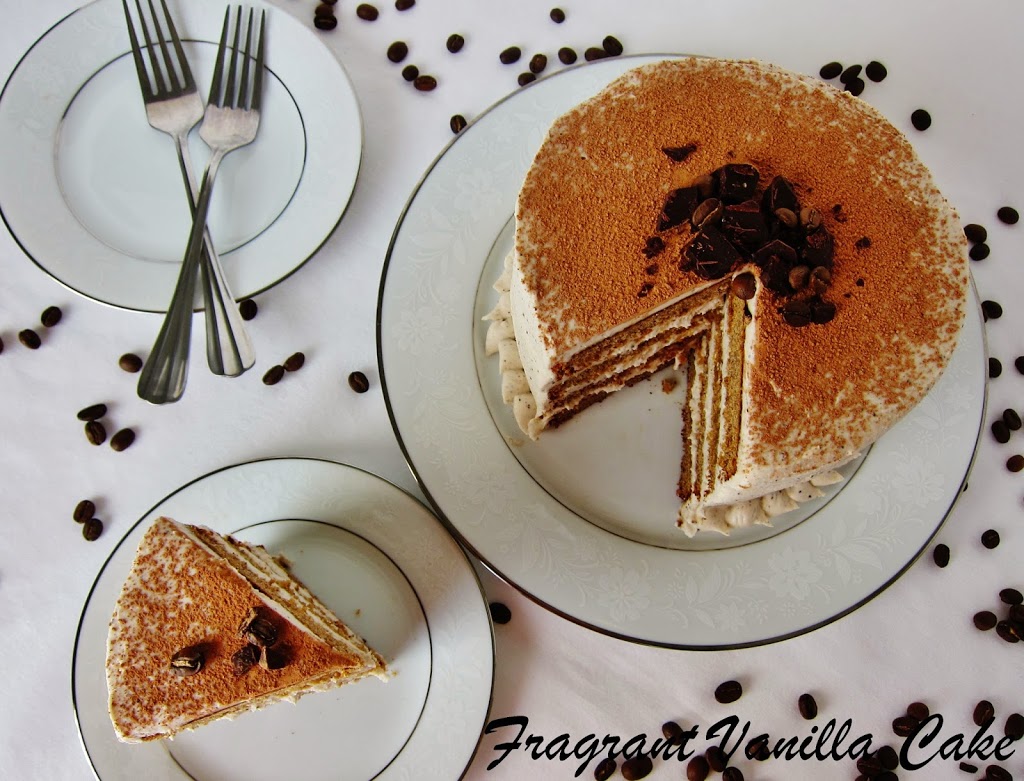 Vegan Tiramisu Layer Cake (gluten free)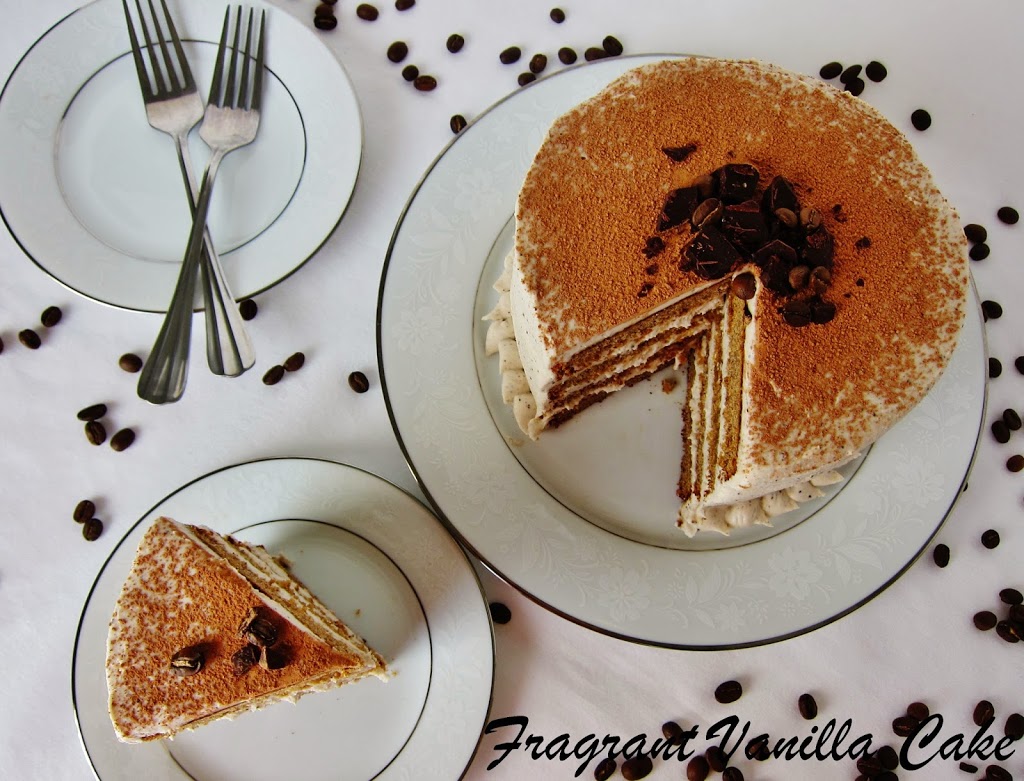 I have always been a big fan of Tiramisu.  I first had it at an Italian restaurant with my Mom when I was in college, and I was hooked.  We thought it was so good that we even made some at home the authentic way with custard and mascarpone.  Out home made version was even better than the stuff at the restaurant!  I have made versions of it since then, the first ones with dairy years ago, then some raw vegan versions with special twists like adding in bananas which are wonderful with tiramisu FYI. I have made tiramisu brownies, tiramisu ice cream, but never a tiramisu layer cake.  Well, that changed last weekend.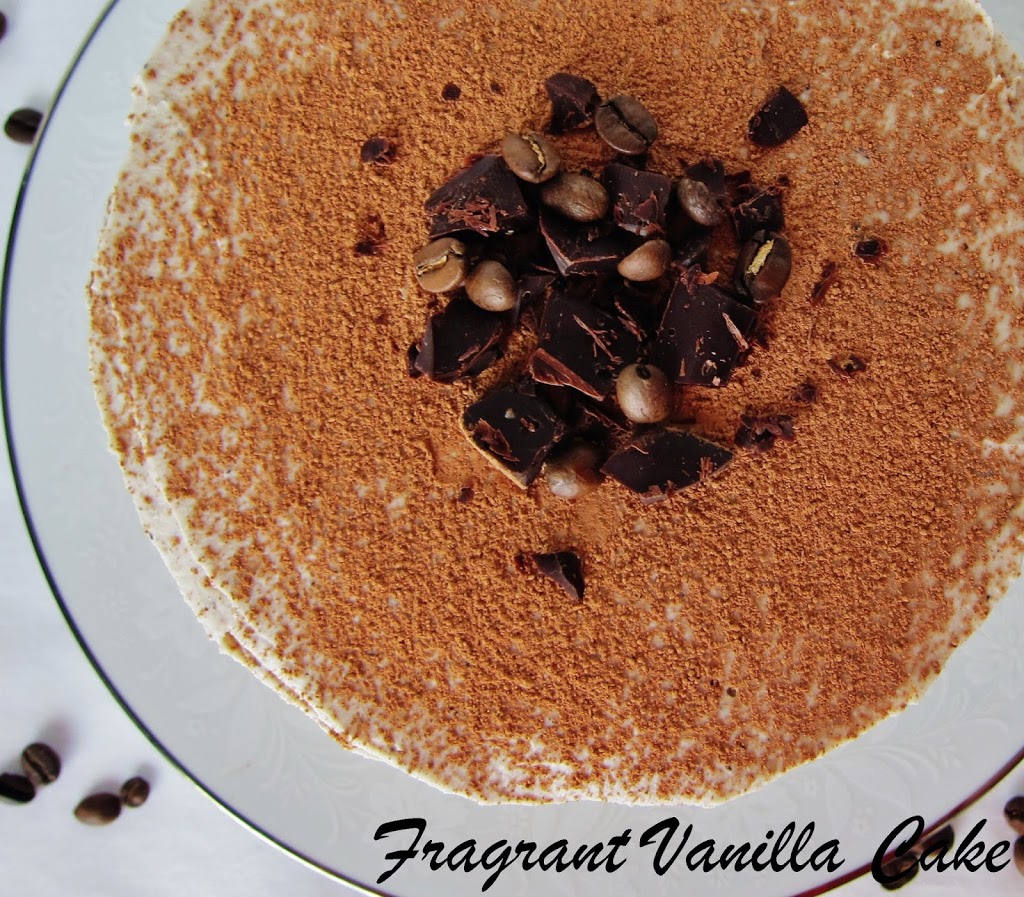 Maybe it had something to do with taking in the heavenly aroma of freshly ground coffee at work.  It made me long for some creamy tiramisu. Funny, because I am not a coffee drinker, but I love the smell of fresh ground beans.  It reminds me of the laid back Saturday mornings where my Mother used to grind them for her coffee. I love how smells bring back memories.  For me, I think sometimes they are even more powerful than photos.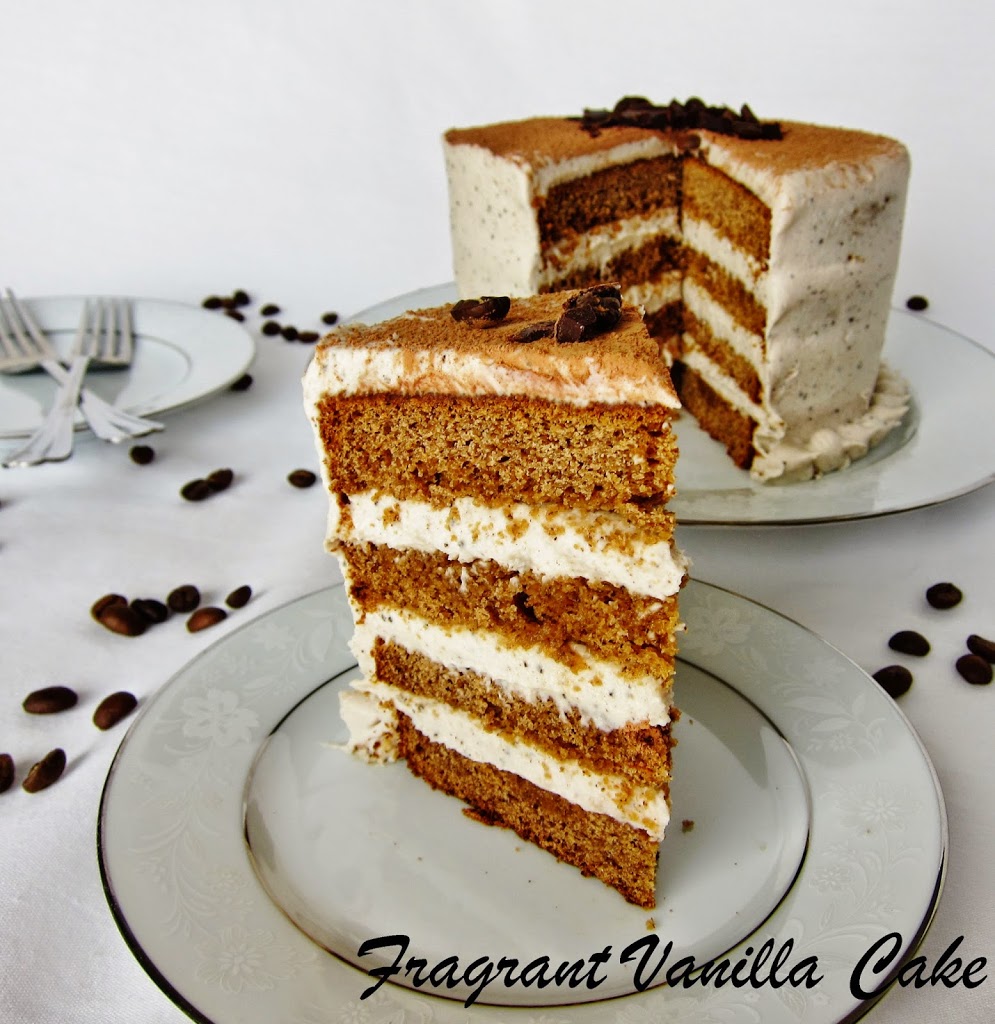 For this tiramisu cake, I did not mess with lady fingers, but instead baked a coffee spiked cake which was to later be soaked with a bit of coffee syrup like traditional tiramisu.  No messing with custards and folding in or whisking of anything here for the creamy frosting.  I simply threw all of it in the blender, chilled and voila!  I even threw in some coffee beans which contributed a nice coffee flavor and a little nibby texture leaving flecks in the light colored frosting.  A dusting of cacao was necessary between all of the layers for that little note of chocolate as well.  This cake was simply heavenly.  I no longer missed tiramisu, and I was in my happy place.  That is until my piece of cake was gone.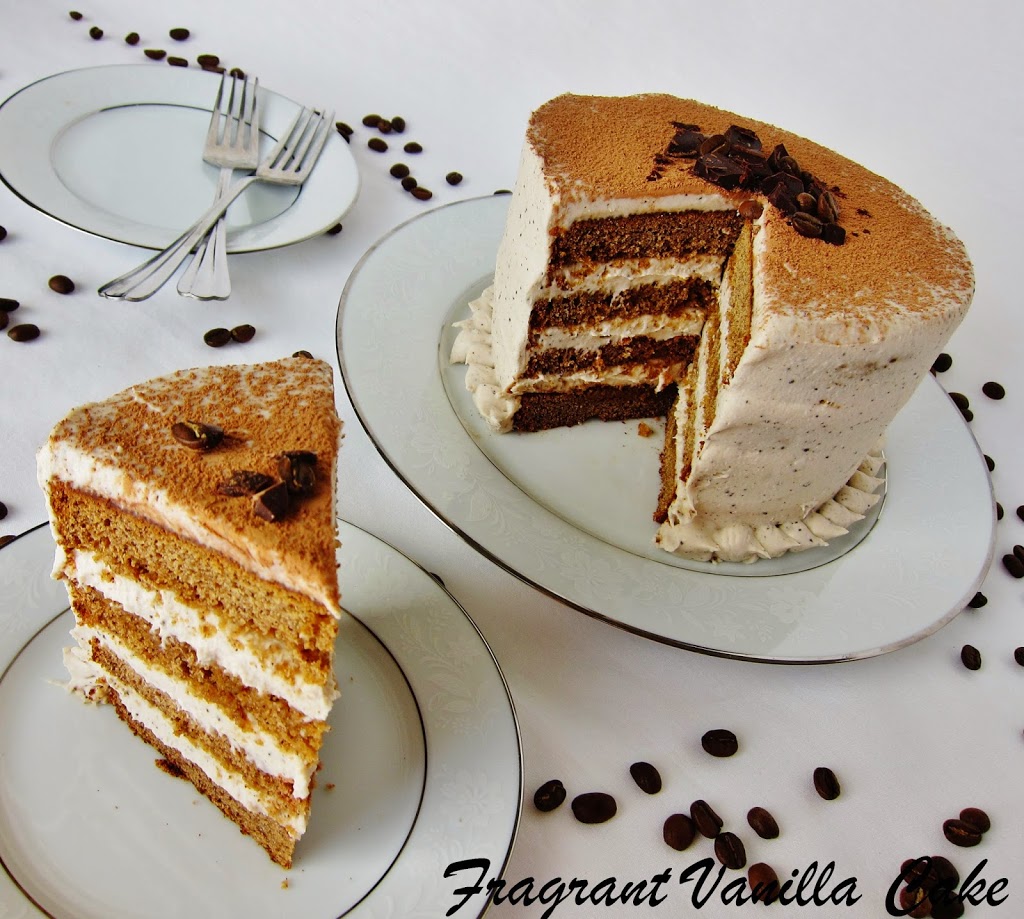 Vegan Tiramisu Layer Cake (gluten free)
Makes 1 6 inch 4 layer cake
2 6 inch cake pans
Cake:
1 3/4 cups all purpose gluten free flour
1 tsp baking soda
1/2 tsp sea salt
1 cup granulated coconut sugar
1/2 cup virgin coconut oil, warmed to liquid
1 cup freshly brewed organic coffee or espresso
1 Tbsp pure vanilla extract
2 Tbsp cider vinegar
Frosting:
2 cans organic full fat coconut milk, chilled
2 cups soaked raw cashews
3/4 cup raw coconut nectar, maple syrup or agave nectar
1/2  tsp sea salt
2 tsp pure vanilla extract
2 Tbsp organic coffee beans
2 cups coconut butter, warmed to liquid
Syrup:
2 Tbsp strong brewed organic coffee or espresso
2 Tbsp maple syrup or coconut nectar
cacao powder for dusting
chopped vegan dark chocolate and coffee beans for garnish
Preheat the oven to 375 degrees and position rack in center of oven. Line two six-inch-diameter cake pans with 2-inch-high sides with parchment paper. Coat parchment paper and pan sides lightly with coconut oil so that the cake doesn't stick and line the bottom of the pan with a piece of parchment fit to the pan.
Whisk flour, baking soda, sea salt, and sugar together in a large bowl to blend well.
Whisk oil, coffee, and vanilla extract together in small bowl to blend well, then whisk into the flour mixture until well blended. Whisk in the cider vinegar until bubbles form.
Transfer cake batter to prepared pans and bake cakes until tester inserted into center comes out clean, about 25-30 minutes.
Cool cakes completely in pan on rack, about 1 hour. Cut around sides of pan to loosen. Turn cakes out onto platter; peel off parchment paper. Let cool completely, then place in the fridge to chill until very cold to make slicing easier. When chilled, slice cakes horizontally in half so that you have 4 layers.
Meanwhile, to make the frosting, combine all ingredients but the coconut butter in a high speed blender or food processor and blend until smooth.  With the motor running, add the coconut butter and process a minute more.  Pour the frosting into a bowl and let sit in the freezer until the consistency of whipped cream (this may take anywhere from 1/2 hour to an hour depending on how warm it has gotten).
Whisk together syrup ingredients in a small bowl.
When ready to frost, place one cake layer on a plate. Brush with a little of the syrup, then dust with the cacao powder (I put mine in a fine meshed strainer and tapped it over the top). Spread frosting about 1/2 inch thick over the first layer, then top with the second. Brush that layer with the syrup, then dust with more cacao powder.  Repeat the frosting, then another cake layer, then more syrup, cacao powder, frosting then the last cake layer. Spread frosting over the top and down the sides of the cake.  Dust the top of the cake with cacao powder and chopped vegan dark chocolate if desired.  Store cake in the fridge. *if you would like a 4 layer 9 inch cake, double this entire recipe and bake in two 9 inch cake pans.
(Visited 1,450 times, 1 visits today)