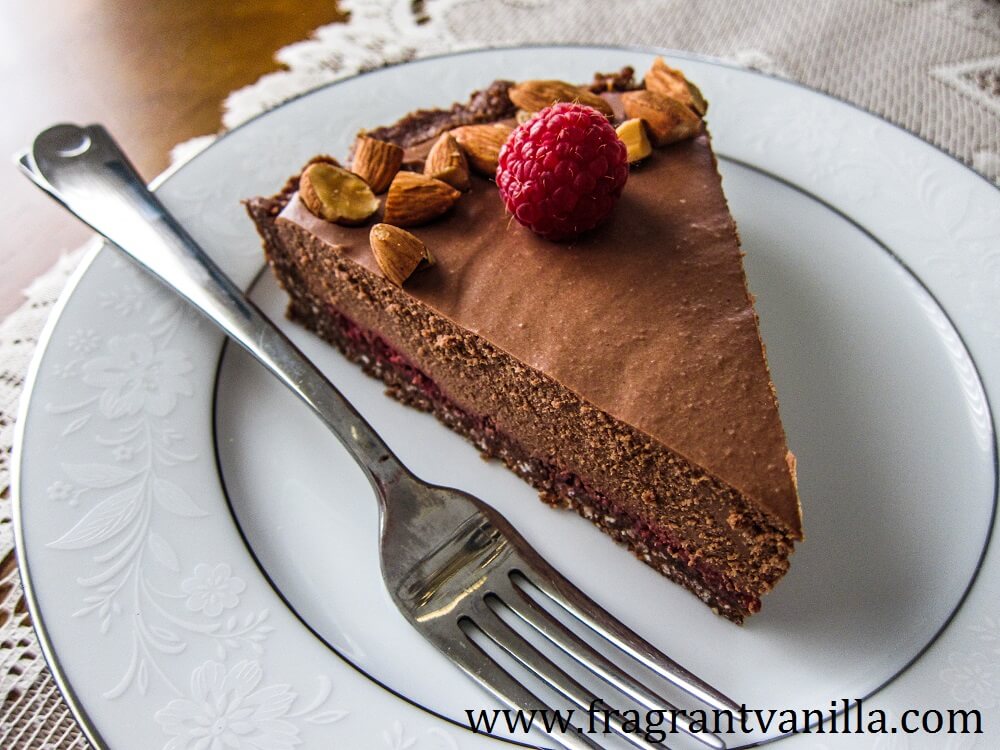 Vegan Chocolate Almond Raspberry Mousse Tart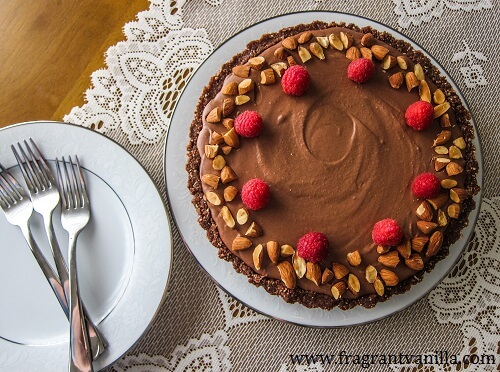 My Mom has always been one of my best friends.  I don't mean that she let me get away with stuff when I was younger and treated me like an equal (like some parents who are trying to be their kid's best friend literally).  She disciplined me when needed, so I respected her and she taught me to be a good honest person.  We have just always been close.  I am an only child, and from the time I was little I always wanted to be like her growing up.  When I was 5 I wanted to curl my hair just like hers, and wear matching clothes.  I even wanted to go to the same college as her when I was about 10.  I have always really looked up to her.  I didn't end up going to the same college and of course we have different clothes and hair now but we still look a lot alike.  Anyone who has met both of us for the first time always says how we look so much alike.  I have a photo of her and I at about the same age and we look like we would be sisters.  I still admire her very much, and we like a lot of the same things, which is why she is like a best friend.  It is her Birthday this week, so last weekend we were going out to celebrate her Birthday with dinner, but I thought I would make a dessert I knew she would like.  She is a huge fan of tarts, anything almond and chocolate so I thought I would make her a Chocolate Almond Raspberry Mousse Tart.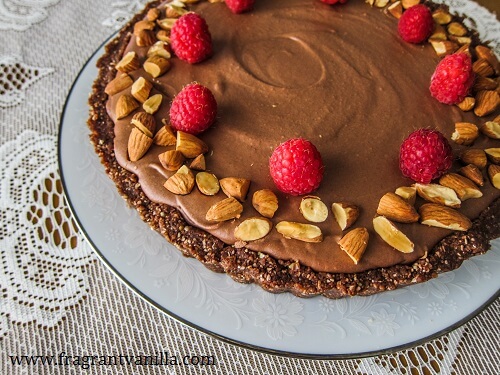 She has always enjoyed tarts more than cakes, so this is what I make for her Birthday a lot, and I don't mind because they are easier and still super tasty!  For this one, I made a crunchy chocolate crust with a hint of almond.  I knew it would be the perfect partner for the dreamy filling.  I decided to put a thin layer of fresh raspberry jam at the bottom because it is my Mom's favorite fruit (and mine too) and it goes so well with chocolate and almond.  The filling was a luscious coconut milk base with almond butter and plenty of cacao powder and it was so good I could not stop tasting it.  I was getting pretty excited about it when I poured it into the crust.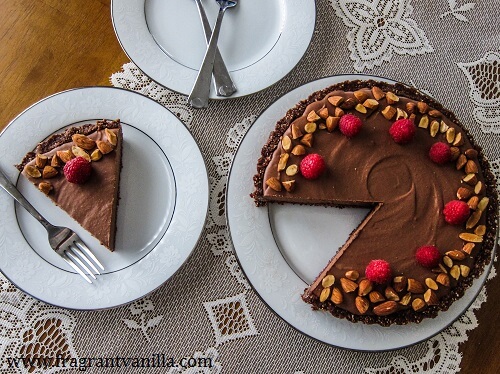 When it was all ready to go I decided it needed to be topped with crunchy toasted almonds, a nice contrast to the smooth filling.  It was super delicious!  The filling was rich and delicious, chocolaty to the core it reminded me of this really good chocolate mousse recipe my Mom and I used to make when I was younger with a hint of almond.  The jammy tart raspberries perfect to cut the sweetness and the crunchy crust just the right carrier for it all.  I couldn't wait to share it with my Mom and see what she thought!  If you are looking to make something rich and delicious, give this a go!  It is pretty easy to make, but elegant so perfect for special occasions!  Happy Birthday to my Mom!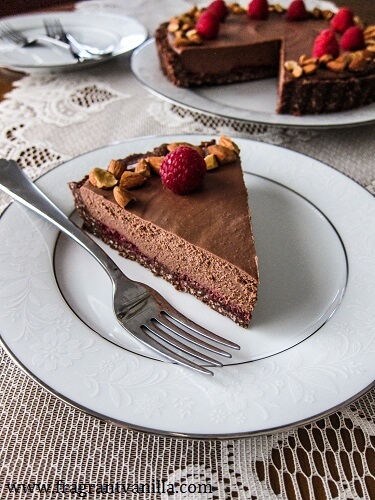 Vegan Chocolate Almond Raspberry Mousse Tart 
Makes one 8 inch pie
1 9 inch tart pan
Crust:
3/4 cup finely shredded dried coconut
3/4 cup sprouted, dehydrated buckwheat groats, or raw walnuts
1/4 cup ground flax seed
1/4 cup raw cacao powder or unsweetened cocoa powder
2 Tbsp organic almond butter
1 cup soft pitted medjool dates (if they are not soft, soak them 30 minutes and drain well before using)
1/4 tsp sea salt
filtered water as needed
Raspberry Jam:
1 cup fresh organic raspberries
2 Tbsp chia seeds
1 Tbsp maple syrup
Filling:
1 1 15 oz can full fat organic coconut milk, chilled
1/3 cup maple syrup
1/4 tsp sea salt
1 tsp pure vanilla extract
1/2 cup organic almond butter
1/2 cup cacao powder
1 cup coconut butter warmed to liquid
Instructions:
For the crust, combine all ingredients in the food processor until finely chopped and starting to hold together when squeezed (if it doesn't you may need to add a little filtered water 1 Tbsp at a time).
Press the mixture into a 9 inch removable bottom tart pan or pie pan greased with coconut oil.
For the jam, mash all ingredients together, and let sit 10 minutes, then spread into the bottom of the prepared crust.
For the filling, combine all ingredients in a high speed blender and blend until smooth. Pour over the raspberries in the crust. Place in the freezer to firm up (about 1-2 hours).
Garnish the top of the pie with raspberries and toasted almonds.
Pie keeps refrigerated for 1 week in a container.
(Visited 1,737 times, 1 visits today)