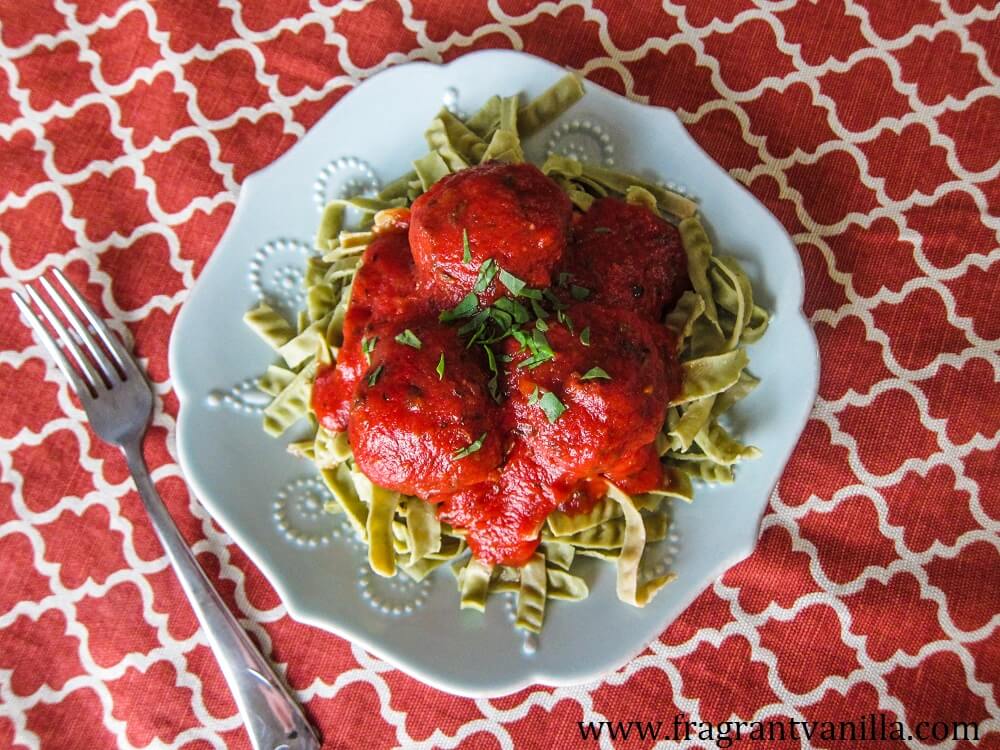 Vegan Italian Lentil Walnut Meatballs
When I was little, my Mom made really good meatballs with a red sauce.  It was a recipe from a family friend.  So years ago, she had asked me to make some vegan ones and she ended up liking them even better than this original recipe.  I don't have that recipe anymore, it was from before I was big into blogging (so not saved anywhere) and they were not gluten free so I would have to tweak them anyway to make them to my liking. So I thought why not make them again, and if they were really good I could share the recipe.  Also I kind of wanted to make something for my Mom that I knew she would like around Mother's Day but we went out for dinner that day, so I thought I would make it after so she could enjoy them during the week.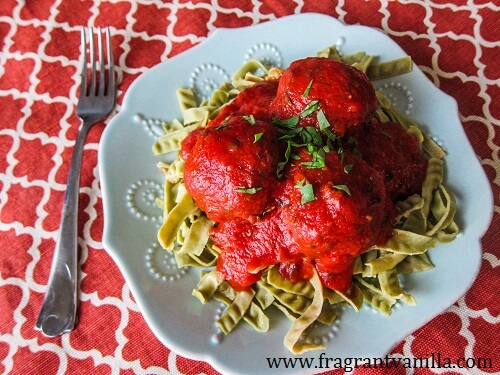 I based this meatball recipe off of my classic meatball recipe that everyone, including meat eaters raves about.  It is just a really good base made from lentils, walnuts and oats for a binder that ends up tasting pretty amazing once finished.  I have had people that were skeptical of vegan meat substitutes try it and say they really liked it!  Which always means a lot to me, it means I did a good job, and maybe they will think about eliminating meat from their diet.  I made a simple Italian sauce for these, and served them with some of my favorite pasta, one made from edamame and mung beans that is gluten free.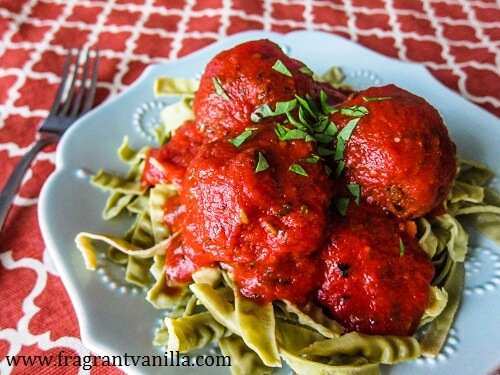 But the important thing was, Mom loved them as well!  They were super delicious.  I was never a big fan of ground beef growing up, so I think if I did a taste test of both I would have picked these as the winner!  I think they beat meat hands down taste wise!  If you are craving meatballs, give these a try!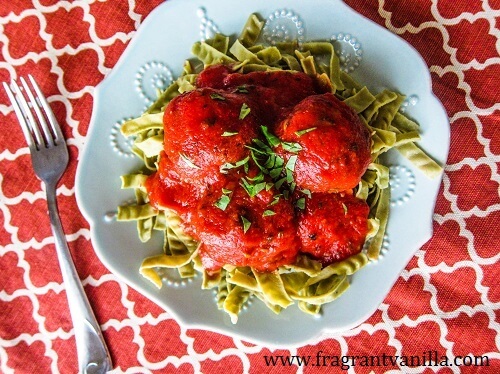 Vegan Italian Lentil Walnut Meatballs
Serves 4
Meatballs:
2/3 cup uncooked French lentils
filtered water
1 tsp olive oil
1 small onion, diced
2 garlic cloves, minced
2 Tbsp tamari or shoyu
1/4 cup organic tomato paste
1 tsp dried oregano
1 tsp dried basil
1 tsp fennel seeds
1/4 tsp sea salt
2 cups chopped walnuts
1 cup gluten free rolled oats
Sauce:
2 tsp olive oil
1/4 cup chopped onion
2 garlic cloves, minced
1 tsp dried basil
1 tsp dried oregano
1 tsp fennel seeds
1/4 tsp red pepper flakes
1 15 oz can diced tomatoes
1/2 cup tomato paste
3/4 cup filtered water
1/2 tsp sea salt (or to taste)
Instructions:
To make the meat balls, add the lentils to a pot, and cover them with enough water to have a few inches above the lentils.  Bring to a simmer, and cook for about 40 minutes until the lentils are tender.  Drain, and set aside.
In a pan, heat the olive oil and onions, and cook until the onions are softened and tender, about 5 minutes.
Add the garlic and sautee a minute more until fragrant.
Add to a food processor, along with lentils, and all other meatball ingredients.  Pulse until everything is blended but not completely smooth.
Preheat the oven to 375F degrees.  Roll the meatball mixture into one and a half inch balls, and place them on a lined baking sheet. Place in the oven and bake for 30 minutes or until firm, but still soft in the middle.
Meanwhile, to make the sauce, heat the oil in a non-stick skillet, and add the onions.  Sautee for about 5 minutes until softened, over medium heat, then add the garlic and spices and cook a minute more.  Add the tomatoes, water, and sea salt, and bring to a simmer.  Cook for about 10-15 minutes until the flavors have combined.
When the meatballs have finished cooking, toss them with the sauce, and serve garnished with parsley over pasta!
(Visited 1,142 times, 1 visits today)