Vegan Blueberry Vanilla White Chocolate Popcorn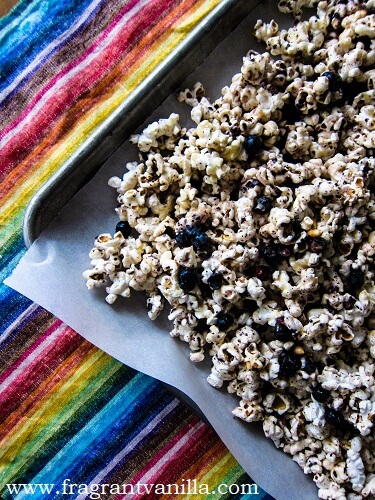 Usually every weekend I make a dessert, like a cake, or pie or cheesecake or something. But this weekend I decided to make a sweet popcorn instead for dessert because that is what I was craving.  Is that weird?   I like to make gourmet type popcorn, like the kind that you can buy at the mall in all sorts of different flavors, only mine do not contain any artificial colors, flavors, or refined sugars.  No matter which kind I make, it is really good 99% of the time.  I luckily have yet to have a popcorn making fail.  Popcorn is something that always makes me hungry when I smell it.  Like at the movie theater.  I never buy any there, I usually just smuggle some of my own in because it costs an arm and a leg there and isn't healthy (plus might contain animal products).  But if I don't have any popcorn with me, it makes me hungry smelling it and I usually have to go home and make some.  Cleaver whoever first decided that movies went with popcorn, and that they should sell it at the theater.  Anyways back to those popcorn flavors.  I sometimes go savory and make something like Vegan Bacon Cheddar, but I love the sweet flavors the most like my Dark Chocolate Sea Salt Popcorn or Raspberry Ghost Pepper Caramel Corn. You get a sweet and salty effect (because I add a bit of sea salt too), plus the crunch of popcorn is so satisfying.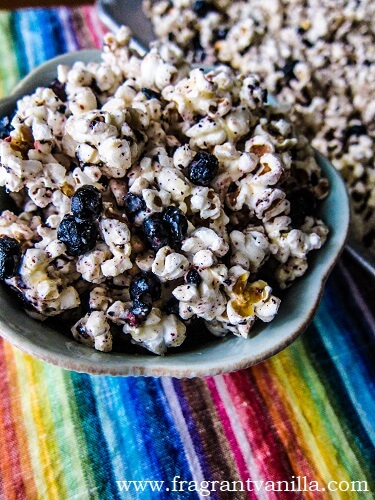 This time I decided to make blueberry vanilla white chocolate.  You may wonder how I added blueberries to popcorn without it getting soggy. Well, I used freeze dried ones, because they are packed with loads of blueberry flavor without the moisture of fresh berries.  I often times use them in things like coconut whipped cream, frosting, or raw chocolates for color. I made my own white chocolate coating for this, with the same ingredients I use to make actual vegan white chocolates, cacao butter, cashew butter, coconut butter, and maple syrup just in different proportions so that it coats the popcorn better. I added in plenty of vanilla, my favorite flavor, and it was heavenly, even in melted form!  I had whipped up a big batch of popcorn in my Whirly pop the day before, so this was a really quick and easy to make recipe!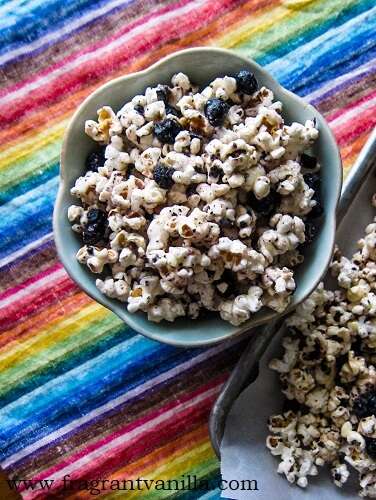 It was so good!  Crave worthy, that sweet vanilla white chocolate, a hint of sea salt and the flavorful berries!  I could not stop sampling, and half the pan was gone before I knew it.  I had to save some though, because I wanted to share it with Eric, who is an even bigger popcorn lover than me.  Skip buying store bought gourmet popcorn and whip up a batch of this for yourself!
Vegan Blueberry Vanilla White Chocolate Popcorn
Makes 8 cups
White Chocolate:
1/4 cup cacao butter, melted
2 Tbsp raw cashew butter
1/4 cup coconut butter, warmed to liquid
1 tsp pure vanilla extract
2 Tbsp maple syrup (or to taste)
8 cups plain popcorn
1 cup organic freeze dried blueberries, crushed
Instructions:
To make the white chocolate, whisk together all ingredients until smooth, then pour over the popcorn in a large bowl, and add the blueberries.
Toss together until all of the popcorn is coated, and the berries are evenly distributed.
Allow to cool until the white chocolate dries (I put it in the freezer for 15 min).  Enjoy!
(Visited 187 times, 1 visits today)