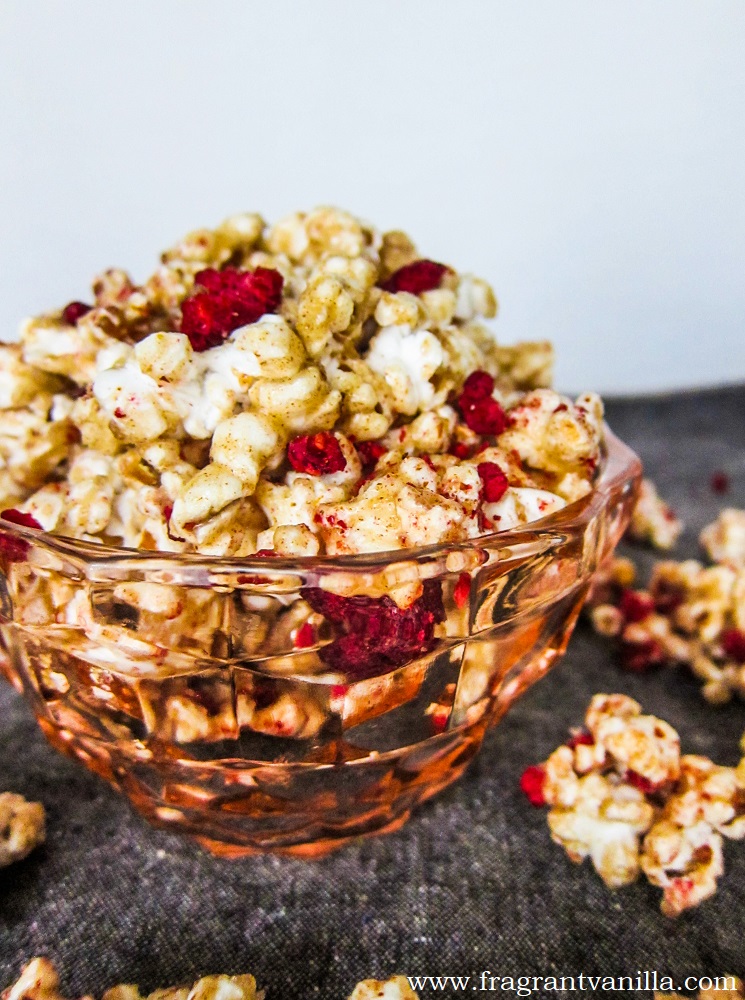 Vegan Raspberry Ghost Pepper Caramel Corn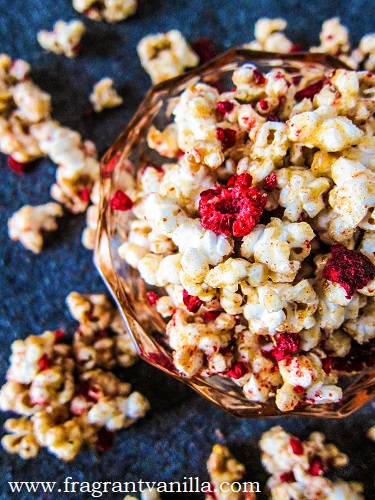 They are coming out with ghost pepper everything lately.  Well, mostly savory items, I haven't seen any commercial ghost pepper desserts, just things like chips, hot sauces, BBQ sauce etc.  I was gifted a Trader Joes Ghost Pepper Grinder recently and I love it!  Eric had one last year, and I would use his all the time, but turns out it is seasonal, so once they were gone they were gone.  But now they are back and I am excited.  You need just a small amount on your food to give it a nice kick and they have a nice smokey aroma as well.  But of course Eric likes not just a small amount, he likes to put so much on there that he starts sweating.  He is from Arizona so he loves hot and spicy things.  I do too, but I like to taste my other food as well haha!  I decided last weekend that I wanted to make some sort of delicious snack with the ghost peppers included.  What I decided on was caramel corn.  Because I wanted something slightly sweet, and crunchy with a touch of salt too.  So, it was the perfect thing to make!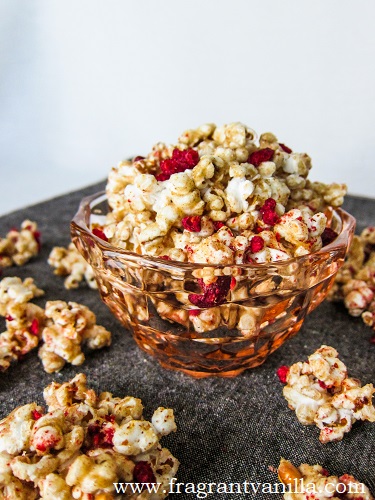 I told Eric what I was making and he said that some sort of dried fruit would be good in it too, and I had dried freeze dried raspberries on hand, so I decided to include them as well.  This is not your average caramel corn.  Not just because of the ghost peppers and raspberries.  Most caramel corn is made with butter, sugar and corn syrup, but I don't eat those things.  Because first off I don't eat animal products of course, being that I am vegan.  And second, because I try to stay away from refined over processed sugars.  So, my "caramel" isn't technically caramel but tastes like caramel, and is sticky like caramel, so it is caramel enough for me! It is a mixture of maple syrup, coconut butter, and pecan butter with a touch of vanilla and sea salt.  It is sooo good!  If you can't get pecan butter, no worries, you can use cashew butter or raw almond butter instead and it will still be good.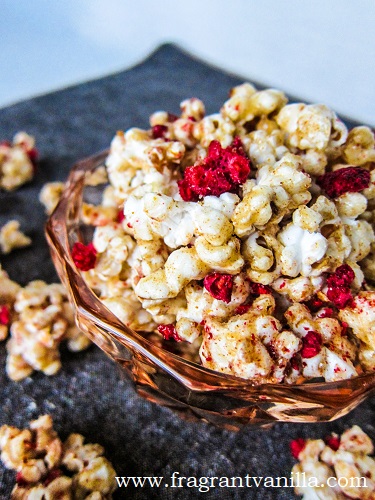 It was wonderful once I added in the ghost pepper flakes and raspberries!  I actually added slightly more than I put in the recipe, because I was going to be sharing with Eric, and he loves spice.  Also, I didn't want to kill anyone if they can't handle much, and I know one person's spicy is another person's medium or mild, so I added the amount to the recipe that I felt would be the most people pleasing as a start.  Feel free to adjust the amount of peppers to your tastes though.  The popcorn was so good!  Sweet, salty, fruity, spicy, a tad smokey with the aroma of the peppers.  Crave worthy stuff that I could not stop sampling in fact.  If you lare adventurous and like ghost peppers or just chilies in general, give this a try!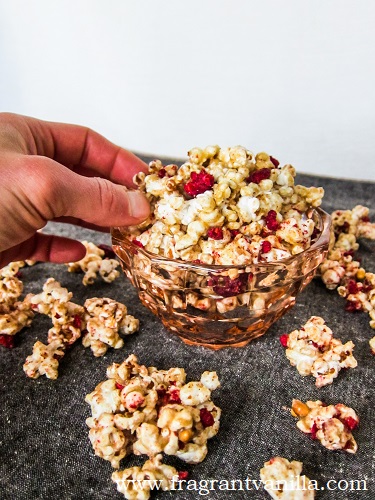 Vegan Raspberry Ghost Pepper Caramel Corn
Makes 8 cups
Popcorn:
1/3 cup maple syrup
1/3 cup coconut butter, warmed to liquid
1/3 cup pecan butter (or almond butter)
1/2 tsp sea salt
1/4 tsp ghost pepper flakes (or more if you like spicy)
1 tsp pure vanilla extract
8 cups plain organic popped corn
1 cup freeze dried raspberries, crushed
Instructions:
To make the popcorn, in a glass measuring cup (or bowl) whisk together the maple syrup, coconut butter, pecan butter, sea salt, ghost pepper flakes and vanilla until well blended.
Pour the mixture over the popcorn in a large bowl, along with raspberries and mix well.
Spread popcorn out onto a lined sheet pan, and place in the freezer until it is hard.
Enjoy!
(Visited 166 times, 1 visits today)