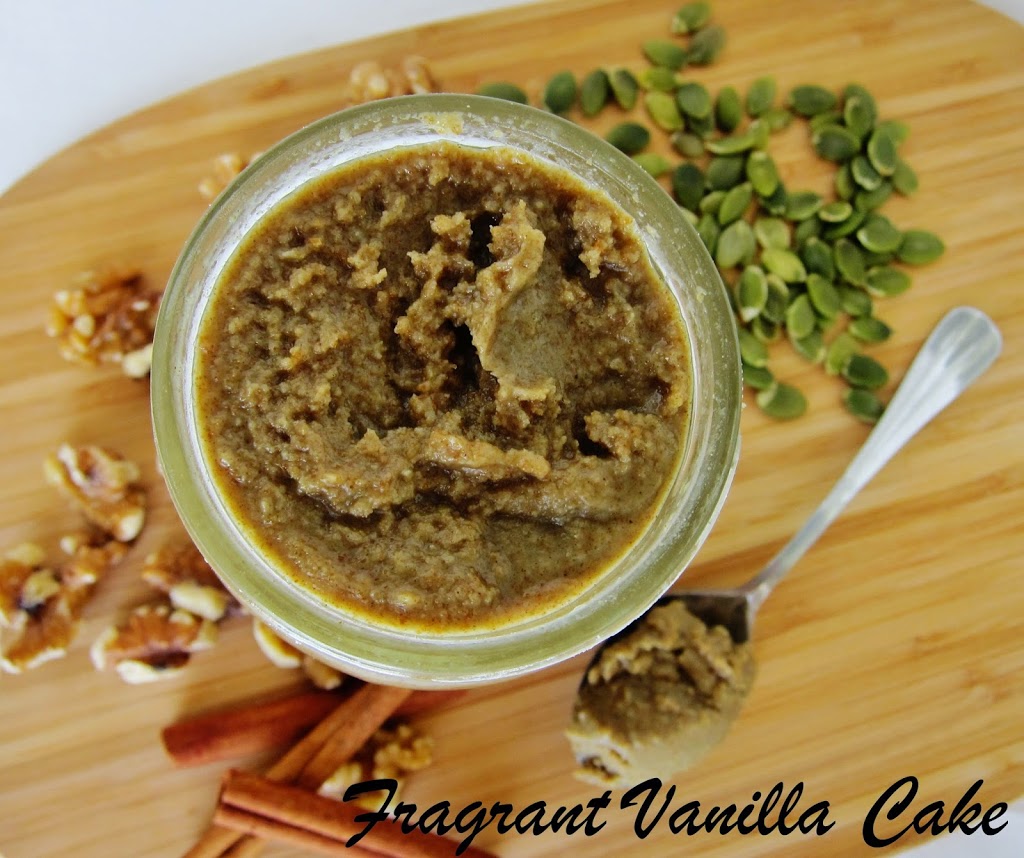 Raw Maple Cinnamon Pumpkin Seed Walnut Butter
I am a big fan of making your own nut butter at home.  Not only is it usually more cost effective, but you can create new blends of nuts that you would not find in a store.  Sometimes I make flavors with dessert in mind like Raw Pecan Brownie Batter Butter or Raw Sugar Cookie Dough Butter, and other times it is just a blend like Macadamia Coconut Butter (which are all heavenly by the way).
This last week when I was making nut butter I wanted something a little in between.  I had been grinding up pumpkin seeds at work for a recipe (I work in a deli), and I thought some pumpkin seed butter might be interesting.  I had never tried it and I am always up for trying something new.  I went for it when I got home and I was craving something a little sweet so I decided that maple and cinnamon would be lovely in the nut butter.  I ended up adding in a few walnuts as well to make it more creamy, and some coconut sugar for low glycemic sweetness.
It ended up tasting amazing and has since become something that I stir into my morning oatmeal.  I enjoyed the pumpkin seeds so much that I decided to create a savory version as well that I have the recipe for below the sweet one. The savory nut butter is great for making a quick salad dressing.  I think I will keep using pumpkin seeds often in my daily use nut butters because they are cost effective (way cheaper than other nuts), packed with nutrients and yummy!
Raw Maple Cinnamon Pumpkin Seed Walnut Butter
Makes about 2 1/2 cups
3 cups raw pumpkin seeds
1 cup raw walnuts
3/4 cup coconut sugar (or you may use maple sugar)
1/4 tsp sea salt (or to taste)
1 Tbsp cinnamon
1 tsp pure vanilla extract
1 tsp maple extract
In a high speed blender, combine the seeds and nuts and blend until smooth (alternatively this can be done in a food processor but it takes a lot longer and will most likely not get as smooth). Add the coconut sugar, sea salt, cinnamon vanilla, and maple extract and blend until smooth.  Store in a jar.
Variation: Savory Pumpkin Seed Walnut Butter
Omit the sugar, vanilla and maple and replace the cinnamon with 1 tsp ground cumin, 1 tsp garlic powder, 1 tsp dried thyme and 1/2 tspground chipotle powder.
This savory nut butter makes a wonderful dressing if you combine 1 cup of the nut butter, 1 cup water 1 garlic clove, and 1/4 tsp salt in a blender and blend until smooth.  I like to keep a bottle of this in the fridge for salads.
(Visited 110 times, 1 visits today)