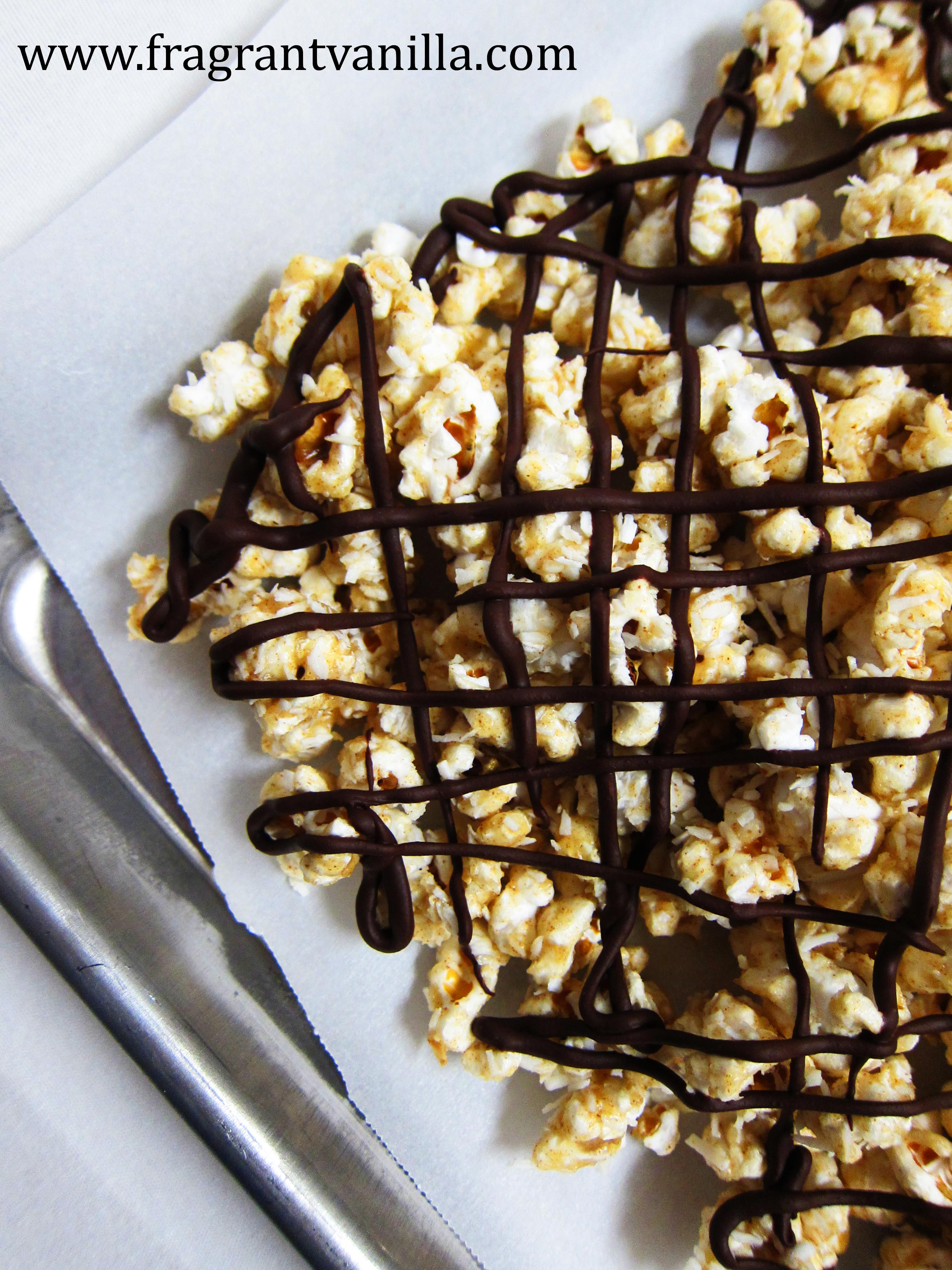 Vegan Samoa Caramel Corn
It is the time of year when everyone is getting excited for Girl Scout Cookies. I don't buy actual Girl Scout cookies anymore, because they are full of artificial stuff.  But I like to make Girl Scout cookie themed desserts, or make my own healthier Girl Scout cookies.  Like these this Samoa Layer Cake, or Samoa Cheesecake, or these Thin Mints, or these Tagalongs.  Because the flavors in those cookies are darn delicious!  So anyways, I decided to make some samoa popcorn this week. I have been wanting to make some sweet popcorn for a while now, and I finally got around to it on my day off.  My oven has been acting up also, and I don't trust it yet, so I thought a dessert that didn't need the oven was perfect!  Yes, I consider this popcorn a dessert AND a snack.  One of those things that is perfect for when you want something crunchy, munchy and slightly salty but also sweet and with a little chocolate added.  Sounds like a PMS craving haha!  But I think we all get cravings for that sort of thing at some point, even men.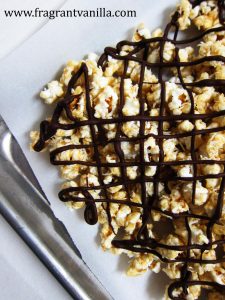 So anyways, I pulled out my Whirly Pop popcorn maker, popped up a batch of coconut oil popcorn.  Which I love in and of itself when I am going for more healthy and light and not so dessert, but I wanted decadent this time so I went to work on the good stuff.  I made a quick "caramel" sauce with pecan butter, maple syrup, and coconut butter with a touch of vanilla and sea salt.  It was sweet, delicious and perfect for coating the popcorn.  I mixed in coconut as well, which is an essential part of samoas, and once the popcorn was all coated, it was super delicious (and hard to stop tasting).  But it wasn't done yet.  Once it was all chilled, it had to get its dark chocolate drizzle.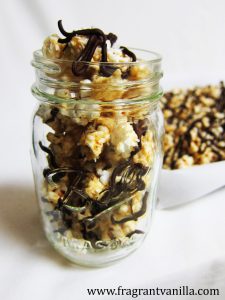 Once it was all adorned with chocolate, and chilled enough to set up, it was amazing stuff.  Like you take a little and go back for more about 10 times.  Or maybe that is just me.  It would be tempting not to share this deliciousness, but I made a big batch, so I decided to share some with Eric too, since he is the biggest popcorn and sweets lover I know.  If you are in the mood for some decadent popcorn, don't go to one of those gourmet popcorn places, make some of this!  It tastes just like Samoas, which were always one of my favorite Girl Scout cookies.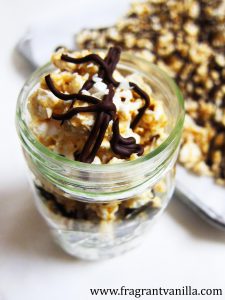 Vegan Samoa Caramel Corn
Makes 8 cups
1/3 cup maple syrup
1/3 cup pecan butter or almond butter
1/3 cup raw coconut butter
1/2 tsp sea salt
1 tsp pure vanilla extract
8 cups plain organic popped corn
3/4 cup finely shredded, dried unsweetened coconut
3/4 cup vegan dark chocolate chips
Instructions:
In a glass measuring cup (or bowl) whisk together the maple syrup,  pecan butter, coconut butter, sea salt and vanilla until well blended. Pour over the popcorn in a large bowl, along with coconut and mix well. Spread out onto a lined sheet pan, and place in the freezer until it is hard.
Meanwhile, melt the chocolate chips in the top of a double boiler.  Once melted, drizzle over the popcorn.  Place back in the freezer until the chocolate has hardened.  Enjoy!
(Visited 131 times, 1 visits today)