Vegan Pumpkin Spice Latte Layer Cake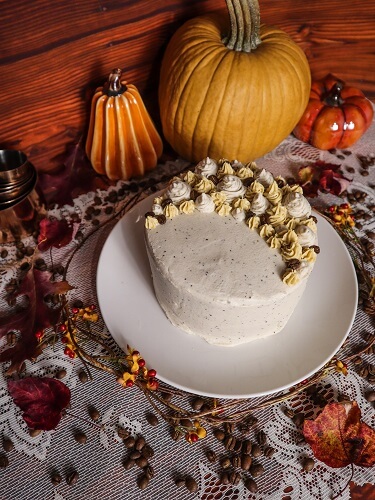 Everyone is obsessed with pumpkin spice lattes this time of the year, and I am not surprised, since I am a big anything pumpkin lover myself.  And, I admit that I buy them from local coffee shops.  But they have to be good ones made with real pumpkin and spices not just fake flavoring.  We have some shops that make some really good ones around here, like
Bootstrap Coffee Co
. Their drinks are amazing, and they make really good oatmilk lattes!  You know what also goes really well with a good pumpkin spice latte?  A sweet treat to enjoy it with, like this Pumpkin Spice Latte Layer Cake!  It has all of the flavors of a pumpkin spice latte but in cake form.  I had made a similar cake like this before and posted it on here, but I thought it was time for a new and improved version, so here you go!  If I make improvements on a recipe I like to post the new one, so you get the best results.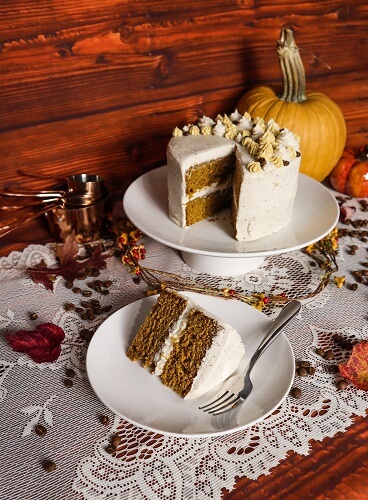 For the Pumpkin Spice Latte Layer Cake layers, I used plenty of pumpkin (the canned variety to make it more simple and easy since I don't always want to roast a pumpkin and puree it), and my spices that I always use in my pumpkin pie, cinnamon, ginger, nutmeg and cloves.  I wanted to cake layers to remain moist and soft even when refrigerated so I chose avocado oil in place of the coconut oil this time and the texture was perfect!  Not only that, the pumpkin and spices were allowed to shine, and the bit of coffee I used in the liquid portion of the batter gave it just the right amount of coffee flavor.  I used maple sugar to sweeten it because I love the flavor with fall desserts and it gives it a caramelly flavor.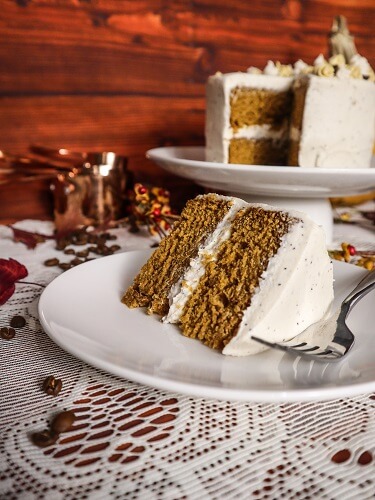 A few notes on this recipe, I often times make oil free and fruit sweetened cakes, and if you came here looking for one of those, then check out my
Pumpkin Spice Cake with Cream Cheese Frosting
. It is oil free and fruit sweetened and one of my other favorite fall cakes.  Also perfect if you are not a coffee person.  For the frosting portion of this cake, it is important that you use a coconut milk that has most of the can being thick cream, like Thai Kitchen brand (their coconut cream in a can works as well if you happen to have that).  If you do not use a thick brand of coconut milk this recipe will not work and you will end up with runny frosting which is no fun for anyone.  I cannot stress this enough and I would hate to have your cake not turn out. If you are looking for a more traditional frosting for this that is not coconut milk based and less fussy, I can recommend
this frosting recipe
which is more of a buttercream. This recipe is not gluten free but if you would like to make it gluten free, you can use a gluten free flour like Bobs Red Mill Gluten Free All Purpose Baking Flour subbed 1:1 for the whole wheat pastry. I have used this brand in my cakes and know it works well (I am not sure about other brands as I have not tried them but if you have another brand that you know works well in cakes go for it).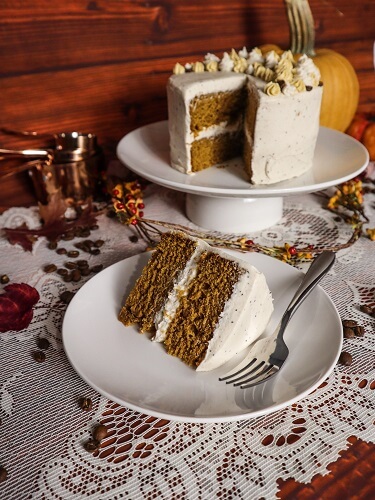 Back to the fun stuff though, this cake smells so heavenly while baking, it makes me so happy!  Once I had this cake all assembled and it was ready to eat I could not wait to try it!  This cake was sooo good! I have a weekend tradition of enjoying dessert with my coffee, so Eric and I brought some along to our coffee date last weekend and did just that.  This cake is most, sweet and lightly spiced with a hint of coffee and creamy frosting scented with vanilla and coffee!  If you are a pumpkin spice latte fan, definitely give this a try!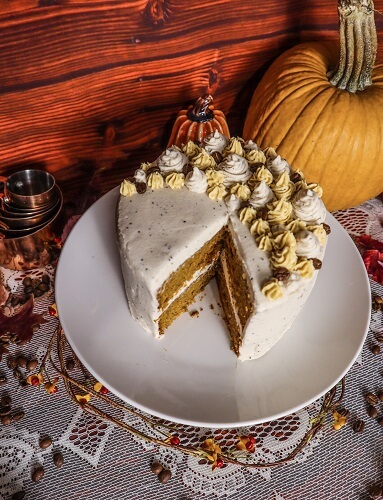 Vegan Pumpkin Spice Latte Layer Cake
Makes 1 6 inch 2 layer cake
Cake:
1 1/2 cups organic whole wheat pastry flour (or regular AP flour)
1 cup coconut sugar
2 Tbsp cinnamon
2 tsp ground ginger
1/2 tsp ground nutmeg
1/4 tsp cloves
1 1/2 tsp baking soda
1 tsp baking powder
1/2 tsp sea salt
3/4 cup pureed pumpkin or squash
1/4 cup avocado oil
1 Tbsp pure vanilla extract
2 tsp maple extract
1/2 cup + 2 Tbsp strong brewed espresso coffee
2 Tbsp apple cider vinegar
Frosting:
1 15 oz can organic full fat coconut milk or coconut cream, chilled (use the kind that has at least 3/4 of the can thick cream like Thai Kitchen brand or this recipe will not work and frosting will be runny)
1/2 cup raw cashew butter
1/3 cup maple syrup
2 Tbsp strong brewed espresso
1/4  tsp sea salt
2 tsp pure vanilla extract
1/2 tsp maple extract (optional)
3/4 cups coconut butter (not oil), warmed to liquid
Instructions:
Preheat the oven to 350F degrees and position rack in center of oven.
Line two six-inch-diameter cake pans with 2-inch-high sides with parchment paper. Coat parchment paper and pan sides with nonstick spray.
Whisk flour, baking soda, spices, salt, and sugar in a large bowl to blend well. Whisk pumpkin, oil, maple extract, vanilla extract, and coffee together in small bowl to blend well, then whisk into the flour mixture until well blended. Whisk in cider vinegar until pale swirls form in the batter and it is well combined.
Transfer cake batter to prepared pans and bake cakes until tester inserted into center comes out clean with a few crumbs attached, about 30 minutes. Remove from oven.
Cool cakes completely in pan on rack, about 1 hour. Cut around sides of pans to loosen. Turn cakes out onto two plates; peel off parchment paper.
Meanwhile, to make the frosting, combine all ingredients but the coconut butter, in a high speed blender or food processor and blend until smooth.  With the motor running, add the coconut butter and process a minute more (if it starts to get lumpy at all during the process it is just the fat separating because it is 2 different temperatures.  Just continue to blend until it is smooth, and it will get warm so it will just have to chill longer). Pour the frosting into a bowl and let sit in the freezer until the consistency of whipped cream, whisking every 15 minutes (this may take anywhere from 15 minutes to hour to an hour depending on how warm it has gotten and which appliance you used).
When ready to frost, place one cake layer on a plate. spread frosting about 1/2 inch thick over the first layer, then top with the second. Spread remaining frosting over the top and down the sides of the cake. Decorate the top with coffee beans, and pipe remaining frosting onto it if desired.
Store any leftover cake in the refrigerator for up to 1 week in a covered container.
(Visited 1,417 times, 1 visits today)