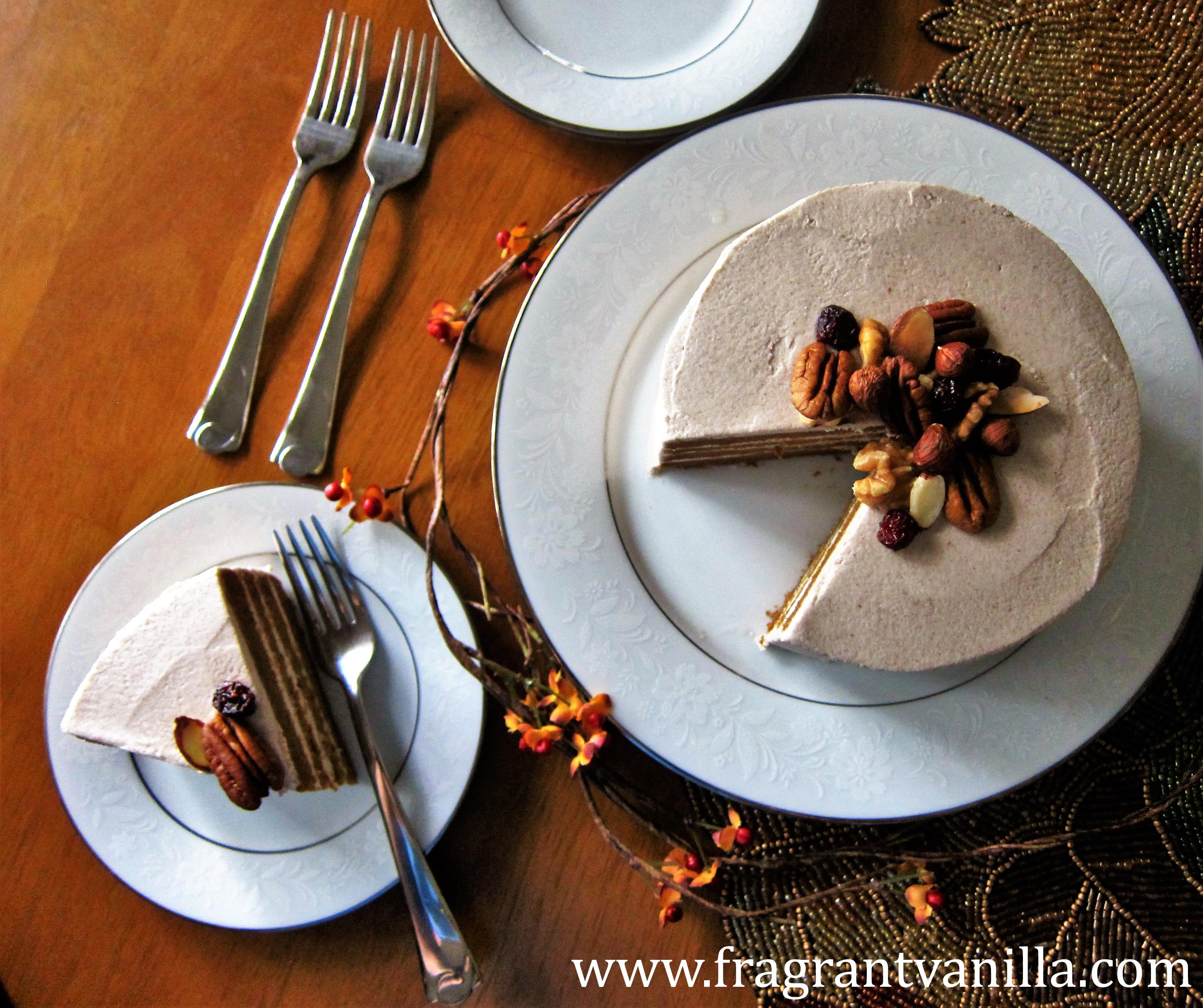 Vegan Pumpkin Spice Cake with Cream Cheese Frosting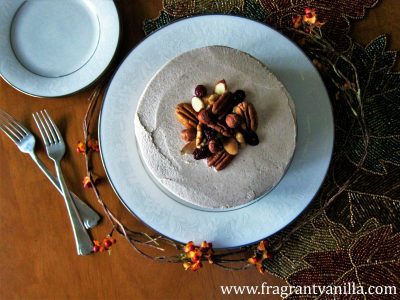 Sometimes you have a good week where everything goes right, and sometimes you don't.  What matters is how you deal with it, and whether it makes you a better person, or a worse person.  Well, I had one of those not so good weeks, you know where nothing goes the way you planned it, things break and need to be fixed, work is crazy, and it rains a lot.  But you know what?  I got through it without having a breakdown thanks to prayer, baking (to calm myself) and running (to get out my frustrations).  Eric had had an even more stressful week than me, so I thought I would bake us a delicious cake to make the weekend better.  I knew the next week would be a lot better after all!  Also, Saturday was the 4 year anniversary of the day we met, cake was needed to celebrate that too!  I can't believe it has been 4 years, it seems like only yesterday he was trying to sell me $18 worth of vanilla beans for $2 on his second day of work as a cashier, because he was distracted by me, and that cute smile caught my eye (don't worry, I was honest and fixed the mistake).  We met at the health food store where the deli is that I work in.  Best friends right away.  So that is worth cake!  Not that anyone ever needs a reason to eat cake... just sayin'.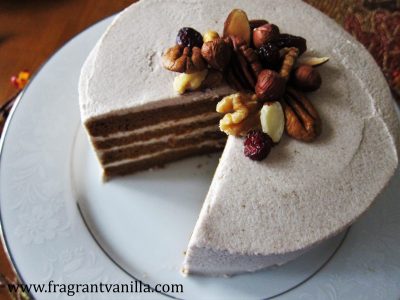 I decided to make a pumpkin spice cake.  It has been ages since I made a plain pumpkin spice cake, usually it is all jazzed up with some unusual flavor or another.  But you know what?  I wanted the classic.  Pumpkin spice with cream cheese frosting.  Eric's only request was that the frosting contain cinnamon.  Which sounded perfect!  This cake is relatively simple to make as far as the batter goes.  One of the things I used to hate about traditional cake recipes with eggs and such is that you had to beat the batter a certain way, fold it together etc.  Vegan cakes are so much less fussy.  I used my classic pumpkin pie spice mix in this but with one special ingredient, chipotle pepper.  For a little warmth and heat.  You may think this sounds weird, but it just gives that cake that *POP* of flavor that is unexpected.  One of the first things Eric and I realized we had in common is our love for spicy things, so it was fitting that I added a little to this cake.  The cakes smelled amazing while baking, like Autumn spices.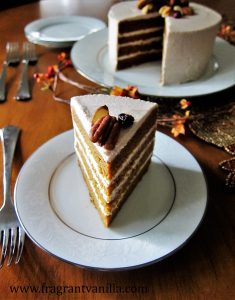 I made a faux cream cheese frosting with a coconut milk base and a little cashew butter.  It tastes even better than actual cream cheese frosting if you ask me.  I am actually kind of grossed out by real dairy now, because of the stuff that is behind it and the actual dairy itself.  Can any of you other vegans relate?  Anyways, this "cream cheese" frosting was wonderful!  I added the cinnamon like Eric wanted and it was so good you could eat it with a spoon.  But once on the cake, even better.  This cake tasted fabulous!  The warming spices were perfect in the soft, light pumpkin cake, and the frosting was luscious, sweet and creamy!  It was simply crave worthy!  Lets just say the pieces of cake I cut for us to enjoy were gone really fast.  We both loved it!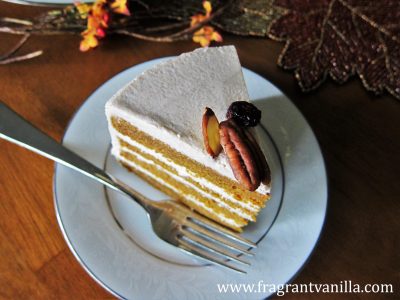 Vegan Pumpkin Spice Cake with Cinnamon Cream Cheese Frosting
Makes 1 6 inch 2 layer cake
Ingredients:
2 6 inch cake pans
Cake:
1 1/2 cups quinoa flour (or all purpose gluten free flour)
1 1/2 tsp baking soda
1 tsp baking powder
1/2 tsp sea salt
1 Tbsp cinnamon
1 tsp ginger
1/2 tsp nutmeg
1/2 tsp cloves
1/4 tsp chipotle powder
1 cup packed soft medjool dates, pitted, soaked in water for 30 minutes and 1 cup of the soaking water reserved
1/4 cup almond butter
1 Tbsp pure vanilla extract
1 cup pumpkin puree
2 Tbsp apple cider vinegar
Frosting:
1 15 oz can full fat organic coconut milk  (you want a brand that is mostly the thick cream like Thai Kitchen full fat coconut milk or coconut cream or it will not work), chilled
1/2 cup raw cashew butter
1/4 cup maple syrup
1 tsp pure vanilla extract
1/2 tsp cinnamon
1/4 tsp sea salt
1/4 tsp cider vinegar
3/4 cup melted coconut butter (warmed to liquid)
Directions:
Preheat the oven to 375F degrees and position rack in center of oven. Line two six-inch-diameter cake pans with 2-inch-high sides with parchment paper. Coat parchment paper and pan sides lightly with oil so that the cake doesn't stick and line the bottom of the pan with a piece of parchment fit to the pan.
Whisk flour, baking powder, baking soda, spices and sea salt in a large bowl to blend well.  Set aside.
Place dates, reserved water, almond butter, pumpkin puree, and vanilla extract into a blender, and blend until smooth, then whisk this blended mixture into the flour mixture until well blended. Whisk in the cider vinegar until bubbles form. Transfer cake batter to prepared pans and bake cakes until tester inserted into center comes out clean, about 30 minutes. Cool cakes completely in pan on rack, about 1 hour. Cut around sides of pan to loosen. Turn cakes out onto plates, and peel off parchment paper. Slice each in half horizontally so that you have 4 layers (being really careful, because it is delicate).  Set aside, covered so that it doesn't dry out.
To make the frosting, combine all ingredients in a high speed blender and blend until completely smooth.  Pour into a bowl and place in the freezer until the consistency of stiffly whipped cream (about 30-45 minutes depending on how warm it has gotten.  Once it is ready place in the refrigerator until ready to assemble.
To assemble, place one cake layer on a plate, and spread frosting 1/4 inch thick over it.  Place the other cake layer over that, then spread more frosting over it like the last layer.  Repeat with another layer, and top off with last piece of cake.  Spread the remaining frosting on the top and down the sides of the cake.
***If you would like a 2 layer 9 inch cake, double this entire recipe and bake in two 9 inch cake pans.  It will take longer to bake, about 50 minutes to 1 hour.
(Visited 714 times, 1 visits today)