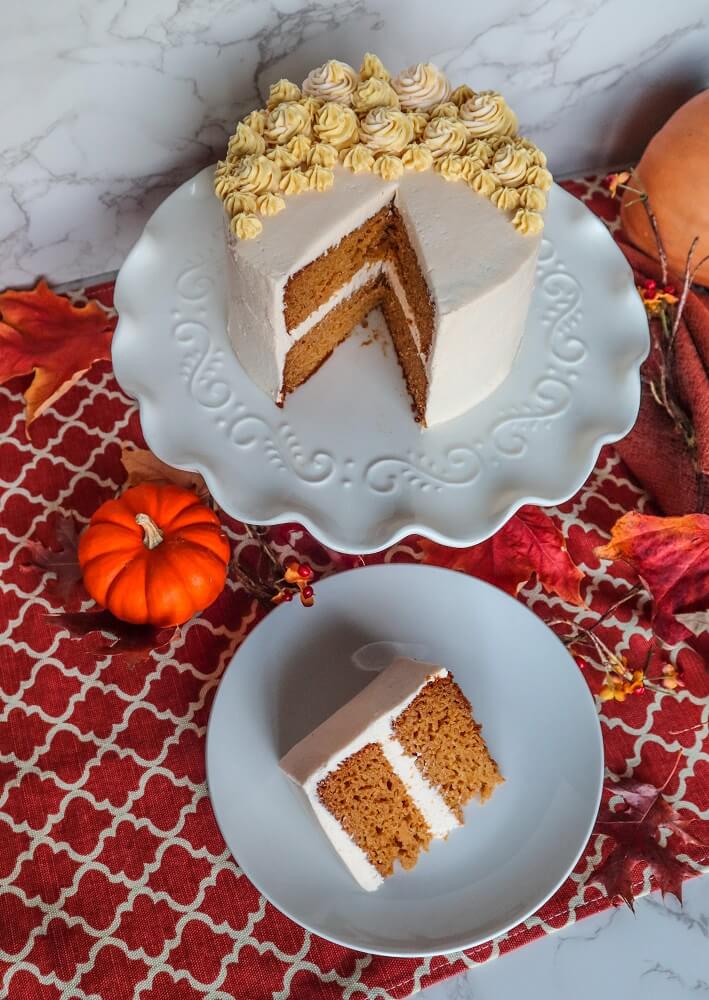 Vegan Butternut Squash Maple Layer Cake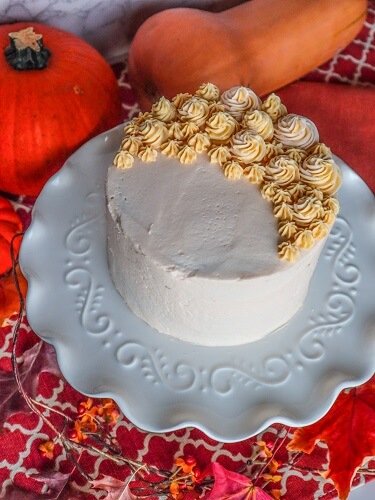 There was a chill in the air here, but then last weekend it shot up to almost 80F degrees in Minnesota!  I have been spending a lot of time outside running, walking and just hanging out because we gotta enjoy the warmth while we can before the snow flies soon.  But I am still enjoying fall treats and baking, and I think my favorite fall vegetable is anything in the squash family.  Pumpkin gets all of the love this time of year, but did you know that you can use butternut squash in delicious desserts too?  It is slightly sweeter than pumpkin, so it actually is really good in baking and offers you the same texture as pumpkin!  So when I had some butternut squash puree last weekend, I decided to make a delicious layer cake with it!  I love a good spice cake, and that is what I was craving!  So I made this Vegan Butternut Squash Maple Layer Cake!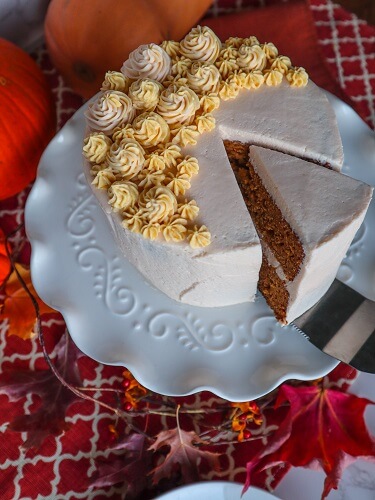 The batter for this cake is actually really easy to make, no special whipping of the batter or anything.  I based it off of one of my pumpkin cake recipes but using squash and changed the spices slightly opting for just cinnamon and ginger, and adding a touch of maple and vanilla extracts to make it extra delicious!  I made this with whole wheat pastry flour because it is what I prefer, but if you would like to make it with regular all purpose flour that would work as well, or even a gluten free flour blend, like Bob's Red Mill all purpose gluten free baking flour.  I have used that in the past with good success.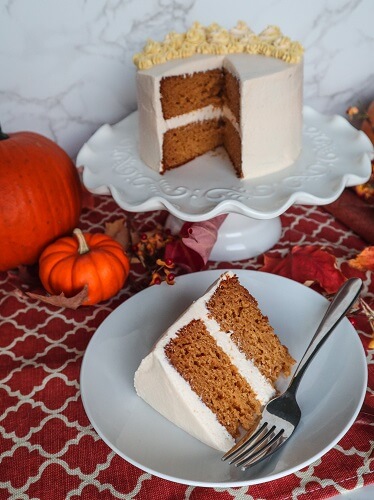 The cake baked up beautifully and I could not wait to try it!  But first, I had to make the frosting!  Because what is cake without frosting?!  I made a vegan easy buttercream frosting, so just vegan butter, a touch of milk and powdered sugar.  I have to say, this is my favorite frosting and I first started making it when I was little with my Grandma but with real butter.  Which has been easily swapped out with the vegan butter!  I used Earth Balance sticks this time.  It is so simple and so easy and always turns out perfect!  This time I flavored it with a little maple and maple extract plus vanilla and it was so delicious I am not going to lie I just ate the extra frosting plain lol.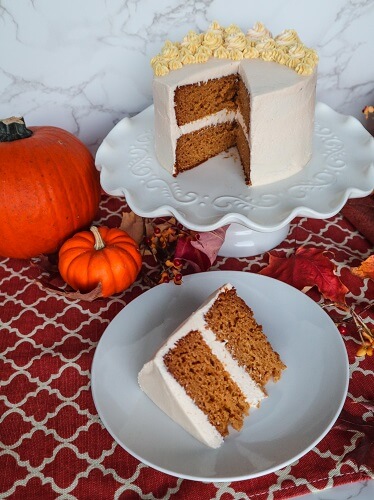 The frosting was perfect with the squash cake!  This was honestly crave worthy and just the sort of thing I crave in the fall! I enjoyed it with a cup of coffee and it was so heavenly!  The squash kept the cake moist but it was not heavy it was light and just the right texture!  It was aromatic with the scents of vanilla, maple ginger and cinnamon and that luscious creamy frosting was the perfect final touch!  If you are a butternut squash fan, or just in the mood for a sweet fall treat, definitely give this Vegan Butternut Squash Maple Layer Cake a try!  You can find canned butternut squash puree in the canned vegetable section at most grocery stores.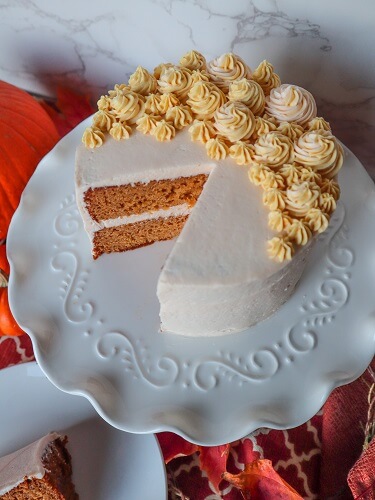 Vegan Butternut Squash Maple Layer Cake
Makes 1 6 inch 2 layer cake
Cake:
1 1/2 cups organic whole wheat pastry flour (or regular AP flour)
1 cup maple sugar or brown sugar
2 Tbsp cinnamon
1 tsp ground ginger
1 1/2 tsp baking soda
1 tsp baking powder
1/2 tsp sea salt
3/4 cup pureed butternut squash
1/4 cup melted coconut oil or avocado oil
1 Tbsp pure vanilla extract
2 tsp maple extract
1/2 cup + 2 Tbsp oat milk (I used Oatly, but you can use what you prefer) or other plant based milk
2 Tbsp apple cider vinegar
Frosting:
1 1/2 cups vegan butter, I used Earth Balance (at room temperature)
2 Tbsp oat milk (I used Oatly, but you can use what you prefer), add 1 more Tbsp if needed if frosting comes out too stiff
1 Tbsp maple syrup
1 tsp pure vanilla extract
1 tsp maple extract
4 cups powdered sugar
Instructions:
Preheat the oven to 350F degrees and position rack in center of oven.
Line two six-inch-diameter cake pans with 2-inch-high sides with parchment paper. Coat parchment paper and pan sides with nonstick spray.
Whisk flour, baking soda, spices, salt, and sugar in a large bowl to blend well. Whisk squash, oil, maple extract, vanilla extract, and milk together in small bowl to blend well, then whisk into the flour mixture until well blended. Whisk in cider vinegar until pale swirls form in the batter and it is well combined.
Transfer cake batter to prepared pans and bake cakes until tester inserted into center comes out clean with a few crumbs attached, about 30 minutes. Remove from oven.
Cool cakes completely in pan on rack, about 1 hour. Cut around sides of pans to loosen. Turn cakes out onto two plates; peel off parchment paper.
To make the frosting, beat the butter with the milk, maple syrup, maple extract and vanilla until fluffy.
Add the powdered sugar 1 cup at a time, and beat until completely mixed and light and fluffy (if the frosting is too stiff add that other Tbsp of milk).
When ready to frost, Place one cake layer on a plate, spread about 1/2 inch thick layer of the frosting over it.
Place the next cake layer on top.
Spread the remaining frosting on the top and down the sides of the cake evenly, then place the rest of the frosting in a pastry bag and use it to decorate the top.  This frosting recipe makes enough that you should be able to do some generous piping decorations on top, because I like a lot of frosting!
Serve the cake and enjoy!
Store any leftover cake in the refrigerator for up to 1 week in a covered container.
(Visited 566 times, 1 visits today)