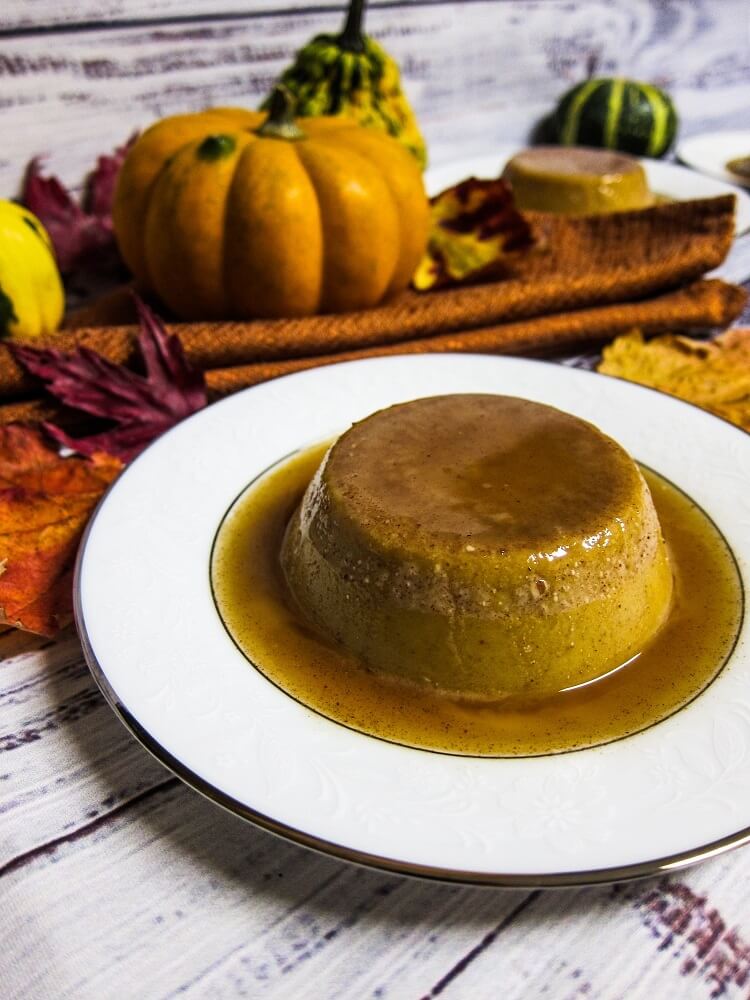 Vegan Pumpkin Maple Creme Caramel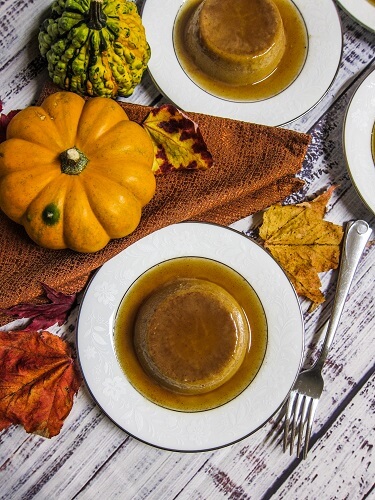 When I was in high school, my Mom and I went on a trip to Europe.  When we were eating lunch in a small cafe, I tried my first creme caramel. When I ordered it, I am not sure what I was expecting but it was not like anything I had eaten before.  I think I was expecting it to be like creme brulee and be a little warm or something, but I was surprised when it was cool.  A silky smooth vanilla custard with sweet caramel and it was delicious even if it wasn't what I thought it would be!  But surprisingly I never attempted to make my own at home until last year as much as I love making all kinds of desserts.  I guess maybe because it wasn't something I had made before I thought it would be difficult but it wasn't at all.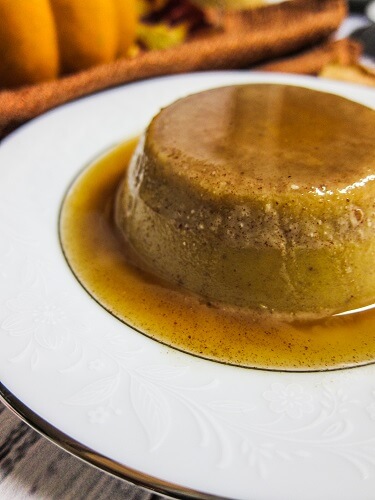 So last year I made a vegan eggnog creme caramel, because Eric wanted it for his birthday last year.  Well, it has been almost a year since I made that, and so I figured why not make it again?  Except a little different.  This time I decided to make a pumpkin creme caramel because tis the season for pumpkin, and I thought this might be a nice little alternative to pumpkin pie for Thanksgiving in a few weeks.  Also, I was craving something creamy and pumpkiny but I just make some pumpkin pie in a mug last weekend and didn't want to make the same thing again.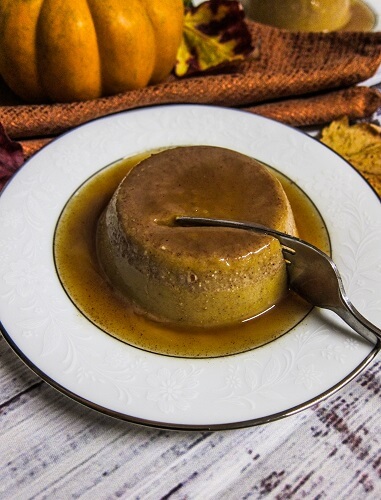 This is really easy to make.  In fact, it is even simpler than the last one I made because I used maple syrup instead of the usual dissolving sugar in syrup.  I just took it and reduced it slightly to thicken it and it worked perfect!  Plus, I knew the flavor of maple would be amazing with the pumpkin and spices. For the base, I used coconut cream because I wanted these to be rich and creamy.  I added in pumpkin puree, and a little maple syrup as well as pumpkin pie spices and the base tasted wonderful after I cooked it even before it was chilled!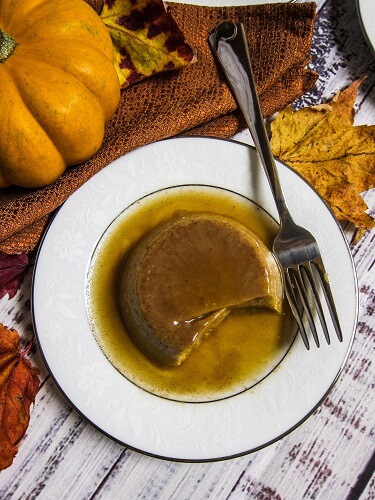 I had to wait overnight to enjoy them, but it was so worth it!  They turned out super delicious!  Rich, creamy vanilla pumpkin spice filling and that sweet salted maple caramel on top!  Totally heavenly!  I shared some with Eric because it was his idea to make them last year and he loved these as well!  These would be perfect for Thanksgiving if you don't want to make pie or other more complicated desserts, and they chill overnight so they are good for making ahead of time.  I hope you are all having a wonderful November so far!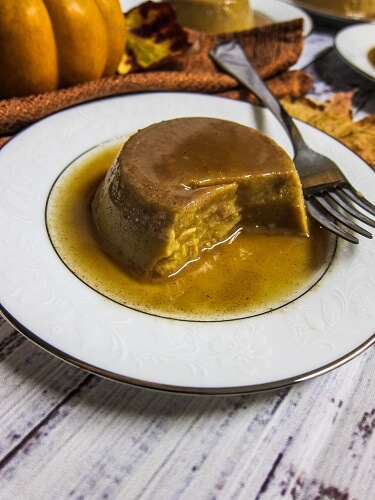 Vegan Pumpkin Maple Creme Caramel
Makes 4
Ingredients:
4 1 cup ramekins
Caramel:
1/4 cup plus 2 Tbsp maple syrup
1/8 tsp sea salt
Custard:
1 1/2 cups unsweetened coconut cream
1/4 cup pumpkin puree
2 Tbsp maple syrup
1/2 tsp ginger
1/2 tsp cinnamon
1/4 tsp cloves
1/8 tsp nutmeg
3/4 tsp agar powder
1 Tbsp cornstarch
Instructions:
Set 4 one oz ramekins on a tray.
In a small saucepan, combine the maple syrup and salt and bring to a boil, then lower the heat to a simmer whisking every so often.  Let cook for about 5 minutes until it reduces to about 1/4 cup or a little over 1/4 cup.  Remove from heat, and pour into  the bottoms of the ramekins.
To make the cream, combine all ingredients in a saucepan and bring to a simmer.
Heat until it comes to a boil, then cook for about 1-2 minutes, whisking constantly until just thickened, then pour into the prepared ramekins over the caramel.
Place the tray of ramekins in the refrigerator until chilled completely.  For at least 2 hours, or overnight.
Once the custards have set and you are ready to serve, place a plate on top of each one, then flip it over.  If they are sticking at all, run a knife along the sides to loosen being careful not to disturb the custard.
Enjoy!  Refrigerate any leftovers.
(Visited 643 times, 1 visits today)