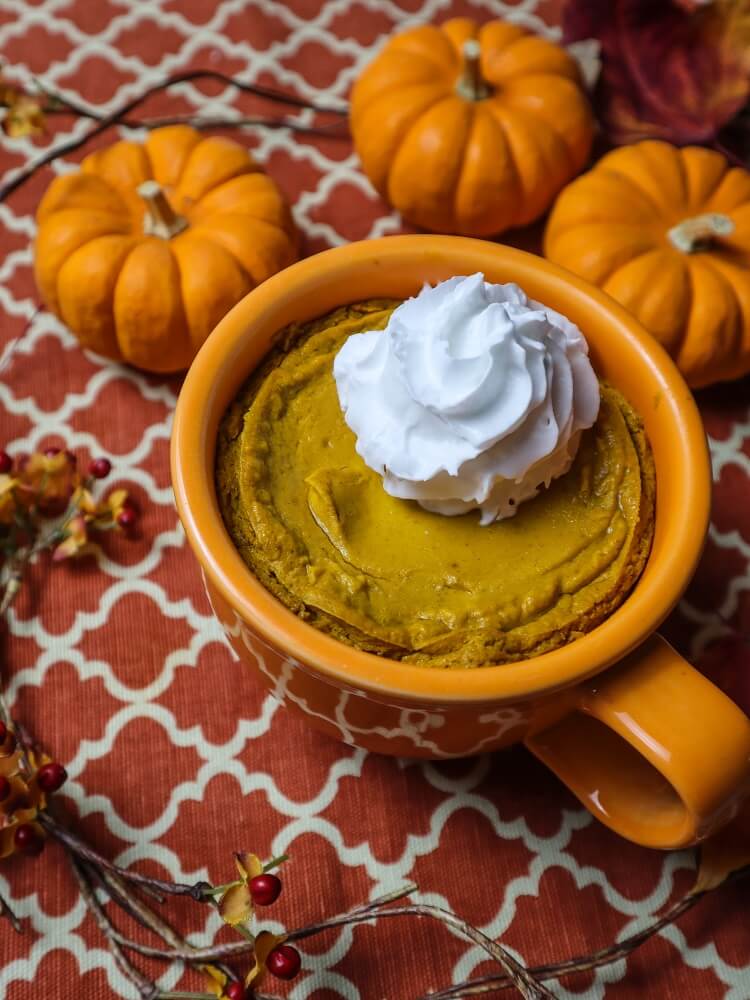 Vegan Pumpkin Pie in a Mug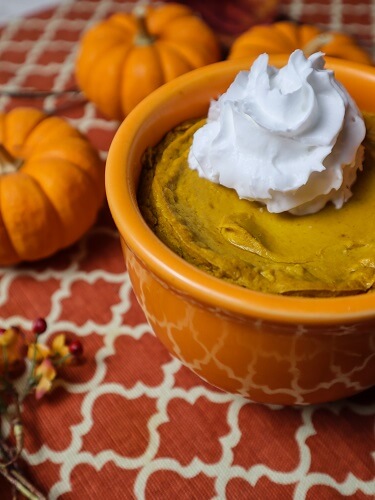 I love a good pumpkin pie.  It is the essential fall dessert, and is actually somewhat healthy compared to many other pies (not that I always care, but I like to get my veggies in sometimes with dessert).  I make it in some form every year whether it be mini ones, or a fancy larger one, maybe with a pecan or apple layer on the bottom. But sometimes I just want a smaller serving of it just for myself for a few days (the mini pies make a lot of servings so those don't quite count).  Which is where pumpkin pie in a mug comes in!  I had made one about 10 years ago that was really good, but it wasn't vegan and I have been telling myself ever since that I need to veganize it.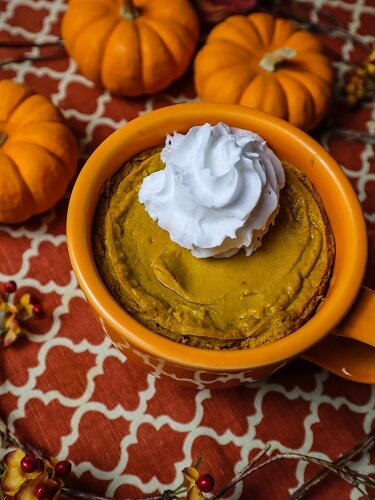 Well, I finally got around to it this year. I wanted to make something pumpkin pie that was simple and quick with not a lot of servings so I went for it, and it turned out really good!  A good pumpkin pie has to have good texture as far as I am concerned.  I have had a few that seemed overcooked and mealy in texture and I was not a fan.  So I make mine with ingredients that when blended together come out silky smooth like custard.  Which is technically what pumpkin pie filling is. For my filling I use a mixture of organic pumpkin puree (canned is fine too), coconut milk, a little coconut butter and maple syrup with just a bit of maple syrup to sweeten it.  It comes out much nicer than the pie filling I used to make that had eggs and dairy.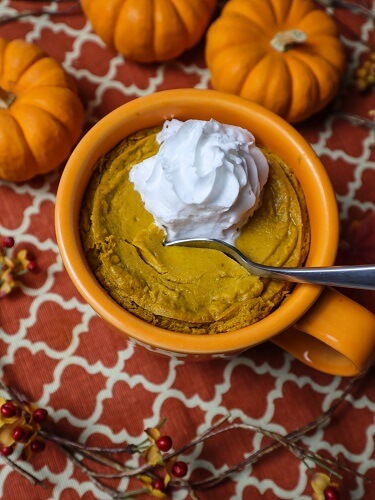 The filling also had to have just the right amount of spices.  I don't care for pies that have way too much spice so you can't taste the flavor of the pumpkin, or ones that don't have enough so it tastes somewhat bland. I feel like I achieved the perfect balance here, and added just the right amount of maple syrup so the sweetness is nice and balanced too.  Plus the maple goes so well with the spices.  I feel like also, because I don't use any granulated sugar here it helps the pie come out smoother as well.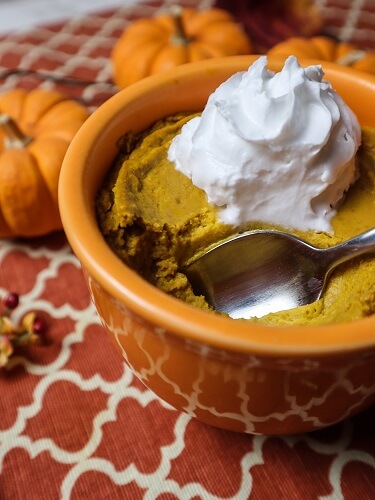 I poured the filling into little mugs, it made 3 which is perfect because I could share one and keep 2 for myself!  They baked up beautifully and made my kitchen smell amazing.  The only bad thing about it is you can't enjoy it until it cools down.  But I got to enjoy some after work which was a win!  I topped it with a little coconut cream and it was perfect!  I really didn't miss the crust because the filling is my favorite part anyhow.  If you are the same way, definitely give these a try!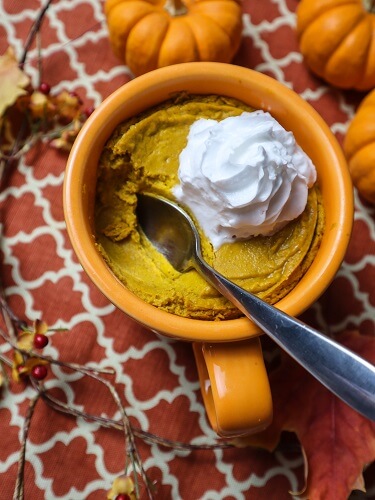 Vegan Pumpkin Pie in a Mug
Makes 3 8 oz pies
Ingredients:
Filling:
2 cups organic cooked pumpkin (canned is ok too), packed
1/3 cup pure maple syrup
3/4 cup full fat organic coconut milk
2 tsp coconut butter
1 1/4 teaspoon ground cinnamon
1 teaspoon ground ginger
1 /4 teaspoon ground nutmeg
1/4 tsp ground cloves
1/4 teaspoon salt
1 1/2 tablespoons cornstarch
3/4 teaspoon agar powder
Instructions:
Preheat oven to 350F degrees.
Place all ingredients in a high speed blender and blend until smooth.
Pour into 3 1 cup mugs or ramekins, and place in the oven.
Bake until set, about 40 minutes, then remove from the oven and let cool.
Top with coconut whipped cream, and enjoy!
(Visited 1,188 times, 1 visits today)