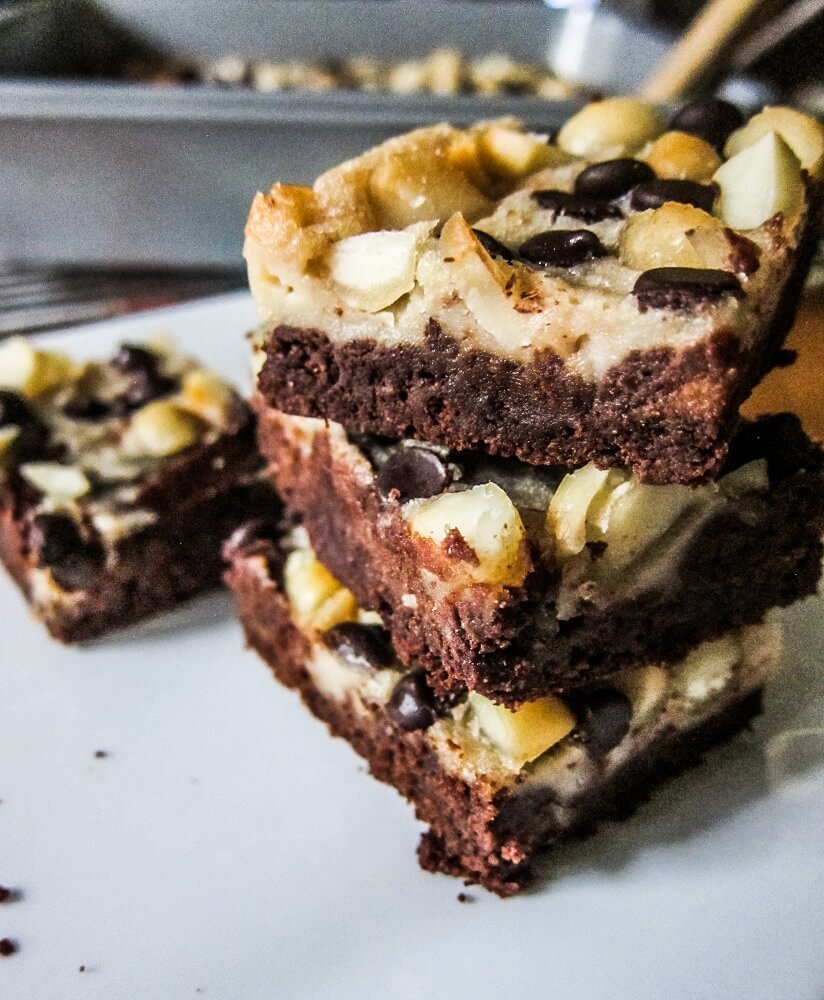 Vegan Macadamia Nut Cheesecake Brownies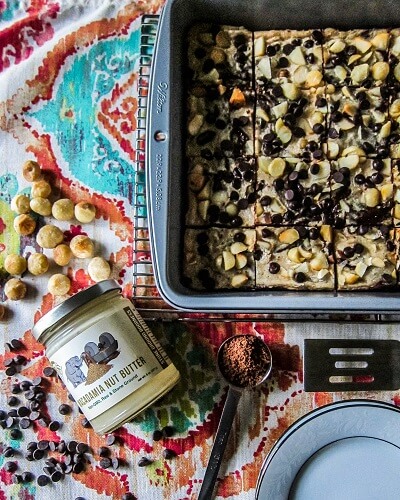 I have always considered macadamia nuts as kind of special. They are more rich and buttery than other nuts, a little bit more spendy most of the time since they have to grow 7 years before they are harvested and are really hard to crack.  But for special occasions they are so good!  I have made some really good vegan macadamia nut cheese before and it was amazing.  Even those in my family who are not vegan loved it.  Another recipe I love is my Macadamia Coconut White Chocolate Oatmeal Cookies, a veganized version of a bakery classic. And, I have to also mention one of the most popular recipes on my blog that happens to contain macadamia nuts, my Raw Banana Macadamia Coconut Cream pie.  It  is epic.  So when Raw Guru sent me a jar of their Dastony macadamia nut butter I was super excited.  I knew it would be amazing in whatever I chose to use it in.  But I wanted it to be something extra delicious so I decided to combine it with chocolate in the form of cheesecake brownies!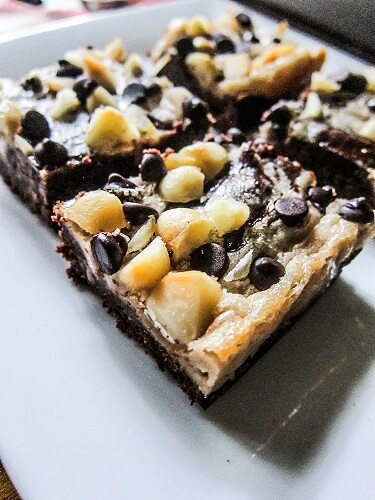 It had been an incredibly busy stressful week, so brownies were the perfect thing to make!  I consider baking to be an awesome stress reliever and mood booster.  One can not stay stressed while baking brownies.  I mean, it is a happy experience!  Licking the excess batter from the bowl, taking in the heavenly aroma while your brownies bake, and of course enjoying the finished product!  Bonus points if you listen to good music while you are making them and wear your comfy pjs.  For these brownies, I used my usual gluten free brownie base with a little of the macadamia nut butter added and it was chocolaty deliciousness!  Super easy to make too, you just whisk it together.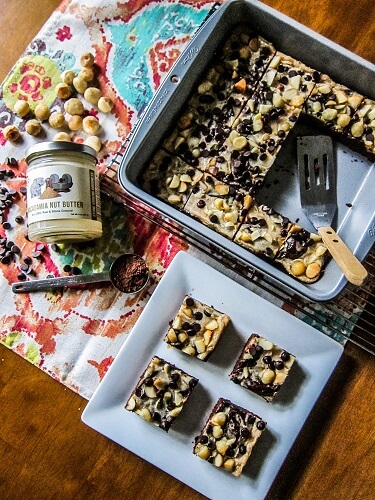 For the "cheesecake" part, I used a mixture of coconut cream (the unsweetened kind) and the macadamia nut butter sweetened with a little vanilla and maple syrup.  It was heavenly!  Once the brownies were assembled, I also sprinkled them with some macadamia nuts and chocolate chips to make them pretty and to add some texture.  They baked up beautifully!  I couldn't wait to try them, but since I wanted them to look pretty for you all in my pictures I had to wait until they cooled completely to cut them.  If you are making them and don't care how they look though, by all means dive in when they are still warm and the chocolate chips are gooey.  These are sooo incredibly good!  Rich fudgy brownie base with luscious cream cheese, crunchy macadamia nuts and chocolate chips!  You would never guess that they are vegan by tasting them. These might be the perfect thing to share with someone you want to convince that vegan food is amazing.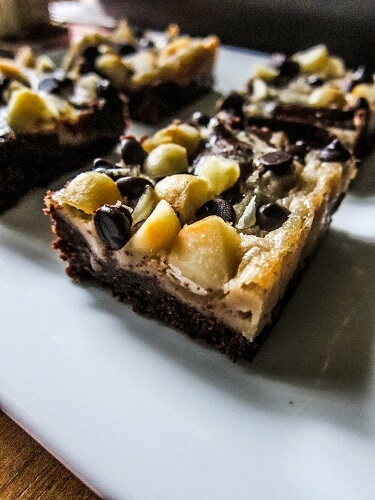 Vegan Macadamia Nut Cheesecake Brownies
Makes 16
Ingredients:
Cheesecake:
3/4 cup thick coconut cream (I used Thai Kitchen, you want one that is unsweetened without additives)
1/2 cup Dastony macadamia nut butter*
2 Tbsp maple syrup
1/8 tsp sea salt
1 tsp pure vanilla extract
2 Tbsp arrowroot starch or cornstarch
Brownies:
Instructions:
Whisk together the flax seeds and water, and allow to sit for 15 minutes.  Set aside.
To make the cheesecake, combine all ingredients in a blender and blend until smooth.  Pour into a bowl and set aside.
To make the brownies, pre-heat the oven to 350F degrees. Whisk together the sugar, oil and nut butter until well combined and the sugar is starting to break down.  Add the water and flax mixture and vanilla and beat until smooth.
Add the flour, cacao powder and sea salt and beat until smooth.  Scrape the batter into a greased 8x8 inch pan, then drop the cheesecake over it in 2 Tbsp amounts, and swirl it with a knife.  Sprinkle with macadamia nuts.
Place in the oven, and Bake for about 30-35 minutes or until set (but do not over bake).  Let cool before cutting into bars.
*If you prefer cashew butter, or can't get macadamia nut butter, you can use cashew butter instead of the macadamia nut butter.
(Visited 1,107 times, 1 visits today)