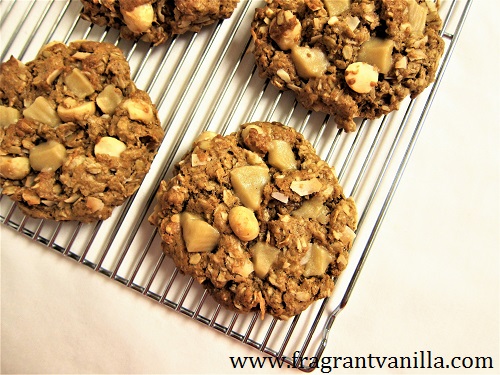 Vegan Macadamia Coconut White Chocolate Oatmeal Cookies
Macadamia white chocolate cookies seemed exotic to me as a kid.  I remember getting them at bakeries or stores whenever I was allowed to pick out a cookie, and they were so good!  At that point in my life I was a white chocolate kind of a girl (I still choose vanilla over chocolate, not that I don't love dark chocolate too).  Chocolate chip cookies were made at home often, but white chocolate macadamia were only something you could buy when out shopping so they were more special.  I had no idea that macadamia nuts cost an arm and a leg, but I knew they were good.  So buttery and rich.  Now that I make my own desserts, I know how valuable and truly special they are, and so when I buy some, I use them sparingly and in special desserts.  I made a Dark Chocolate Macadamia Coconut Cake for my blogaversary last week, and I used them in that, but I had some left over, and I thought to myself, I have never tried to create those cookies from my childhood, so why not?!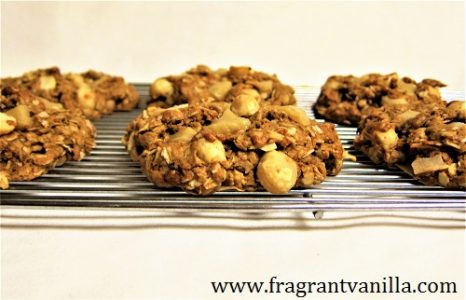 Not only that, a while back my Mom had asked if I could make some macadamia white chocolate coconut oatmeal cookies, so I could make her happy too.  I think of all of the desserts I make, she likes the cookies the best.  She eats them with her morning coffee.  She always used to tell me that oatmeal cookies were healthy because of the fiber rich oats.  I agree!  I love oatmeal anything, and have eaten a bowl of oatmeal (or overnight oats) almost every morning since I was in high school.  They do fill you up and provide energy and fiber, so why not have cookies that include them instead of ones that are nutritionally void.  The ones I make now though are all refined sugar free.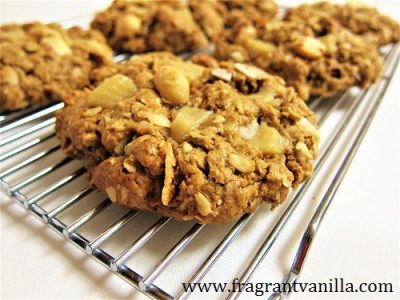 The dough for these cookies tasted amazing.  Just sayin'.  Because as far as I am concerned the dough for cookies is just as important as the baked cookies when it comes to how it tastes.  This is because I like dough slightly better than actual baked cookies.  Warm cookies are a close second though.  These smelled wonderful while baking!  Like sweet vanilla and coconut heaven!  Whenever my coworker at the deli bakes her coconut oatmeal cookies it makes me happy.  I think they are some of the best smelling.  These were even better than those!  Because the nuts were included too.  The finished cookies (which had to be taste tested warm of course) were simply heavenly!  Crunchy rich macadamias, aromatic coconut and smooth sweet white chocolate studded soft, yet crispy on the outside cookies!  Just right and as an oatmeal cookie should be.  I think this is why oatmeal cookies are one of my top picks besides being healthy.  They are not simply crispy, or simply soft.  They are soft on the inside and crispy on the outside which is pure cookie perfection in my mind!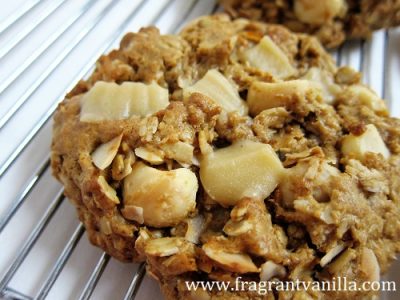 Vegan Macadamia Coconut White Chocolate Oatmeal Cookies
Makes 1 dozen large cookies
Ingredients:
3/4 cup virgin coconut oil, warmed to liquid
1 1/2 cups coconut sugar
2 flax eggs*
1 Tbsp pure vanilla extract
1 1/2 cups gluten free oat flour
1 tsp baking soda
3/4 tsp sea salt
3 cups gluten free old fashioned rolled oats
1 cups toasted large flake unsweetened dried coconut
1 cup toasted macadamia nuts
1 cup white chocolate chunks**
Directions:
In a large mixing bowl, mix together the coconut oil, and sugar until well blended. Add flax eggs, vanilla, and beat until well combined (the mixture will become very thick).
Mix in the flour, soda, and sea salt until well blended. Mix in the oats until well combined, then add coconut, macadamias and white chocolate and mix until evenly distributed throughout the dough.
Heat the oven to 350 degrees with the rack set at the middle position. Line 2 baking sheets with parchment paper.
Roll the dough into 12 large balls, and spread them out on the 2 cookie sheets with plenty of room in between. Bake for 13-15 minutes or until golden, but not over baked. Let cool on sheet a few minutes, then remove to a wire rack lined with parchment to cool.
*Whisk together 2 Tbsp ground flax seed, 1/4 cup and 2 Tbsp water in a small bowl.  Allow to sit in the fridge for 15 minutes until the mixture has set up (or become kind of thick).
**If your white chocolate is home made or melts easily, I recommend not stirring it into the dough, but instead pressing the chunks into the tops of the baked cookies so that it holds its shape better.
(Visited 265 times, 1 visits today)