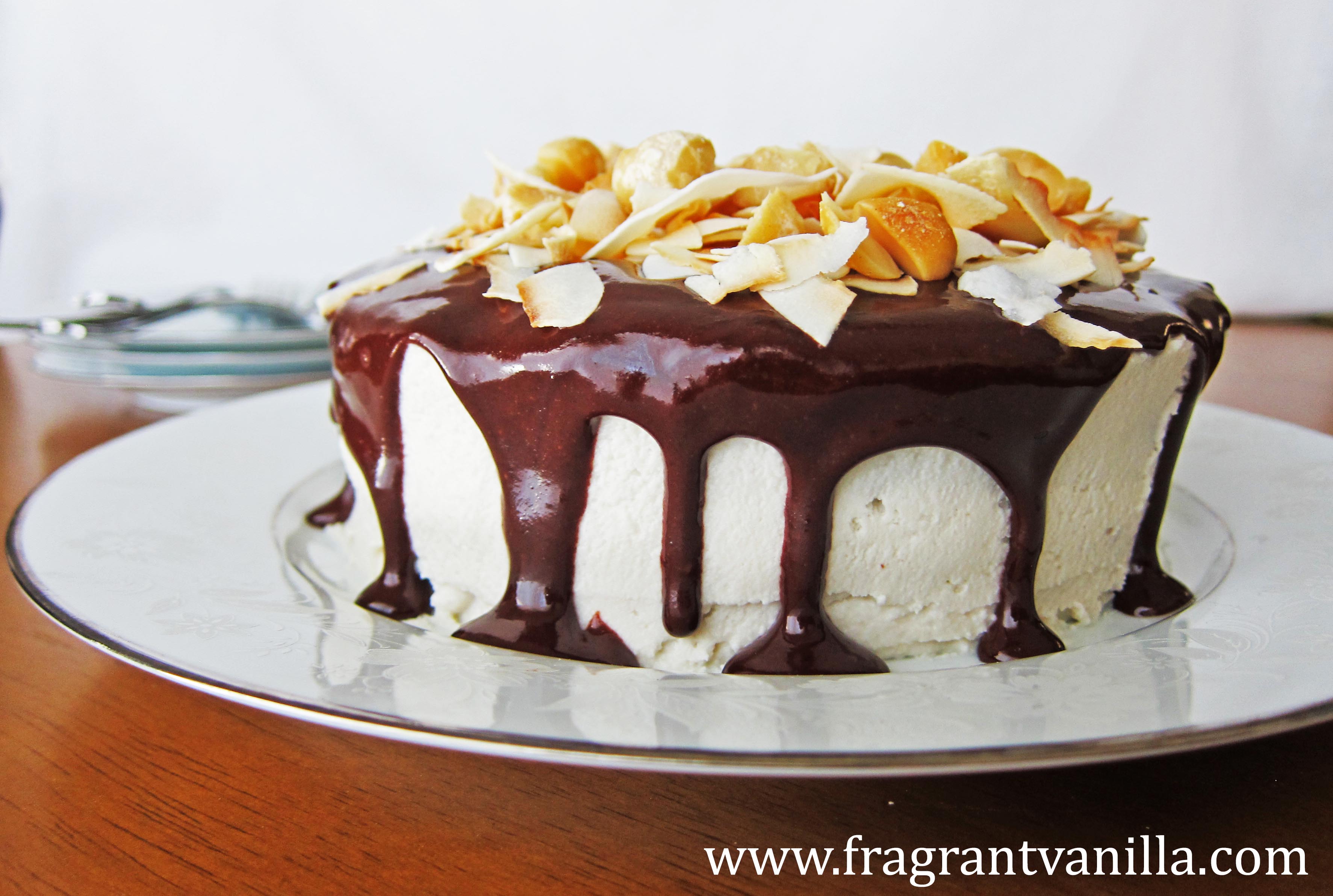 Vegan Dark Chocolate Coconut Macadamia Cake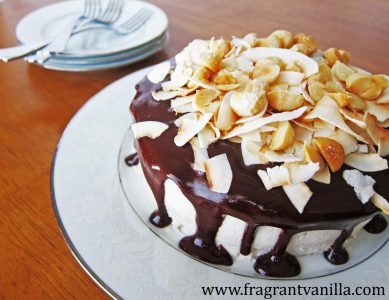 Fragrant Vanilla Cake has just turned 6 years old!  Well, technically it turned 6 on the 5th, but I didn't have time to make a cake then, so I am celebrating a few extra days late.  I am one of those people who waits until the weekend to celebrate my own Birthday when it falls on a week day, so I don't mind.  It is the celebration that counts, not the day it falls on.  And I wanted a spectacular cake to celebrate!  More on that later though.  When I first started this blog, it was just meant as a way to share my recipes with friends and family.  I had previously been sharing them in notes on Facebook, but I then thought to myself, my own blog would be better and so much easier to look at!  So I started a blog on Blogger!  My first recipe was a red velvet cupcake.  It was not vegan, but it did contain veggies.  I was still a vegetarian at the time. My food photography skills were somewhat lacking despite having a college Art degree.  But hey, photography was never my strong suit in college, I was a painter, drawer and sculptor.  That is kind of how I got into making desserts actually. In college, for my senior art show, I made a series of sculptures made out of cookies. You know, like gingerbread houses but sculptures.  I sculpted things from my past like furniture and my old car.  I soon discovered I loved working with food.  So, I baked a lot.  And it continued until the start of this blog!  I like to think that my photography has much improved, I have taken tips from other bloggers, and learned a lot about how to do it using just natural lighting and not spending an arm and a leg (since my day job is a cook, so I am not rich or anything).  I am always learning though and picking up new tricks.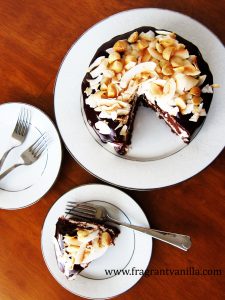 When I started this blog I had few followers, most of which I knew, but it soon grew to thousands.  Which I was shocked about.  I never thought it would reach that point.  It has become harder to reach people since Facebook now requires paid posts to gain a large audience, but I appreciate those that I have following me, who always give me reasons to keep blogging.  Sometimes I have days when I am not motivated to create things and whatnot or it makes me sad that not everyone is able to see my posts on Facebook, but it is all of my readers that keep me going.  And of course my friends and family who give me many ideas on things to create.  So, to all of you who have supported me thank you so much!  It means the world to me! I hope to continue to do so for many years in the future.  So to celebrate this special blogaversary occasion, I made a really yummy cake, Vegan Dark Chocolate Macadamia! Rich chocolate cake layers, a fluffy coconut "cream cheese" frosting and crunchy toasted macadamias and coconut.  It doesn't get much more heavenly than that!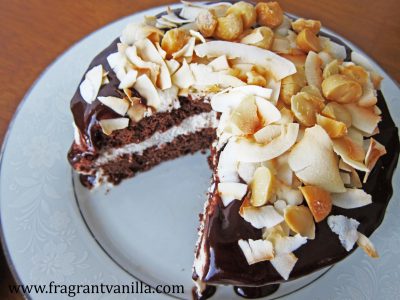 I made the cake layers oil free, opting instead for a little nut butter and dates to keep it moist.  The dates sweetened the cake as well, instead of sugar.  Cakes made with dates as their sweetener are my favorite, in addition to sweetness, they add a slight caramel flavor.  This cake was perfectly moist and delicious!  The key is to also bake it just the right amount, too much and it dries out, but just right and it is melt in your mouth tender. I chose a coconut cream cheese frosting because that is my favorite frosting lately and I had not tried it with chocolate cake.  Let me tell you, it was pretty amazing together!  Lastly the crunchy coconut and macadamias made the perfect addition!  I am a big texture person when it comes to dessert, and they were just what it needed!  I know macadamias are a little spendy, so I used just enough to make their presence known.  If you don't want to buy them, you may use your favorite type of nut!  This cake was crave worthy! Definitely worthy of being a Birthday cake!  So, if you have a special occasion coming up...save the recipe with that pin button!  These 6 years have been fun, and I can't wait to create many more delicious recipes for you all in the future!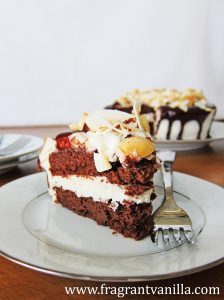 Vegan Dark Chocolate Coconut Macadamia Cake
Makes one 2 layer 6 inch cake
Ingredients:
2 6 inch cake pans
Cake:
1 1/2 cups Bob's Red Mill Gluten Free All Purpose Flour
1/4 cup cacao powder or unsweetened cocoa powder
1 1/2 tsp baking soda
1 tsp baking powder
1/2 tsp sea salt
1 cup packed soft medjool dates, pitted, soaked in water for 30 minutes and 1 cup of the water reserved
1/4 cup almond butter
2 tsp pure vanilla extract
1  cup filtered water
2 Tbsp apple cider vinegar
Coconut "Cream Cheese" Frosting:
1 15 oz can full fat organic coconut milk, chilled
1/2 cup raw cashew butter
1/4 cup maple syrup
1 tsp pure vanilla extract
1/4 tsp sea salt
1/4 tsp cider vinegar
1/2 cup plus 2 Tbsp melted coconut butter (warmed to liquid)
Topping:
1/4 cup unsweetened cocoa powder
1/4 cup almond butter
3 Tbsp maple syrup
pinch sea salt
filtered water as needed
3/4 cup toasted macadamia nuts, roughly chopped
3/4 cup toasted coconut
Directions:
Preheat the oven to 375F degrees and position rack in center of oven.
Oil two 6 inch round cake pans with coconut oil and line the bottom with parchment.
Whisk flour, cocoa powder, baking powder, baking soda, sea salt in a large bowl to blend well.
Place dates, reserved water, almond butter, water, and vanilla extract into a blender, and blend until smooth, then whisk this blended mixture into the flour mixture until well blended. Whisk in the cider vinegar until bubbles form.
Pour the cake batter into prepared pans, and place in the oven.
Bake cakes until set and a toothpick inserted into the center comes out almost clean, about 25-30 minutes.  Remove from oven, let cool completely, then unmold onto a plate.
To make the frosting, combine all ingredients in a blender and blend until smooth (adding water a little at a time if you think it is too thick).  Pour into a bowl and set in the freezer until it thickens to the consistency of whipped cream (about 30 minutes). Once it is to this point, put it in the refrigerator until you are ready to frost.
To make the topping, whisk together the cocoa powder, nut butter, syrup, sea salt, and just enough water to create a thick but pourable fudge.  Set aside.
To frost the cake, place one layer on a plate, and spread with about 3/4 cup of the frosting, then sprinkle with 1/4 cup of the macadamias and coconut.  Top with the next cake layer, and spread the frosting over the top and down the sides of the cake.  Pour the fudge over that, and allow to drip down the sides of the cake.  Sprinkle the remaining macadamias and coconut over the top of the cake. Serve!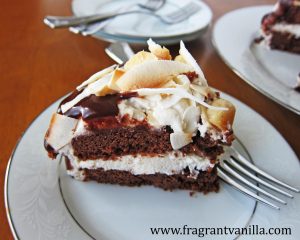 (Visited 410 times, 1 visits today)