Raw Banana Macadamia Coconut Dream Pie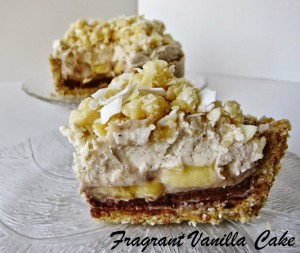 When I started to get serious about making desserts back in college, one of my favorite things to make was banana cream pie.  I thought my recipe was the best...deep dish banana bourbon cream pie, piled high with billowy, clouds of whipped cream and topped off with toasted coconut.  It was pretty amazing, and I made it many times, never thinking it could be trumped.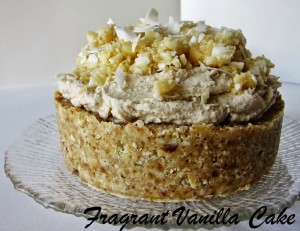 That is, until this weekend.  I made the most amazing banana cream pie I have ever tasted, and it by far kicked that other banana cream pie's butt.  It needed no dairy, eggs, and refined sugar, it was veganlicious, and way more amazing!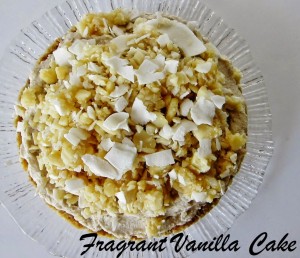 I had two large bunches of bananas on my counter last week, so a banana something or other was in order.  I made a cake, which will be posted soon, but I also made this Raw Banana Macadamia Coconut Dream Pie.  I call it a dream pie because it was.  When I started to make it, there were three things I was sure of.  It needed a coconut macadamia crust, plenty of sweet, creamy filling, and coconut cream on top.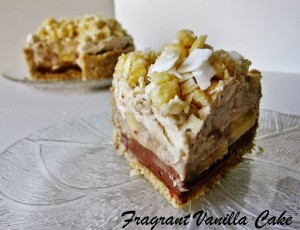 Once I got to making the filling, however, I decided that it would be even more amazing with a layer of chocolate and vanilla cream frosting.  The best of both worlds to accompany the bananas in the sweet pie!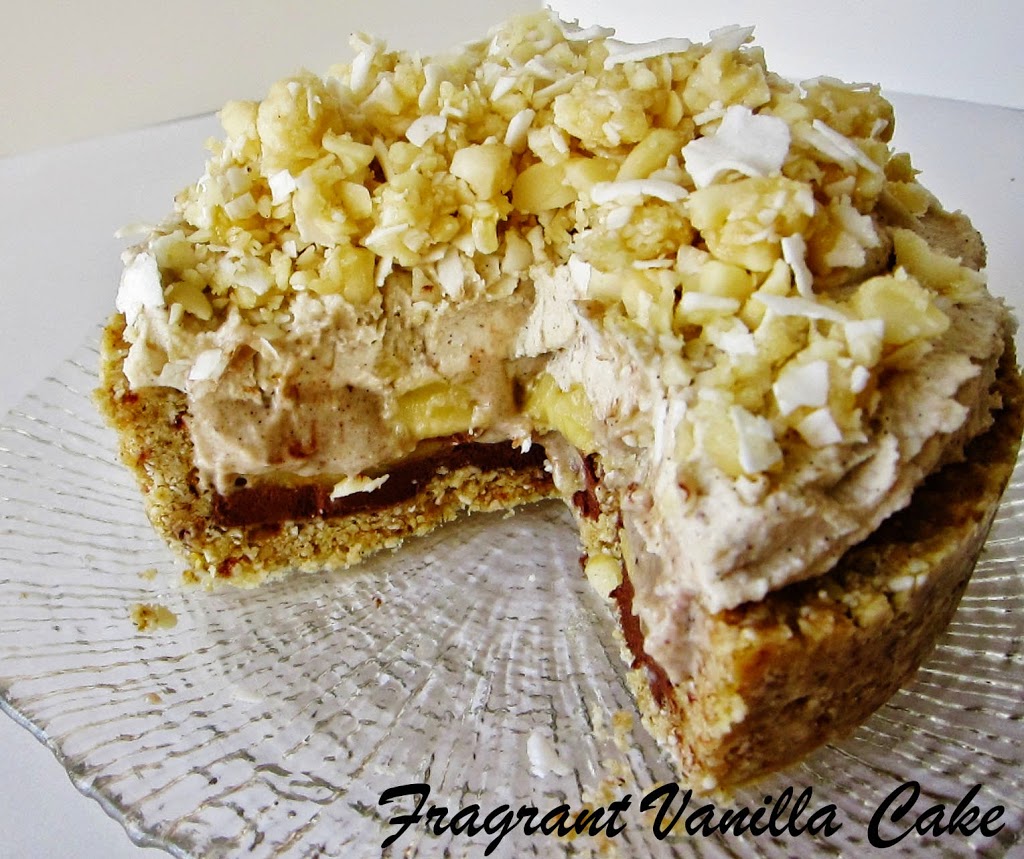 Once it was set, I topped it off with coconut cream, but then decided that something crunchy on top would be even better so I topped it off with a sort of macadamia and coconut streusel.  This pie ended up being a fufillment of all of my cravings.  Crunchy and a little salty from the crust and topping, creamy, sweet and dreamy in the middle, plus chocolate and fruity bananas...pure heaven!  You simply must make this if you love banana cream pie so you can try it for yourself!
Raw Banana Macadamia Coconut Dream Pie
Makes 1 6 inch tart
Crust:
1 cup macadamia nuts
1 cups shredded, dried coconut
1/2 cup sprouted, dried buckwheat (or additional coconut
1/8 teaspoon sea salt
8 soft medjool dates, pitted and chopped
Filling
2 cups sliced bananas
1/2 cup raw cashews (soaked for at least 4 hours in filtered water and drained)
1/3 cup coconut water
1 1/2 cups young coconut meat or soaked raw soaked cashews (drained)
1/3 cup plus 1 Tbsp raw coconut nectar or maple syrup
1/4 tsp sea salt
2 tsp pure vanilla extract and seeds from half a vanilla bean (other half reserved for topping)
1/3 cup raw coconut butter or oil (warmed to liquid)
2 sliced bananas
3 Tbsp raw cacao powder
Cream topping:
3/4 cup raw cashew pieces (preferably soaked overnight)
1/4 cup coconut water
1 cups fresh young coconut meat (or additional soaked cashews if not available)
3 Tbsp raw coconut nectar or maple syrup
1/4 tsp sea salt
1 teaspoons vanilla and seeds of half a vanilla bean
1/4 cup raw coconut butter or oil (warmed to liquid)
1/2 cup raw macadamia nuts
1/2 cup large flake coconut
large pinch of sea salt
1 Tbsp coconut nectar or maple syrup
For the crust, combine the nuts, coconut, and buckwheat in a food processor and process until crumbs. Add the sea salt and dates and process until the mixture starts to come together when squeezed. Press into the bottom and up the sides of a 6 inch springform pan, sprayed with non-stick coconut oil spray. Place in the freezer while you prepare the filling.
For the filling, combine 2 cups bananas, coconut, cashews, coconut water, nectar, sea salt, and vanilla in a food processor and process until smooth. With the motor running, slowly add the coconut oil and process for a minute. Divide the mixture into 2 bowls, then place one back in the food processor and add cacao powder.  Process until combined. Pour the chocolate filling mixture over the prepared crust, then top with sliced bananas, then the plain filling, then more bananas.  Place in the freezer to set for about an hour.
Meanwhile, to make the topping, combine the cashews, coconut, coconut water, sea salt, nectar, and vanilla anc process until smooth. Add the coconut oil slowly with the motor running (If the mixture starts to separate and clump, the filling is too cold to emulsify the oil, so warm some of it and process again). Place the topping in the freezer for about 30-45 minutes until it firms up to whipped cream  consistency. Once frosting consistency, move to the fridge until ready to use.
Once the filling has set,spread over the tart.
In a food processor, place macadamia nuts, coconut, sea salt, and nectar and pulse until chopped.  Sprinkle over tart, and serve! Store extra in the fridge.
(Visited 579 times, 1 visits today)