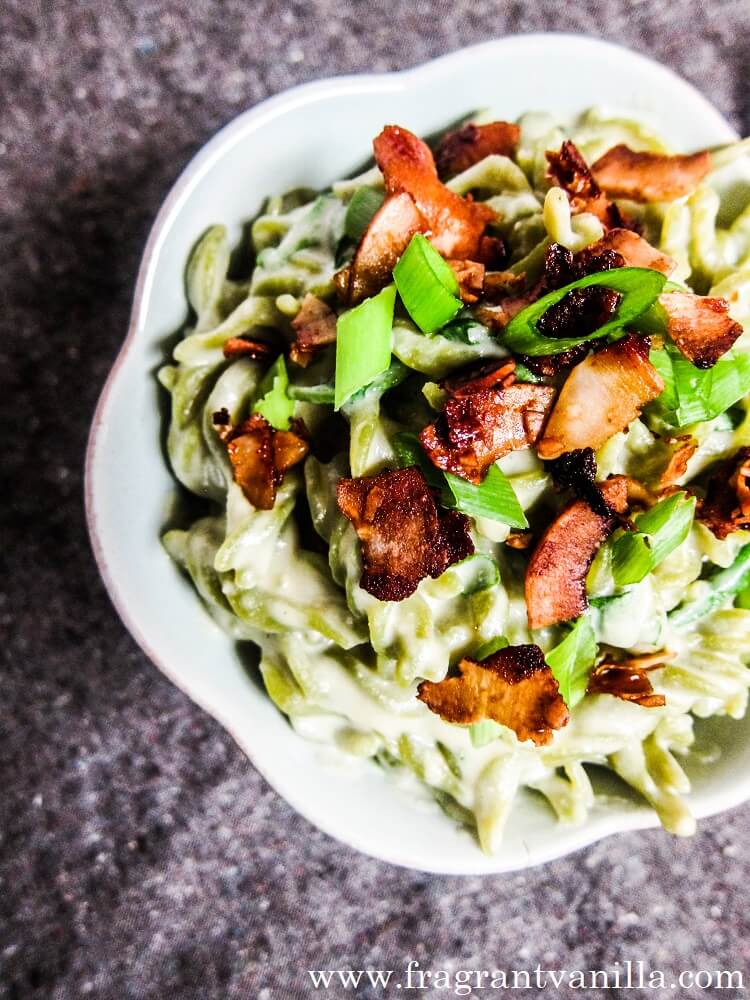 Vegan Garlic White Cheddar "Bacon" Mac and Cheese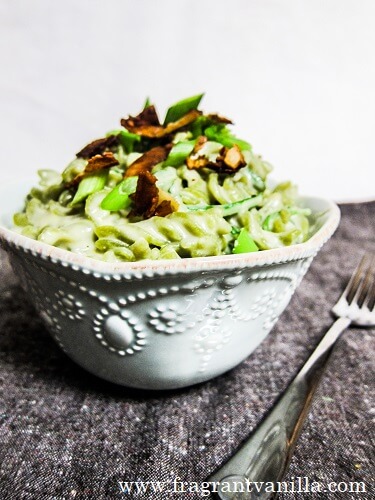 Two of the biggest excuses that people use for not going vegan, or eating plant based are...cheese, and bacon.  "But I could never go without my cheese!" that was me when I was vegetarian.  "But bacon is so good!" I hear everyone say when I tell them that I am vegan.  Well, guess what?  I would rather not be killing pigs just because it is good, or contributing to the torture of cows just because of cheese.  I didn't even know how bad the dairy industry was back when I was vegetarian, but if I did, I would have gladly given up cheese.  Guess what?  You don't have to go without cheese and bacon on a vegan diet, I soon learned after deciding to be vegan.  There is delicious vegan cheese out there, and I don't even miss real dairy cheese.  And I have discovered coconut bacon.  It has all of the crunch, saltiness, smokiness and flavor of real bacon, and is the closest thing I have had to the real thing.  Trust me, growing up I loved bacon, because I didn't put two and two together about where it came from.  But what I loved was the flavor and texture, so I can get all that from coconut bacon.  Not only that, it is pretty easy to make.  And, even though I am vegan I can enjoy delicious vegan bacon mac and cheese.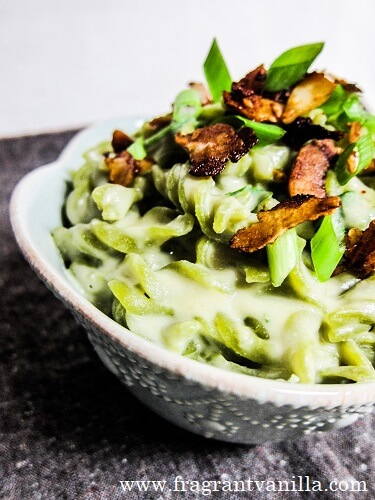 Which is exactly what I decided to make last week, and I thought you might be craving something similar so I am sharing the recipe with you all. I had made a Vegan Garlic White Cheddar  recently, and decided to use half for mac and cheese.  The texture was creamy and rich, and I knew it would easily melt into a perfect cheese sauce. I had some organic pea pasta that I wanted to try out too and I was excited about.  I am loving all of these gluten free bean based pastas on the market now.  It is awesome that they have protein, so you don't need to add extra to your pasta dishes.  Not only that, most of the ones I have tried taste just as good as traditional pasta if not better!  This one smelled a little like peas while it was cooking, but it didn't end up tasting like peas at all.  It made the mac and cheese a lovely green color!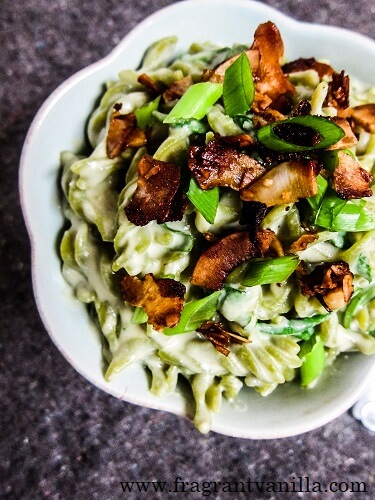 This is super simple to make if you have the cheese and bacon already made.  I like to make a big batch of coconut bacon ahead of time, and keep it in a container in the refrigerator for topping salads and popcorn and whatnot.  As far as the cheese goes, I usually make a batch, then save half cut up in the freezer for when I need it for dishes like this.  All you have to do is whisk a bit of the hot pasta water into the cheese and you have a silky delicious sauce!  This turned out so good!  Once the crunchy coconut bacon and savory scallions were stirred in it was crave worthy!  Next time you are hard core craving comfort food, give this a try!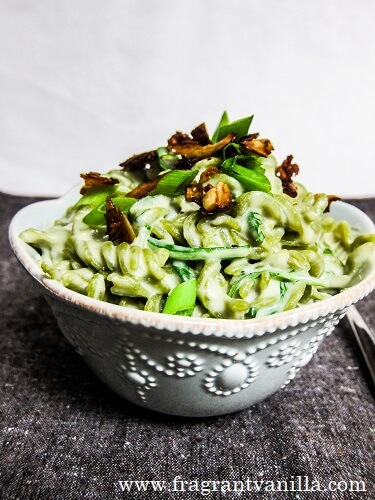 Vegan Garlic White Cheddar "Bacon" Mac and Cheese
serves 2-3
Ingredients:
Instructions:
Bring a large pot of salted water to a boil.  Add the pasta and cook for about 8 minutes or until the pasta is cooked to your liking.
Drain the pasta, reserving 1/2 cup of the water.  Add the cheese and sea salt to the pot with 1/4 cup of the reserved water, and whisk until smooth, adding more water as needed until it is a sauce like consistency.  Add the pasta, 3/4 cup of the bacon and most of the scallions.  Stir to coat the pasta.
Remove to a serving plate, sprinkle with the remaining coconut bacon and scallions, and serve!
(Visited 70 times, 1 visits today)