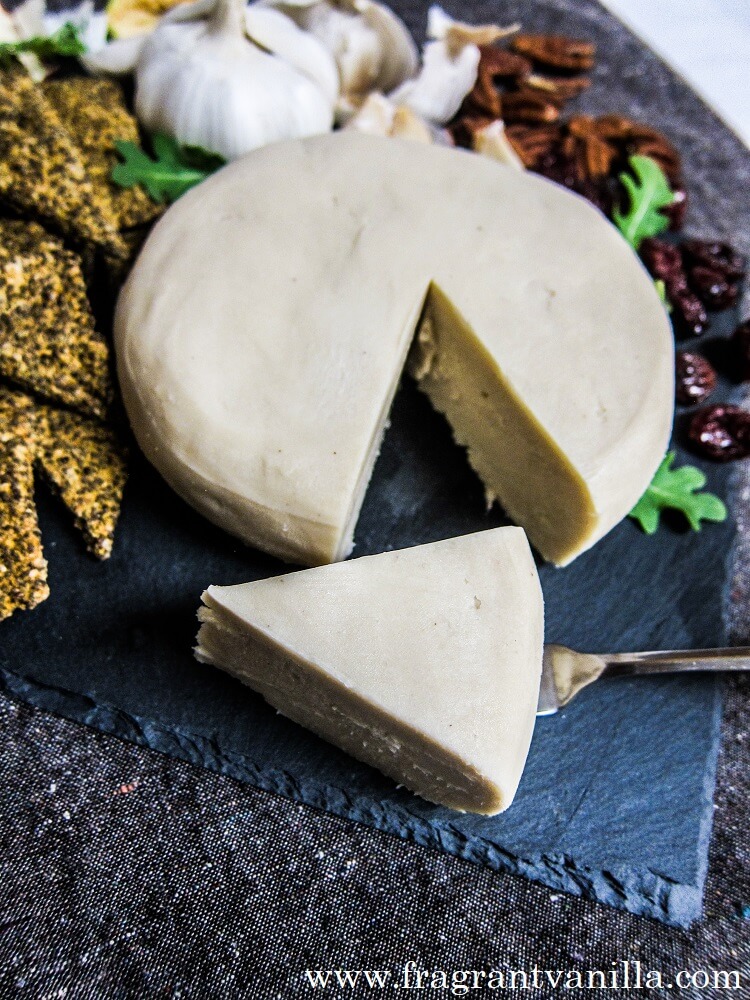 Vegan Garlic White Cheddar Cheeze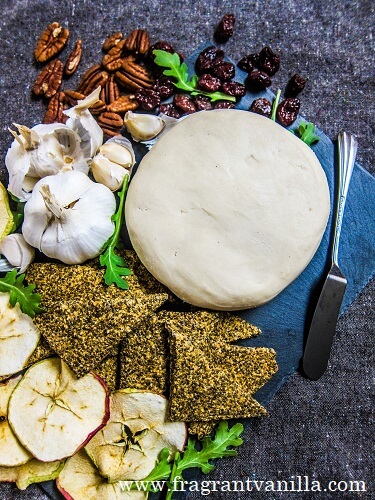 Often times when I am at the store, I see an item that isn't vegan that sounds good to me and I try to veganize it once I get home, so I can enjoy it too.  It is honestly one of the best sources for inspiration, walking through the store.  So, recently I saw a garlic white cheddar and thought to myself, a vegan version would be amazing.  I had made a cheddar style cheese before and it turned out really delicious so I was going to go for it!  I was a big cheese lover before I went vegan and a long time ago I even said that I could never give up cheese.  But guess what?  I did, and I don't even miss non-vegan cheese because there is so much delicious vegan cheese out there now, and I also make some delicious stuff at home. When I first went vegan I didn't even know I could make cheese.  I thought I had to buy it at the store and at that point in time there weren't many good options.  Mostly rubbery stuff that didn't melt very well and didn't taste that good.  But it has come a long way and now they even have awesome artisan vegan cheeses out there like Miyoko's Kitchen and Punk Rawk Labs. Those both taste amazing if you want to just buy some.  But I actually enjoy making it at home too, which brings me back to that garlic white cheddar I made last week.
I wanted it to have that sharp cheddar like flavor, so I added probiotics and let it ferment overnight.  It developed just the right level of tanginess that I wanted.  If you want it to be mild or not as tangy, you can skip the probiotics and instead of letting it sit overnight, just proceed with the recipe.  It had to have plenty of garlic flavor, so I roasted a head of garlic until it was all mellow and caramelized and used that in the cheese.  If you have never roasted a head of garlic before, you are in for a real treat.  If I wasn't using it in the cheese, I would have saved it for using in recipes.  It tastes totally different than raw garlic, and almost has a sweet flavor.  It is the perfect thing to spread on toast, or puree into dressings for a rich garlic flavor.  Once it was added to the cheese, it tasted wonderful!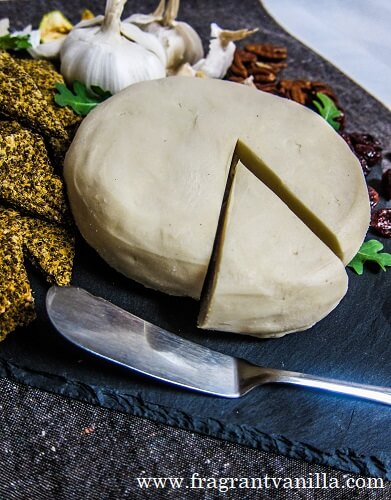 It turned out even better than I imagined.  Rich garlic flavor without being overpowering and a nice sharp flavor like real cheddar. This is delicious with crackers on a cheese plate of course, but it also melts well if you mix it with hot water for a quick creamy cheese to be poured over pasta for a delicious mac and cheese.  So, if you a vegan and you are craving a good cheese, give this a try!  So many people say to me that they could never go vegan because they could not give up cheese.  Well, I think that they should try some vegan cheese, and they would change their minds! If you are looking for more replacements for dairy items, and more cheese recipes, check out my post on Why I am Vegan and Vegan Replacements for Dairy Items!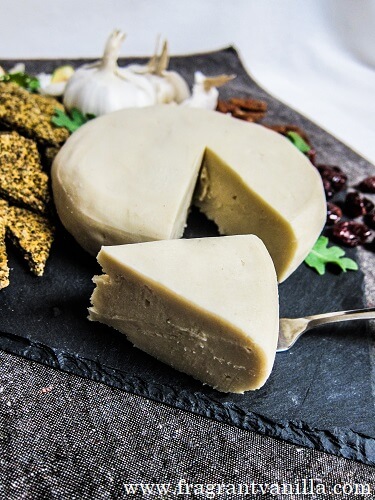 Vegan Garlic White Cheddar Cheeze
Serves 10
2 cups raw cashews, soaked for 4 hours, and drained
1 tsp probiotic powder
1/4 cup filtered water
1 Tbsp white miso
1 head garlic
1/2 tsp sea salt (or to taste)
1/3 cup raw coconut butter, warmed to liquid*
In a high speed blender combine the soaked cashews, probiotic powder, filtered water, and miso and blend until smooth.  Pour into a bowl, cover and place in a warm spot (like 70 degrees).  Let sit overnight.
Meanwhile, preheat the oven to 400F degrees, and wrap the garlic in foil.  Place the garlic in the oven and roast until it is very soft and caramelized, about an hour.  Remove from the oven, let cool, then squeeze out the cloves.  Set aside in the refrigerator (if it is overnight, cover it).
When the cheese is tangy, add it to a food processor or blender and add the garlic, sea salt and coconut butter and blend until well incorporated.  Pour into a bowl, place in the freezer for about 10 minutes, then scrape onto a mold, or if you want to shape it like I did, put it on a large piece of plastic wrap,  and shape into a ball in the middle.  Flatten it, and wrap the plastic wrap tightly around it.  Place in the refrigerator until firm, a few hours.  Then enjoy!
*Note: If you want the cheese to not have any hint of coconut flavor, you can use refined coconut oil instead of the butter.
(Visited 238 times, 1 visits today)