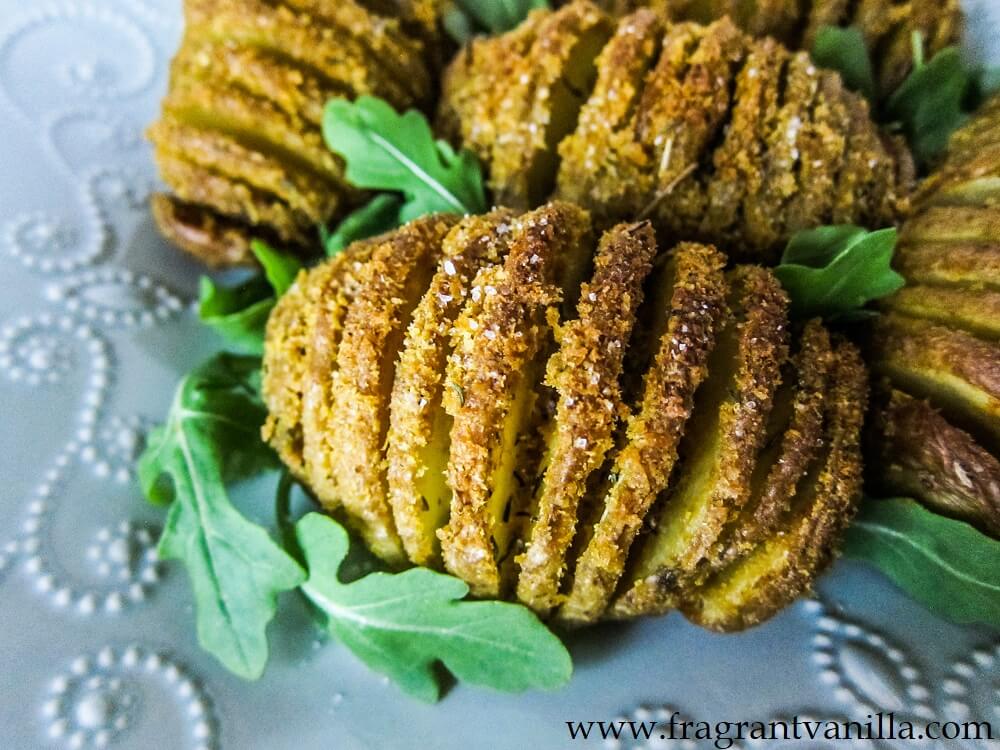 Vegan Cheesy Hasselback Potatoes
Monday was kind of a rainy dreary day here in Minnesota.  Everyone was excited about the lunar eclipse taking place, but it ended up being covered by clouds.  Eric and I were hoping to see it, but instead we went out for a walk with our umbrellas.  It was one of those days where the weather makes you tired and you want to just curl up and watch movies.  I had a big bag of potatoes that needed to be eaten and I figured this was just the day to use them. After all, potatoes are one of the best comfort foods!  I thought about mashed potatoes, tater tots, or just roasted potatoes, but I wanted to do something more fun with them.  I decided on a vegan version of hasselback potatoes. I had seen a version on Pinterest for parmesan hasselback potatoes, and I figured I could make cheesy vegan potatoes with some nutritional yeast to make them a bit crispy instead.
I have always seen this type of potato dish, and always wanted to try it but never have for some reason.  Maybe all of the little cuts into the potatoes intimidated me.  They sounded time consuming. But actually these ended up being fairly quick to prep.  They took a while to bake, but that gives you time to relax, or prepare something to go with them.  Most recipes for hasselback potatoes have lots of butter, but I used avocado oil instead.  Because it is vegan of course, and because it is neutral and stands up to high heat.  I coated the potatoes with plenty of nooch as well as some thyme, sea salt, garlic and pepper, to keep it simple.  A good hour plus in the oven later, my house smelled wonderful.  I don't know about you, but nutritional yeast is a life saver for anyone who is craving something cheesy.  Good on popcorn or pasta dishes, or now roasted potatoes!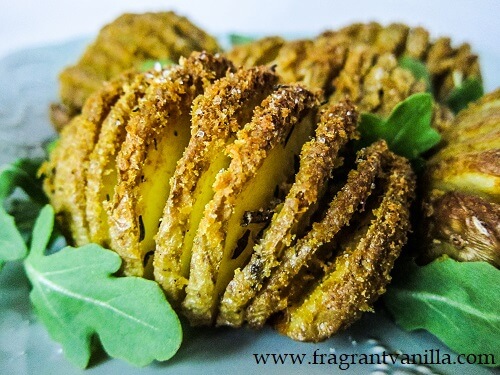 They turned out delicious!  Cheesy tasting with just the right amount of garlic and thyme for aromatics.  Some of the potato at the edges got nice and crispy like chips, which was delicious, but then the inside ones were nice and tender.  These would be delicious served with a vegan porterhouse "steak" from the Herbivorous Butcher, or some sauteed tempeh, or my Chickpea Cutlets with Mushroom Gravy.  They turned out even more delicious than I thought, and I definitely forgot about the crummy weather outside.  So the next time you are in the mood for some comfort food potato style, give these a try!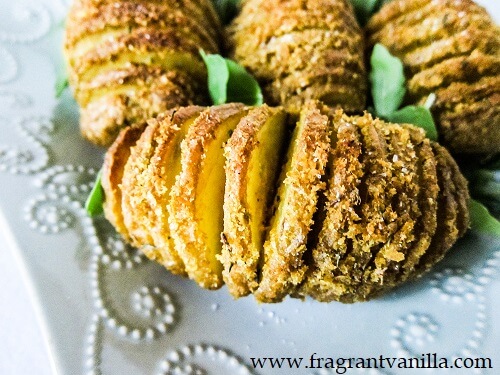 Vegan Cheesy Hasselback Potatoes
Serves 5
Ingredients:
10 medium organic Yukon Gold potatoes
avocado oil or olive oil
1 cup nutritional yeast
1/2 tsp sea salt
1/4 tsp black pepper
2 tsp dried thyme
2 garlic cloves, minced
Instructions:
Preheat the oven to 400F degrees, and oil a sheet pan.
To prepare the potatoes, place one on a cutting board, and set 2 chopsticks on either side of it lengthwise (this will prevent you from cutting all the way through).  Use a knife to cut it into 1/8 inch thick slices crosswise, and set on the pan.  Repeat with the remaining potatoes.
When they are all cut, drizzle each one with the avocado oil, being sure it covers all of the potato and gets in the sliced part too (being careful not to break it).
Combine the nutritional yeast, sea salt, pepper, thyme, and garlic in a bowl, and mix up.
Roll each potato in this mixture, and sprinkle a little between each cut.  Place back on the tray.  Repeat with other potatoes.
Drizzle with a little more oil, and sprinkle with some of the leftover nutritional yeast mixture.
Place in the oven and bake for about 1 hour and 15 minutes until the potatoes are tender and browning slightly.
Remove from the oven and let cool for a few minutes before serving.
(Visited 89 times, 1 visits today)