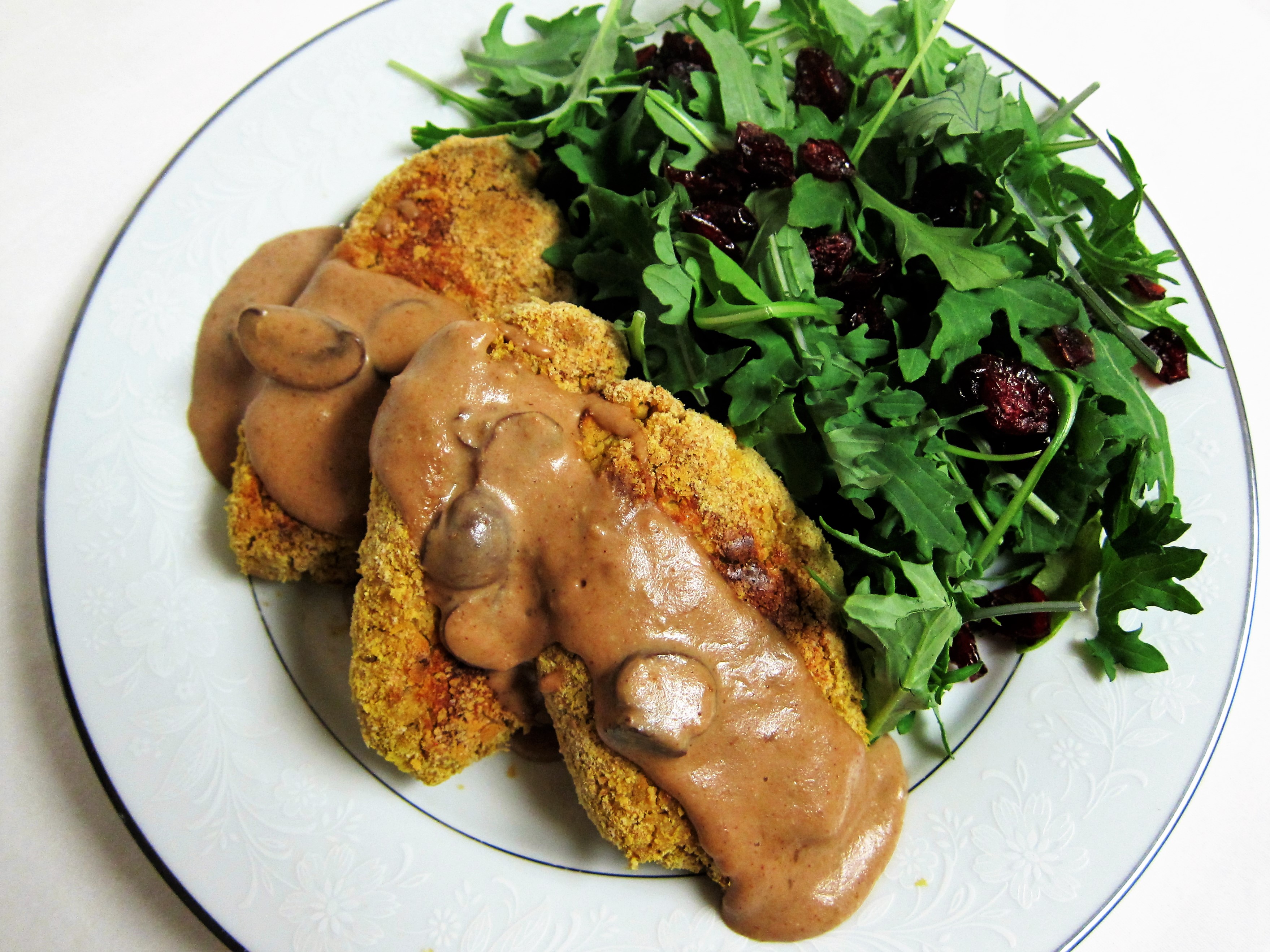 Chickpea Cutlets and Mushroom Gravy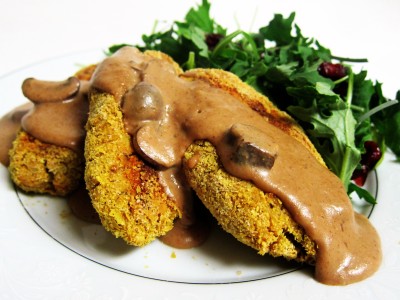 When I was little, and my Mom would make chicken, I was never a big fan of it.  Unless it was breaded.  It kind of disguised the fact that it was meat to me.  I have never been a big fan of meat in general.  When I first became vegetarian, I used to buy fake chicken cutlets though because I liked those more than the real meat I had eaten as a child.  The only problem with them though, was the long list of ingredients that were not so good for me. I haven't eaten them in a really long time, but I was thinking about it the other day, why not try making some of my own, a healthier vegan version?  I decided to go for it, since Eric enjoys this sort of comfort food type thing, and I knew he would be my guinea pig to try it with me.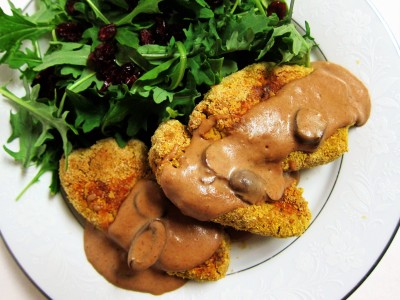 I ended up making the cutlets from chickpeas, because they seemed like they would work well for the texture and neutral flavor.  It worked out really well!  I don't really eat much bread, so I did not bread these with breadcrumbs but in fact, ground flax seed and nutritional yeast.  I made a mushroom gravy to serve over them because it just seemed right and they turned out really good!  They were actually really simple to make, so worth making these instead of facing the side affects of store bought in case you were wondering.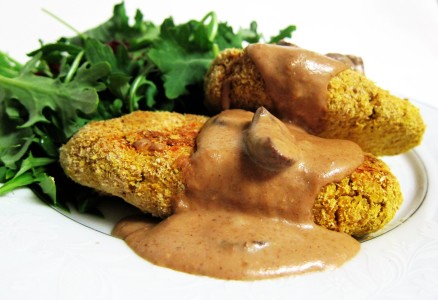 Chickpea Cutlets and Mushroom Gravy
serves 3
1 1/2 cups chickpeas
1 garlic clove
sea salt to taste
1 tsp thyme
1/8 tsp cayenne pepper
1/4 cup almond flour
2 Tbsp white miso
1 Tbsp nutritional yeast
Coating:
2 Tbsp nutritional yeast
2 Tbsp ground flax seed
1/4 tsp sea salt
1/2 cup aquafaba
Gravy
3/4 cup mushrooms, sliced
1 cup flavorful veggie broth
1 garlic clove, minced
1 Tbsp tamari
1 Tbsp nutritional yeast
2 tsp arrowroot starch dissolved in 2 tsp filtered water
To make the cutlets, in a food processor, combine all ingredients but the flour and process until smooth. Add the flour and pulse to blend. It should be soft enough to form into cutlets but not too sticky.  If it is too sticky, add a little more flour.  Shape into ovals, and set aside on a plate.  Place the yeast and flaxseed, and sea salt in a bowl, and mix together. Place the aquafaba into another bowl.  Line a sheet pan with parchment.  Dip each cutlet into the aquafaba, then the yeast mixture to coat it.  Place on the parchment lined tray.  Spray with olive oil if desired (it helps it brown, I keep mine in a spray bottle).  Place in a 400F degree oven, and bake for about 20-30 minutes until heated thorough and browned at the edges.
Meanwhile, to make the gravy, combine all ingredients but the arrowroot mixture and bring to a simmer.  Cook until the mushrooms are tender, about 10 minutes. Add the arrowroot, and cook until thickened.  Serve over the cutlets.
(Visited 1,280 times, 1 visits today)