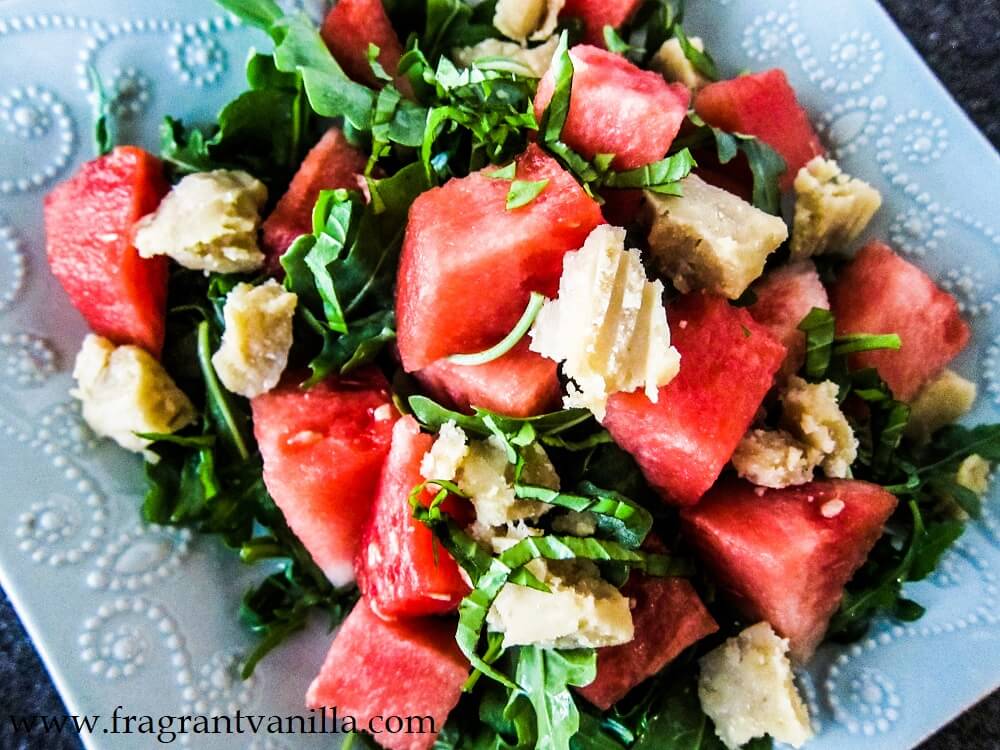 Summer Watermelon and "Chevre" Salad
There used to be this fabulous watermelon and mozzarella salad at a restaurant my Mom and I would go to often when I was younger and it was super delicious. I hadn't thought about it since then, but then recently my Mom made a salad for a party for one of her friends that was very similar except with watermelon and chevre. She said it was a hit, and asked me if I could make a vegan version for her, since she doesn't always eat cheese (she has cut down a lot on dairy). I was very happy to do so! It sounded really good to me, and I tweaked it slightly to make it more substantial. The funny thing about watermelon is, I don't buy it often. Maybe because it is a lot to cut up, or heavy to lug home. But when I do get it and have it all prepped and ready, I wonder why I don't get it more often. It is so good! Especially on a hot day after a long run. Probably the most refreshing thing to eat I can think of in the Summer. So, I was really happy my Mom suggested this.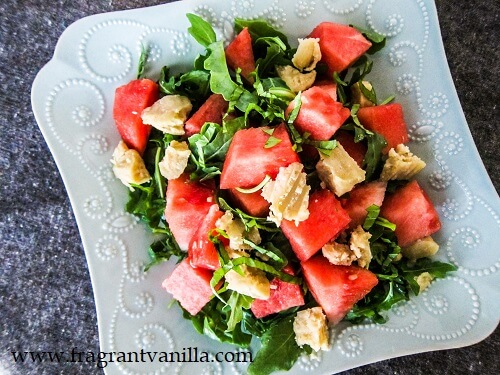 Her salad had just contained watermelon, chevre and basil. But I decided to add in some arugula tossed with a little avocado oil and lemon juice as well to make it more colorful and add some healthy greens. I made my usual cashew coconut chevre to top it off and scattered some fresh basil that was growing on my patio over it and it was so pretty! But it wasn't just pretty, it was super delicious! You will not even miss the fact that this isn't real cheese, it is salty, tangy and creamy just like real chevre. It is perfect with the sweet melon, peppery arugula and fragrant basil. Once you have the cheese made this is super fast to make, and I think it would be the perfect side salad for something like grilled tempeh.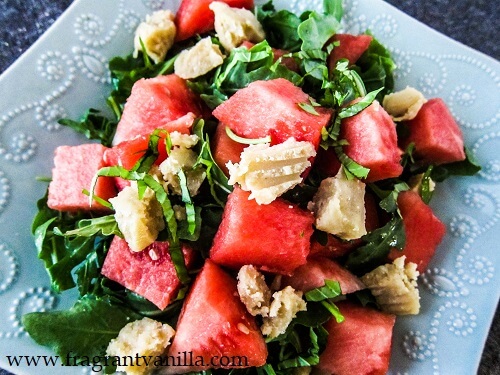 So, the next time you see a watermelon at the store, you need to try this! Since that watermelon was so good, it has me thinking about watermelon wine. I have been making my own fruit wines since last fall, and I have made many berry wines, and a mango peach wine, but not watermelon. I think it would be amazing since it is so sweet. What do you think?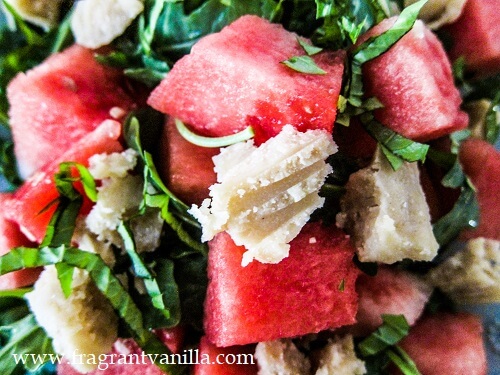 Summer Watermelon and "Chevre" Salad
Serves 2-4
Ingredients:
8 oz arugula
1 Tbsp avocado oil
1 Tbsp lemon juice
sea salt to taste
4 cups cubed organic watermelon
1 cup crumbled vegan chevre*
6 larger basil leaves, cut into chiffonade
Instructions:
Toss the arugula with the avocado oil, lemon juice and sea salt in a bowl.  Add the watermelon and toss until evenly distributed.
Transfer the mixture to a serving plate, then crumble the chevre over it and sprinkle the basil over it.
Serve!
*Use this chevre recipe, minus the herbs and lavender.
(Visited 114 times, 1 visits today)