Salted Caramel Tahini Fudge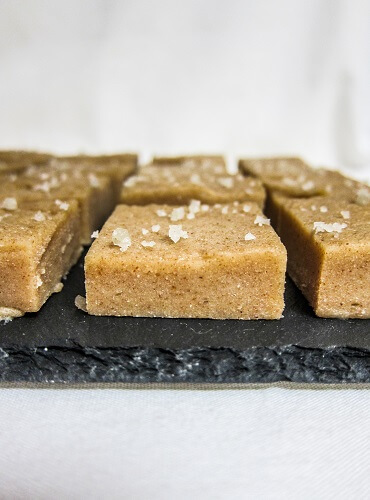 Back in the day when I was in high school, my Mom used to take me to this natural foods restaurant (you know, the type that had oats milk ice cream, carob cookies, and fresh squeezed juices) which I wasn't used to back then because there wasn't a lot of at the time. They had a famous tahini lemon salad dressing that my Mom used to always talk about. It was a really good dressing, but it made me think that the only way to use tahini was as a sauce or dressing. Little did I know that there were so many other things you can do with tahini. I thought it just made amazing dressing until I got more adventurous with food when I was in college and I discovered that it was an ingredient that made hummus amazing, and it could even be used in desserts like halva.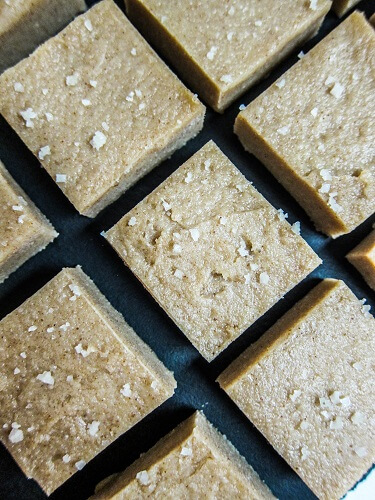 I now know that it is pretty versatile, and I actually love it in desserts. I have made salted caramel tahini brownies and chocolate drizzled tahini cookies and those were amazing. So when Raw Guru recently sent me some Dastony sesame tahini, I decided that some salted caramel tahini fudge sounded amazing. I have made many other nut butter based fudges before and they are always so easy and so good so I knew I could count on this turning out. I was also having kind of a busy week where I felt like I wasn't getting everything done that I needed to, so this sort of dessert was perfect! I am sure you can relate, it is always nice to make something easy.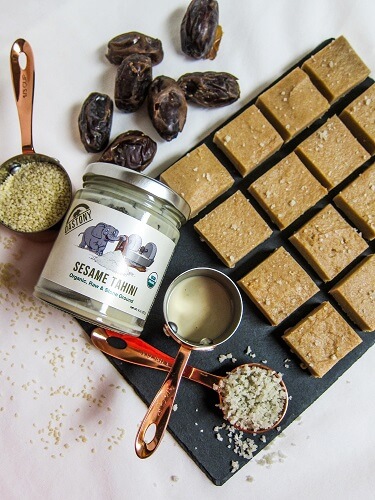 I combined the Dastony sesame tahini with some soft, pitted medjool dates to make this caramel, since dates are nature's caramel. I mean seriously. If you are craving caramel but want to not eat straight refined sugar eat a date, they are so satisfying and about as natural as it gets when it comes to sweeteners. The dates blended up with the tahini, some water, vanilla, sea salt, and coconut butter to allow this fudge to firm up, made it super delicious. It tasted like caramel. Simply heavenly. I could not stop sampling it.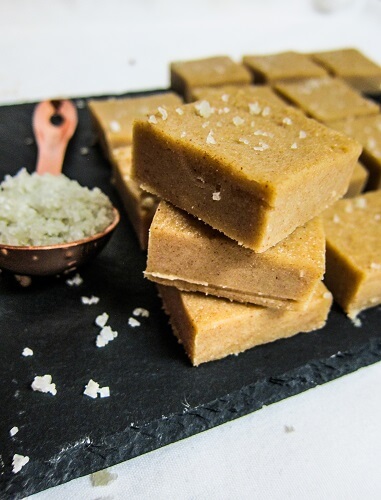 It just needed to set in the freezer for about an hour before it was ready. It turned out so good though! Gooey, delicious healthy caramel with a slightly nutty flavor thanks to the tahini. If you are a big caramel lover but are trying to stay away from the refined stuff, give this a try!
Salted Caramel Tahini Fudge
Makes 16 pieces
Ingredients:
1 cup Dastony sesame tahini
1 cup Dastony coconut butter, warmed to liquid
¾ cup filtered water
3/4 cup soft, pitted medjool dates (soak in water for 30 minutes first if not soft and drain very well)
1 tsp pure vanilla extract
1/2 tsp sea salt plus more for sprinkling
Instructions:
In a high speed blender or food processor, combine the tahini, coconut butter, water, dates, vanilla, and sea salt and process until smooth. 
Spread out into a 1/2 inch thick square on a piece of parchment on a board or sheet pan (to make moving it easier). 
Sprinkle with a little sea salt.
Place back in the freezer for about an hour or more until firm. 
Cut into 16 squares and enjoy! 
Store in the fridge in an airtight container up to 1 week, or in the freezer for up to a few months. 
(Visited 667 times, 1 visits today)