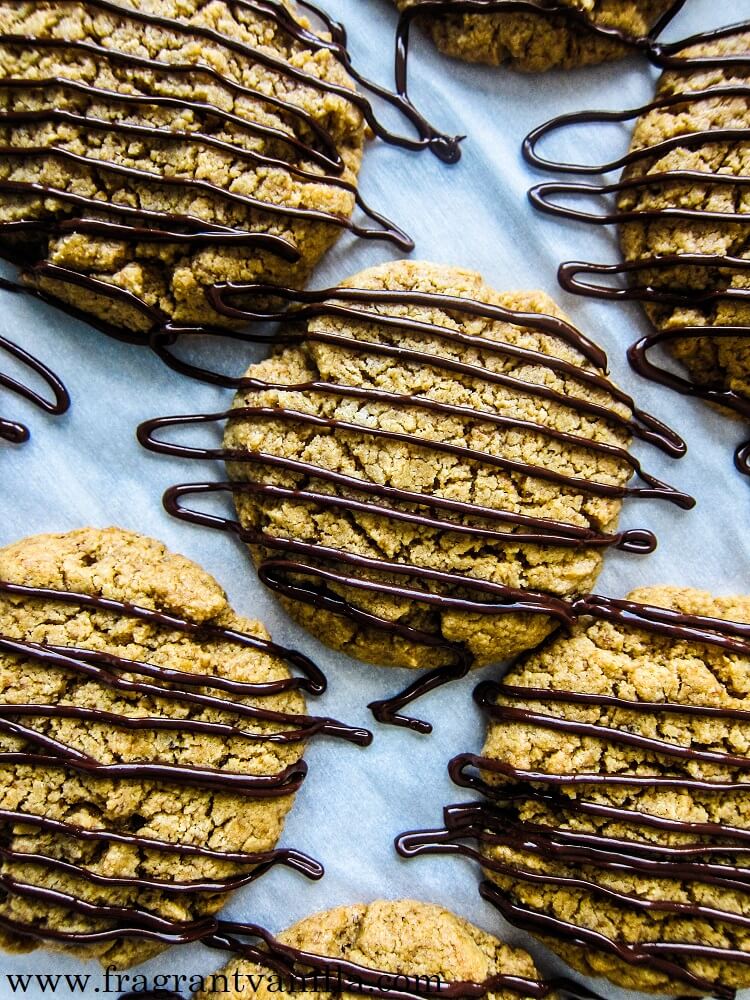 Vegan Chocolate Drizzled Tahini Cookies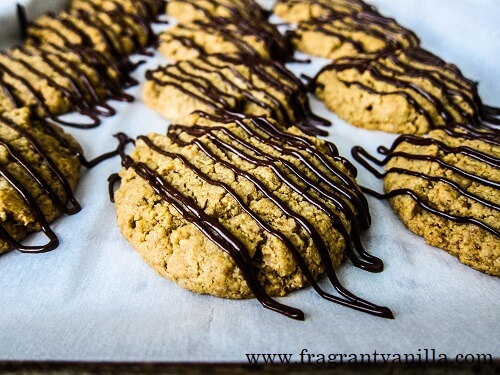 You may think of tahini as something that you add to hummus, or make dressing out of.  But did you know it is really good in desserts too?  I am not just talking about halva (a tahini candy popular in the Middle East). I mean adding it to actual desserts for richness in place of nut butters.  Like in delicious cookies.  My Mom gave me a jar of tahini from Trader Joes, and asked me to make some cookies with it. Heck yes!  I was excited about making them, because I like working with ingredients I don't normally use all the time.  You know me, I tend to get obsessed with peanut butter and almond butter and don't venture outside of those boxes, but tahini is a great ingredient too!  Especially if you happen to be allergic to nuts or peanuts, it is a life saver if you are craving rich nut butter cookies.  Which is exactly what I ended up making.  I modified my peanut butter cookie recipe, and added in creamy tahini instead of the peanut butter.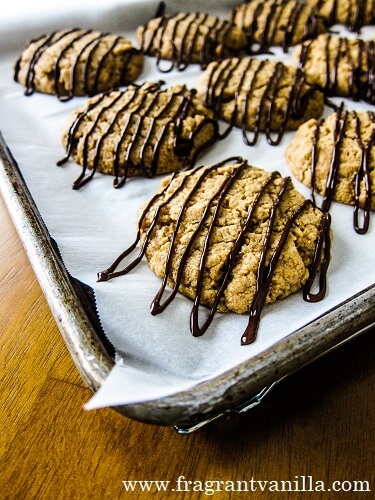 The dough came together perfect! Honestly it tasted like peanut butter cookie dough, with the same texture just not as strong.  Sometimes tahini can be a tad bitter, but the stuff from Trader Joes is not, and it tasted good in this recipe.   Not only that, it has a nice smooth runny texture not too stiff.  Be sure that the tahini you are using for this recipe is the runny type that has been mixed well. I could not stop sampling the dough, but what else is new?!  I love cookie dough.  Most importantly though, these baked up beautifully!  I wasn't sure if they would come out as nice as the peanut butter cookies, but they came out perfect!  They smelled amazing, like peanut butter cookies, with that hint of caramel from the coconut sugar.  I decided to drizzle them with dark chocolate, because I like to adorn cookies with something if they don't have a lot of add ins.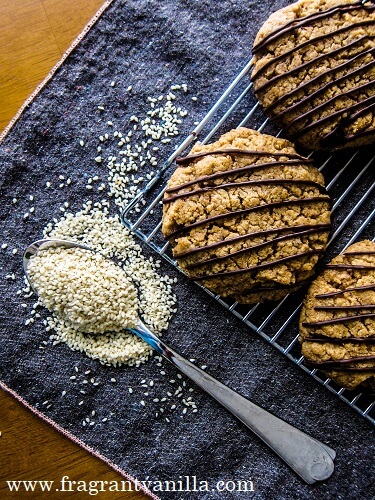 They tasted wonderful!  Rich peanut butter like flavor and a buttery texture.  Soft in the center, crispy at the edges, the dark chocolate the perfect touch!  If you are allergic to peanut butter or nuts,  but are wanting some delicious peanut butter cookies definitely give these a try!   Or, even if you aren't allergic, still give them a try because I am sure you will love them!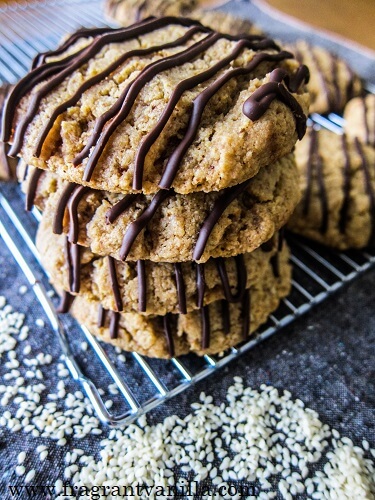 Vegan Chocolate Drizzled Tahini Cookies 
Makes 12 cookies
Ingredients:
Cookies:
1 Tbsp ground flax seed
1/4 cup plus 1 Tbsp filtered water
1 cup coconut sugar
1 1/4 cups organic tahini*
1/4 cup coconut oil, warmed to liquid
1 tsp pure vanilla extract
1 1/4 cups gluten free all purpose flour
3/4 tsp baking soda
1/2 tsp baking powder
1/2 tsp sea salt
Chocolate Drizzle:
Instructions:
In a small bowl, whisk together the flax seed and water.  Place the bowl in the fridge for 15 minutes, this is your flax egg.
In a large bowl, with a wooden spoon, mix together the sugar, tahini, coconut oil, vanilla and flax egg, until smooth.  Then mix in the flour, soda, baking powder, and sea salt in until the mixture is smooth.
Preheat the oven to 375F degrees.  Line a sheet pan with parchment.
Shape the cookie dough into 2 inch balls, place on your baking sheet a few inches apart and flatten with a fork, like you would with peanut butter cookies.
Place in the oven and bake at 375F for 12 minutes or so, until lightly browned and set.  Allow to cool completely on a rack.
Melt the dark chocolate in the top of a double boiler.
Drizzle the dark chocolate over the cookies, then set in the freezer until it has hardened.
Enjoy!
(Visited 315 times, 1 visits today)